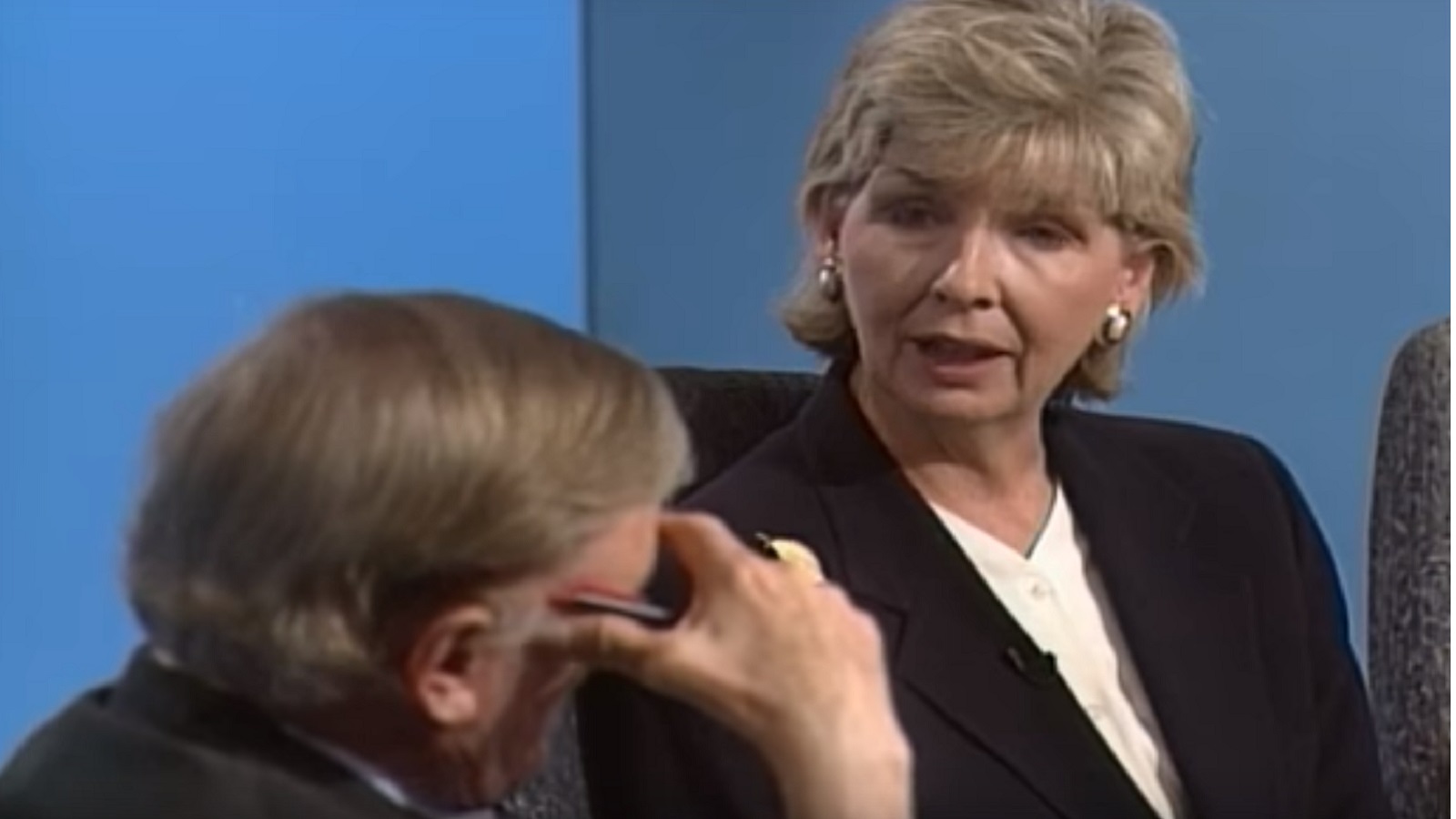 The timing of a friend's death last year seems an exclamation point on the Divine Mercy feast celebrated this weekend.
The Sunday after Easter, since the days of St. John Paul II, is known as Divine Mercy Sunday in Catholic churches. This year, it's also Kate the Great Sunday for a lot of us who loved Kate O'Beirne. Some of her friends called her this, rooted in a wise tale from her youth. And she lived up to and died testifying to the truth of it. When she finally succumbed to the cancer that wracked her body, she was surrounded by family praying the litany of the saints, helping welcome her into eternal life, even as the pain was sharp in seeing her leave and letting her go. When I saw the news, it was a text that popped up on my phone as I heard so many Alleluias it seemed they defied counting, at a noon Mass at the basilica dedicated to Mary, the Mother of God, whom she loved so, across town from her D.C. hospital room.
Her death on Divine Mercy Sunday, a day we had spent together a few years before with other dear friends in Rome, as John Paul II and John XXIII were being canonized by Pope Francis, seemed to emphasize something she had emphasized, even as she tried to live it as the radiant, stately, full-of-grace human being she was: Trust in God. Trust in His mercy. Trust that He works with us, flaws and all.
These days almost a year later — she died on April 23, which was Divine Mercy Sunday last year — I keep finding myself being brought back to the tomb of John Paul II with Kate during one of our trips there. It was my first time in Rome, and his remains at the time were downstairs at St. Peter's Basilica. I can't remember why — what had instigated it, other than presumably the Holy Spirit — but our friend Ann Corkery, who had organized the trip, was reading the Litany of Humility prayer, which Clarence Thomas has said he relies on a lot. (Clarence Thomas was a pallbearer at Kate's Mass for Christian Burial, and one of the many powerful men who were as full of tears as I was that day, a consolation I didn't expect or look for.)
Kate was a big fan of the Sisters of Life, the order of women religious founded by Cardinal O'Connor in New York, dedicated to making sure no mother felt lost and alone in the world or without support. In 2003, she was part of the official U.S. delegation to Mother Teresa's beatification, with Mother Mary Agnes Donovan, the mother superior of the Sisters, who happens to be a former psychology professor at Columbia who answered the call for a few women to step forward to move the apostolate forward. Toward the end of her life, Mother Teresa became a great consoling spiritual presence in Kate's life. That and the date of Kate's death, I imagine, are not unimportant hints from Heaven for the rest of us to consider while trying to do better here.
As no small aside, William F. Buckley Jr. was also beloved to Kate, and he once wrote, in Nearer, My God:
We do not abandon reason, we merely recognize its limitations. We reason to the existence of God, it is revealed to us that His Son was the incarnation, and that such was His love of us that He endured a torture excruciating in pain, and unique in aspect — the God of hosts, mutilated by His own creatures, whom He dies forgiving, loving. Can we do less? Yes, we do less, but we must try to do more, until we die.
So as pertains to the Sisters of Life — and Mother Teresa, who trusted in Jesus even when she couldn't hear the confirmations her heart must have longed for in prayer for so much of her life of trust — and Divine Mercy: One of the Sisters of Life, Sister Faustina Maria Pia, wrote a Litany of Trust some years ago. It exists in a small pocket-size tri-fold, copies of which I often have in excess now in my purse, to hand to friends and strangers alike, since Kate died. It leads one in prayer for deeper trust in God and from deliverance from pitfalls such as suspicion, anxiety, a false sense of security, "excessive preoccupation with the past," and other faults that many of us need to be drawn away from so that we might be freer to trust in the eternal things, the most important things.
While we live our lives, right now wrapped as they are around tweets and social-media firing squads and the ups and downs of politics, only to be distracted now and again by sports scores or other entertainment (of which politics, too, now seems more than ever to be a form — whether one is horrified or triumphalist or wearied or fascinated) — a meditative reflection on the concept of Divine Mercy and the possibility of it as a hopeful healing in lives and culture is worth at least a day, this Sunday, as the Easter festivities have passed (though a season of prayer remains for those who look to liturgical calendars). Pope Francis talks about the Church as a field hospital, and whatever you think of him, there are lot of people who are hurting. If my late dear friend and colleague can still help, as the day and the moment (as I heard Alleluia!) she passed away indicates that she may, well, thanks be to God. Kate often made things better and may it still be so.