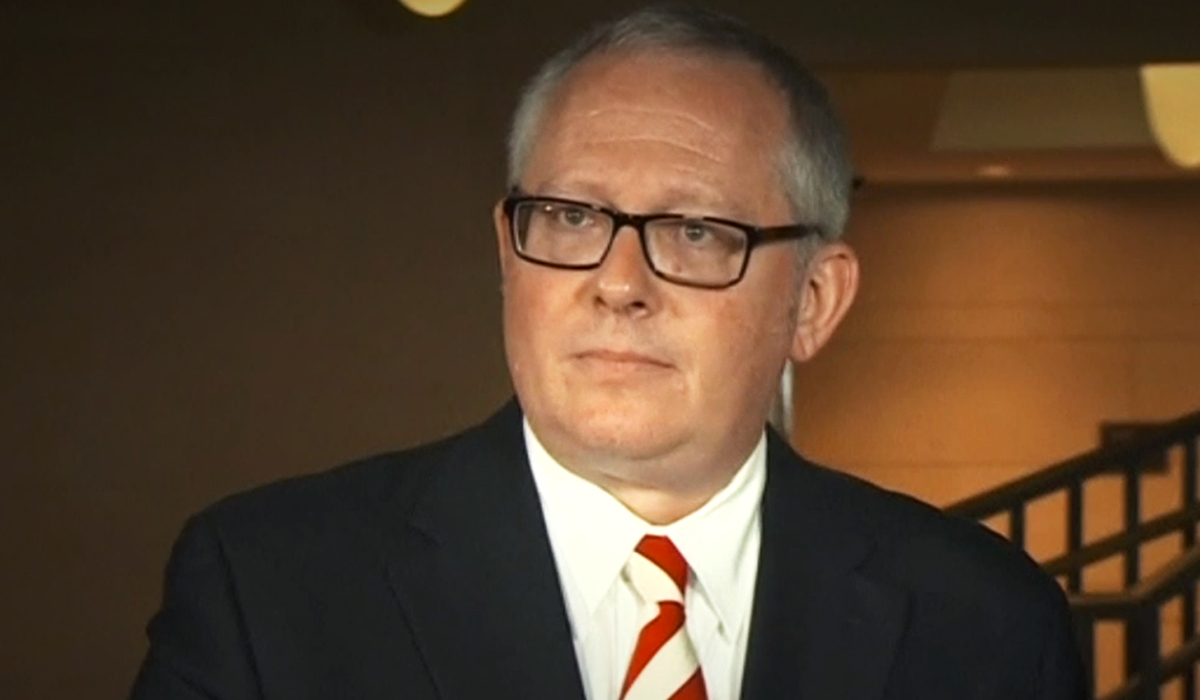 Former Trump adviser Michael Caputo says he endures steep legal bills and death threats after being swept up in the Russiagate inquest.
While Washington feeds its insatiable Trump/Russia-collusion jones, Americans are going broke in the process. Mere witnesses before congressional oversight panels, Special Counsel Robert Mueller's inquiry, and the grand jury he has convened endure ginormous legal bills. Although they are not suspected of wrongdoing, their expenses can be crippling. In contrast, federal sleuths enjoy virtually infinite resources. And if Uncle Sam's lawyers ever run out of money, unlike their private counterparts, they can get the Treasury to print more.
The case of Michael Caputo embodies this ugliness.
"Before Hillary Clinton and her cronies developed this revenge strategy, I had invested significantly in my business — hiring new people, taking on a partner, hoping to expand into event management," says Caputo, a conservative political activist, communications consultant, and former Trump-campaign adviser who has been vacuumed into the Russiagate tornado. "That investment cannot pay off in this environment." More ominously, he notes, "Longstanding clients have stepped away from me, telling me to call after Russiagate is over."
[jwplayer EzsDSndh-wKJ9CRQU]
These massive outlays and falling revenues also torture his family.
"This entire affair has disrupted my children significantly, especially my teenager, who suffers over this," Caputo tells me, from his home near Buffalo, N.Y. "These tremendous expenses have forced us into a situation where many basic bills go unpaid or paid late. We may lose our home." Caputo and his wife made a decision that would crush any parent's heart: "To pay the bills, I've liquidated my children's college fund. And my legal bills are far from over."
Caputo has spoken with other Russiagate witnesses whose families also are inundated by similar invoices. "We're all awaiting help," Caputo says, "but it it's been a year, and the bills are adding up for all of us."
Caputo, 56, is an old friend whom I met at the 1985 Conservative Political Action Conference. We both were college students, growing like sunflowers in the warm glow of Reaganism and the Gipper's efforts to drag the Soviet Politburo into the private sector. In the intervening third of a century, we have collaborated on a wide variety of journalistic, political, and commercial projects. We speak often and laugh always.
Caputo's career has carried him from the U.S. Army's 25th Infantry Division to Capitol Hill, where he worked for supply-side legend, the late congressman Jack Kemp (R., N.Y.). Caputo served President Reagan, Vice President Dan Quayle, and other prominent Republican contenders and officials.
Caputo also labored in Russia.
"The Clinton administration sent me to Moscow in 1994 to meddle in Russian elections," Caputo says. "I advised the Kremlin on election law and created Rock the Vote Russia, later called 'Choose or Lose,' to push democracy-minded youth to vote. After President Boris Yeltsin was elected in 1996, I opened a PR firm there to help American companies entering the new market work with the Kremlin and parliament. I returned to the United States after Putin ascended in 2000."
Anyone who considers Caputo pro-Putin should read his July 13, 2004, Washington Post op-ed, published soon after corruption-fighting Forbes correspondent Paul Klebnikov — Caputo's American friend — was shot to death in Moscow.
"Those who killed Klebnikov are killing today, plan to kill tomorrow, and know they'll roam free to kill for years to come," Caputo wrote. "Hell-bent on getting rich, they have no boundaries. Raised in a Communist world devoid of morals, they have no soul." Caputo predicted this about Russia: "It won't be truly civilized for generations."
Caputo has spurned Russian business for more than a decade.
"Since I left Russia in 2000, where I worked very closely with Yeltsin's Kremlin and the Duma, I never worked for the Russian government again," he recalls. "When I returned to Washington, I worked for Gazprom Media [a Russian state-owned company] for 60 days and for an oligarch for about a month, but never again advised a Russian person or company. It's been about 14 years."
Nonetheless, Caputo's work for candidate Donald J. Trump has trapped him in the forensic drift nets that have trawled for Trump's associates. Caputo was senior adviser, New York state primary director, and communications director for caucus operations at the 2016 Republican National Convention. These efforts — and his previous collaboration with former campaign chairman Paul Manafort, whom Mueller has indicted for conspiracy, money laundering, and other charges — ensnared Caputo in Russiagate.
Caputo estimates that his legal bills could exceed $125,000.
Caputo is considered a witness, and neither a suspect nor a target in these probes. Still, just testifying involves legal bills. If Caputo has nothing to hide, why not save money by simply showing up, answering questions, and then going home?
Caputo considers such a strategy idiotic, if not dangerous.
"I served as deputy director of the U.S. House Radio and Television Correspondents' Gallery," Caputo says. "I was responsible for electronic-media coverage at House committee hearings; after working at more than 100 of those proceedings, I recall several witnesses with no liability destroyed by politicians who, themselves, later were charged with public corruption. Nobody is safe at congressional hearings. And only a fool sits down with a special counsel without an attorney present. That's just plain stupid."
Atop previous testimony, Caputo's attorneys are negotiating an early May appearance before the Senate Intelligence Committee. He adds, "I anticipate being asked to interview with the special counsel."
Caputo's attendant legal expenses are, well, expensive.
"I pay my lead lawyer, former New York attorney general Dennis Vacco about half what I'd have to pay a Washington, D.C., attorney with his credentials," Caputo says. "He also lives here in Buffalo, so that achieves savings. He's generous with his time, meaning I don't think he bills me what he could. He and his team are negotiating with all investigators, fencing in their overly broad requests."
Refusing such requests, of course, carries the risk of less genteel legal action.
"I've been asked for documents from recent months, which is just more fishing," Caputo continues. "If I didn't have this team in my corner, I'd be producing my elementary-school transcripts. We also discuss and practice my responses, to assure I'm consistent across all investigations. Also, Vacco keeps me grounded, perhaps the most valuable task of all."
Caputo estimates that his legal bills could exceed $125,000. Consequently, today, he will launch the Michael Caputo Legal Fund and a GoFundMe page, to help defray these costs.
Such help cannot come a second too soon. Still, these financial nightmares are not the Caputos' deepest concern.
"We endure constant threats of violence," Caputo says, "which create security costs." Since his name arose in Russiagate, Caputo and his family have been terrorized by people who want them dead.
"Last month, my wife received a part of a sniper rifle in the mail," Caputo says. "We reported this and dozens of other threats to the police."
Twitter has been a staging ground for unbridled rage against Caputo and his kin.
"@MichaelRCaputo You are a f**king a**hole just like Pence," roared Ken Neitzel @kancab88 last October 9 at 5:42 p.m. "When someone puts a bullet in your head, I will piss on your head. F**K YOU!"
Another interlocutor, who goes by F**k Cancer, with the handle @Benny29863, said this via Twitter, last July 18 at 10:30 a.m.: "@MichaelRCaputo Me running into you and smashing your f**king head open is optimal, but you going broke will due [sic]."
Adam Parkhomenko, executive director of the Ready for Hillary super PAC and the DNC's national field director in 2016, also menaced Caputo. "@MichaelRCaputo What happens in Surfside doesn't stay in Surfside," Parkhomenko taunted via Twitter.
"After saying I would pay for my treason, this senior Hillary staffer was ominously tweeting about my little-known apartment in the Miami area," Caputo explains. "This is about destroying Trump aides, threatening them, and drawing a dotted line to my home and family for nut jobs to follow. And it's widespread activity — from little local leftists to bigtime Hillary staffers."
"My wife and daughters are the ones really suffering," Caputo laments. "They didn't sign up for any of this." He further believes that this entire Russiagate tornado involves something far greater than whether or not Trump and Putin plotted to win the White House.
"The multiple Russia investigations have always been about one common goal," Caputo contends. "They must destroy Donald Trump and destroy his family and destroy his businesses and destroy his friends, so that there's a smoking crater where we once all stood. That's because, in 15 or 20 years, when another billionaire thinks that he needs to fix America, and only he can do it, his wife will remind him what happened to Donald Trump. The political class is determined that such a candidate, outside of their control, must never triumph again."
The financial and psychological ruin of Michael Caputo and others in his shoes would be sad — but perhaps necessary, to unravel a vast U.S./Russian conspiracy to capture the Oval Office. Caputo and those like him would be collateral damage in a vital quest for the truth, if Mueller were finding Russian agents embedded in the Trump campaign, secret cash payments from the Kremlin to pro-GOP super PACs, and microfilm stashed inside Fabergé eggs in Mar-a-Lago, detailing how to brainwash voters in rural Wisconsin's most promising precincts.
Conversely, Mueller has disclosed zero evidence to confirm or even slightly solidify the ethereal hypothesis that the Trump campaign colluded with Moscow to win the presidency. Mueller and his cadre of Hillary donors/prosecutors have moved on. Most dramatically, Mueller's referral prompted search-warrant-wielding Manhattan federal prosecutors to ponder whether or not Michael Cohen, President Trump's personal attorney, paid all of the required taxes on his investment in New York City cabs and if prostitutes urinated on a mattress in a Moscow hotel room.
The hunt for reds in October 2016 has devolved into questions about yellow medallions and golden showers. Like a nasty, vicious, and destructive episode of Seinfeld, this entire fandango has become an inquest about nothing.