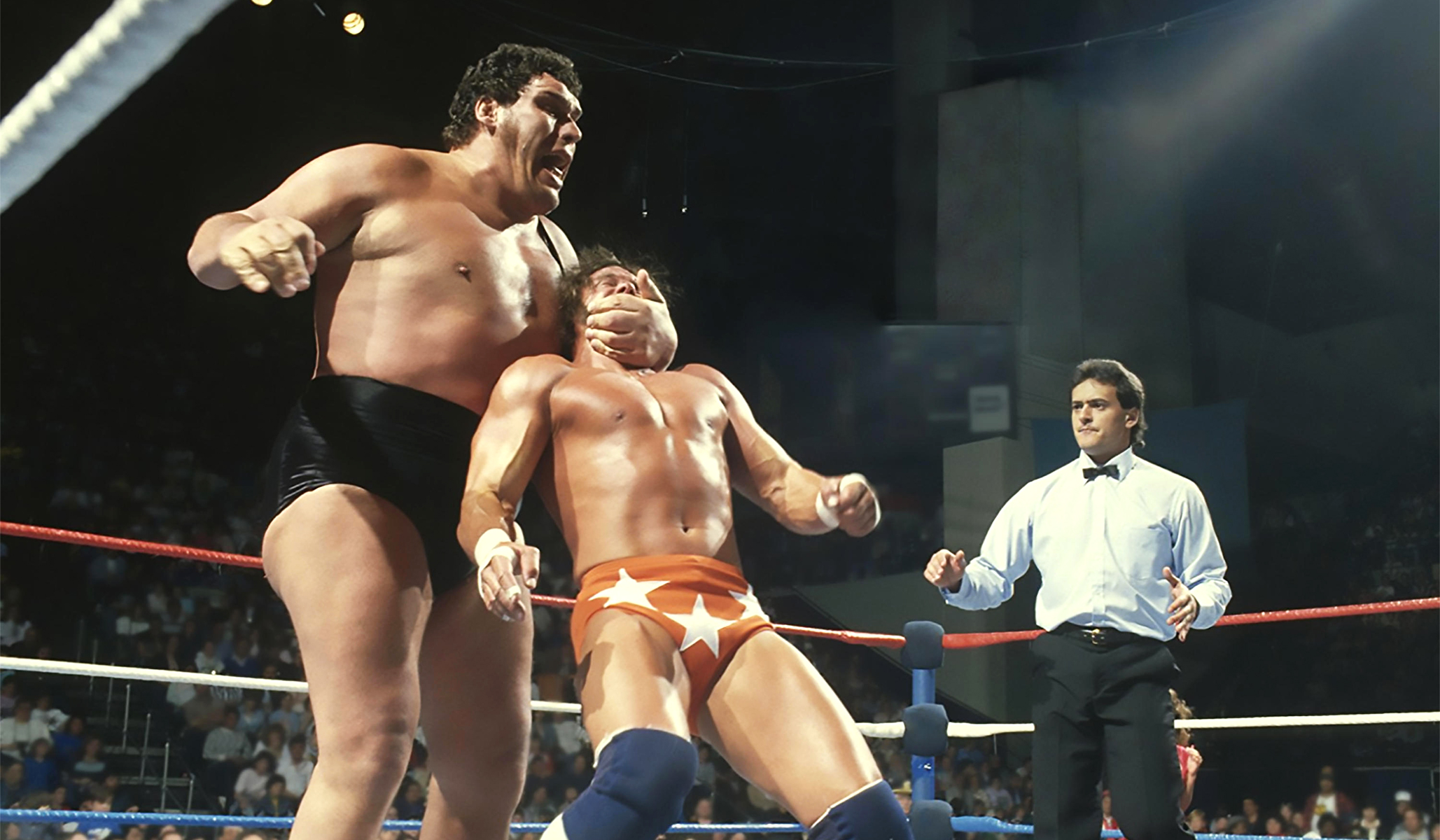 A new documentary explores the enigmatic man behind the indelible pro-wrestling character.
When he first started wrestling in America, the French combatant who had been calling himself "le Géant Ferré" in Montreal needed a new handle. A midwestern promoter explained that running ads for the Giant Fairy wouldn't fly. Why not, he asked, wrestle under your own name instead?
So was born the legend of André the Giant.
Growing up in a small town in France, the young André Roussimoff told family members, "I don't want to live on a farm my whole life. I want to do something different." His life turned out to be as unusual as his body, which, due to an unchecked hormonal surge (his parents and siblings were of normal size), grew up past seven feet and out to nearly 500 pounds. Not an actor, not quite an athlete, he was what the wrestling entrepreneur Vince McMahon calls him in the new HBO documentary André the Giant: "an attraction."
Roussimoff became the cynosure of McMahon's pro-wrestling circuit in the 1970s and early 1980s. Other wrestlers on the payroll created their characters with masks or robes or trash talk or eccentric behavior. (George "the Animal" Steele, for instance, made a habit of dining on the padding in the corners of the wrestling ring.) But André's character was his body. All he had to do was show up. Even routine interactions became strange in his presence. One dining companion interviewed in the documentary recalls that once when he tried to pick up the check at dinner, the Giant, not having it, instead picked him up like a doll and set him on top of an armoire. The speaker relating this anecdote is Arnold Schwarzenegger.
Director Jason Hehir finds the humanity in this superficially bestial figure. It's pleasing to think of such a powerful man as being a gallant one, and his admirers say he was.
More than any movie star, André couldn't escape the world's eyes, couldn't hide under sunglasses and a hat. He was an oddity too big to ignore, and even people who didn't know about his career play-acting violence inside the wrestling ring approached him as you would a fantastic creature. Friends, too, dehumanized him. One writer in the documentary compares his hands to a lowland gorilla's. Fellow wrestler Terry Bollea, better known as Hulk Hogan, said he moved like a Clydesdale horse. He once played Bigfoot on a 1976 episode of The Six Million Dollar Man.
Yet director Jason Hehir finds the humanity in this superficially bestial figure. It's pleasing to think of such a powerful man as being a gallant one, and his admirers say he was. Within the fake brutality of pro wrestling, says Hogan, André maintained civility by using real brutality. "This is not a business of tough guys," says Hogan. "If you're in this business, it's to entertain. For those guys who thought they were tough guys in this business, André would straighten 'em out real quick." Example: André despised the wrestler known as "Macho Man" Randy Savage. A clip from the documentary shows a match in which the Macho Man found his face absorbing abuse from the Giant's gargantuan bottom. "He's sitting right on his head!" cries an announcer. Buttocks, face, buttocks, face. That's showbiz, kids! Maybe the true fantasy element André stirred in us was not our wish that a man-Alp could be as tender as the one he portrayed in The Princess Bride, but the longing to humiliate our annoying coworkers as proficiently as he did. Cook fish in the office microwave and an André-style response seems condign.
André had his faults, of course. His drinking was as renowned as his performing: A writer who profiled him said that on any given night, he would put away several mixed drinks, four bottles of wine, and 20 to 25 beers. That's nothing, says another intimate, who claims he once saw André consume 106 beers. Of equal note is the Roussimoffian flatulence, which is likened sonically to incoming bad weather and would carry on for 30 seconds at a go. Once it nearly crashed a plane, or so legend has it, the aircraft's pilots being temporarily stunned by the chemical-weapons-grade emission. Flying was excruciating for the wrestler as well: He couldn't fit into any plane's bathroom. Someone would have to curtain him off and bring him a bucket in which to relieve himself.
The drinking looked different to a co-star of The Princess Bride, on the set of which an ailing André needed help to catch Robin Wright's sylphlike Buttercup. Co-star Cary Elwes tells us André drank to relieve the pain. Pro wrestling takes a serious toll on the human body, especially for someone André's size. He suffered severe back and joint distress linked to his disorder, called acromegaly, and by the time of his valedictory bout with Hogan in 1987, his chief wrestling move was the "standing perfectly still" gambit. Hogan had to come up and allow himself to be bear-hugged for a prolonged period to provide the thrills. Roussimoff was then 40, and had been warned he wouldn't survive into a fifth decade. The prophecy was off, but only by six years.
HBO's documentary is riddled with gaps — the portrait of McMahon's wrestling circus, in particular, seems unduly forgiving — because it is determined to frame André's life as a piece of entertainment. We learn, for instance, that André left behind a daughter, but nothing about her mother or any other woman with whom he had relationships. Instead, it's the fellas who tell us what a hit he was with the ladies. "He wore a size 24 ring, what else can I tell you?" says one of the guys. The movie is much more interested in this sort of japery than it is in showing who André really was, but then again, he was a difficult person to know. "He was not the most articulate man in the world," observes an announcer who knew him. His ballads were in his body slams.