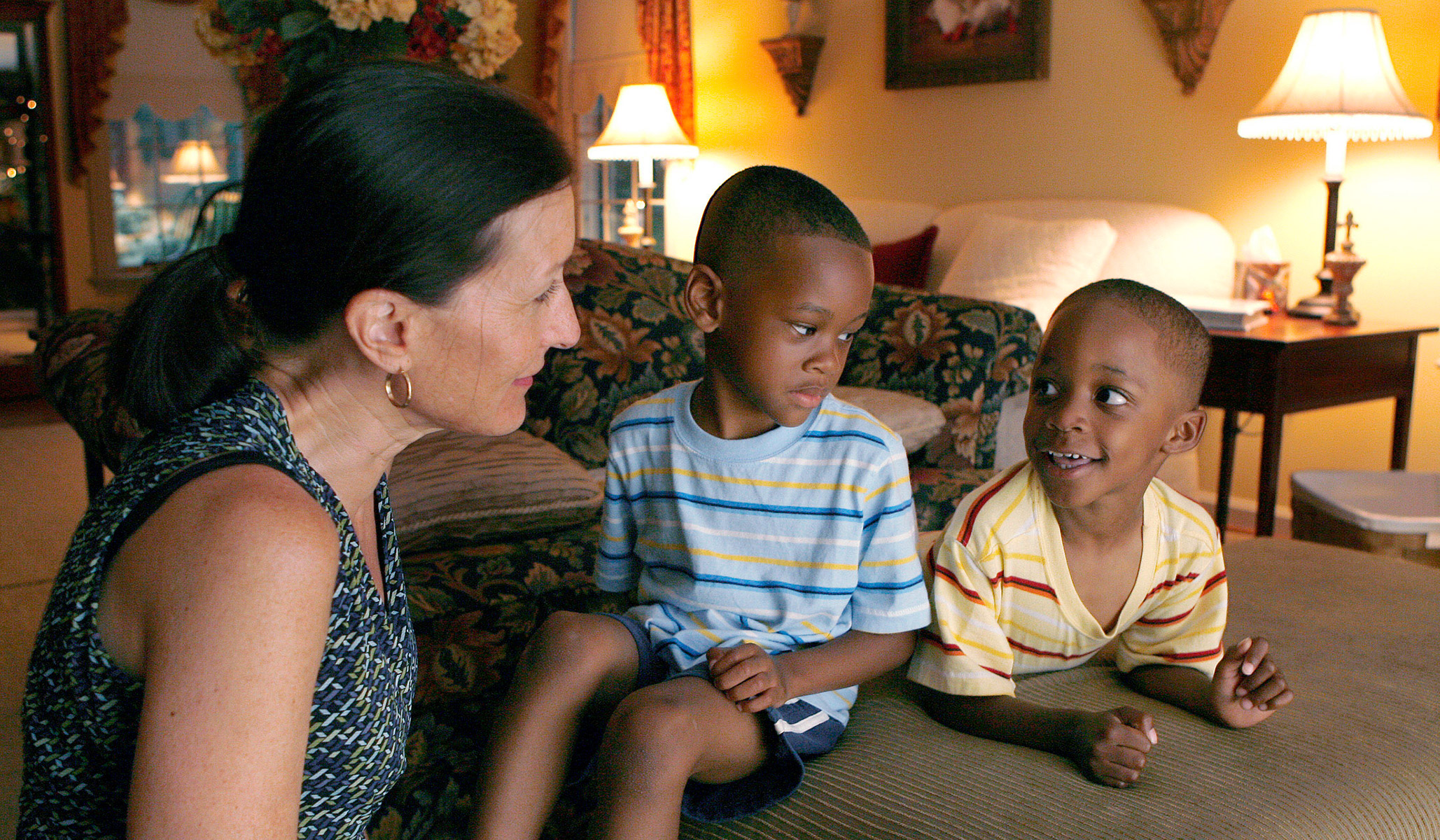 The Archdiocese of Los Angeles is hoping to ignite a movement of Catholic parishes and families to care for children in need.
There are currently 34,000 children in foster care in Los Angeles, the highest number in any area of the country, Archbishop Jose Gomez wrote in a letter to pastors this month. In his message, he implored them to help their parishes consider what they can to do to be a part of a solution: "There is an urgent need for foster families, especially for young children and infants. . . . as children age out of foster care without a family, a third will become homeless, a fifth will be incarcerated, and 70 percent of trafficked youth come from the foster care system."
"In our society, no one should go unnoticed and unloved" and "every child deserves a loving family," Gomez's letter continued, marking this month as National Foster Care Awareness Month. Kathleen Buckley Domingo, who directs the Office of Life, Justice and Peace for the archdiocese, talks a bit here about how to go about solving the immense foster-care crisis in their region. They hope not only to help children and families in Los Angeles but also to model ways that other religious communities can connect people to resources.
Kathryn Jean Lopez: Why has the Archdiocese of Los Angeles made foster care and adoption a new priority?
Kathleen Buckley Domingo: When many people think about Los Angeles, they think of celebrities and ocean views. Within the Archdiocese of Los Angeles, we have some of the wealthiest zip codes and some of the poorest in the U.S., too. We have more homeless people and more people incarcerated in Los Angeles County than anywhere in the country. We are one of the top cities for numbers of abortions and victims of human trafficking. And, we have 34,000 children in foster care — the most in the country.
The sheer scale of all of this can seem insurmountable. We decided to look at the situation in terms of where our parishes could be the most effective, and we realized that our greatest assets are our Catholic families. Our families are incredibly generous. They want to help, but so many don't know how. Once we began talking to people about fostering, the response has been incredible. Most people don't know that over 20 percent of foster children in Los Angeles are under the age of two. The need is staggering. If we can reach out to these kids and offer them a home and the kind of loving family they might not have experienced, we can help them heal, help their own moms and dads heal, and make a significant impact in the lives of our most vulnerable neighbors.
Lopez: Can fostering be a realistic meeting ground for people on different sides of the political spectrum?
Buckley Domingo: In a country as divided as ours is right now, the Church has the opportunity to be a prophetic witness to unity. There are wonderful conversations taking place all around the country about ways we can come together as a people of faith, and most often we end with service. Works of mercy are unitive. And, opening our hearts to kids in foster care is perhaps the most unifying action of all.
People on the political right are often caricatured as only caring for children before they are born. Nothing could be farther from the truth, and fostering offers a beautiful opportunity to illustrate that. In Los Angeles, over two thirds of children in foster care are there not because of abuse, but because of neglect, and in Los Angeles that means severe poverty, most often homelessness. Most foster kids have a young single mom who is just trying to do her best. Pro-lifers realize that these are the very same moms who six months ago or six years ago were at risk for abortion. We are grateful they chose life for their children, but now we realize these moms and kids need a supportive environment in which they can thrive. Sometimes that means time spent apart while their mom gets back on track. Our pro-life families embrace fostering as an extension of the work they do outside abortion clinics and at pregnancy centers.
Fostering is equally compelling to Catholic families on the political left. The outcomes for foster kids aging out of the system are not great: Only half graduate from high school and only 4 percent graduate from college; one in three will become homeless; one in five will become incarcerated; seven in ten girls will become pregnant by age 21; and 70 percent of trafficked youth come from the foster-care system. If we want to fight the root causes of poverty and end generational poverty, one of the very best things we can do is open our hearts and homes to foster youth.
Lopez: When you started this project what were some of the best preexisting resources you found to work with?
Buckley Domingo: Before we launched the program in the Archdiocese of Los Angeles, we spent a year meeting with everyone already working in foster care in Los Angeles County and scouring online resources to find out everything that we could. There are so many people doing such great work! We decided on four key initiatives that we thought were the best to offer to our Catholic community. The first is an organization called Foster All, which acts as a bridge between families who are interested in fostering and the actual agencies and kids in need. They walk with families through the entire process and help them find an agency that will offer the best fit and chance of success. We also partner with Olive Crest, a faith-based agency that speaks the language of Christian adoption and can help our families understand their Scripture-inspired role in the lives of these children. If fostering is not possible, we encourage people to become court-appointed special advocates, who advocate for youth to get the support and resources they need. Finally, St. Andrew's Parish in Pasadena will soon become our first Safe Families parish. This program allows parish families to provide short-term placement for at-risk children whose parents are homeless, job seeking, in need of medical care or rehab and helps kids stay out of the foster-care system.
Lopez: If people determine they are not being called to open their homes to foster children, as the result of financial or health issues for example, what can they do to chip in?
Buckley Domingo: Fostering is a very specific calling that involves the entire family. But it should also involve the entire community! Those unable to foster can help in many ways. They can bring resources or gift cards to a family who is fostering. They can bring meals or offer to babysit. They can invite the kids for playdates and birthday parties and to join their own kids' sports teams. Most importantly, they can pray for the child, for his or her family, and for the foster family. Ask a foster family what would best help them provide loving care and stability for the child they are fostering, and see if it is something you can do.
Lopez: How do agencies ensure that families or couples aren't getting involved in foster-care and adoption for the wrong reasons?
Buckley Domingo: Quality foster agencies do everything they can to screen potential foster families and make sure that they have the very best intentions for the children. Still, we have all heard stories of children being shuttled from one foster home to another. Significant instability in a child's life can affect academics but also the ability to form lasting friendships and a sense of self-worth and purpose. Children deserve to be in a loving and stable home whenever possible. The very best way that we can increase the chances of a child finding a loving home is to invite families that we know to foster. Fostering is not easy, but families who open their hearts to a child in need out of love for Christ will find strength to persevere with a purity of intention.
Lopez: Do you chiefly want to keep families together whenever possible? How do you have confidence that can ever be possible?
Buckley Domingo: There is a profound shift taking place in the way people view foster care and the language they use to talk about it. In the past, an emphasis was placed on adopting children out of the foster-care system. Today, most people recognize that children and parents should be reunited if at all possible. The emphasis is on what is best for the child, so family reunification is most often the goal. While parents are seeking the help that they need to get back on track, foster families are there to love and provide stability to the children in the hope that they will be successfully reunited with their parents. But there are times when that is impossible, and, in those instances, families that can adopt have the opportunity to become the permanent family for a child.
Lopez: How do you deal with questions about possible bigotry, when it comes to clashes with activists concerned that the Church might discriminate against same-sex couples looking to foster or adopt, or children who are struggling with their own gender-identity questions?
Buckley Domingo: Legislation aimed at closing or hampering faith-based foster and adoption agencies ultimately hurts children. There are so many kids in need of homes that we need more agencies serving these kids, not fewer. Families with same-sex parents who want to foster can find an agency that suits their needs, as can any other family. In California, Catholic agencies closed years ago because they were not afforded conscience exemptions in the law, resulting in a scarcity of Catholic families involved in fostering. The most important thing to remember is that foster children are in need of homes and families.
Lopez: Who is Saint Jerome Emiliani, and why is he important to foster-care awareness?
Buckley Domingo: Saint Jerome Emiliani was a 16th-century soldier defending Castelnuovo against the League of Cambray. He experienced a profound conversion in a dungeon military prison. The war was followed by plague and famine in his native city of Venice, leaving countless children orphaned. Saint Jerome felt personally responsible for his part in creating orphans in the war and decided that he would become their parent. He founded orphanages throughout the region and dedicated his life to the children. We have dedicated our efforts to the patronage of Saint Jerome Emiliani, an unlikely foster father whose intercessions and example teach us that everyone has a part to play in assisting children in need.
Lopez: How can each family step up to the plate and make the archdiocese's goals a reality?
Buckley Domingo: Fostering is a family ministry. When a family chooses to foster, the entire family is involved. We find that most of the families who foster are those with small children themselves, so in many ways this is a ministry of families helping families. After presentations in schools, it is often the children who go home and talk to their parents about fostering. Learning about kids in need of homes and families touches them deeply, and they have a real desire to offer what they have to foster kids.
If the over 70 million Catholics in the United States took up the cause of foster care, we could create a new world of hope overnight. And the effects would be far reaching. Children emerging from the foster-care system within stable, loving homes experience significantly better outcomes, with reduced poverty and increased education. Pope Francis has called all Catholics to authentic encounter. Here in the U.S., children and youth in our foster-care system are our orphans, they inhabit our peripheries. It is our great hope that the movement we are beginning in Los Angeles will take root across the country so that our Catholic families will be known as the people who welcome children in need and strengthen families in every community.