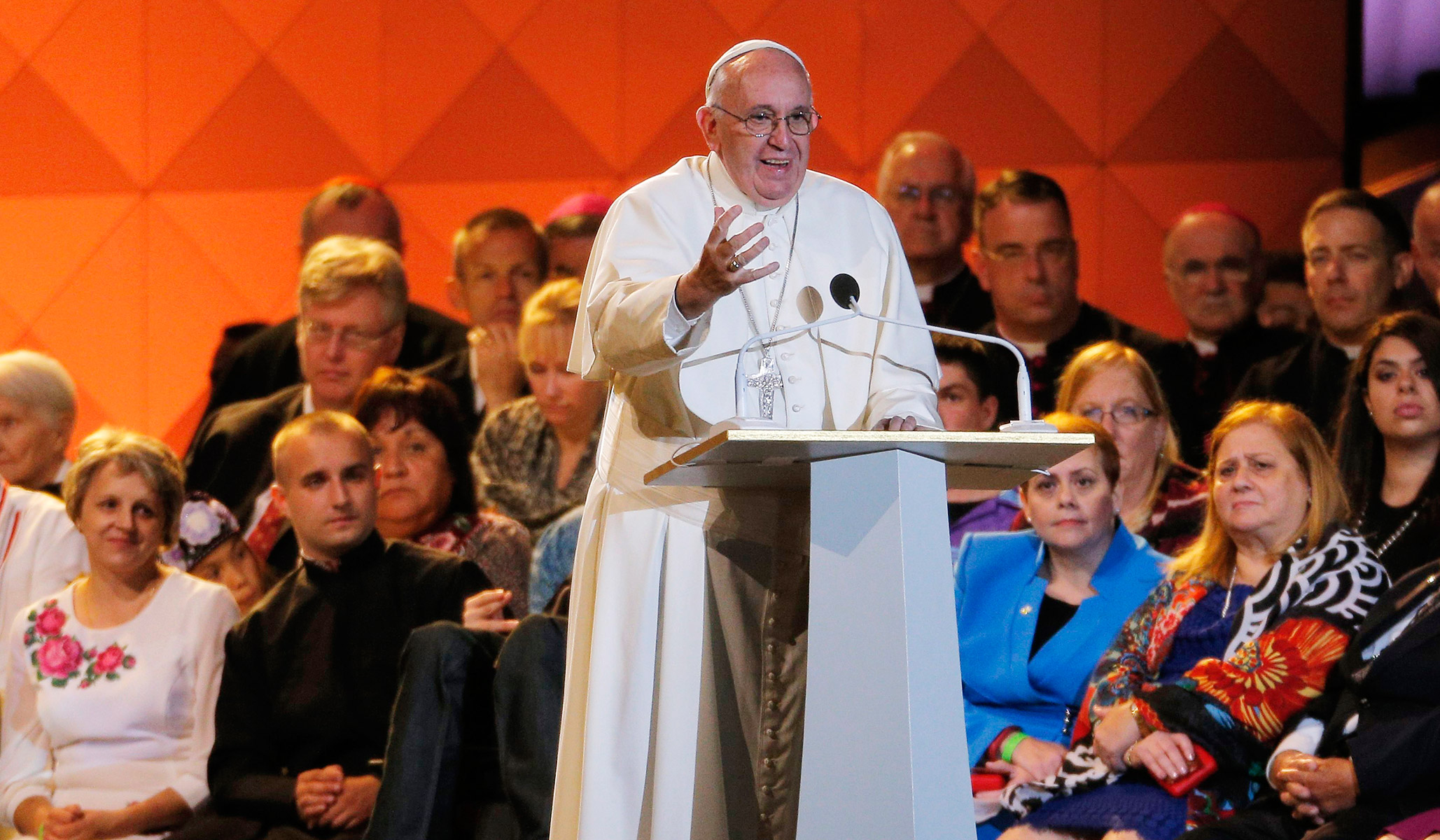 When it comes to helping children, we need addition, not subtraction.
'God came into the world in a family. And he could do this because that family was a family with a heart open to love, a family whose doors were open."
In September 2015, after speaking to a joint session of Congress and the United Nations General Assembly, Pope Francis spoke these words as he stood on the Benjamin Franklin Parkway at an evening festival of families, with an estimated crowd of 600,000. One million would join him for Sunday Mass the next day, his final event before heading to the airport to return to Rome.
During those remarks, he said, in part:
God always knocks on the doors of our hearts. He likes to do that. He goes out from within. But do you know what he likes best of all? To knock on the doors of families. And to see families which are united, families which love, families which bring up their children, educating them and helping them to grow, families which build a society of goodness, truth, and beauty.
For the Church in the United States, the pope's visit was a beautiful gift. The media seemed mesmerized, with constant television and print coverage.
In a speech shortly before the pope's visit to the U.S., the City of Brotherly Love's Archbishop Charles J. Chaput told some of the stories of Catholic life in Philadelphia that frenzied news cycles and attention spans rarely have time for. Speaking to the Religion Newswriters Association, Chaput said:
Critics sometimes claim that America's bishops talk too much about issues like abortion and religious freedom while they overlook the poor. And of course we do talk about those issues, and we'll continue to do so — vigorously, and for as long as it takes — because the right to life and religious liberty are foundational to human dignity. Without the right to life, all other human rights are compromised.
But the Church is bigger than fighting for the fundamental human rights of the unborn and most vulnerable — which, in recent years, has included attempting to prevent the unnecessary targeting of the Little Sisters of the Poor, for example, who care for the otherwise-forgotten elderly poor. And it's precisely because of the Catholic commitment to the Sermon on the Mount and to the works of mercy at the heart of the Gospel that all people of good will ought to give faith-based foster-care and adoption providers a second look.
Foster care and adoption seem only to be in the news because of the culture war. This month, National Foster Care month, is no exception; a bill signed last week in Oklahoma to protect faith-based providers has caused some controversy, and there will be a hearing in Michigan this coming week, as the ACLU challenges the right of faith-based providers to place children in homes in accord with their beliefs about the nature of marriage.
This past week in Philadelphia, foster parents who work with Catholic Social Services filed a court complaint against the city for planning to end a contract at the close of June and stopping foster-care referrals to the Church because of the Catholic teaching that marriage is, by its nature, a union between one man and one woman.
With a foster-care system bursting at the seams, a situation stemming in part from the opioid crisis, limiting the number of care providers on the basis of an ideological agenda is harmful to the children languishing in the system. Adult activists talk about tolerance. Why would we tolerate the fact that children suffering from severe trauma are trapped in this bureaucracy, without permanency and love?
Despite the impression headlines might give, conservatives and others are not attempting to push laws that prohibit same-sex couples from adopting. Rather, they wish to allow faith-based networks to keep providing essential services in keeping with their beliefs about faith, family, and marriage. This is not only a religious-freedom issue. This system is at a crisis point across the country, and children in need don't have time for ideological, political arguments.
Earlier this year, I may have witnessed something of a miracle. At a Brookings Institution event — launching a foster-care coalition, including supporters and partners the Annie B. Casey Foundation, the Dave Thomas Foundation, and the Christian Alliance for Orphans — people spoke about the needs of children, without getting caught up in controversial culture-war issues. Without being dismissive about these important debates, it's hard to believe many of these children wouldn't thank us adults for caring more about improving their lives. Children need respite, they need to be reunited with their moms and dads if that's possible, they need welcome and consistency and love.
In his August 2015 talk, Chaput pointed out that, at the time, the archdiocese was spending "less than $200,000 a year on the archdiocesan office that handles sanctity of life, family and laity issues," the office had one full-time employee, and most of its "specifically 'pro-life work'" was done by volunteers in parishes. He contrasted that with the $4.2 million in private archdiocesan donations spent "on social services for the poor, the homeless, the disabled, troubled youths, battered women, immigration counseling, food pantries, and nutritional programs. His remarks went on:
And we manage another $100 million in public funding for the same or similar efforts. We have 1,600 full time employees spread across these Catholic social ministries doing the works of mercy — and fewer than 200 of them are involved in parenting, family and pregnancy support services.
So when the City of Philadelphia issues a plea, as it did in March, for its citizens to step up and help address the foster-care crisis, it cannot afford to lose the partnership of the Catholic Church. Nationally, too, we need more people, more choices, more families with generous hearts. We shouldn't prevent them from providing loving homes to children. Pope Francis often talks about serving people on the peripheries, about how the Church should be the field hospital on the frontlines of human misery. Let Christians do their missionary healing work! The children need it. We all need it.