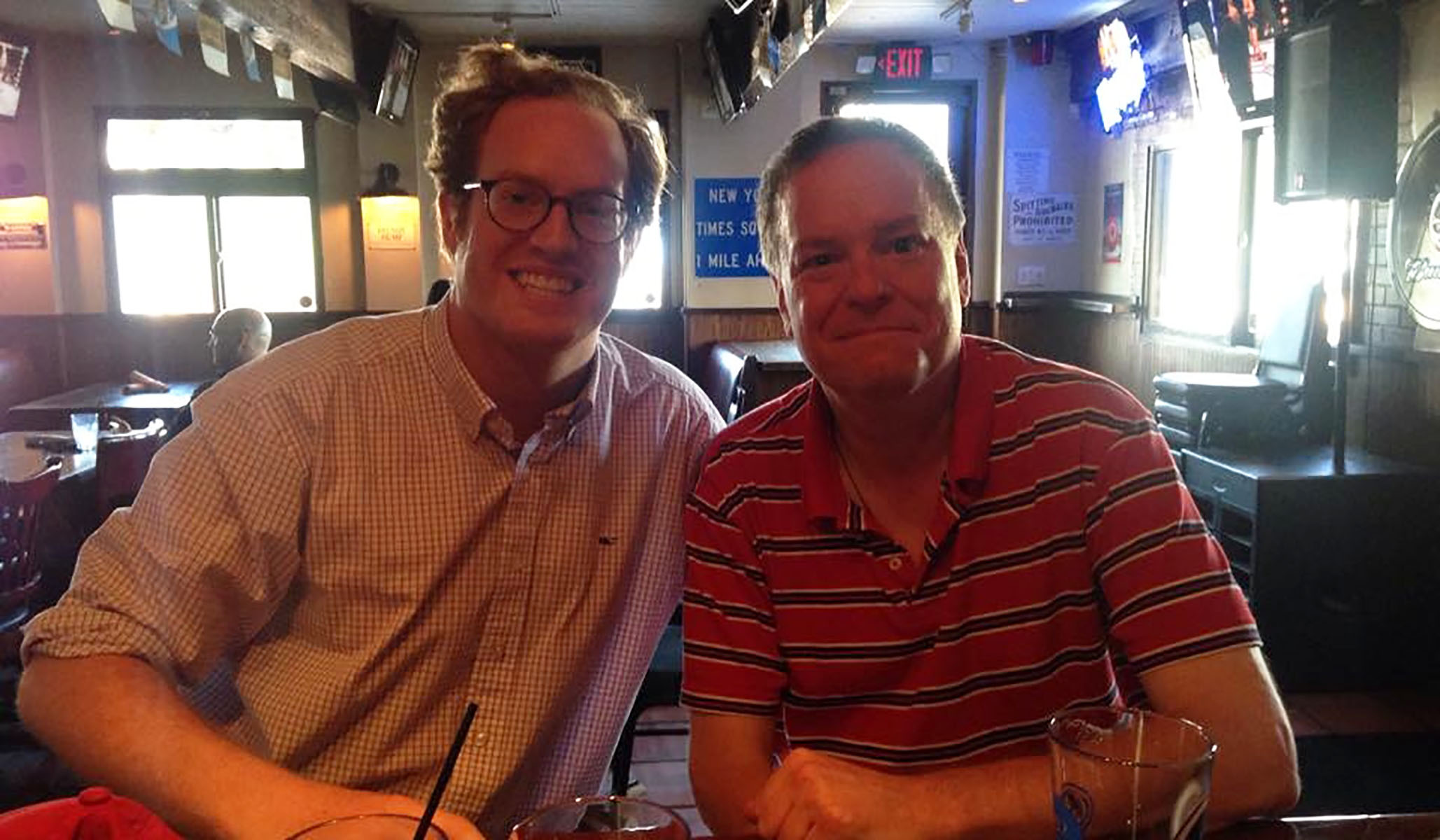 NR's late literary editor loved life like no one else.
'HEY THERE, DUDE!!"
That was the greeting, delivered in the hoarsest voice imaginable, that awaited you whenever you crossed paths with Mike Potemra, NR's beloved literary editor of nearly two decades who passed away suddenly a few days ago. Aside from offering the occasional office urban legend, no one on staff could ever quite explain what accounted for Mike's seemingly never-ending bout of laryngitis.
It wasn't just the voice that was mysterious. Mike would be the first to admit that he was a bit of an oddball, even by the standards of the largely behind-the-scenes crew that manages NR's editorial shop (of which I count myself a proud alum). After shuffling into NRHQ, usually carrying a half-drunk caved-in two-liter bottle of Diet Coke, Mike would shut the door of his office and get to work — mailing out review copies, editing NR's Books, Arts & Manners section, and the like. Even if his door was shut and the lights off, you could always tell when Mike was in by the strange grunts and loud bursts of laughter that would emanate from his office.
He had a real talent for making people laugh. Mike's jokes were always a highlight of Monday print editorial meetings. And he'd take his one-of-a-kind sense of humor home with him. He once told me, with an irresistible grin, about how he occasionally liked to bring a review copy of a book on a particularly morbid subject on the subway. As he sat down, he'd begin to "read" the book while holding it upside down and laughing hysterically for effect, taking in the at-times amused, at-times horrified reactions of those around him through the corner of his eye.
Of course, Mike read most of his books right side up. He was unmatched in his knowledge of literature, film, and popular (and unpopular) culture. You could email him with a query about an obscure actor or strange film you'd just seen and expect a paragraphs-long response to hit your inbox between 2 and 3 a.m. (He was a real night owl.)
In a certain sense, Mike was a loner — he never married and was content with his cat to keep him company at home. Yet he was remarkably social and fascinated by others' lives. Since he moved to Los Angeles in the summer of 2015, his Facebook feed had become a treasure trove of portraits of the people he'd meet at clubs, bars, and restaurants in his quest to explore every nook and cranny of the city. (The fact that he couldn't drive was no obstacle to these explorations.) Some of these people were quite happy and successful, others down on their luck, but he was grateful to have met them all. He was also grateful for his many friends, some of the closest of which were ex-girlfriends. He would jokingly explain, "Although I readily admit I'm a below average boyfriend, I'm a fantastic ex-boyfriend! It's too bad the intermediate stage is even necessary . . ." I think particularly of his wonderful ex-fiancée Carolyn, who drove him cross country when he made the move to LA.
As Rich noted in his moving remembrance, Mike's life was in some sense one continuous theological odyssey. Although he left the Catholic Church as a young man, Mike knew more about Catholicism than anyone I know — and more about just about every other religion, in some sense. He honored them all. If one weekend he went to Russian Orthodox services, the next one he'd be attending classes at the local Vedanta Society — before heading to a Tridentine Roman mass.
I saw him a few weeks ago in Los Angeles for what would be the last time, and somewhere between lunch in Santa Monica and a comedy show on the Sunset Strip he loved so much, he explained that he now mostly found transcendence through going to rock shows — sets at the Viper Room and Whisky a Go Go were his favorite — and walking along the beach at night, looking up at the stars and contemplating the universe.
When news came this morning that Mike was gone, I thought of one of the many late-night Corner-post gems he penned for NRO over the years. Describing how a particular short-story passage on being in love brought tears to his eyes, he explained that "it made real, emotionally, the way being in love transforms not only one's view of the love-object, but also of oneself and of the whole world. To the person in love, the whole world seems to come into a brighter and clearer focus . . ."
Mike never stopped looking at life through the eyes of a man in love — with his adopted city, his work, his many friends, his God. We will miss him greatly.