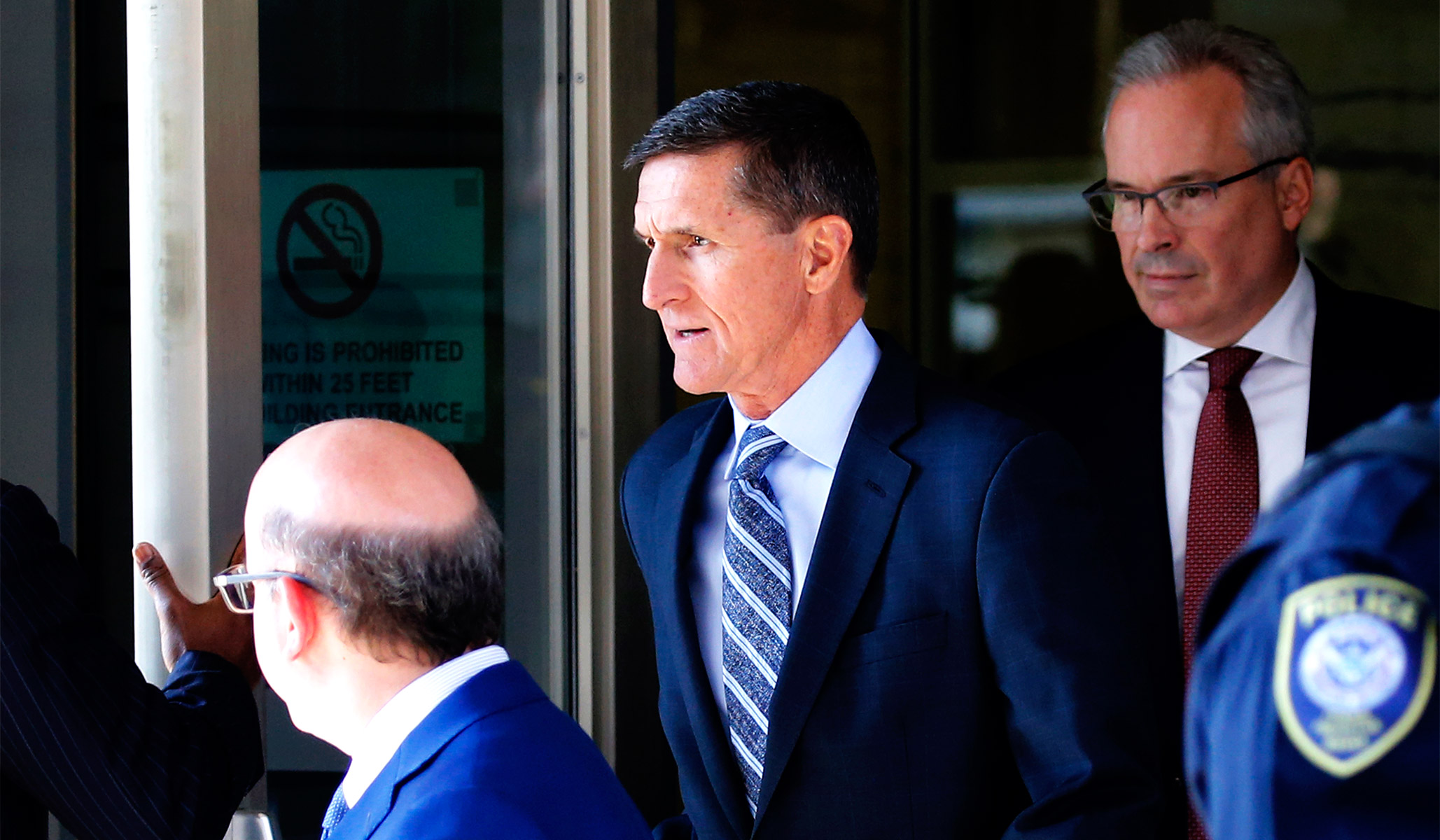 The FBI and DOJ have been burying the investigators' questionable judgments and information helpful to Flynn.
Cute how this works: Kick off the week with some "the Department of Justice is not going to be extorted" bombast from Deputy Attorney General Rod Rosenstein, by which he rationalizes that his defiance of subpoenas and slow-walking document production to Congress — which is probing investigative irregularities related to the 2016 campaign — is required by DOJ policy and "the rule of law." Then end the week with the Friday-night bad-news dump: the grudging removal of DOJ and FBI redactions from a House Intelligence Committee report on Russia's election meddling.
Now that we can see what they wanted to conceal, it is clear, yet again, that the Justice Department and the FBI cannot be trusted to decide what the public gets to learn about their decision-making.
They tell us that their lack of transparency is necessary for the protection of national security, vital intelligence, and investigative operations. But what we find out is that they were concealing their own questionable judgments and conflicting explanations for their actions; their use of foreign-intelligence and criminal-investigative authorities to investigate Michael Flynn, Trump's top campaign supporter and former national-security adviser; and their explicitly stated belief that Flynn did not lie in the FBI interview for which Special Counsel Robert Mueller has since prosecuted him on false-statements charges.
It is simply ridiculous for President Trump to continue bloviating about this situation on Twitter and in friendly media interviews, and for congressional Republicans to continue pretending that the problem is Justice Department and FBI leadership — as if Trump were not responsible for his own administration's actions. The president has not only the authority but the duty to ensure that his subordinates honor lawful disclosure requests from Congress.
What happened with these redactions is inexcusable.
Background
A little over a week ago, the House committee chaired by Representative Devin Nunes (R., Calif.) published its lengthy report on Russia's interference in the 2016 election. The report was actually completed weeks earlier but was withheld while the committee battled to disclose information that the Justice Department and FBI insisted on blacking out. As usual, the DOJ claimed that the declassification and release of the information would damage investigations and national security. No, it wouldn't, countered Chairmen Nunes and other Republicans who knew what had been redacted.
When the Comey memos were finally disclosed, we learned that there was no investigative or national-security reason to have concealed them.
This has become a depressingly familiar dance. Justice and the Bureau previously insisted that the sky would fall if Congress forced the release of an Intelligence Committee report on government abuse of foreign-intelligence surveillance powers. To the contrary, we learned that the FBI and DOJ had used the unverified Steele dossier to obtain surveillance warrants on at least one person tied to the Trump campaign, in contravention of express guidelines that "only documented and verified information may be used to support FBI applications to the [FISA] court" (see Nunes's March 1 letter to Attorney General Jeff Sessions). In addition, we learned that the FISA court was not told that the dossier was a Clinton campaign opposition-research project, and that its author, Christopher Steele, had been terminated as an informant for lying to the FBI about his contacts with the media.
More recently, the FBI severely restricted access to former FBI director James Comey's memos of his meetings with President Trump. Finally, three congressional committees protested that there was no legal basis for such restriction. When the memos were finally disclosed, we learned that there was no investigative or national-security reason to have concealed them. They did, however, provide greater insight about such matters as how a briefing of then-president-elect Trump on a salacious sliver of the dossier (but not on its sensational allegations of a traitorous conspiracy with the Kremlin) led to an intelligence-community leak about the briefing and the consequent media publication of the dossier — the backbone of the media-Democratic "collusion with Russia" narrative. (See Mollie Hemingway's analysis at The Federalist.)
That leads us to last Friday's disclosure of some — but not nearly all — previously redacted sections of the Intelligence Committee's Russia Report.
Comey vs. the Committee: Did Agents Believe Flynn Lied?
When the House first issued its report on the Russia investigation, a heavily redacted portion (pp. 53–54) related that Trump's original national-security adviser, Michael Flynn, had pled guilty to a false-statements charge based on misleading statements to FBI agents about his December 2016 conversations with Russian ambassador Sergey Kislyak. The report explained that Flynn had been rebuffed by Kislyak when, based on instructions from the Trump transition team, Flynn asked Russia to refrain from voting in favor of a U.N. resolution condemning Israel. Flynn also discussed with the transition team what, if anything, he should communicate to Kislyak about Trump's position on the sanctions that President Obama had imposed on Russia over its interference in the 2016 election.
None of this was new information. Indeed, the committee noted that it was drawn from public court filings by Special Counsel Robert Mueller in connection with Flynn's guilty plea. But there was one intriguing disclosure in the redacted report: Flynn pled guilty "even though the [FBI] agents did not detect any deception during Flynn's interview." There was no elaboration on this point — no discussion of why Flynn was interrogated by FBI agents in the first place; no insight on deliberations within the FBI and Justice Department about whether Flynn had deceptive intent; no explanation of how he came to be charged months later by Mueller's prosecutors even though the trained investigators who observed Flynn's demeanor during the interview did not believe he'd lied.
This news that Flynn's interrogators had not sensed deception was not altogether new. It had been reported that then–FBI director James Comey had made this revelation in closed-session testimony before the committee on March 2, 2017. (See my column.) Yet, during media interviews to promote his just-released memoir, Comey — who has rebuked the House Intelligence Committee report as an effort to tear down our law-enforcement institutions — repeatedly expressed bafflement that anyone could possibly have construed his testimony to imply that the agents believed Flynn had not lied. Byron York recounts the interviews at the Washington Examiner. In one, Comey told ABC host and Clinton pal George Stephanopoulos:
I don't know where that's coming from. . . . That — unless I'm — I said something that people misunderstood, I don't remember even intending to say that. So, my recollection is I never said that to anybody.
The now-unredacted passages reveal that top Obama DOJ and FBI officials provided the committee with 'conflicting testimony' about why the FBI interviewed Flynn as if he were a criminal suspect.
Well, shortly after the redactions were lifted late on Friday, The Federalist's Sean Davis got busy on Twitter, posting side-by-side comparisons of the original heavily redacted pages and the new, more transparent version. The disclosures are stunning. I know this will amaze you, but it turns out the redactions had absolutely nothing to do with concerns about the need to protect national security or pending investigations. Instead, the now-unredacted passages:
Elaborate on why the FBI did not believe Flynn had lied, including quotations from Comey's testimony.
Reveal that for some period of time during 2016, the FBI conducted a counterintelligence (CI) investigation of Flynn.
Note that top Obama Justice Department and FBI officials provided the committee with "conflicting testimony" about why the FBI interviewed Flynn as if he were a criminal suspect.
Illustrate that the FBI and Justice Department originally insisted on concealment of facts helpful to Flynn that are already public.
Counterintelligence Investigation of Flynn
The now-unredacted passages relate that, for some period of time during 2016, the FBI was conducting a "CI investigation into General Flynn." It was Comey's recollection that he had "authorized the closure" of that investigation "by late December 2016."
As we have discussed in connection with Carter Page, a former Trump campaign adviser against whom the Obama Justice Department obtained FISA surveillance warrants, a CI investigation on an American citizen proceeds on the suspicion that the citizen is an agent of a foreign power whose clandestine activities violate federal criminal law. That is, it appears possible (if not likely) that the Justice Department was operating on the theory that Flynn — a decorated combat veteran and co-author of a 2016 book that brands Russia as an implacable enemy of the United States — was an agent of the Kremlin.
At some point, moreover, Justice rationalized the investigation into Flynn, at least in part, by relying on the Logan Act. An almost surely unconstitutional 18th-century statute, the Logan Act purports to prohibit Americans from unauthorized freelancing in foreign-policy. It has never been successfully used to prosecute anyone. (Compare then-director Comey's July 5, 2016, press conference and subsequent testimony, in which he theorized that charging Hillary Clinton for a rarely prosecuted classified-information offense would violate Justice Department policy against selective prosecution.)
The startling fact that there was a CI investigation of Flynn does not, of course, tell us on what evidence suspicions against him were based. As I've previously contended (when it was not known that there was a CI investigation, but it was apparent that Flynn had been seen as a criminal suspect), there are profound reasons to question the legitimacy of Flynn's treatment.
Notwithstanding Friday night's unveiling of blacked-out passages, the report still contains redacted paragraphs about Flynn. Two of them (on pp. 52–53) sandwich a passage about a business trip Flynn took to Moscow in late 2015 (seven months before he branded Russia a committed enemy in his book). The trip followed a visit to Kislyak by Flynn and his son at the ambassador's Washington residence.
Though not mentioned in the unredacted passage, it has been reported that Flynn was paid more than $45,000 by Russia's state-owned propaganda network, RT, for a speech he gave while in Moscow — an event at which he sat next to President Vladimir Putin. On the current state of disclosure, we do not know how, if at all, this incident played into the decision to investigate Flynn. Neither do we know whether the FBI and Justice Department took any action when former President Bill Clinton received $500,000  from a Kremlin-connected bank for a short speech delivered in 2010 on a trip to Russia, during which he met with Putin — even as his wife, Secretary of State Hillary Clinton, was among the U.S. officials considering and ultimately green-lighting Russia's effort to acquire rights to one-fifth of America's uranium stock.
The suggestion that Flynn's post-election contacts with Russia were improper, let alone unlawful, is absurd. Flynn was the designated national-security adviser for the incoming administration and a key member of the Trump transition team. To have communications with officials of foreign governments was a legitimate and necessary part of his job.
It is worth noting that Flynn had been fired by Obama from his post as head of the Defense Intelligence Agency and is despised by Obama intelligence officials for having become an ardent public adversary against Obama's national-security policy, most prominently as candidate Trump's most visible supporter. The interest of Obama's DOJ and FBI in Flynn appears to have intensified after Trump won the election, when Flynn was presumed to be laying groundwork to reverse Obama's positions — as Trump promised to do throughout the campaign.
While it is only natural that Obama officials would seethe over Flynn's ascendancy, the suggestion that his post-election contacts with Russia were improper, let alone unlawful, is absurd. Flynn was the designated national-security adviser for the incoming administration and a key member of the Trump transition team. To have communications with officials of foreign governments was a legitimate and necessary part of his job. Plus, Kislyak was a foreign agent subject to FISA surveillance, so the FBI had recordings of his communications with Flynn and knew that Flynn had done nothing improper. (It has been presumed that Flynn's communications with Kislyak were intercepted because Kislyak, not Flynn, was the subject of a FISA warrant; now, with confirmation that Flynn was the subject of a counterintelligence investigation, we may need to revisit that presumption.)
Whatever prompted the CI investigation of Flynn, the now-unredacted passages of the report recount that it had come to nothing by the end of 2016. The FBI's former deputy director, Andrew McCabe, told the committee that "we really had not substantiated anything particularly significant against General Flynn." As noted above, Comey stated that he had approved the closure of the investigation in late December. It seems strange that the file was not closed at that time. Comey indicated that it was "kept open due to the public discrepancy surrounding General Flynn's communications with Kislyak." But that "discrepancy" did not arise until mid January, as Trump's inauguration neared.
It was not much of a discrepancy, which no doubt factored into the interviewing agents' perception that Flynn did not make intentional misstatements. To the Obama Justice Department, the pressing matter was whether Flynn had promised the Russian ambassador that Trump would undo the sanctions and other penalties Obama had imposed on December 29. The recorded phone call between Flynn and Kislyak proved that Flynn had made no such commitment.
And so, ladies and gentlemen, what do you suppose the FBI wanted redacted from the report? If you guessed "the paragraph describing the Flynn-Kislyak phone call," you have caught on to how this wretched game is played. Here's the paragraph that was originally blacked out:
In the call between General Flynn and Ambassador Kislyak, General Flynn "requested that Russia not escalate the situation and only respond to the U.S. sanctions in a reciprocal manner." [Endnote (EN) 90] Russia decided not to reciprocate, which eventually led senior U.S. government officials to try to understand why. [There follows a passage of about two lines followed by EN 91, both redacted.] In a subsequent call with General Flynn, Ambassador Kislyak attributed the action to General Flynn's request. [EN 92]
I've left in the endnotes (report, p. 58) because they confirm that the information in this paragraph comes from a document submitted to the court by Special Counsel Mueller when Flynn pled guilty. (See Statement of the Offense, p. 3, paras. e–g.) It is a public document. To be sure, there is a classified sentence in the middle of the paragraph that may well relate to steps senior U.S. officials took to try to understand Putin's motive for refraining from retaliating against Obama's sanctions. But what conceivable good reason can there have been for the FBI and Justice Department to redact from the report information that was already publicly disclosed? Why black out public information showing that Flynn merely did what any Obama official, or any other U.S. official, would have done — namely, suggest that Russia would only make things worse by escalating the dispute?
Is it because this action, simply communicating with the Russian ambassador, is the real reason Flynn was prosecuted?
Why Was Flynn Subjected to a Criminal Investigation?
Yes, yes, I know — technically, Flynn was prosecuted for making false statements about the conversation, not for having the conversation. Obama officials had hoped to nail Flynn on a heinous crime — a corrupt deal to drop the sanctions as a quid pro quo for Putin's election-meddling that purportedly helped Trump win. Instead, all they could show was a trivial misstep: Flynn's failure to acknowledge that sanctions were mentioned in his conversation with Kislyak — a mention so innocuous that the FBI couldn't decide whether Flynn's failure to describe it was a lie or an innocent failure of recollection.
Is this misstatement really why Flynn was pursued? I don't think so. Obama officials hounded Flynn because, to this day, they remain vindictive toward political opponents who dared to engage in foreign affairs while Obama was still president. Democrats today are cheering former Secretary of State John Kerry's rallying of foreign governments against President Trump's determination to undo Obama's Iran nuclear deal. They make no mention of possible violations of the Logan Act, which prohibits private citizens from acting on behalf of the U.S. in foreign-policy matters. Apparently, the Logan Act, which has never been successfully used to prosecute anyone, is alive and well only when it comes to General Flynn.
Testifying before a Senate Judiciary subcommittee in May 2017, former acting attorney general Sally Yates — the same Sally Yates fired by Trump for insubordination over her refusal to execute his so-call travel-ban — explained that it was she who alerted Trump White House Counsel Don McGahn about problems with Flynn. She told him that Flynn's claim that there had been no discussion of sanctions with Kislyak — an assertion later repeated by Vice President Pence, among other Trump officials, in public statements — was wrong.
Yates stressed, however, that "the first thing we did was to explain to Mr. McGahn that the underlying conduct that General Flynn engaged in was problematic in and of itself."
The underlying conduct. Get it? For Obama officials, the real "crime" was that Flynn was talking to Kislyak in the first place — the Logan Act.
As I've previously noted, since this prosecution theory doesn't pass the laugh test, Obama officials conjured up an alternative "blackmail" theory that is even more ludicrous than the Logan Act bunkum. As Yates told the subcommittee (with a straight face, no less) Russia had "leverage" over Trump's national-security adviser because the Kremlin knew that Flynn had discussed sanctions with Kislyak and, hence, must have lied to Pence — a lie Putin could threaten to reveal unless Flynn did his bidding.
Your average high-school student would readily grasp how silly this is. First, Flynn and Russia also knew that the U.S. intelligence services had a recording of Flynn's conversation with Kislyak. Blackmail only works if the compromising information is secret. The very fact that Yates knew what was on the recording illustrates that Russia had no unique knowledge it could hope to exploit against Flynn. In fact, the Kremlin knew that so many American officials were aware of Flynn's conversation with Kislyak that one of them had leaked it to the Washington Post's David Ignatius two weeks before Yates met with McGahn.
Second, Russia would not have concluded that Flynn necessarily misled Pence just because Pence repeated an inaccuracy. Knowing that misinformation about diplomatic contacts is common, the Kremlin would probably have assumed that the fledgling Trump administration was telling a politically useful lie — the media and Democrats were so agitated about Obama's sanctions that by merely mentioning them, a Trump official risked cries of "Treason!"
The newly unredacted passages in the House report recount that on January 24, "following a call from Deputy Director McCabe to General Flynn, made at the direction of Director Comey," two agents were dispatched to speak to Flynn. (Though not identified in the House report, news coverage indicates that one of these agents was Peter Strzok, then chief of the Bureau's counterespionage section.)
Three days into his job as national-security adviser, Flynn had been meeting with many government national-security agents. Strzok's visit must have seemed routine. Having no notice that he was to be interrogated as a criminal suspect, Flynn spoke with the agents alone, without a lawyer. But why was he being treated as a suspect? The newly unredacted report elaborates:
The Committee received conflicting testimony from Deputy Attorney General (DAG) Yates, Director Comey, Principal Deputy Assistant Attorney General [Mary] McCord, and Deputy Director McCabe about whether the primary purpose of the interview was investigating potentially misleading statements to the Vice President, which the Vice President echoed publicly[,] about the content of those calls [EN 94, citing Yates]; a possible violation of the Logan Act [EN 95, citing Yates]; or a desire to obtain more information as part of the counterintelligence investigation into General Flynn. [EN 96, citing McCabe, who did not recall that Comey had authorized closing the counterintelligence investigation a month earlier.]
Ask yourself: Was this passage previously blacked out due to proper concerns about national security, or because the relevant officials couldn't get their stories straight?
Did the Interviewing Agents Believe Flynn Lied to Them?
Interestingly, in her Senate testimony, Yates recalled that McGahn's commonsense response, upon being told that the FBI had interviewed Flynn on January 24, 2017, was to ask how he did – i.e., did the agents think he lied? Yates primly told the senators that she, of course, had declined to answer that question — as if, having gone this far, she was suddenly concerned about political interference in an ongoing criminal investigation.
We learn from the newly unredacted paragraphs in the House report, however, that Yates had a more strategic reason for declining to answer: Her depiction to McGahn of a cunning, compromised national-security adviser who was a threat to the president would not have been much of a story if she had to admit that the FBI believed Flynn had not lied in his interview.
As earlier described, Comey has expressed bewilderment in recent media appearances over the Intelligence Committee's assertion, based on his testimony, that interviewing agents did not believe Flynn lied. But now that the previously blacked-out passages have been unredacted, the Committee's thinking is apparent. The report quotes Comey himself:
[T]he agents . . . discerned no physical indications of deception. They didn't see any change in posture, in tone, in inflection, in eye contact. They saw nothing that indicated to them that he knew he was lying to them. [EN 97, citing then-Director Comey's closed-session Committee testimony on March 2, 2017.]
To be fair to Comey, we have only this snippet of his testimony. Perhaps there are other sections that would put this passage in a different light. Perhaps he recalls saying something that has not been disclosed and that is more consistent with a conclusion that Flynn lied. That's why, in addition to unredacting more of the report, there should be broad disclosure of the underlying testimony and interviews that are now classified.
There is no Department of Justice in the Constitution. It is an executive-branch component created by Congress, funded with taxpayer funds appropriated by Congress, and subject to congressional oversight.
At the moment, though, we know two things for sure: 1) Comey unambiguously stated that, at least initially, the agents did not find that Flynn had lied; and 2) as long as Comey was FBI director, Flynn was never charged with lying.
If anything, McCabe's December 19, 2017, testimony (currently also under lock and key) was even more favorable to Flynn. The report's newly unredacted passages quote him:
[The] conundrum that we faced on their return from the interview is that although [the agents] didn't detect deception in the statements that [Flynn] made in the interview . . . the statements were inconsistent with our understanding of the conversation he had actually had with the [Russian] ambassador.
McCabe added, in another just unredacted passage:
The two people who interviewed [Flynn] didn't think he was lying, [which] was not [a] great beginning of a false statement case.
Conclusion
There is no Department of Justice in the Constitution. It is an executive-branch component created by Congress, funded with taxpayer funds appropriated by Congress, and subject to congressional oversight to ensure that its operations are conducted in accordance with their statutory purposes. Because of the sensitivity of their law-enforcement and intelligence missions, the Justice Department and its premier agency, the FBI, are shown great deference when lawmakers make requests — or even demands — for information. Contrary to what Justice Department leadership apparently believes, this deference is not an entitlement. It is result of respect earned over time by an institution that — its proud alumni like to believe — has a tradition of dealing honorably and transparently with peer branches of government.
It is a fact of life that the precious commodity of a good reputation takes much less time to lose than to build.
There is no defending the redactions that have now been disclosed. Especially in light of recent history, this powerfully suggests that there is no justification for withholding much else that the Justice Department refuses to reveal.
Republican committees can carp all they like about Deputy Attorney General Rosenstein. The buck stops with the president.