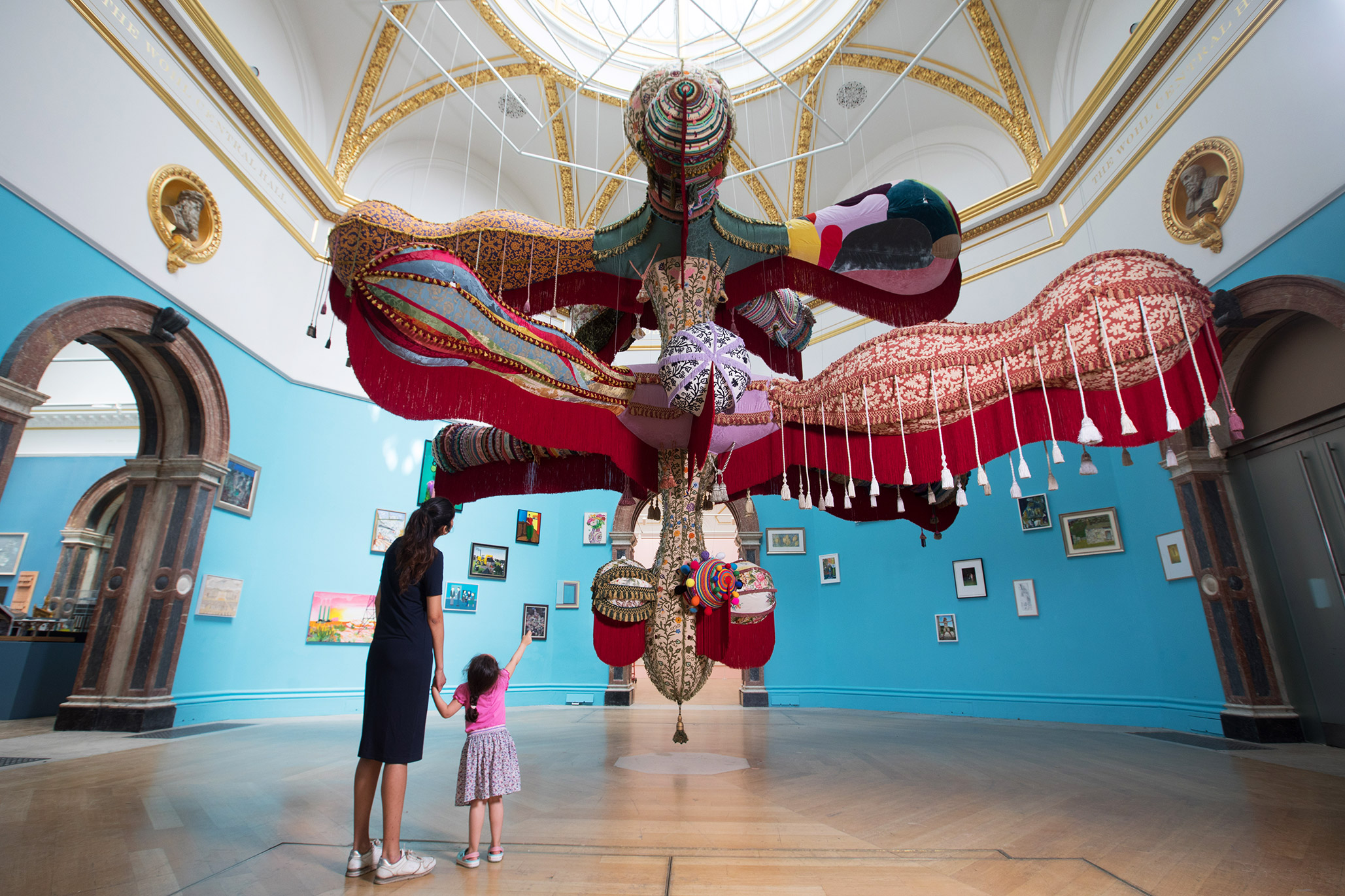 The Royal Academy's colorful summer exhibit recalls the '60s, minus the rage.
The Summer Exhibition at the Royal Academy in London isn't called the Great Spectacle for nothing. The RA is the zenith of the British art establishment, grandly located on Piccadilly, so a more prestigious venue is hard to find. It's also an open-submission show and probably the only time any bloke-of-an-artist can compete with, say, David Hockney, for a spot on the walls. And almost everything is for sale.
It's a one-stop "What's On" for British culture. It's artist-juried, so there's no mediation by curators or academics and no labels. No one's telling you what a picture means. This year marks a milestone, the RA's 250th anniversary. A committee of the Academicians (the 80 artist-members of the RA) select a slender slice to display — they chose 1,351 works from about 20,000 submissions. Standards for selection are vague. The highest quality? Not exactly. "Represents the range of creativity" is closer to the mark.
For years the RA's zeitgeist was conservative, though it's gotten edgier. Nothing says this better than the selection of Academician Grayson Perry as the "coordinator," or visionary and chief curator, of this year's show. He makes clay pots, using forms nearly as old as humanity, and he decorates them with figures lost in muddled sexuality or relationships. Think ancient Greek vases, but instead of images of gods or athletes, we see bewildered children, drug-addled adults, or wrecked cars.
His work is giddy and colorful, but there's always one of life's snags getting in the way of the fun. He spoofs himself (and that's a gift that keeps on giving) as well as everything in Britain that is, as he says, "spiritual or profound." He's a transvestite, too, a trait he developed as a child to cope with trauma. His female alter-ego is named Claire. He often carries his childhood teddy bear, Alan Measles. He's evolved into a cross-dressing court jester, part Hogarth, part Feste from Twelfth Night, pungent in his opinions but silly and charming. Yes, he's a good artist.
I've gone to enough Summer Exhibitions to see immediately that it's Perry's show. The walls are bright colors like sunshine yellow and robin's-egg blue — it is, after all, a summer show — and it feels like a very campy indoor summer camp. There's lots of texture, whether in sculpture or textile, but Perry is a potter and fabric artist. There's less black-and-white work and fewer photographs than I remember from past shows. There's little video art, in part because Perry likes the wow factor of big, bright, open spaces. Video art requires carved-out, intimate caves of dark space. Perry's conception is vastly communal and sensual. Joana Vasconcelos's massive Royal Valkyrie — 487 pounds of crocheted wool, felt appliqué, and assorted ornaments — greets the visitor and sets the tone. It looks like a flying saucer has landed in a pajama factory.
Some of the walls are packed from floor to ceiling. That's not Perry's idea but the tradition of the show. It allows both abundance and that inscrutable power of a good picture to speak above the babble. Holland Cunningham's Joyce Has Issues is small, nicely painted, succinct and effusive, funny and deadly; and in that discreet combination lies its power. It didn't even need a title. It keeps supplying storylines. Everyone, after all, has a bit of Joyce inside, itching to get out.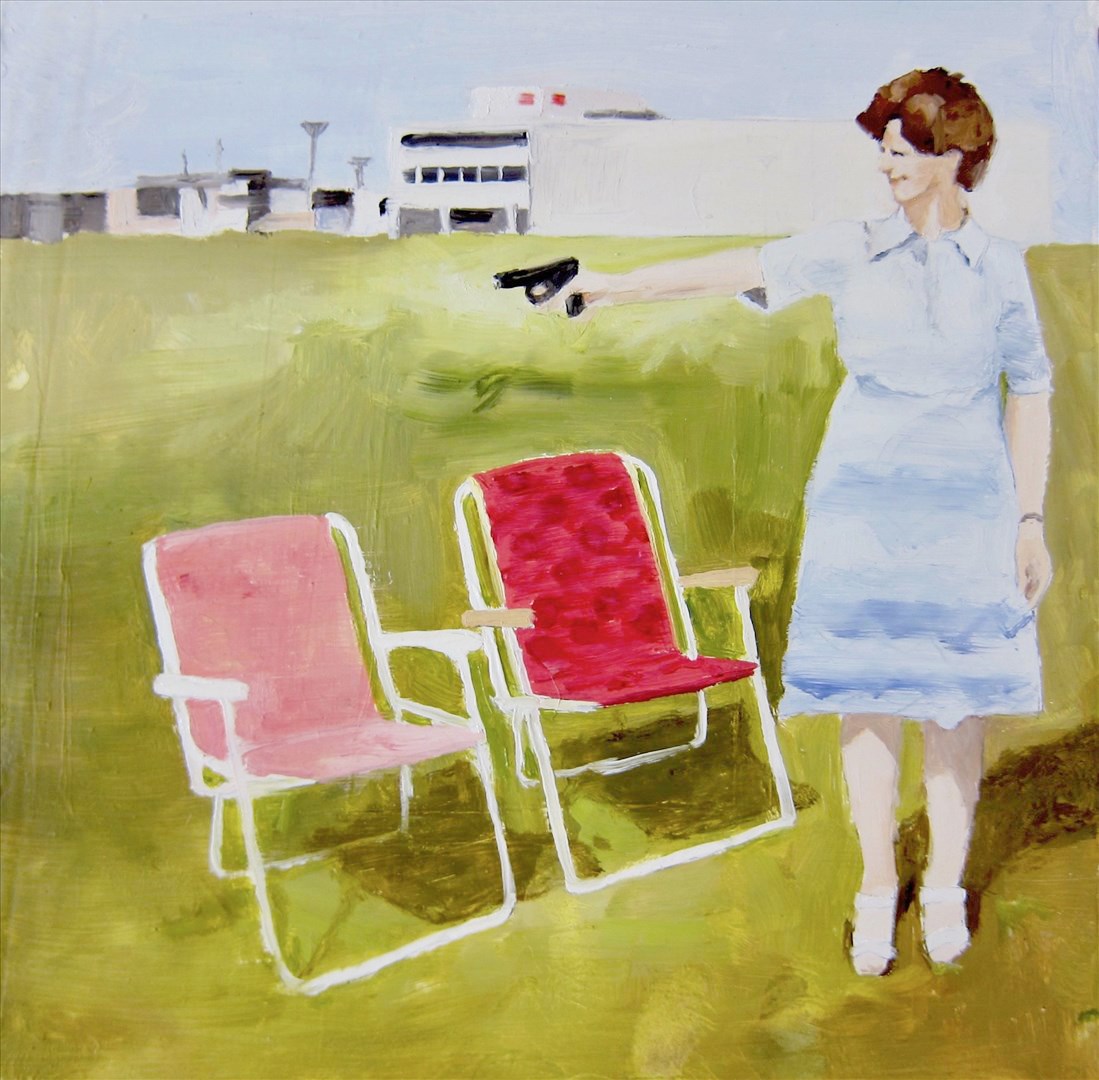 Timothy Blewitt's Rufus 3d is fiercely totemic, and so modern and gaudy that it could guard Liberace's tomb. I loved Richard Forster's Incoming Seas and Andrew Holmses's The Enchanted Ground; both are sublime drawings, but that's the traditionalist in me.
Nothing done by an Academician struck me as especially great, except for Jock McFadyen's gorgeous Le Village Hollandais, which captivated an entire gallery with its simplicity and palette.
Paula Rego isn't known in America, but she should be. Her triptych Human Cargo is very powerful.

Philip Sutton's Falmouth, a Windy Day is big and both flashy and tame, a good thing and expensive enough, at £46,000.
Academicians can each display six works of their choosing and the show is the best marketing tool ever because it's very widely seen. For the artists, it's a chance not to experiment but to show, and sell, safe, trademark work. So there are lots of landscapes and seascapes. The very good Tracey Emin seemed to mail it in. Her squiggle drawings were uninspired. Work from the Academicians is among the most expensive, but it's better known. But visitors can buy a good print by the under-the-radar artists for £150.
Perry is a performance artist, and as a curator myself, I love seeing the act of curating a show elevated to the art form I've long believed it to be. The pictures, after all, don't jump on the wall by themselves. A portrait by David Griffiths of the controversial, far-right United Kingdom Independence Party leader Nigel Farage is unmissable in the show's biggest gallery only in part because of its size, placement, and riveting ugliness. It's from the pool of open submissions. It's competently done, technique-wise, suggesting that a little knowledge, whether by an artist or a politician, is sometimes a dangerous thing. Perry hung it next to a beautifully painted, however bizarre, picture by Nicholas Peall of a woman, or a man with painted nails, inserting a straw in a penis. Call it curator's prerogative. Much of the work in this gallery has a political theme, as does plenty of new art today, but Perry tells us he didn't want to get "too shouty."
This year, the Summer Exhibition looks and feels like the ultimate 1960s hippie happening in all its asymmetry, bright color, and irreverence but without the anger and idol-smashing. It's more than 50 years since the age of Swinging London, so perhaps we have gained perspective. For lots of visitors, the most serious business at hand isn't revolution but looking at art and people. Perry's respectful of the history he's helping us celebrate and well aware of the history he's made himself as an artist and in choreographing a delightful, beguiling show.