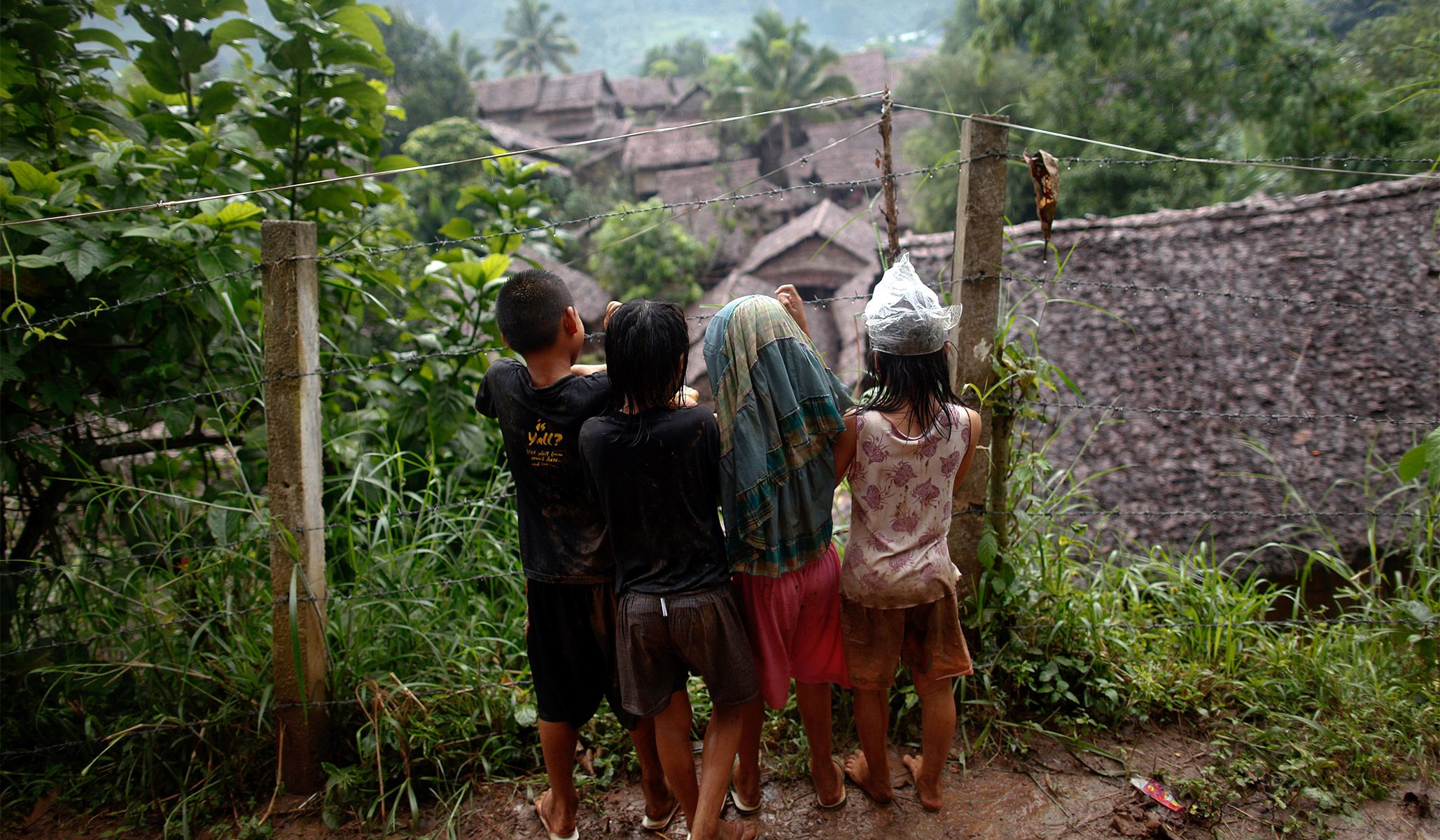 Burmese hopes for a more peaceful and prosperous future after decades of tyranny and strife are receding.
Mae Sot, Thailand — For decades, the ruling military junta conducted brutal military campaigns against a score of ethnic minorities concentrated in the east of Burma, which it eventually renamed Myanmar. Among those who suffered the most were the Karen (or Kayin), the country's second-largest ethnic group, which numbers between 5 and 7 million people, or about 10 percent of the population. Most Karen live near the central–southeast border with Thailand. A large percentage are Christian, their ancestors having been converted back in the 1800s.
The small Thai border town of Mae Sot suffered from the consequences of that fighting. U.N. organizations and private NGOs are located there, along with the Karen leadership. About 35 miles north sits Mae La refugee camp, established in 1984. Mae La's population exploded as a result of military operations by the Burmese army, or Tatmadaw, across the nearby border. The army invaded Karen territory, destroyed villages, killed animals, conscripted porters, brutalized residents, and placed land mines. People had no choice but to flee, and perhaps a million Karen were displaced during the conflict. Over the years, the strength of the Karen National Liberation Army (KNLA) — the armed wing of the Karen National Union (KNU), which has been at war with the Burmese government since 1949 — ebbed, in part due to internal splits, causing the "liberated zones" it protected to shrink.
A ceasefire was agreed to in 2012. No longer do Tatmadaw attacks lead to periodic surges of new refugees across the Moi River into Thailand. Mae La's population has fallen to some 50,000 Karen today, but it remains a de facto city, with traditional wooden homes on poles carpeting the undulating hills. Although the military junta that took control of Thailand in 2014 hoped to force all of Mae La's residents back across the border, the camp feels like a permanent home for the Karen refugees who live there.
U.S.-based Christian Freedom International has worked with the Karen for years. CFI trained medics, opened rudimentary but vital clinics, subsidized orphanages and churches, and otherwise helped mitigate the impact of the seemingly endless war. At the group's invitation I first visited the region nearly two decades ago, and saw how the Karen greatly appreciated the efforts of Americans devoted to standing with them in their time of need.
During some of the ugliest years of fighting, the George W. Bush administration allowed thousands of Karen refugees to settle in America. CFI, then headquartered in Sault Ste. Marie, Mich., helped a number of these new residents, some of whom had attended CFI-backed schools while refugees, adjust to a very new culture and climate. The group set up tutoring, assisted residents in finding employment, and organized volunteers to help Karen families adapt to America. It even bought a motel and turned the rooms into apartments for Karen families.
CFI is not the only organization to assist the Karen refugees who have settled across the Burmese border with Thailand. But in recent years some international groups have left, believing their job to be done. Refugees at Mae La report that aid has declined. And with many displaced Karen still struggling, there is much work yet to be done.
In Mae Sot, CFI operates a small but intense school for Karen students mostly in their teens. The school, now called the Victory Bible Academy, teaches practical subjects within a Christian framework, hosting orphans as well as kids sent by fearful parents. In past years many of its students suffered through military assaults, family deaths, burning villages, and desperate escapes. Today, the students' homes are largely at peace and they look forward to a more prosperous and peaceful future.
VBA is overseen by a redoubtable Canadian couple, Joe and Marnie Scott, who manage, teach, and serve the students. As the Scotts confront big practical challenges every day, they also promote their students' spiritual education. It isn't always easy, since for some Karen, Christianity is more an identity than a way of life, and it is not always easy to see God amid years of hardship and despair. But there is evidence that the message is having an impact on students. During their school breaks many students choose to return to Burma to promote their faith, and CFI's Wendy Wright reports that half of the school's recent graduates work in some way aiding their communities.
The West has few good options for changing this sorry state of affairs. Though the halting move toward democracy appeared to vindicate support for Aung San Suu Kyi, the brutal campaign of murder and ethnic cleansing against the Rohingya has discredited her government and the Tatmadaw.
Unfortunately, the bright economic future that VBA's students long for still looks far off. Educational and economic opportunities for Burmese citizens living in Thailand are limited. Karen State in Burma is mountainous and rural, often even primitive. Transportation and other infrastructure projects are underway, but good roads are few. Many people are isolated in hamlets or small villages. The provincial authorities have talked of attracting industry, but access to electricity is limited or nonexistent in many areas, and there would be little legal or regulatory protection for businesses that did choose to invest: Neither the KNU nor the Burmese government recognizes the other's property titles.
What's more, peace remains tenuous at best. The Karen, who fought with the British against Japan in World War II, took up arms for independence and autonomy after the war. The conflict has ended only provisionally. Although a civilian government effectively controlled by long-time democracy activist Aung San Suu Kyi has taken root in the country's capital, Naypyidaw, it does not control the military, which remains a state within a state. And negotiations with the Karen and other ethnic groups — including the Arakan, Chin, Karenni, Lahu, Mon, Pa-O, and Shan — to turn the current ceasefire into a permanent peace have achieved little.
Worse yet, the horrific attacks on the Rohingya people raise questions as to the military's willingness to tolerate ethnic diversity. The Rohingya bear a special burden — they are Muslim and stateless, having been stripped of their citizenship and declared foreign interlopers by the government. Even Suu Kyi appears to share this view. Buddhist nationalism is on the rise in Burma, as it is in Thailand and Sri Lanka. And the army's brutal depredations demonstrate that its character remains unchanged, that the apparent desire for peace in the east is more a matter of convenience than of principle.
Indeed, the Karen and other ethnic groups are still suffering under the Tatmadaw's heavy hand. Last December, Burmese officials barred a Karen group from erecting a statue of an ethnic leader in a public spot in Karen State. In March, shortly after I visited, the military invaded the township of Hpapun, confiscating land and displacing thousands of Karen residents from more than a dozen villages to build a road. A month later, Burmese soldiers ambushed Saw O Moo, an activist on his way home from a meeting on humanitarian aid for these new refugees.
As yet, the possibility that widespread hostilities in Karen State could resume appears distant, but serious fighting continues against other ethnic groups, such as the Shan. Last month, combat flared with the Kachin, another largely Christian people, displacing thousands more civilians. An unprecedented protest against the fighting was held in Yangon, only to be roughly dispersed by riot police.
Life today is better for many Burmese. But though, in a welcome change from previous visits, I was able to freely cross into Karen State without danger, peace is still maintained only because those institutions and officers who not that long ago were ravaging the Karen people allow it to be maintained. Some Karen worry about the ability of their leaders, both in the KNU and the KNLA, to stand up to further pressure.
The West has few good options for changing this sorry state of affairs. Though the halting move toward democracy appeared to vindicate support for Suu Kyi, the brutal campaign of murder and ethnic cleansing against the Rohingya has discredited her government and the Tatmadaw. But few Western governments want to admit that their fulsome support for the iconic Suu Kyi and her government was a mistake. To reimpose sanctions might end any move toward fuller democracy.
How, then, to encourage the government to consummate peace with its citizens, including the Karen? Burma was once one of President Barack Obama's few celebrated foreign-policy successes. Today it looks far less like a success, and the Trump administration doesn't appear to be paying much attention, let along seeking a solution, to the increasing conflict. Which means that the situation will change only if the Burmese government ends its multi-front war on its own people — an outcome we should all hope for, as unlikely as it seems.