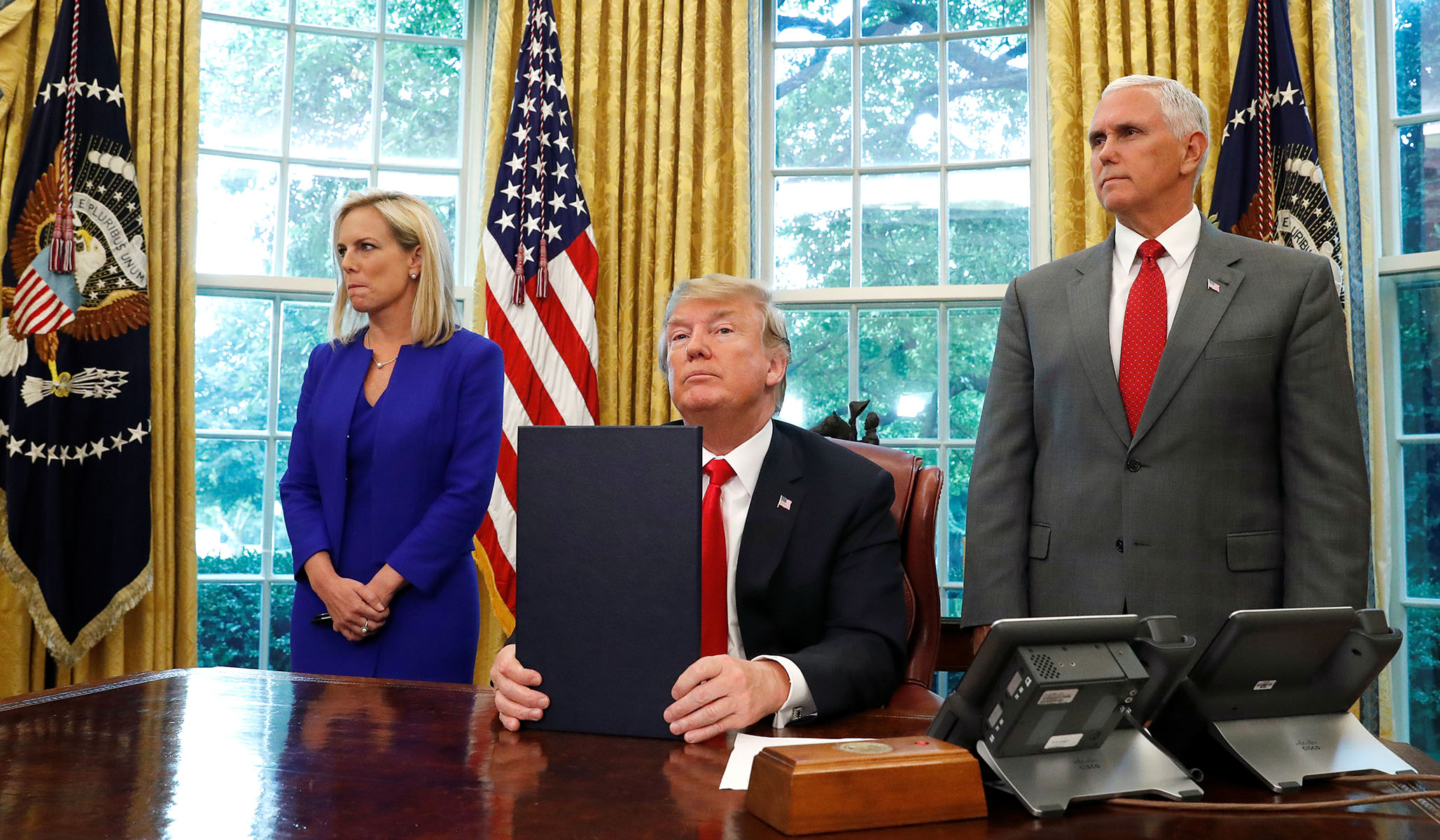 Is a policy 'child abuse' simply because Trump is executing it?
Family separation is over, for now. The executive order President Trump signed yesterday fits within his statutory authority, complies with existing law, and directs his attorney general to petition federal courts to grant him greater authority to "detain alien families together." The title of the order, "Affording Congress an Opportunity to Address Family Separation," contains its own plea that the legislative branch step up and exercise its constitutional authority.
This is all good. Families shouldn't be separated merely to prosecute misdemeanors or during asylum proceedings. The administration should pursue lawful changes to legal rules that functionally require catch-and-release, rules that incentivize families to make a sometimes extraordinarily dangerous trip across the border with young children.
But despite this victory, Democrats are still furious. It's not enough to stop child separation. Now, they want to prevent family detention entirely. Immigration activists refer to family detention centers as "family gulags." Nancy Pelosi calls family detention a form of "child abuse" and a violation of "children's human rights." Pelosi and Senate minority leader Chuck Schumer signed a joint letter demanding that Trump "quickly present alternatives" to family detention. MSNBC's Chris Hayes has been waging an online battle against the very concept of family detention.
But those of us with a trace of historical memory know that the Trump administration is merely asking the courts and Congress to adopt the Obama administration's legal position.
Yes, you read that correctly. As the Trump administration seeks to modify the Flores consent decree to allow for family detention past 20 days — and as GOP members of the House and Senate introduce bills that would overrule Flores — they are following in Obama's footsteps. Don't believe me? Read the exact words of the Ninth Circuit Court of Appeals in Flores v. Lynch, the 2016 case that extended the Flores consent decree to cover children with families:
In 2014, in response to a surge of Central Americans attempting to enter the United States without documentation, the government opened family detention centers in Texas and New Mexico. The detention and release policies at these centers do not comply with the Settlement. The government, however, claims that the Settlement only applies to unaccompanied minors and is not violated when minors accompanied by parents or other adult family members are placed in these centers.
Now, compare this statement with Trump's request in his executive order:
The Attorney General shall promptly file a request with the U.S. District Court for the Central District of California to modify the Settlement Agreement in Flores v. Sessions, CV 85-4544 ("Flores settlement"), in a manner that would permit the Secretary, under present resource constraints, to detain alien families together throughout the pendency of criminal proceedings for improper entry or any removal or other immigration proceedings.
And compare it to the text of the "Keep Families Together and Enforce the Law Act" introduced by Senate Republicans, this morning:
The Secretary of Homeland Security shall temporarily house an alien child under the age of 18 years . . . together with the parent of the child in a family residential center maintained by the Secretary of Homeland Security during the pendency of civil or criminal proceedings.
This is the Obama argument, repackaged under Trump.
Moreover, Democrats are outraged at the notion that Trump would adopt a tougher stance to deter mass migration. Yet a lower court found that the Obama administration had implemented family detention as a deterrent. The District Court for the District of Columbia said there was "ample support" for the contention that "DHS policy directs ICE officers to consider deterrence of mass migration as a factor in their custody determinations, and that this policy has played a significant role in the recent increased detention of Central American mothers and children." (Emphasis added.)
Indeed, in a long thread about Obama-administration detention policies, immigration attorney Andrew Free says that Obama himself said that he hoped to prevent families from attempting the border crossing:
6/ So when I said "Yes", the President looked back and engaged: "I'll tell you what we can't have. It's these parents sending their kids here on a dangerous journey and putting their lives at risk."

— R. Andrew Free (@ImmCivilRights) June 19, 2018
So, there you have it. Obama didn't just want the Flores consent decree to apply to families with children. The Obama administration also used detention as a deterrent.
And this wasn't ancient history. This wasn't Obama's first term — you know, when he was the kind of insufferable bigot who believed marriage was the union of a man and woman. No, this was the Obama administration's position in 2015 and 2016.
Conservatives shouldn't pretend that Obama's policies were unopposed by the Left. Indeed, his administration faced lawsuits and protests (including the lawsuit that extended Flores to children with families), but remember when trans activist Jennicet Gutiérrez interrupted an Obama speech to protest deportation and detention? Gutiérrez was hissed and drowned out by the crowd.
Democrats — and many Republicans — united to end family separation. Now, Democrats unite again to take on policies that many of them supported (or were silent about) two short years ago.
How much do you want to bet that those same people would hail Gutiérrez as a hero for interrupting Trump to protest the same policy? How many elected Democrats were accusing the Democratic president of "child abuse," or creating "family gulags"?
Democrats — and many Republicans — united to end family separation. Now, Democrats unite again to take on policies that many of them supported (or were silent about) two short years ago. That's one reason why it's so hard to take contemporary political rhetoric seriously. Is a policy "child abuse" simply because Trump is executing it?
There is no perspective. There is no sense of proportion. There is no historical memory.
The American border has presented policymakers of both parties with immense challenges, and there are no neat, easy answers. But the essence of negative polarization is to define a party by opposition, not by principle. Rhetoric is driven by animus, not reason, but if reason matters, it's important to understand that family detention is a sensible response to illegal family immigration. Just ask Barack Obama. In 2016 he would have agreed.
NOW WATCH: 'Trump Moves to Obama's Position on Family Detention, Democrats Outraged'