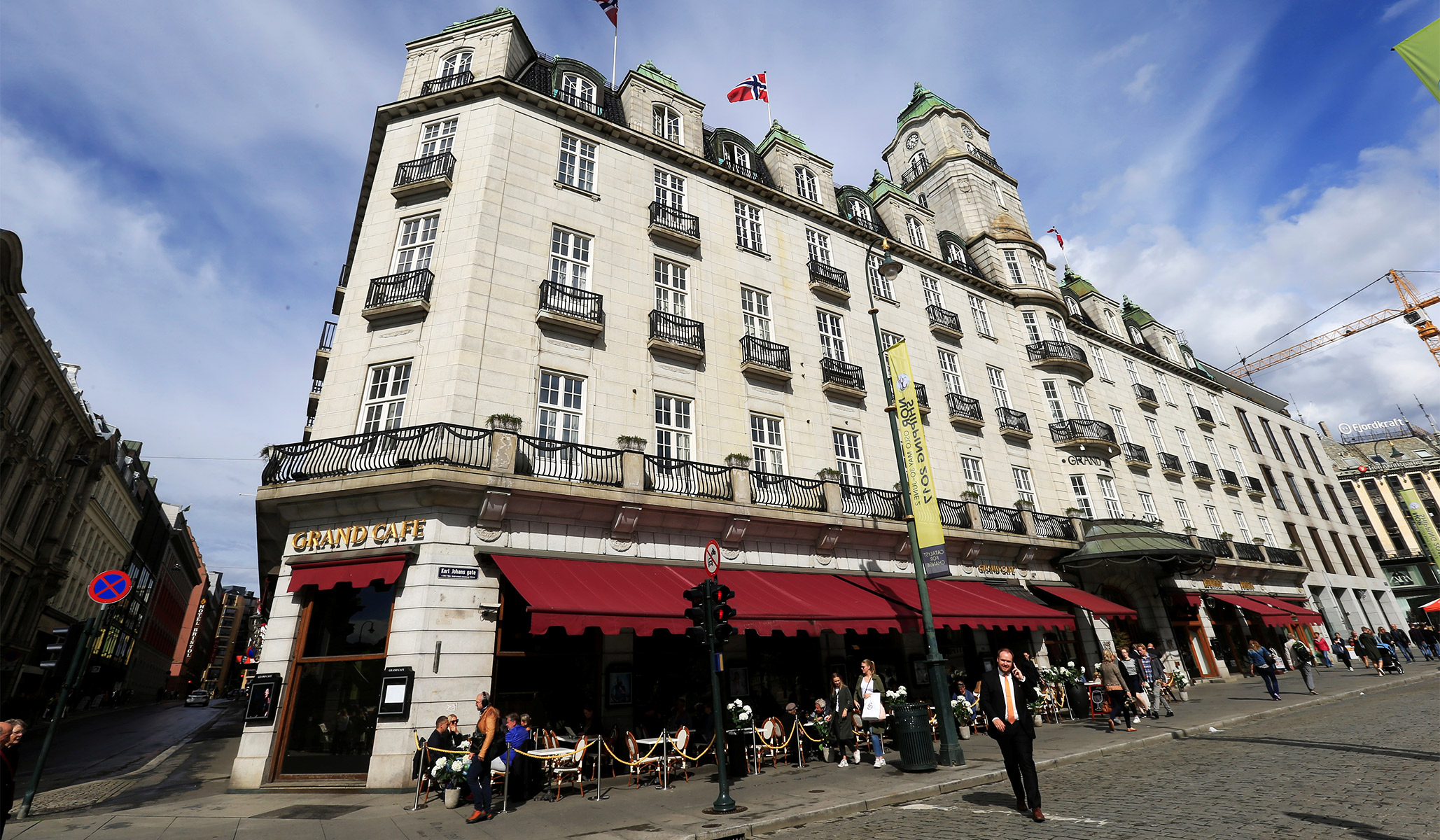 Notes on the Norwegian capital
When you're going to Norway, you see it in the departure lounge, thousands of miles away. What do I mean? Well, there's a symphony of blond. I'm talking about Norwegians, returning home.
But they're not all blond, are they? Of course not. There are lots of non-blond Norwegians, millions of them. Still . . .
• The captain of this particular plane is Irish, and he addresses his passengers as follows: "Ladies and gentlemen, boys and girls . . ." That is so wonderful. And in a lilting Irish voice, as a bonus!
I hope people will never stop saying, "Ladies and gentlemen, boys and girls" — but I fear it has pretty much died out already . . .
• Next to my hotel in Oslo, there is a Subway sandwich shop — even closer than the Subway near my home, and near my office. What a reach that company has (deservedly).
• Oslo also has a good number of 7-Elevens — although I have never seen so many as in Taipei. Ever.
• In the lobby of the hotel, there is a kind of cooler of water available for guests. Next to the cooler is a tray of glasses — glass glasses. I sort of like plastic. Isn't that terrible? America is often criticized as a disposable society. We are awash in paper, styrofoam, plastic — disposable items.
I know it's bad, but, by golly, I like it. #ShowYourColors
• You want to eat Norwegian? Well, the below platter has whale, moose, and reindeer heart, just for starters . . .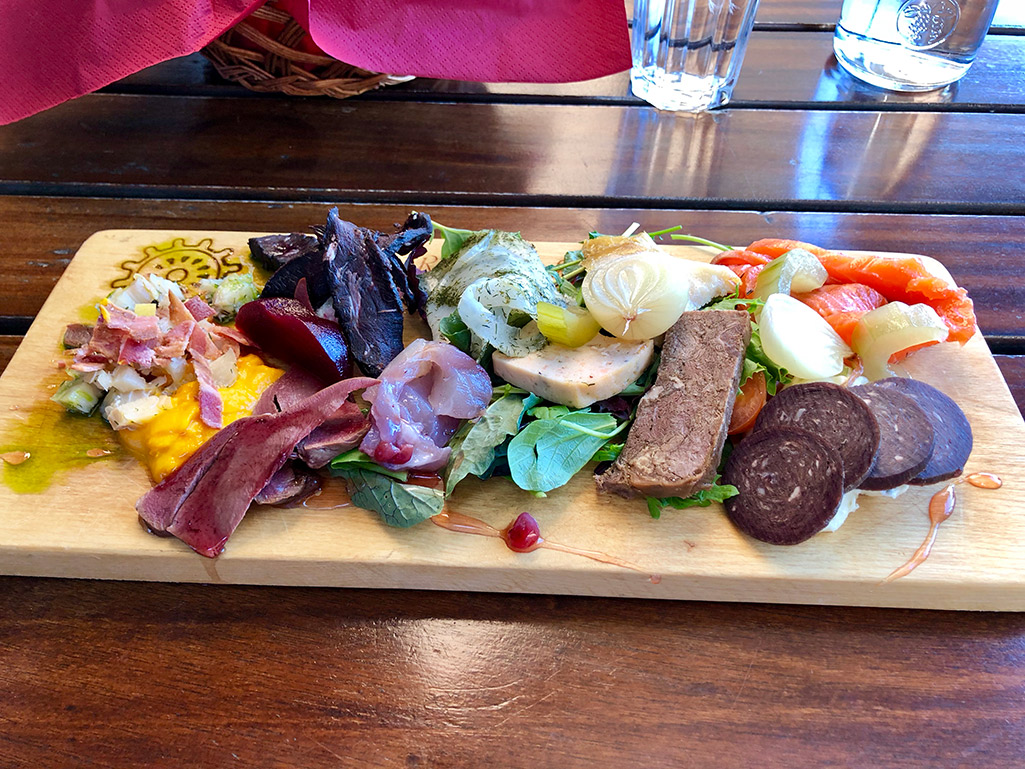 • I ask for ice for my water — a little apologetically. The waitress says, "Don't worry: We Norwegians have ice in our water all year 'round, even when it's well below zero."
I'll be darned.
• Norway has a Main Street — not just Oslo, but Norway itself. It is Karl Johan Street, here in the capital. Can other countries say the same? The Champs-Elysées is not the Main Street of France. Is Unter den Linden the Main Street of Germany? I don't think so.
But Karl Johan Street serves that function here. At one end, you have the major rail station; at the other end, the royal palace. In between, the Storting, the National Theater, and other things.
The Storting is the parliamentary building. Would you like to see it on a bright sunny day?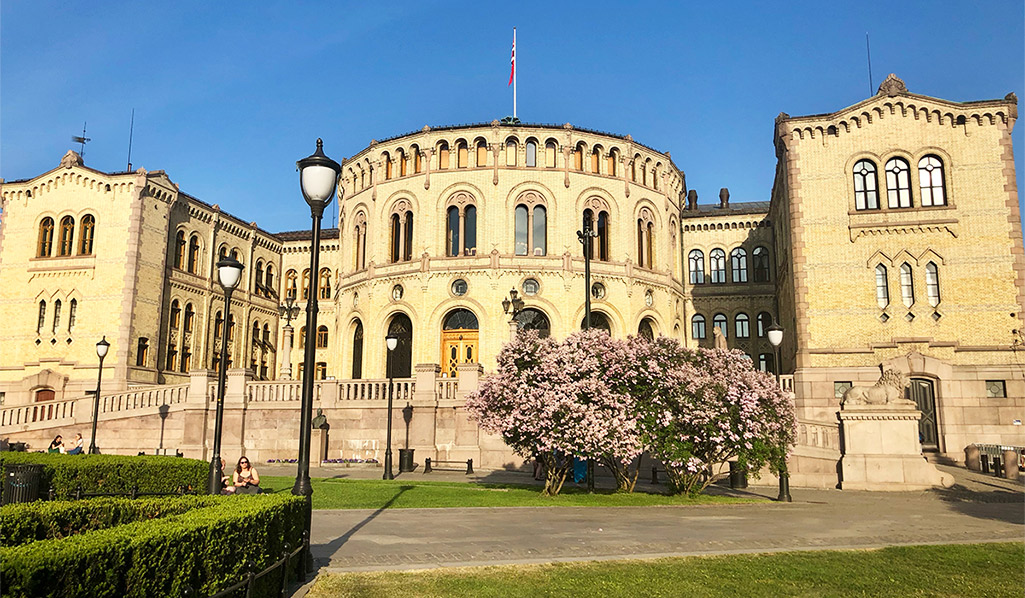 • It is hot in Oslo — seriously hot. Mid-eighties. This is well-nigh unprecedented, I'm told. A veritable heat wave. The heat is prickly and glarey, too (to use strict meteorological terms). Does that have to do with the northernness of the country?
In the park outside the royal palace, there are sunbathers. A great many of them. Some are very, very scantily clad, too — dental floss plus bra. That kind of thing. And, holy moly, are these people white. Pastier than paste. I have never seen anything whiter. I sort of fear for them, out in the sun . . .
I'll show you something nice — a couple of kids, splashing through a little pond . . .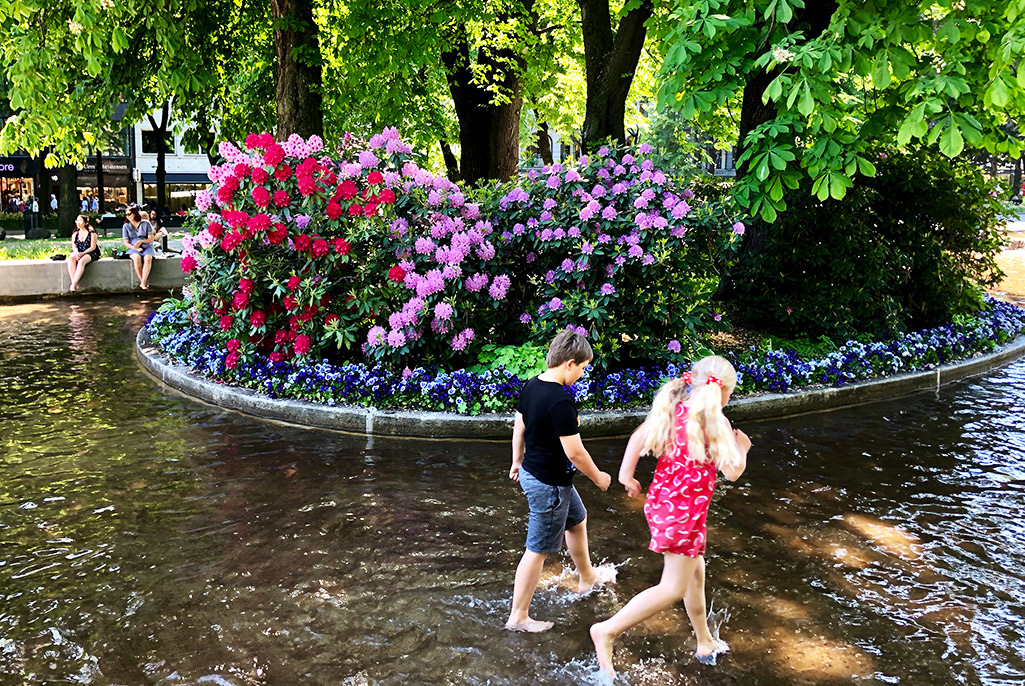 • I have been to Frogner Park many, many times. It's probably my favorite park in the world. I always make sure to say hi to Sonja — Sonja Henie, the figure skater, and a world sweetheart. I have never seen her in such hot conditions. How's she holding up? Pretty well, by the looks of it: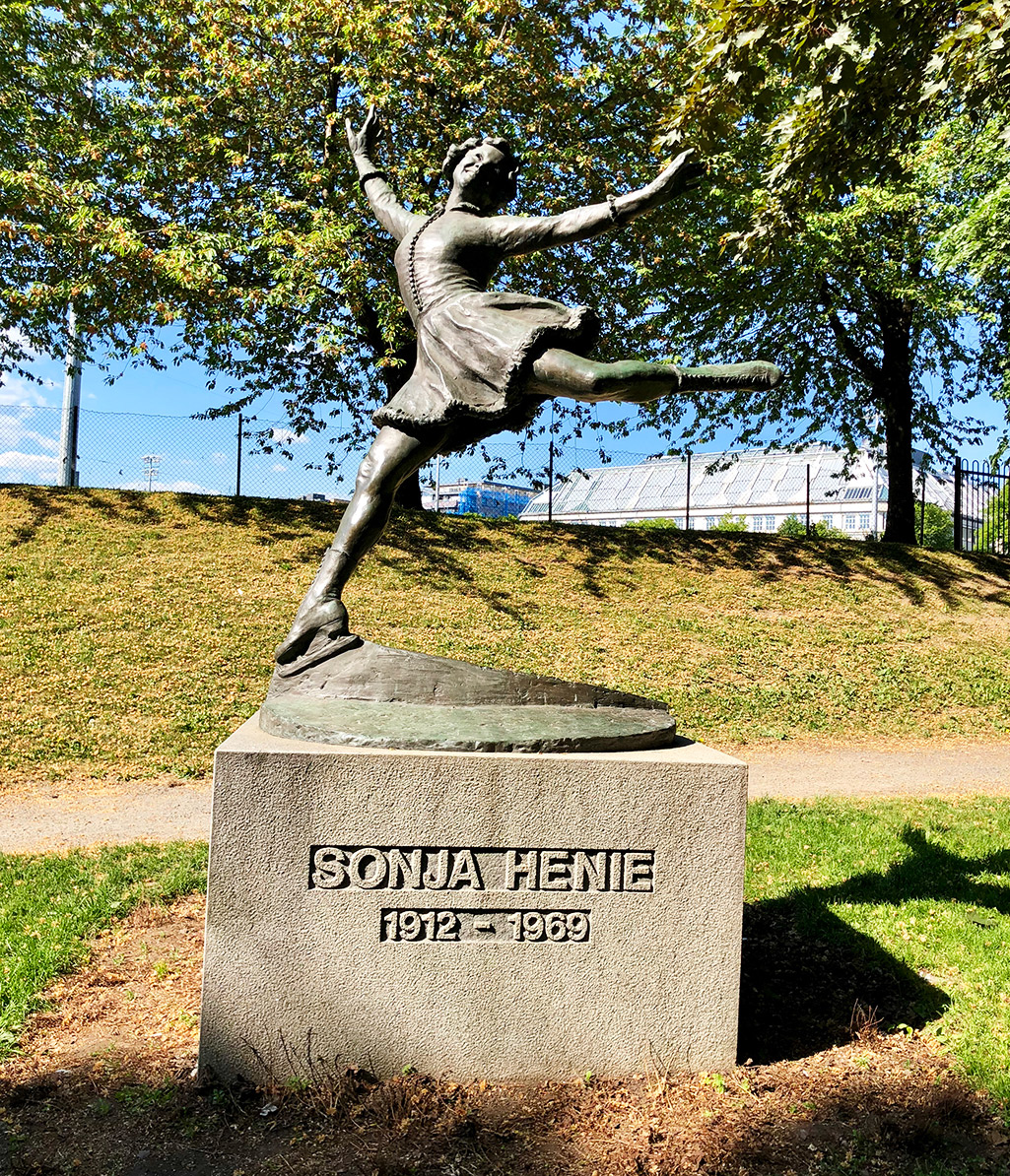 • In the park, some little Indian kids are jabbering away and playing soccer. The only word I understand is "Goal!" (much elongated).
• Hang on, have you heard of the "bubble-wrapped society"? Well, here are some older people, playing soccer — and they are literally bubble-wrapped, or something. They're having a damn good time, too. When they knock into each other, in their bubbles, it's hilarious.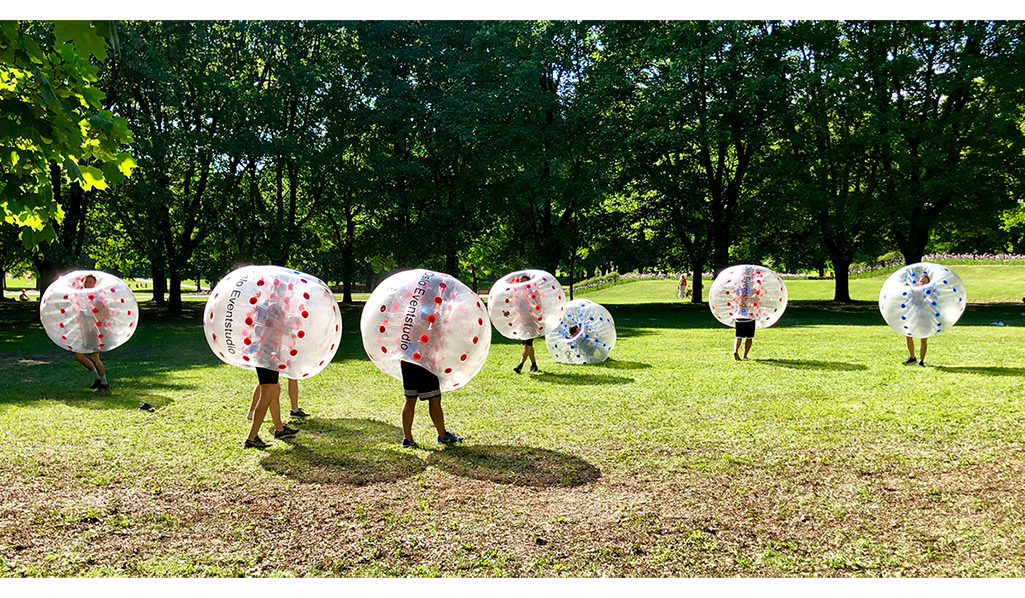 • Frogner Park contains my favorite Lincoln memorial, outside Washington, D.C. The plaque on the left says, "Presented to Norway by the People of North Dakota U.S.A., July 4th, 1914." North Dakota has plenty of Norwegian Americans, as you know. July 4th is significant to us Americans — and 1914 was the centennial of Norway's constitution. The plaque on the right says, "Government of the People, by the People, for the People Shall Not Perish from the Earth."
See those blooms on the right? I can't help thinking of Whitman ("When lilacs last in the dooryard bloom'd").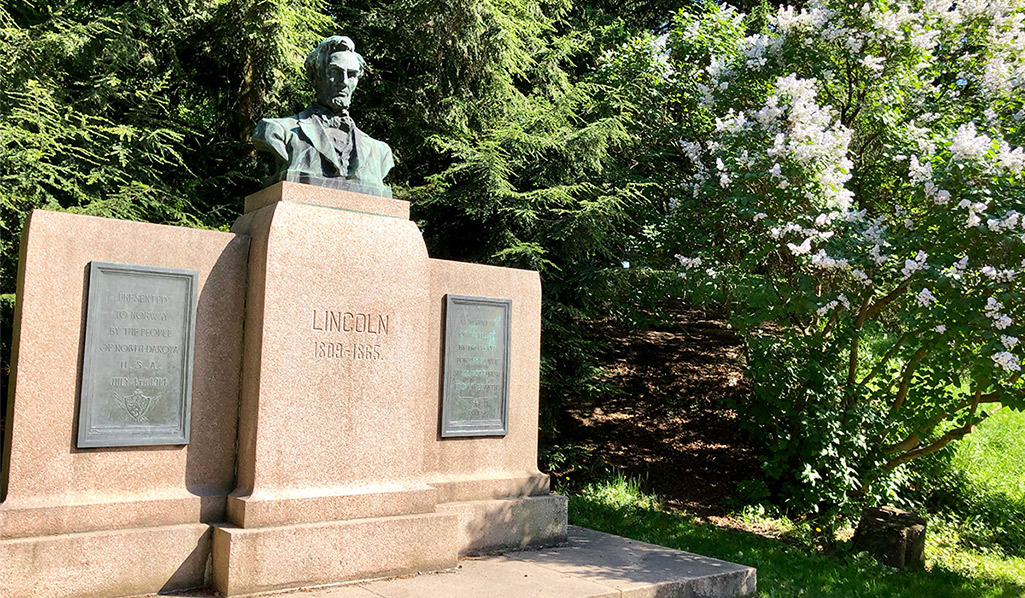 • Prominent in the park are sculptures by Gustav Vigeland (1869-1943). Many depict family life — infancy, childhood, adolescence, parenthood . . . I think I found many of them gross, at first. Most men recoil from male nudity, I think — all that "meat and two veg," as the British say. But lately, I've come to appreciate these sculptures as tender evocations of family life and growing up and all that.
The most popular sculpture, I think, is this one, showing this little kid in an eternal tantrum: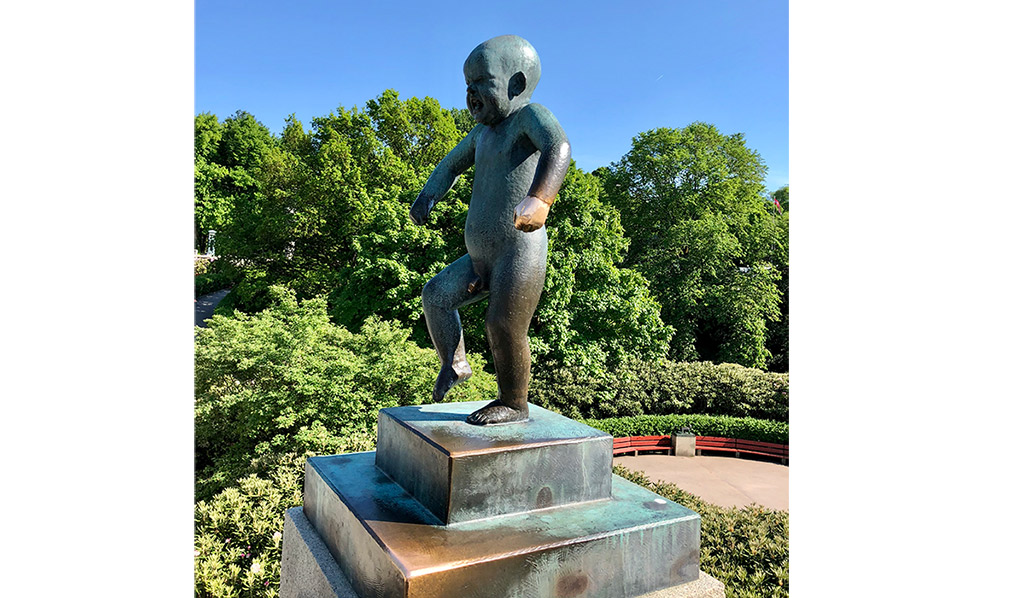 How about these kids? Football fans, obviously, signaling a touchdown.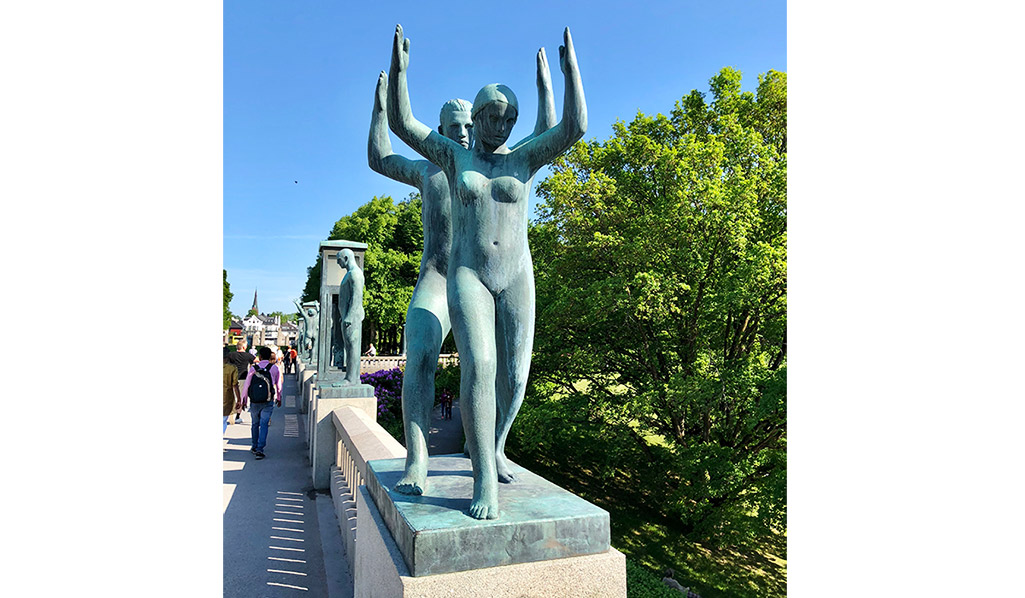 • Elsewhere, it's good to see my old friend Alfred Nobel, gazing from his perch outside the Norwegian Nobel Institute. A highly interesting, highly gifted, highly admirable man.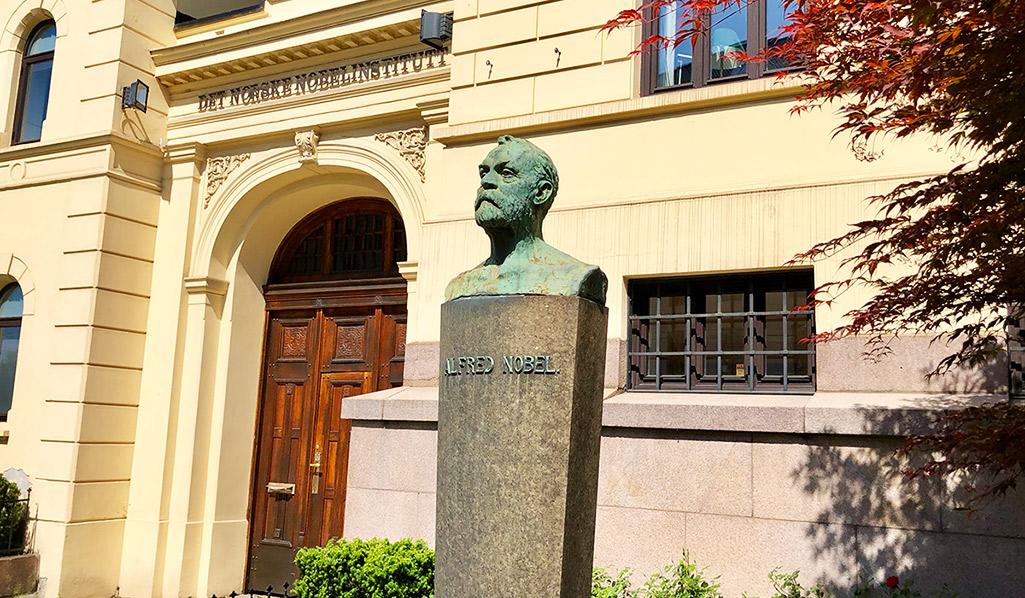 • See this book tucked on the left? Amazing what they'll let into the gift shop of the Nobel Peace Center . . .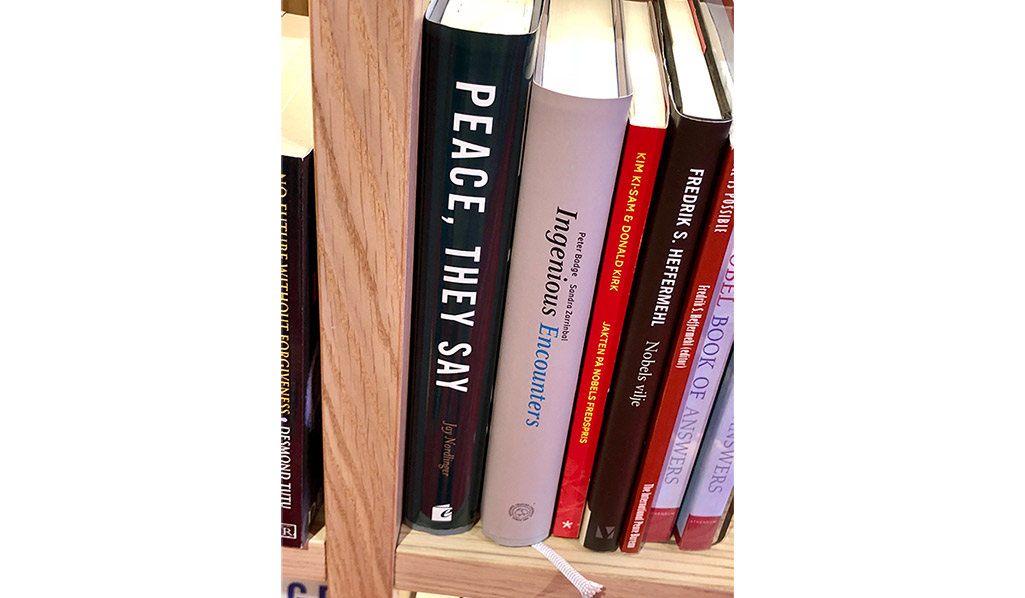 • You've heard of a "dog whistle"? Well, this is a sign aimed straight at me.
• A particular tavern is packed, with boisterous Norwegians, feeling little pain. I recall something that a foreigner, often in Oslo, said to me many years ago: "They drink like it's their job."
• Speaking of drinking: The breakfast buffets in Norwegian hotels, in my experience, always have green apple juice. And it's delicious (and not too sugary). Why we don't have it, I don't know.
Do we?
• Behold a slice of Oslo Fjord, in unseasonable heat, with Akershus Fortress in the background: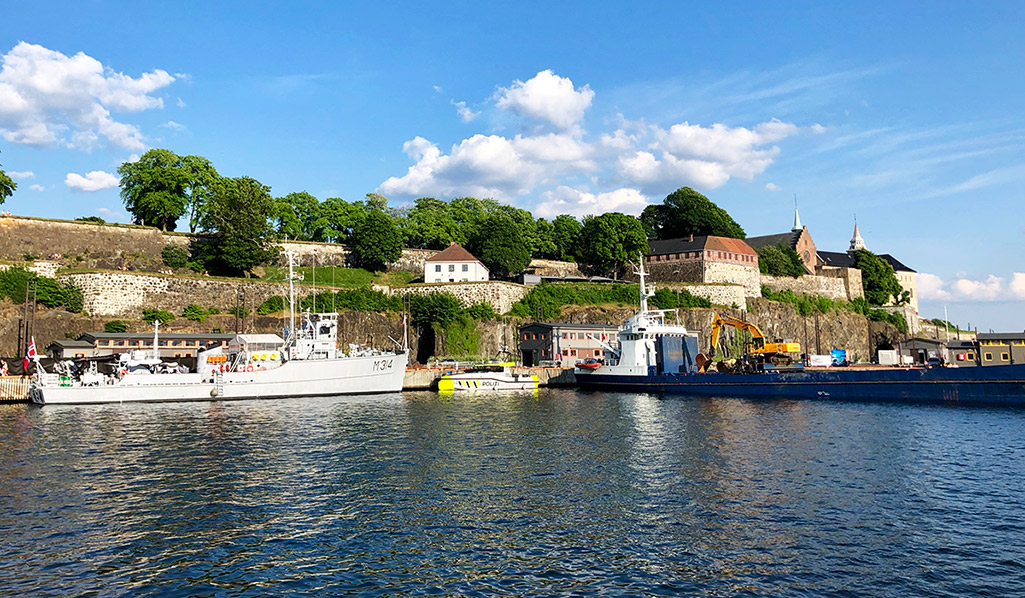 • I meet a hotel worker, a young Norwegian. He is flush from the heat. He says, "The air is not just hot but stagnant. Nothing is moving." He recognizes that this is nothing compared with, say, Houston, New Orleans, or D.C. "But we Norwegians aren't used to it!" he remarks.
• Do you want to see Norwegians, in their sunbathing glory? Heh.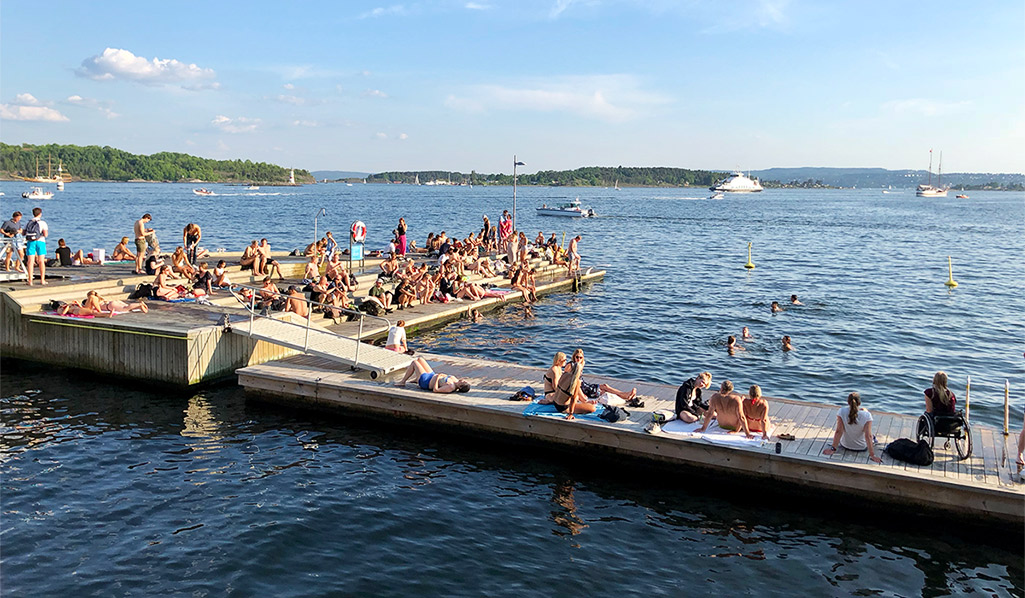 • Indian food is very popular here. A native tells me, "It's our favorite takeout." And many of the restaurants are excellent.
• When I see the Big Horn Steakhouse, I can't help thinking of Montana . . .
• A restaurant has an ad, which is really a mural — and American-influenced: "Make Kebab Great Again."
• I have a sociological nugget. A Norwegian hotel worker — another one — brings some bottled water and some ice. We have a nice chat, and she begins to walk away. Then she turns around and says, "Would you like me to open the bottle and pour it for you?" No, that won't be necessary, I say. Then she says, "Norwegians wouldn't want anyone to do that for them. We're very independent. And we have a sense of equality. But some people from other countries regard opening the bottle and pouring the water as part of the service. They expect it. So, I wanted to be sure."
In this respect, I tell her, I am thoroughly Norwegian.
• Walking through the royal gardens, I think of a strange phrase: "reeking of lilacs." The air is unbelievably pleasant. Anyway, I hope you've enjoyed this light, light journal. I will get into the Oslo Freedom Forum — the human-rights gathering — soon. For my podcast with Emmanuel Jal, once a child soldier, go here. See you later. And thanks much.