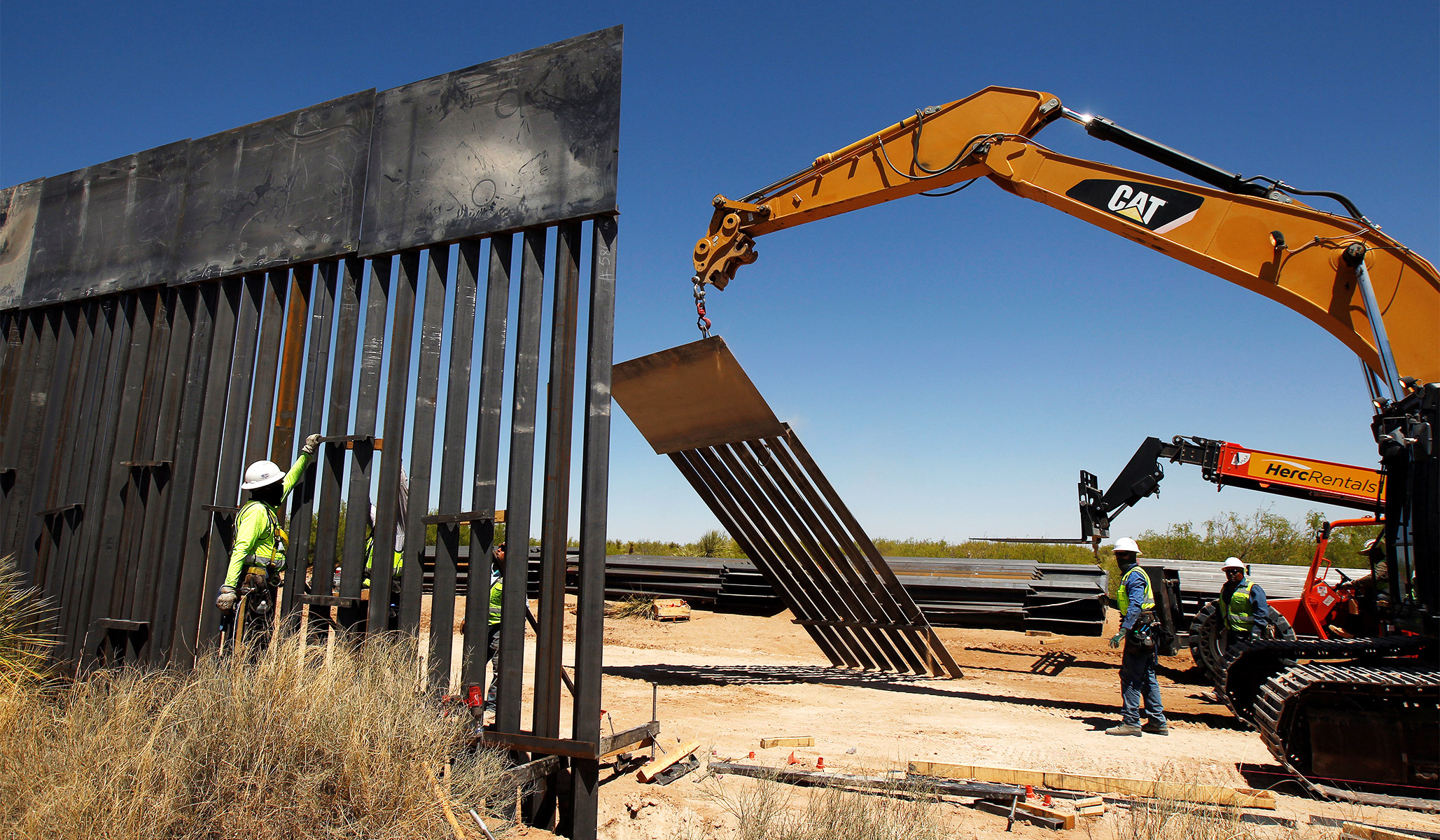 The U.S. government is currently installing sections of Trump's 30-foot-high wall in three places.
The good news for those who wish to see a wall built along the U.S.–Mexican border is that U.S. Customs and Border Protection has built seven miles of 30-foot-high wall in the past few months, and roughly 30 more miles of high fencing are slated for construction.
The bad news is that there's still a lot of border to go.
New reports from Carlos Diaz, southwest branch chief of the U.S. Customs and Border Patrol, indicate that one of the three current wall projects is nearly complete, another is about a quarter of the way done, and one just began earlier this month.
The first border-wall construction project began in February near downtown Calexico, Calif., roughly 120 miles east of San Diego. Here, construction contractor SWF Constructors, of Omaha, Neb., is putting up a 30-foot high "bollard-style wall" to replace 2.25 miles of wall built in the 1990s out of recycled scraps of metal and steel plates. (The bollard style uses bars, so that border patrol officers can see through to the other side.)
When construction began, the agency stated, "Although the existing wall has proven effective at deterring unlawful cross border activity, smuggling organizations damaged and breached this outdated version of a border wall several hundred times during the last two years, resulting in costly repairs." When construction began, David Kim, assistant chief patrol agent for the Border Patrol's El Centro sector, emphasized to local media that the construction was not tied to any particular immigration debate in Washington. It was, he said, a "local tactical infrastructure project that was planned for quite some time."
This wall project, estimated to cost about $18 million, is approaching completion, with roughly 1.8 miles — 1,171 panels – completed as of this week.
In April, CBP began the second section near Santa Theresa, N.M., which is near the Texas–New Mexico state line. A 20-mile section of existing vehicle barrier that begins just west of the Santa Teresa Port of Entry and extending westward will be replaced with an 18- to 30-foot-high bollard-style wall. About 5.3 miles, or 3,851 panels, have been completed.
As the name implies, a vehicle fence is not designed to keep people out. It comes in two forms: "Normandy fences" that are metal posts resembling jacks or large X's, cabled together; or rows of vertical metal posts, tall enough and close enough together to make it impossible to drive a car through them.
The project is expected to cost approximately $73.3 million and will take roughly a year to complete.
The total length of the U.S.–Mexico border is 1,954 miles; as of August 2017, 705 miles have at least one of four kinds of barriers.
At the beginning of June, the CBP began the third project near San Diego, replacing approximately 14 miles of 8- to 10-foot-high scrap metal wall with an 18- to 30-foot bollard-style wall topped off with an anti-climbing plate. The project begins approximately a half-mile from the Pacific Ocean coastline and extends eastward to the base of Otay Mountain in East San Diego County. The project is estimated to cost $147 million; 50 panels have been installed as of June 20.
The total length of the U.S.–Mexico border is 1,954 miles; as of August 2017, 705 miles have at least one of four kinds of barriers: pedestrian primary fence, pedestrian secondary fence, pedestrian tertiary fence, and vehicle fence.
Pedestrian primary fencing can take a variety of forms, such as double steel mesh, bollard style, or solid steel plates. Pedestrian secondary fencing runs behind the primary fence, usually separated by a patrol road that allows the Border Patrol to monitor the area between fences. Tertiary pedestrian fencing is yet another layer of fencing behind the first two fences.
According to the General Accounting Office, the amount of primary and vehicle fencing increased fairly dramatically during the latter years of the Bush administration and in the first year or so of the Obama administration. From 2005 to 2010, the total miles of border fencing on the southwest border increased from 119 to 654 — including 354 miles of primary pedestrian fencing and 300 miles of primary vehicle fencing. But after 2010, construction of new fencing came to a virtual halt.
A map of the fencing completed as of December 2017 shows much of California's border covered, Arizona heavily dependent on vehicle fencing (183 miles' worth), with southwestern New Mexico and west Texas having the longest uncovered stretches. This aligns with the areas where the terrain and heat are most difficult for those attempting to sneak over the border.
Brandon Judd, president of the National Border Patrol Council — the labor union that represents U.S. Border Patrol — testified before Congress in April 2017:
I will not advocate for 2,000 miles' worth of border. That is just not necessary. But what I will advocate for is a border wall in strategic locations, which helps us secure the border. . . . The building of barriers and large fences, a bipartisan effort, allowed agents in part to dictate where illegal crossings took place and doubled how effective I was able to be in apprehending illegal border crossers.
A wall "is not a panacea to illegal immigration and drug trafficking," he added in his submitted written testimony. "Illegal immigrants and drug traffickers routinely go over, under, and through the existing fencing that we already have in place. Fencing without the proper manpower to arrest those who penetrate it is not a prudent investment."