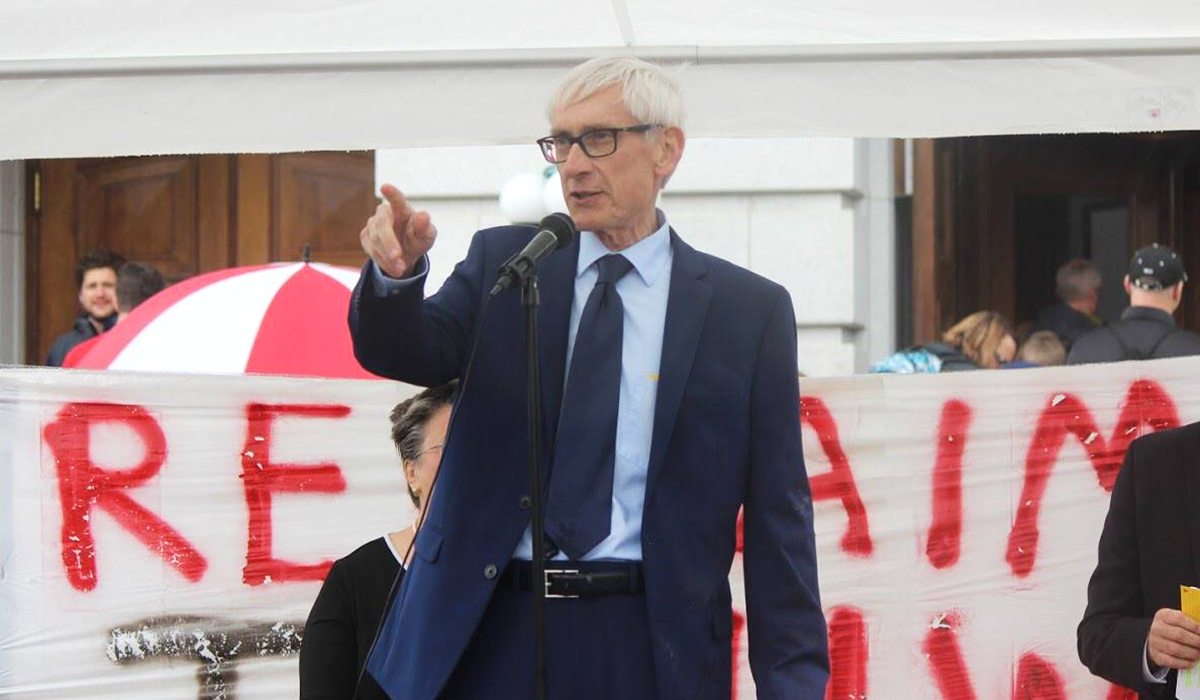 Imitation is the sincerest form of enmity.
Mahlon Mitchell came ready with a joke.
At the outset of Mitchell's presentation to a room of transportation-funding advocates in early May, the aspiring challenger to Scott Walker, Wisconsin's Republican governor, explained that his wife was "a romantic, sort of." He offered to share one of the texts she had sent him.
"She said, 'If you are sleeping, send me your dreams. If you are laughing, send me your smile. If you're eating, send me a bite.'"
Mitchell continued to build, slowly, toward the payoff.
"If you're drinking, send me a sip. If you are crying, send me your tears. I love you."
With the crowd presumably in his hands, Mitchell read his response to his wife.
"I'm taking a sh**. What do I do?"
The joke, with which Mitchell had previously regaled other groups, landed in the room full of agricultural, manufacturing, and tourism professionals like a sock full of peanut butter. Yet such coarseness has become standard procedure in a crowded primary election in which challengers are gasping for the public's attention.
Democrats are convinced that Wisconsin is primed for a Trump-backlash-inspired "blue wave" come November, and potential Walker challengers have joined the race in droves. With so many bodies in the race, a fringe candidate could conceivably win the primary with 15 to 20 percent of the vote and move on to face the vulnerable Republican incumbent in November. And just as Candidate Trump used vulgarity, insults, and half-cooked media stunts to differentiate himself from his primary opponents two years ago, so, too, are Walker's Democratic challengers in 2018.
Mike McCabe, a former "good government" activist who suggested he would rent the governor's mansion out to travelers on Airbnb, began his campaign by promising to end Walker's "golden-shower economics." Businessman Andy Gronik, who received a settlement of more than $6 million in a lawsuit he filed claiming a house he had purchased had given him an inflammatory-bowel disorder, told a debate crowd that he couldn't wait to "hit" Walker. And on the same rainy day Mahlon Mitchell dropped his scatological stylings on the transportation group, state school superintendent Tony Evers joined a group in Madison protesting cuts to the state's university system and told the group Walker's cuts were "bullsh**."
If there is a favorite in the Democratic field, it is Evers, a buttoned-up 65-year-old former teacher who has won three statewide elections as school superintendent. Nearly a decade ago, Evers beat cancer after having his esophagus and part of his stomach removed; today, he can't eat a full meal and has to sleep at a 45 degree angle. However, even though the avuncular Evers has appeared on three statewide ballots, he is still relatively unknown in areas outside heavily liberal Madison. One recent poll had Evers leading the primary field with a flaccid 20 percent, which may explain his sudden foray into campaigning's dark arts. In one January interview, he referred to Walker as an "idiot," and he recently told the state Democratic convention that he was "goddamn sick and tired" of Walker's policies.
No candidate has been more desperate for exposure — in the most literal sense — than former state assemblywoman Kelda Roys, who in one of her campaign videos breastfed her child while discussing her proposal to ban the chemical Bisphenol A, which is often used in bottles and cups. In interviews, Roys has said the moment was fully spontaneous, claiming her husband just happened to hand her the crying child as she sat in front of the camera discussing her legislative agenda relating to children.
But the video, released just days after a statewide poll showing less than 1 percent of respondents planned to vote for Roys in the primary election, careened through the social-media sphere, even catching the attention of The Today Show.
For Roys, the 2018 campaign is an attempt at political redemption: She was last seen losing a Madison-area congressional primary by a margin that would impress Venezuela's Nicolás Maduro. In 2012, Roys ran against popular über-liberal assemblyman Mark Pocan for a seat being vacated by Tammy Baldwin, who was running for the U.S. Senate. During the primary, Roys puzzlingly tried to tie the staunchly progressive Pocan to the Koch brothers and, at an LGBT-pride parade in Madison, tried to one-up Pocan (who is gay) by suggesting she and her "partner" had to flee to Iowa to be married. Roys, as we have seen, is straight, and her "partner" is now her husband.
"She was clearly trying to represent herself as a member of the LGBT community," Katie Belanger, the executive director of the LGBT-rights organization Fair Wisconsin, said at the time.
Yet at the state Democratic convention in early June, Roys emerged as the victor in the convention straw poll, garnering 23 percent of the vote. Mitchell and Evers came in second and third, respectively, each earning about 12 percent.
No more Trumpian strategy has been employed than that of liberal Milwaukee-area radio host Mike Crute, who announced in April that he would be joining the crowded field to run against Walker. In 2017, Crute spent $1 million to purchase his own radio station and said he planned to remain on the air for the entirety of the campaign, essentially using his station to discuss his platform with voters.
At the time of his announcement, Crute scoffed at suggestions that he was simply using the election to drum up business for his radio station and create more visibility for himself. In a truly audacious move before announcing his candidacy, Crute had cajoled other candidates to spend up to $10,000 apiece to advertise on his station — money that he could then turn around and use to run against them.
Crute's candidacy proved ephemeral, and he dropped out of the race in mid May. He didn't exit without a bang, however — one of his final debate appearances concluded with a dust-up with Evers in which Crute said Evers grabbed him with a "frail grip" (presumably alluding to Evers's illness) and called him a "f***ing liar." Walker's campaign responded that the Democrats' "profanity-filled shout fests" showed they were "full of anger and short on ideas."
Walker should be heartened by the group of vulgar goofballs seeking to wrest the office from him.
Given some high-profile Republican losses in Wisconsin, including a botched special election for a solidly GOP state-senate seat and the election of the first liberal to an open state supreme-court seat in two decades, Democrats have every reason to believe that 2018 will be their year to finally beat Walker — something they failed to do in the 2010 and 2014 general elections and even in a 2012 recall election that followed the uproar over his reforms weakening government-employee unions.
But Walker should be heartened by the group of vulgar goofballs seeking to wrest the office from him. Some Democrats may believe their level of coarseness will set them apart, but they may instead see their hopes go down the drain.