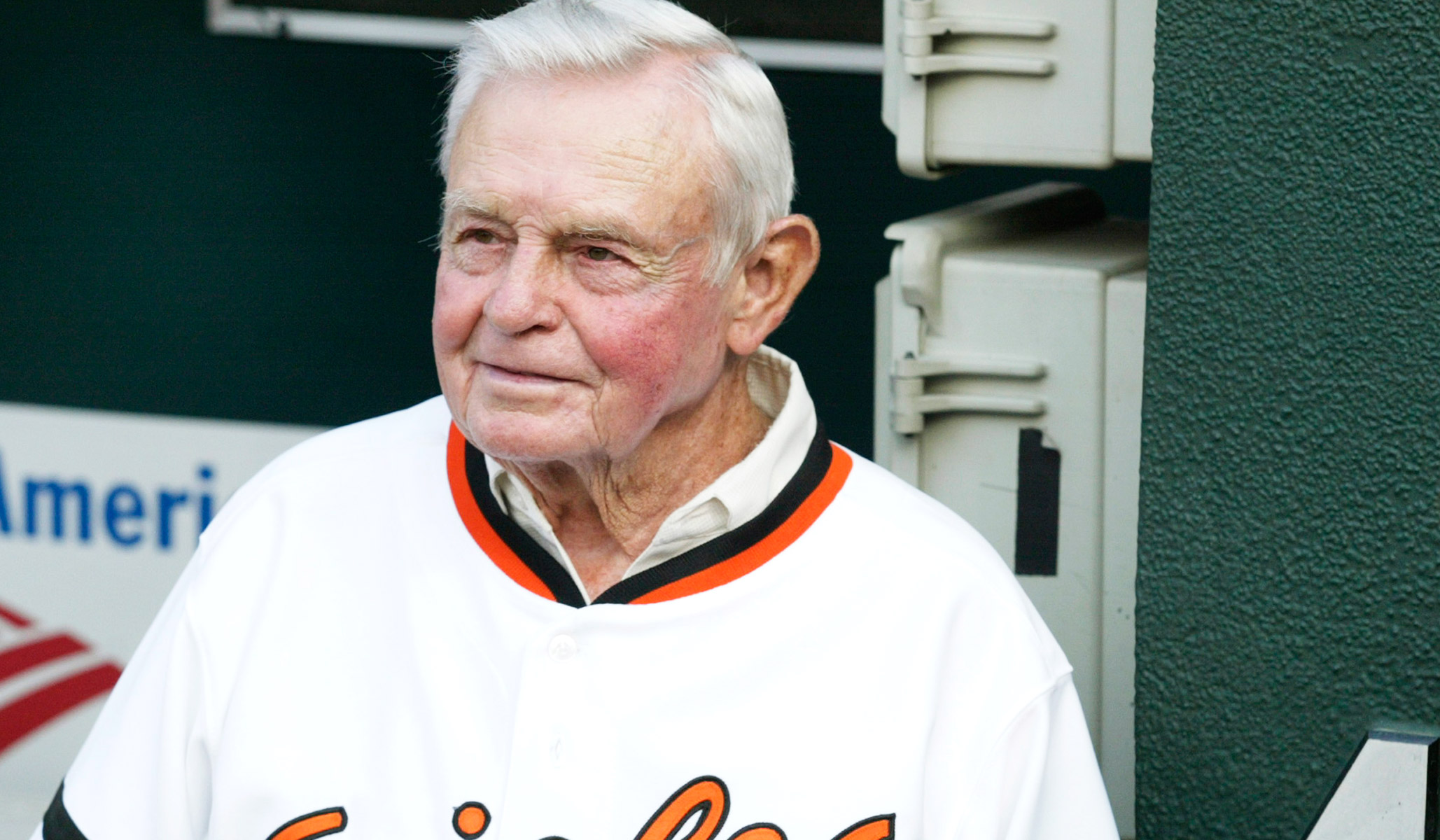 The Baltimore Orioles in 'magic' years
The Baltimore Orioles may not be your team — there are a full 30 teams in Major League Baseball, and relatively few Baltimoreans — but a new book about the Orioles is for anyone. Any baseball fan, that is.
Does it help to be an Oriole fan? Sure — a lot. But take it from a die-hard Detroit Tiger fan, namely me: This new book is a superb baseball book, plain and simple. I would like an equally good book about the Tigers. (Maybe there is one, unbeknownst to me.) I don't think I could suffer through a similar book about the New York Yankees, but we don't need to talk about that right now . . .
The book is by Charles Kupfer, a professor of American studies at Penn State Harrisburg, and a graduate of Johns Hopkins University, among other institutions. (JHU is in Baltimore, as you recall.) He titles his book "Something Magic," and it centers on the Orioles from 1979 to 1983.
"It was in June 1979 that the phrase 'Orioles Magic' was first heard," writes Kupfer, "and the era that it refers to ran through 1983's World Series win over Philadelphia." There was a song to accompany this era: "Orioles Magic — Feel It Happen." You can hear it on YouTube, here.
In October of 1979, the Orioles went to the World Series, losing to the Pittsburgh Pirates. (The Pirates had a song of their own, at least an adoptive one: "We Are Fam-i-ly," the Sister Sledge hit.) In 1980, the Orioles won a hundred games, which is a lot — but the Yankees won 103, and thus the division. In 1981, the O's finished one game behind the Milwaukee Brewers. In 1982, just the same thing happened. And in 1983, the Orioles won the Series over the Phillies.
How about 1984? That year, my Tigers won it all: the division, the pennant, and the World Series. (It has not happened since, regrettably.) The O's finished far behind, their magic spent.
Kupfer's book is dedicated to "all the fans in Section 13 (before the red line)." I'm not entirely sure about the red line. But Section 13 was a part of Memorial Stadium, home to the Orioles from 1954 to 1991. Speaking of that final year, the author tells us this: "In 1991, Kimberly Wolf, of Pikesville, accepted my proposal of marriage, delivered in Section 13 of Memorial Stadium."
By the way, if the name "Kupfer" sounds familiar to National Review readers, it's probably because Theodore Kupfer is a William F. Buckley Jr. fellow at this publication. Teddy is Charlie's son (and also a Hopkins grad, and an O's fan).
"I grew up following baseball in clinical detail," Charlie Kupfer writes. So did I, as it happens. I think both Kupfer and I were the type of kid who had the Baseball Register nearby as a bible. My knowledge has long since faded; Professor Kupfer's is broad and deep.
His book does not begin with 1979. Far from it. There is a long wind-up, as perhaps befits a baseball book. Something Magic begins with "Baltimore and Baseball, 1858–1972." This gives us some social history — some history history — as well as baseball history. Kupfer quotes an article from July 12, 1858, announcing that a new team was being formed, with an eye toward "promoting physical exercise and healthful recreation."
Once upon a time, there was a distinction between "healthful" and "healthy." Some of us dinosaurs still observe it. (Apples are healthful — conducive to health — and eating them may help you be healthy, keeping the doctor away.)
In this book, there is a photo of the 1894 Orioles, which included Wee Willie Keeler. I must say that, from the photo, he doesn't look much weer than the others, but it's hard to tell.
Kupfer also quotes a song, which goes, "Of all the manly games in vogue, / Enumerate them all, / There's none you'll find that can compare / With that known as Base Ball." This one, I cannot find on YouTube.
As we move toward 1979 and the magic, we meet a couple of Robinsons, Brooks and Frank. Brooks played third base, Frank the outfield. "The two Robinsons were often photographed together," writes Kupfer, and people liked to joke, "You need their numbers to tell them apart."
One player was white, the other black. Indeed, Frank Robinson would become the first black manager in the major leagues.
If this book has a dominant figure, it's Earl Weaver, the fiery little sage who managed the Orioles from 1968 to 1982 (and again in 1985 and '86). He was "baseball's best manager," says Kupfer, frankly if not unchallengeably. Weaver was best known for the tantrums he threw at umpires.
Is that how he was best known by Oriole fans themselves? No, as Kupfer shrewdly notes. That's how we, the great non-Oriole public, best knew him. Baltimoreans, living with him day to day, had a better sense of how canny he was.
Kupfer is softer on Earl's tantrums than I am, pointing out their tactical value. (A tantrum could fire up the team, for example.) At any rate, true Oriole fans, such as Charlie Kupfer, can be expected to indulge their Napoleon. I'm sure I indulge Tigers (and Lions, and Pistons, and Red Wings).
Reggie Jackson, a great Yankee, played with the Orioles for one season, 1976. "I loved playing for Earl Weaver," said Jackson, quoted by Kupfer. "I could play for the little Weave. That man will chew you out, read you the riot act down to the ground, and then forget all about it."
Another big figure in the book is Jim Palmer, who pitched for the Orioles from 1965 to 1984. (A personal note, if I may — another one: Palmer published a book, Pitching, in 1975, when I was eleven. I owned the book, of course, but it frustrated me, because the book was written in the language of right-handers, and I was left-.) As Kupfer explains, Weaver and Palmer enjoyed a contentious relationship. And I think "enjoyed" is the word, as is "contentious."
Palmer once compared their relationship to "a marriage where each partner knows exactly what to say to make the other one mad." Earl, for his part, said, "Brooks never gave me any gray hairs and Frank never gave me any. It's always Jim."
One more remark from Palmer? You'll like this one: "A lot of things Earl says are not meant to be negative, it just doesn't come out in a positive way." That's almost Stengelesque (but not quite).
Charles Kupfer is a dogged researcher, an excellent writer, and an excellent storyteller. What good is a baseball book without good storytelling? He knows how to build drama too, mimicking the drama of a baseball season, and indeed of sports. I like that he knows how to use "loath" and "loathe." His plural for "formula" is "formulae," which goes too far for me — I like the sturdy English "formulas" — but I sort of admire it.
He writes about players and managers, yes, but also about owners and labor disputes and sportswriters — including Shirley Povich, "keeper of the baseball flame at the Washington Post," as Kupfer says. Povich was born in 1905, when "Shirley" was basically a boy's name. Then Shirley Temple came along and ruined everything.
I was told this when I was a kid by a man named Shirley, who was a retired FBI agent (and no weak sister).
Toward the end of his book — a brisk though meaty read of under 200 pages — Kupfer writes, "Baseball is famously the game in which success is measured by minimizing unavoidable failure. The best batters fail to get a hit about 70 percent of the time; the best teams lose 60 games or more. The Orioles knew this like the hedgehog who knows one big thing." Thus does Kupfer bring Isaiah Berlin into the act (and Archilochus before him).
The baseball library is bulging, but it has room — it must make room — for Something Magic.