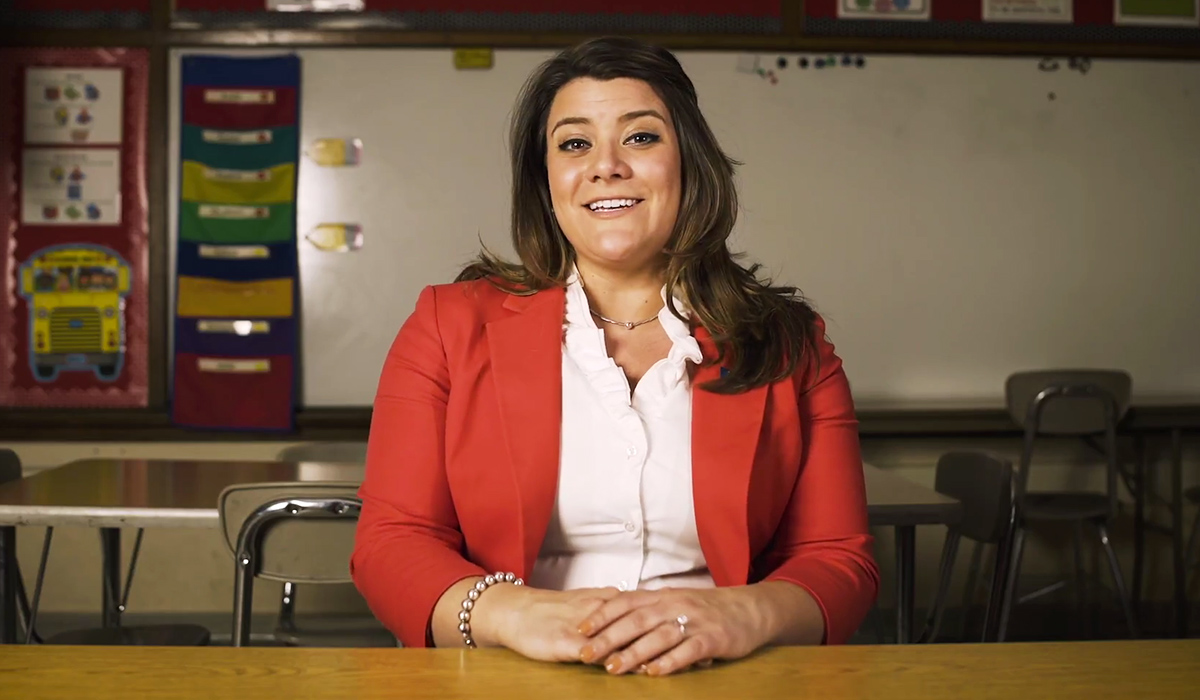 She is building her whole campaign around her age and gender.
As the Constitution State heads to its primaries on August 14, one Republican race getting increased attention is the battle for lieutenant governor. State senator Joe Markley, the party-endorsed candidate who won a majority at the GOP nominating convention in May (Joe is a pal and an occasional NR writer), is facing two Republican moderates: Darien first selectman Jayme Stevenson and New Britain mayor Erin Stewart.
Of the latter: The Obama fan-girl and occasional Dan Malloy sidekick was originally a gubernatorial candidate, but finding no path to victory — the 31-year-old mayor had tried to make her youth, her "fresh face," and her gender the campaign's virtues — she switched to running for the No. 2 slot on the ticket at the get-go of the GOP's May convention. There had been much overheated hype about her gubernatorial bid in the days prior (even Newsmax celebrated her candidacy with a puff piece), but the delegates weren't buying the "fresh face": When the convention ended, she had lost convincingly to Markley (atop the ticket, the endorsed gubernatorial candidate was Danbury mayor Mark Boughton) for the lieutenant-governor position.
Gracious in defeat she was not. Reading from the identity-politics page of the Democratic-party playbook, Stewart announced her intent to challenge Markley in the August primary, declaring that "two white men on the ticket is not the message the Republican party should be sending."
In the short time since, Stewart's replaying of the progressive Left's White Guyaphobia message has been a regular feature of her campaign. In a recent radio interview with the New Haven Independent, reported here, she doubled down on the identity politics, making the case for "gender and generational balance" on the GOP ticket:
Connecticut's Grand Old Party, Stewart argued in an interview of WNHH FM's "Dateline New Haven," needs to start reaching moderates, urban voters, and millennials like herself.

"Where we live in Connecticut is a very different place than the rest of the country," where Republican candidates have been moving fast to the right.

She portrayed herself as what you might call a reality-based Republican, wrestling with illegal gun sales and balancing a strained urban budget. "I represent a world," Stewart remarked, "that oftentimes Republicans don't see."

"If we want to change the perception the Republican Party is going to put forward to the state of Connecticut, we can't have two older men on the ticket," Stewart argued. She stood by previous quotations where she referred to them both as "white men."
There was more of the same uttered to the New Britain Herald:
"I stand firm in my belief that we need to show the state that the Republican Party does have diversity and is willing to have different and broader ideas and ideologies on the ticket than before. We need that," Stewart said.
While she elevates age, pigmentation, chromosomes, and possibly hair (Markley being hirsutically challenged) as campaign priorities, and while Connecticut's dismal economy continues to shrink, the "different and broader ideas and ideologies" of which Stewart speaks and swoons seem to be the Same Old deference to sacred cows that prevails among moderate Republicans and statehouse Democrats.
Take taxes, this being the state 1) still in a fury over the 1992 passage (with the help of moderate-Republican votes) of Lowell Weicker's income tax and 2) holding the nation's highest per capita debt. First elected mayor of New Britain in 2013, Stewart proposed and engineered a massive municipal tax hike (11 per cent). This year, Mayor Stewart vetoed a municipal-budget plan proposed by the Democrat-controlled city council as an alternative to her tax-hiking budget. The Democrats' plan cut taxes.
And then there is the size of government. Here's a fair background of the current political mood, proved in part by the rush of people to move out of the state: Connecticut citizens of all partisan stripes regard its endless fiscal crisis and economic rank (it's 49th in economic growth, and everyone knows it) as relating not to insufficient revenues but to 1) the government's insatiable lust for more money (about which many lawmakers are obtuse) and 2) the overcompensation of state-employee unions and their de facto control of the statehouse.
As to the former point: An excellent example of this lust concerns tolls. Never popular, and indeed quite unpopular, Connecticut's highway tolls were famously removed over 35 years ago after a major accident at the Stratford Tolls caused numerous deaths. But decades later, the push by Hartford Democrats, desperate for money, to restore them had gained political traction (because in the land of the obtuse, anything is possible). Indeed, earlier this year the push was on to enact legislation to restore tolls. Enter the public: This April, four Democratic state representatives held a Saturday-morning forum at Milford's packed city hall, intending to sell the citizenry on tolls. They would not be bamboozled: The foursome was shouted down, and the forum turned into an anti-tolls rally. This became big news, and the no-tolls message was heard loud and clear by the General Assembly, which — led by the "ideologue," Senator Markley — adjourned without approving the hated program.
Did the message and outcry skip New Britain? Mayor Stewart told a radio show, "I'm open to them. I would definitely need to see legislation. You need to make sure that if you put tolls in, that money is going back to roads."
Stewart has as cozy a relationship with unions as possible for a Republican.
(This week, Governor Malloy announced he will press the State Bond Commission for a $10 million bond to bankroll a study on tolls. Markley immediately launched a public effort to press the commission to defy Malloy; Stewart has said nothing on the matter.)
As to the overcompensation of the state unions, who were awarded a ten-year sweetheart deal by the Democrat-controlled legislature, Stewart has as cozy a relationship with unions as possible for a Republican: She is regularly endorsed by them in her mayoral bids. Earlier this year, when she was still running for governor, her rhetoric on dealing with the unions' contractual stranglehold on the state economy was akin to much of her issues-positioning, i.e., vague and rambling. Here, from a February radio interview:
Well you can't even touch SEBAC [State Employee Bargaining Agent Coalition] unless you have someone who can speak to the unions, can speak to the other side and get them to come to the table, and someone who comes in just saying that we want to fire everybody and we want to upend everything is never going to get that accomplished. . . . If you were a state employee, wouldn't you be afraid? At the same time, that's not even going to be a discussion point unless you have someone who takes over the Governor's office who has the ability to even have the conversation.
But what if the SEBAC sent as representatives . . . two white men?