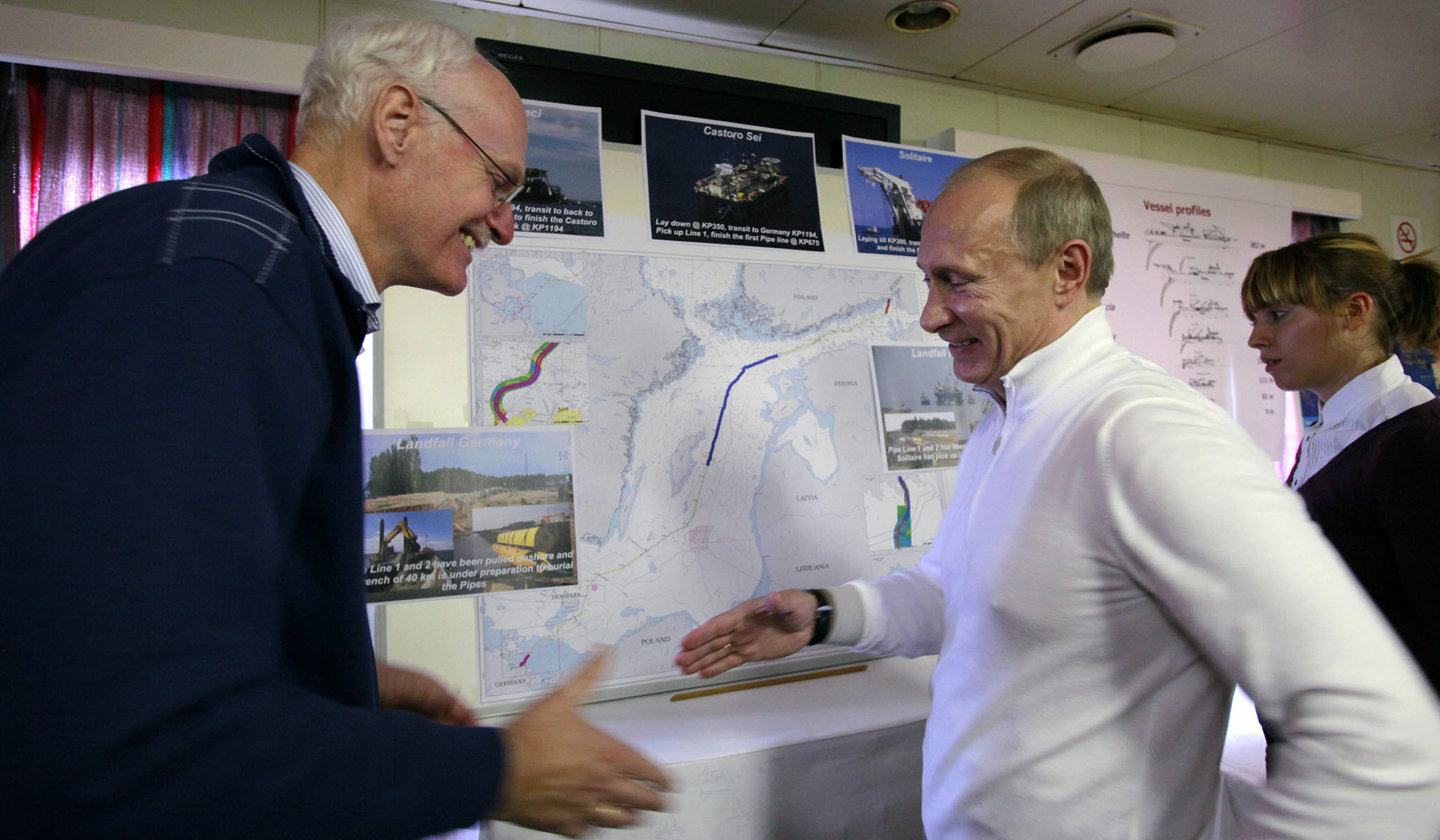 The only winners from the project are the Russian oligarchs and their envoys in western European capitals.
During the press conference that followed this morning's U.S.–Russia summit in Helsinki, Donald Trump seemed to soften his criticism of Nord Stream 2, a Russian-backed natural-gas pipeline that would run under the Baltic Sea from Russia to northern Germany.
The project received much attention in the lead-up to this week's NATO summit, especially following comments President Trump made at a breakfast with the alliance's secretary general. On the advent of the NATO gathering, Trump openly criticized Berlin's decision to proceed with the project, finally arguing in Brussels that "Germany is totally controlled by Russia," saying that the ostensibly pro-NATO core of Europe has endorsed a double standard. More recently, during an interview in Scotland, Trump asked about Germany's endorsement of the pipeline, "What, are they waving a white flag?"
But following his sit-down with Putin, Trump was more amenable to Germany's position. The president now says he knows "where they're all coming from" and frames America's dispute with Russia over energy issues as one between good-natured competitors.
Said the American president, "So I'll just wish them luck."
Most everyone (except the project's Russian and German purveyors, of course) agrees that the pipeline — which would follow the path of the original Nord Stream, doubling its capacity — is a bad idea. Successive U.S. administrations and several eastern European countries have attempted to dissuade Germany from pursuing it. For a couple of years, opponents of the nearly 750-mile pipeline have argued that a greater amount of Russian gas would give Moscow too much leverage over European energy flows in the event of a military flare-up or a price dispute.
Russia's leverage over Ukraine could also prove a problem (as it has in the past). Ukrainian president Petro Poroshenko said that his country, through which a Russian gas pipeline already runs, stands to lose transit fees if Nord Stream 2 is built — and that the pipeline would also enable an "economic and energy blockade" against his country.
Putin says he reassured Trump during their meeting that Russia would maintain transit through Ukraine. But this is like the fox promising to leave the hens alone.
The German government approved the pipeline a few months ago, and construction is expected to begin soon. The circumstances under which German officials endorsed it are muddy: Former chancellor Gerard Schroeder, who leads the project's board, was appointed to the head of the original Nord Stream project in 2005 upon leaving office, and Putin made him chairman of Russia's Rosneft oil company in 2017. Angela Merkel until recently defended Nord Stream 2 as a purely economic consideration, but in April she conceded some doubt during a press conference with Poroshenko: "There are political factors to be considered."
Currently, German and eastern European countries receive gas from pipelines that originate in Russia, a legacy of the Soviet Union's energy infrastructure in the Eastern Bloc. However, in recent years Poland and Lithuania have taken steps to reduce their dependence on Russian natural gas; Gazprom, the Russian state-owned oil and gas company, had leveraged its monopoly status to essentially gouge these countries. Poland, which imported two-thirds of its natural gas from Russia in 2017, completed a liquefied natural gas (LNG) terminal in 2016. By 2022 it hopes to rely on Norwegian gas, imported LNG, and its own production. Last August, Lithuania received its first shipment of American gas — when its import terminal was constructed in 2014, prices fell substantially.
Berlin often avoids decisive action in response to the Kremlin's perfidies, preferring to play the role of level-headed mediator.
Part of Trump's rhetoric about reducing America's trade deficits includes demands that countries purchase more American goods — and LNG tops the list. The Kremlin says that the raucous debate over Nord Stream 2 results from a cynical American campaign to sell its natural gas to Europe. The propaganda is just that, but it hints at an important consideration: The United States does want to sell its allies natural gas, not just for its own narrow, mercantilistic purposes, but because they'll be better off liberated from Russia's stranglehold on the continent's energy markets. During his trip to Warsaw last June, Trump pitched leaders on the merits of buying American LNG, which would ensure that "Poland and its neighbors are never again held hostage to a single supplier of energy."
However, the prospects of significant American LNG exports to Europe remain far off, and to Germany, even farther away. First, eastern European countries need to construct the requisite infrastructure, but most important, the natural-gas market would have to provide favorable conditions for this. Over the past year, our LNG exports have gone primarily to destinations in Asia and the Western Hemisphere (South Korea and Mexico are the most prolific importers), while Europe accounted for just 14 percent of U.S. exports. Yet considering the state of Germany's natural-gas infrastructure — if the German government approved a project for an LNG terminal, which it has expressed no interest in doing, construction wouldn't end until 2022 — and the realities of Europe's energy needs, this might be a moot point.
In an interview with National Review, Fred Hutchison, president of LNG Allies, the industry group that represents U.S. liquefied-natural-gas companies, said, "It appears to me that Europe is adequately supplied by existing pipelines. Additional pipelines from current players seem to be unnecessary."
So here's what we're left with: Germany remains years off from importing LNG, but Merkel's comments about Nord Stream 2 reflecting an economic need seem to be gross obfuscation at best. The only winners here are the Russian oligarchs and their envoys in western European capitals.
Germany's relationship with Russia is complicated; Berlin often avoids decisive action in response to the Kremlin's perfidies, preferring to play the role of level-headed mediator. This suggests consistency with its geographical situation and historical legacy, but as Sohrab Ahmari points out, German fence-straddling proves to be a persistent obstacle to transatlantic unity in the face of Russian bullying.
This evokes a contentious intra-European debate. Poland has fought Nord Stream 2 tooth and nail, most recently bringing anti-monopoly proceedings against it in May, and Denmark still refuses to grant the necessary permits for the pipeline's proposed route through its exclusive economic zone (though construction could follow an alternative route). The European Commission has expressed significant misgivings (it has suggested that implementation of the pipeline would run afoul of directives to create a unified EU energy market), but the Council of the European Union retorts that regulating the pipeline on these grounds could violate the U.N. Convention on the Law of the Sea. It's a fraternal dispute, pitting the institutions and the members of the union against each other.
Two existing avenues to blocking the pipeline seem less likely in the wake of the Helsinki Summit. Whereas Merkel might have previously felt compelled to block the project following Trump's tirades, his performance in Helsinki has certainly relieved much of that pressure. In addition, whereas the Trump administration could have used the powers granted by last year's Russia sanctions bill to target the project, this also seems unlikely now.
(Whether applying existing sanctions to the pipeline, though, would have been wise is not clear: During an Atlantic Council event this spring, deputy assistant secretary of state for energy diplomacy Sandra Oudkirk said such a tack is unnecessary considering the political options that remain open at the European Union. Sanctions would be messy at this stage, since the project's shareholders include non-Russian firms.)
It's more important than ever that Americans remember who their allies are.
The president doesn't seem to have walked back his criticism of Nord Stream 2 in its totality, but his comments about it this morning add ambiguity to an already-complicated question. His administration, like the one before it, has opposed this project, and it's difficult to imagine a wholesale shift in the White House's policy here. But even this rhetorical adjustment could portend broader acceptance of the pipeline.
This morning's rhetorical shift, however slight, smooths a tiny inconsistency in the president's rhetoric towards Russia: Why would Trump go after this pet project of Putin's while also pursuing his approval and cooperation? Yes, bashing Nord Stream 2 provided another opportunity to stick it to Germany, but it also contradicted his attempts at reconciliation with Russia. The president's "competition" comments resolve this logical conundrum.
If Nord Stream 2 were killed, its demise would be to the credit of the EU's energy-union policy, which seeks to diversify its member states' sources of energy in the face of a tyrannical Russia. At a time when the American president speaks more favorably of Moscow than of Brussels — and as that president attempts to cajole Emmanuel Macron into exiting the EU (ignoring the fact that this French president is arguably the most pro-European figure on the continent, vying with Merkel for the title) to arguing that it was formed to take advantage of the United States to calling it a "foe" — it's more important than ever that Americans remember who their allies are.
Editor's Note: This piece has been emended since its original posting.
NOW WATCH: Putin's World Vision