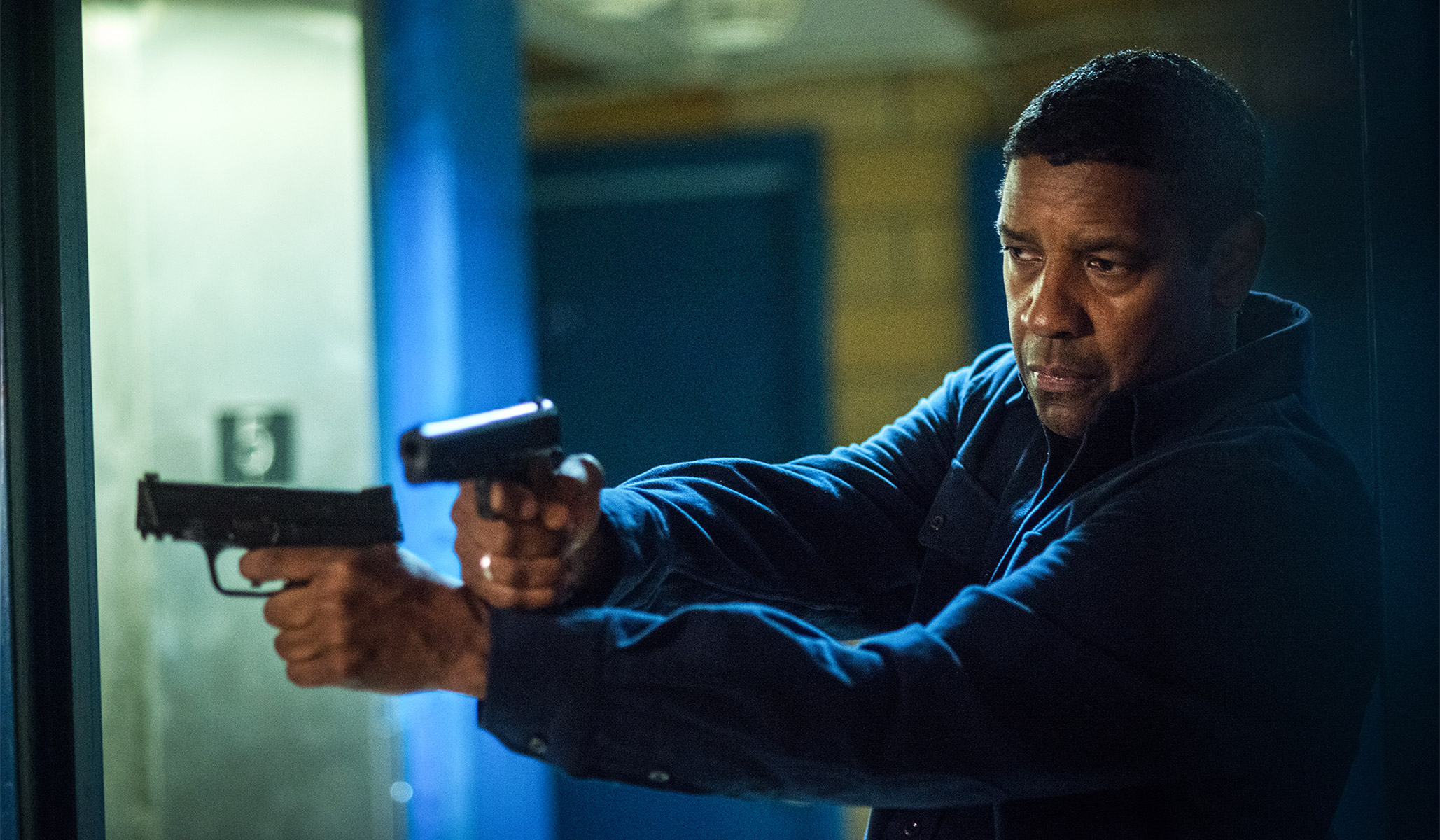 A movie star's elegy to African-American activism highlights the Mysterious Disappearance of the Black Public Intellectual.
Denzel Washington's The Equalizer 2, a pointlessly violent sequel to his pointlessly brutal 2014 box-office success, confirms the pointlessly dangerous black-male stereotype that sells. He portrays Robert McCall, a former CIA agent who comes out of seclusion to act as policeman of the world-killing foes at home and abroad. Now we know why Washington's Oscar bid from last year, Roman J. Israel, Esq., flopped.
Washington wasn't playing his usual Hollywood-endorsed alpha-male black, and the film's elegiac tone made its title figure a person to pity, admire, then pity again. So it was impossible to grasp this new racial caricature: RJI was a black brainiac, quietly committed to social causes — a lonely black man with buckteeth, a bucket-seat posterior, and an awkward, friendless gait emphasized by outdated, wide-lapel suits. Denzel's fanned-out Afro looked, strangely, like that of either the estimable conservative economics professor Thomas Sowell or liberal media darling Cornel West. But he unmistakably spoke like the latter, close to using the rhetorical mode of MSNBC's regular race hustler Michael Eric Dyson, recently summed up by a TV panelist as "classic huckstering, snake-oil, pulpit talk."
Washington's career-long command of fantasy racial stereotypes is now rivaled by the other media representations of black males. Still, it's difficult to separate his Equalizer vigilante from his Training Day sociopath. Washington calculates his roles in terms of manipulating audience approval, and that problem is compounded with RJI's peculiarity. Some oddball roles turn out to be a star's most interesting vehicles (Vin Diesel's Chronicles of Riddick, Will Smith's After Earth and Concussion — though not The Pursuit of Happyness), but the attempt to create a new black archetype with RJI is part of Washington's usual phony intensity. More interesting than anything in Equalizer 2, it calls for an in-depth examination.
***
All the RJI character study needed to make sense to moviegoers was a reassuring bebop/funk/disco black-power theme song like that in Shaft. Instead, we got a doofus brandishing impeccable musical taste: Marvin Gaye records on his old-fashioned stereo turntable. Despite this éclat, RJI's sob story turned out to be a frustrating elegy for something we didn't know we'd lost.
Moviegoers couldn't recognize RJI because they could no longer relate to him as one of the breed of black media and academic specialist that peaked during the 1990s — who frequently appeared on PBS's Charlie Rose Show and C-SPAN, was a regular on the New York Times op-ed page, and was a staple on the university lecture and conference circuit. The fin-de-siècle black public intellectual has been replaced — given today's historic levels of political division and equally historic degrees of celebrity worship — by showier political gestures, whether from the estimable Kanye West or the race hustler Donald Glover (Childish Gambino).
In the wake of Obama's hallowed presidency, all other black intellectuals became redundant. Eggheads desperate to retain liberal-arts university tenure turned into docile followers of progressive fashion. (Just try keeping up with cable TV's parade of black opinionators.) Yet Washington's attempt to revive the relevance of a black endangered species was confusing for the post-Obama era. This crazy film opens with Israel, a Los Angeles–based attorney and one-time Berkeley activist, writing a legal brief condemning himself for not upholding old revolutionary principles.
Roman J. Israel, Esq. indulges white intellectual elites' whim of stepping forth and proclaiming their post-racial bravery to fulfill their guilt-based sentimental needs.
Odder still, the fact that he held his second-fiddle position for 36 years at an urban law office confirmed he was a loser. Hollywood rarely deals with educated blacks who are unsuccessful, because that model reflects badly on the liberal fantasy that our society rewards blacks out of merit — that's the delusion all those votes for Obama was meant to affirm. Israel reminds us that "my lack of success is self-imposed" — a victim taking the blame.
Writer-director Dan Gilroy did not make Roman J. Israel, Esq. to criticize liberal guilt. RJI indulges white intellectual elites' whim of stepping forth and proclaiming their post-racial bravery to fulfill their guilt-based sentimental needs. Surely, many post-Obama moviegoers caught on that Gilroy's intention to wring tears was redundant and, so, they stayed away.
Gilroy paid tribute to black activism by reducing it to a one-man-band — a brother from that other planet, the Past. But RJI's maudlin nature (still fighting the same old civil-rights and Black Panther battles) and his lamentable ineffectiveness were confounding. Gilroy conceived a bizarrely out-of-touch figure: RJI was possibly Jewish (to congratulate the civil-rights movement's time-honored black–Jewish affinity). The "Esq." adds a snarky touch. Yet, lacking social agency, RJI is overburdened with the chagrin of missed opportunities. His confession–suicide note that begins the film, written to the "Supreme Court of the Absolute Universe," is like a Saul Bellow character gone berserk. It apologizes for failing to revolutionize American race relations. Ultimately, the film apologizes for Obama's falling short of his promise to "fundamentally transform America."
***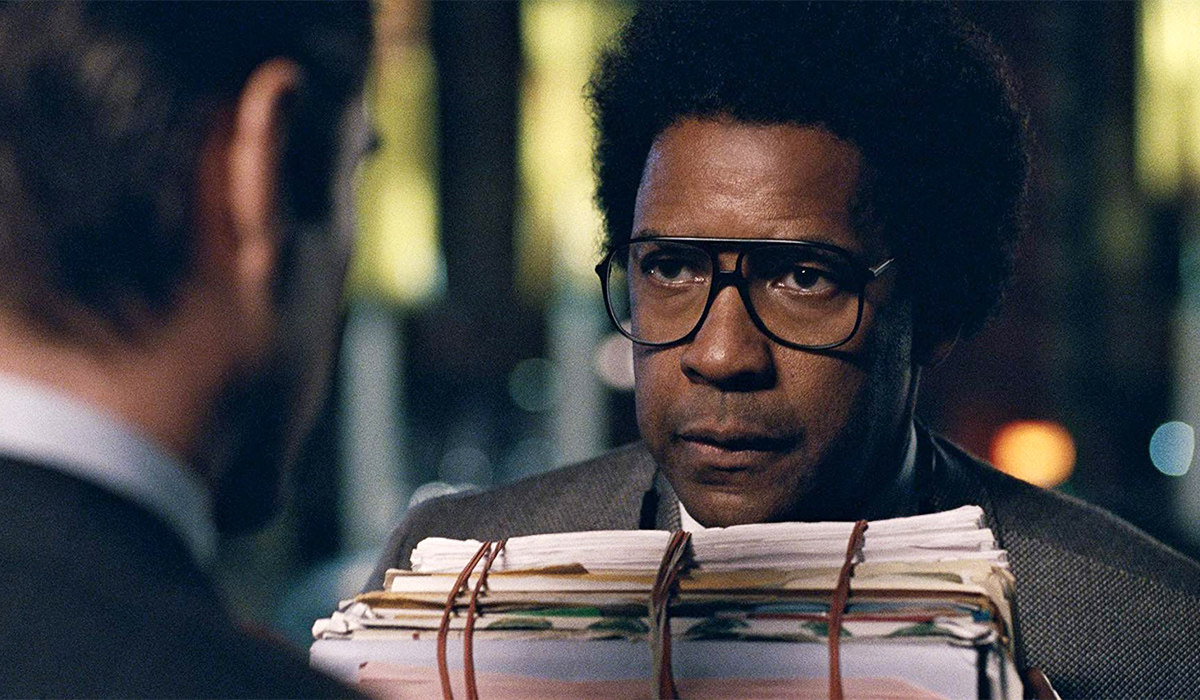 After Roman J. Israel, Esq.'s box-office renunciation, we must ask: Can black political thinkers as earnest as Thomas Sowell and Cornel West keep pace with the white media fantasy that provides their public platform and, consequently, defines them?
The film's young black Millennial characters moved past RJI, having founded their own regime. In that confusion, pop artist Kanye West's recent challenge to black political brainwashing was immediately attacked, and very few of the black intellectuals hiding in their Ivy League sinecures came to his defense. Even the outmoded profession of pop-music criticism suddenly went silent about West's formerly praiseworthy artistic eminence. By contrast, the regular representatives for black public intellectuals took up the cause for Donald Glover's This Is America music video; they prefer political naïveté and confusion to West's out-of-step earnestness.
The milquetoast fantasy of Roman J. Israel, Esq. compares to the ineffective rantings of Representatives John Lewis, Al Green, and Maxine Waters, which ironically echo the racism of old-fashioned Demo-Dixie-crats. As a result, their media hijnks have lost the moral high ground they inherited from the civil-rights era, ceding intellectual argument to hysteria — the same media fracas that has marginalized the brilliant Sowell and the oleaginous, overly conciliatory Cornel West. There's only Kanye West's artful punditry or Denzel's badassness.
Many contemporary black politicians share RJI's hope that the pious, solitary pursuit of archaic forms of political agitation will incite restless, uninformed, indoctrinated youth. Gilroy nearly parodies this miscalculation in a pathetic subplot linking RJI to a young, pretty community organizer, played by Carmen Ejogo. "You're an inspiration," she tells him, minus sexual attraction. "Protest is still relevant," she insists. Yet, RJI's methods of "macking" (seduction) prove sneaky and dishonest, falling back on pitiable, archaic romanticism. (Think Sir Walter Raleigh throwing down his cape for his granddaughter.)
Fact is: This movie's white-liberal patronizing barely suppresses its loathing and repulsion for a figure it pretends to idolize.
Political realities — and black sexual etiquette — have changed since the halcyon '70s embodied by Marvin Gaye's erotic and political alter egos. Gilroy knows only the sexual and political failure of today's black public intellectual as a class stressed-out by renegade figures such as Kanye and R. Kelly. Currently, the only black political star is Kanye's comrade Candace Owens, whom the media largely ignores or disparages. It's sadly obvious that Black Lives Matter has not produced public intellectual figures equal to Bayard Rustin, Angela Davis, or Stokely Carmichael, pop icons whose portraits decorate Israel, Esq.'s apartment.
Fact is: This movie's white-liberal patronizing barely suppresses its loathing and repulsion for a figure it pretends to idolize. During a clumsy action scene of RJI in a street chase, Gilroy enlists the pounding Chambers Brothers song "Time Has Come Today," an unusual document of '60s black radicalism blending with white-drug-culture transmutation. ("My soul's been psychedelicized!") Through this pop-culture devolution of black consciousness, Gilroy reveals Norman Mailer's insight into white sexual envy, as articulated in his classic 1958 essay "The White Negro," as the aberrant root of Obama idolatry. (Think of that female ex-NYT editor Jill Abramson, who recently boasted about keeping an Obama doll in her purse.)
Thus, Gilroy's idiot protagonist, who self-medicates with Turkey Bacon Maple–glazed doughnuts, belongs to the embarrassing gallery of black men populating the screen — whether the Sambo of Get Out, the psychotic black teen in The Transfiguration, Idris Elba's neutered attorney in Molly's Game, the cowardly, tattle-tale black husband who cannot defend his wife in The Shape of Water, or the juvenile fancy of African royalty in Black Panther.
Ironically, the film's real, effective hero turns out to be a snazzy white lawyer.
When RJI looks back on civil-rights history and says he's "tired of doing the impossible for the ungrateful," Gilroy divulges the vexation that only black conservatives will secretly admit. But he prefers the liberal delusion of a "progressive lawyer being the cornerstone of modern activism."
Ironically, the film's real, effective hero turns out to be a snazzy white lawyer, George Pierce (Colin Farrell), full of admiration for the black idiot savant. It is Pierce who, by film's end, files the class-action suit that RJI has researched for decades yet is too distracted by self-pity to carry out.
"Put social revolution back on the agenda where it belongs," as Ejogo, in a political-romantic tease, tells RJI. That's Hollywood's definitive liberal fantasy, and Gilroy is not above literally — tragically — sacrificing a black protagonist to give legal and sentimental validation to that agenda. Like the "resisters," he hopes to "ignite a sustained mass movement."
Should we appreciate a movie about a black man who, despite his experience and expertise, is not rewarded for his merits? This film's trifling, fumbling misunderstanding of the accidents of individuality and race makes a mockery of the social, professional unfairness that bedevils African-American experience.
RJI's confessional line "my lack of success is self-imposed" is false modesty. It doesn't account for the ostracism he endured (even from a black female courthouse guard who mumbles "wack ass" as he passes through her security body screener). The film's only interesting moment occurs when the widow of RJI's law-firm mentor rejects his maudlin and grandstanding posture, saying, "I disbelieve you."
Somehow, Roman J. Israel, Esq. has developed a small cult following among conservatives and liberals still holding on to self-gratifying political stances. For Gilroy, this eccentric "black" character embodies the self-congratulation felt by those who, so soon after the media-led jubilation over Obama's election, remain nostalgic for '60s protest culture. That's the era when black public intellectuals did things that invigorated white intellectuals of every political stripe. But since then, that black public intellectual figure has been discarded.
***
As for The Equalizer 2: Denzel returns to form as an assassin who, between vigilante killings, reads Ta-Nehisi Coates's Between the World and Me. This certainly doesn't qualify as intellectuality. He's just a movie star who talks down to his audience, doing a stunt with a pseudo-intellectual pop brand. When it comes to a level playing field of protagonists, Hollywood is no equalizer.