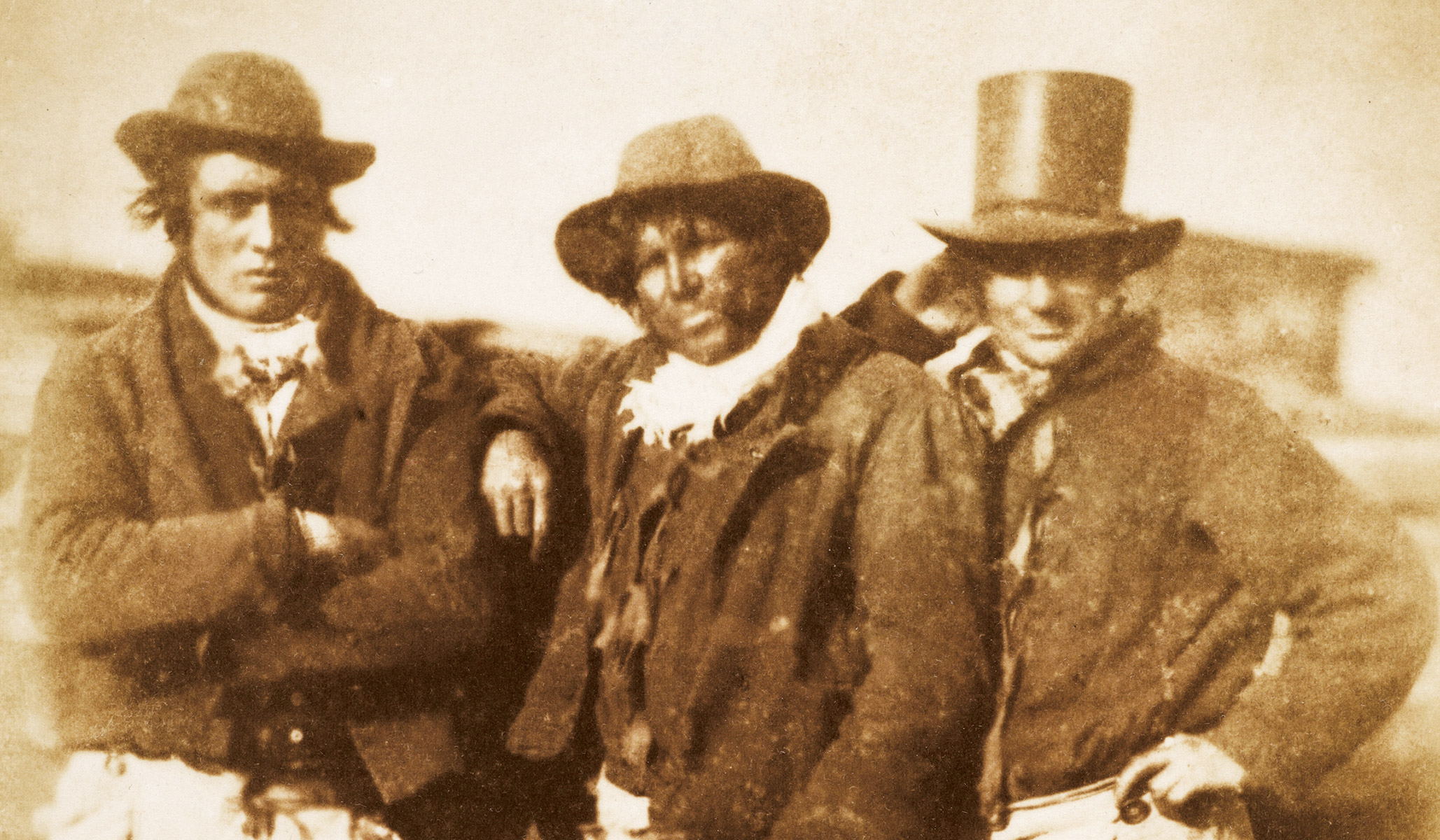 Yale's British Art Center pulls together a haunting collection of 19th-century salt-and-silver photos.
Last week, I wrote about the Bowdoin College Museum of Art's new show on Winslow Homer and photography. The show and the museum are examples of that particular creature called the college art museum, at its very best. Every gallery feels like an elegant classroom. The museum is part of a college and advances an art-history curriculum, to be sure, but is also interdisciplinary. These museums can take risks, tackling tough subjects and unusual or exceptionally refined topics, too. They're almost always free and unruled by gate receipts. Taken together, these museums are the special sauce in the vibrant, infinitely creative American museum world.
Another example is the Yale Center for British Art in New Haven, known as the BAC. It's a variant of the genre, a museum owned by a school, in this case a big university, but also a research center with an international reach. Its collection and mission are based on a single national school, too. Its new show, Salt and Silver: Early Photography, 1840–1860, takes some of the best holdings of a private London collection so exquisite and so focused that it can generate, with the BAC's scholars, the definitive take on the technique that drove photography's young years.
Speaking of youth, young people are temperamentally drawn to photography. That's one reason so many college and university museums are doing photography shows. Manipulated — and manipulative — as it might be, photography offers the sense of eyewitness experience. For young people, this "you are there" authenticity is transporting. Photographers tend to select scenes of everyday life, far easier for young people to understand. Photographs are something anyone can make, and a good student of photography quickly sees how devious the medium is. We love our point-and-click cameras. They capture spontaneous, fleeting moments, and youth is all about the moment.
Yale curators so deftly use these qualities to take us to the past, mostly everyday life as it was in the early Victorian world, and make it seem modern. The medium of photography, first of all, dates only to 1839. Think of human understanding of the world before photography, or, more simply, a world without pictures. Perceptions were driven by stories and only by visual images for those who traveled or imagined. By expanding that world through pictures, photography created a sensory revolution. The salt-and-silver show takes us where this revolution began.
The salted-paper process, using compounds of salt and silver, was invented by the British scientist and scholar William Fox Talbot (1800–1877) in 1839. On one level, the show is about science and invention, but labels are kind to those who never belonged to a high-school camera club. Bathing a piece of paper in a salt solution, then a silver solution, and then exposing it to light created a negative of the image on which the lens focused. Another round of simple processing on a separate sheet produced a positive image. A daguerreotype, a process also pioneered in the late 1830s, was more complicated, took longer, made outdoor shooting more difficult, and created a glassy, toneless, deeply, almost unnaturally, focused, pickled image. Talbot himself wanted a substitute for drawing, he wanted tone and atmosphere, and, in an early grab for "point and click" ease, he wanted equipment that was portable. He called his new objects "photographic drawings." I prefer the term offered by one of Talbot's friends, who described his photographs as "part of the black arts."
There is certainly lots of magic in these pictures. Talbot is the star of the show, but so many other great photographers are represented, among them Edouard-Denis Baldus, Roger Fenton, the team of Hill and Adamson, Gustave Le Gray, and Felix Nadar. Each added some technical discovery, often a twist of chemistry or gadgetry, that opened doors to new aesthetic possibilities and opened them fast. Nelson's Column under Construction, Trafalgar Square, by Talbot in 1844, has a documentary quality — Talbot couldn't edit advertising signs and street trash without cropping the core image — but there's atmospheric blur and a soft, unified harmony. We see a living, breathing city.
There's plenty of color in these photographs, too. The early artists were competing with drawings and engravings, usually monochromatic, as the good catalogue tells us, but the photographs still stunned early audiences with their subtle tones of rose or sepia or lavender. Roger Fenton's gorgeous portrait of Captain Lord Balgonie from 1855 has an entrancing aubergine color derived from gold-toning, a substitution of silver chloride with gold chloride during the finishing process. This deepens the density and intensity of shadows, which create a mood of extremes as his white face grows whiter, the darkness under his eyes more pronounced. Balgonie fought in the Crimean War and suffered from shell shock, the 19th century's term for post-traumatic-stress disorder. He looks exhausted, has seen too much, and now seems to see strange things in the distance. It's psychological portraiture at its best.
David Hill and Robert Adamson were among the first photographers to take the medium's recording qualities and invest them with aesthetic wonder and beauty. Hill understood light, texture, and pose. Adamson, a chemist, knew his science. Their portrait of William Calder Marshall from 1845 was said to evoke the moodiness and gravity of Rembrandt. The pair's Newhaven Fishermen from 1845 is bold and purposeful. The men project strength and self-sufficiency but appear affable and down to earth. It's a swagger portrait, deliciously jaunty, even performative, and, like the new medium of photography, totally egalitarian.
Auguste Salzmann's Jewish Sarcophagus from 1854 is a close, detailed view, intended as forensic and documentary. Salzmann, after all, was on an archaeological dig. Regardless, the photograph's planes of dark and light, the juxtaposition of smooth and rough, and the absence of scale leave us to think in today's language of abstract and minimalist art.
Salt-and-silver photography, because of its easy-to-carry equipment, became the staple of early tourist and expedition picture-making. By the late 1850s, photographers such as Linnaeus Tripe, seeking new ways to express exoticism, pushed the technique's capacity for spookier dark and light contrasting tones. His photographs of India work as fascinating documentary but are also dramatic. Whether by design or accident, his view of a pillared hall in Madurai shows what look like footlights. The 300-foot-long space required a long exposure time both to sharpen some details and to create the desired contrasts. Light leaking in the bottom of the negative caused dome-shaped passages. Together with the darks and the deep, tunnel recession, the scene looks like a proscenium set for action.
Where are the Americans? Using Talbot's technology required a costly license, a disincentive for early American photographers. Gradually, by the 1850s, newer technologies displaced salt-and-silver prints. Collodion glass-plate negatives produced sharper, more detailed images. The goals of American photographic surveys of the West, for instance, didn't depict the colored atmosphere or mist so effectively evoked by the tonalists. Mathew Brady and other war photographers looked less for the mysterious, the equivocal, and the speculative and more for plain, matter-of-fact, in-your-face truth.
I'd call the show an alchemist's delight. It's science, art, adventure, and experiment. Good curating is a bit of magic, and so is match-making. The museum is collaborating with the Wilson Centre for Photography in London, based on the collection of the American entrepreneur Michael Wilson and devoted to the study of early photography. It's a great pairing conceived in part through the Center's mission and gracious galleries and Yale's infinite prestige and reach.
There are many things the Yale Center for British Art can teach us about the university art museum. First, a bit of comparison. What are the core differences between a college or university art museum and the creature called a civic museum? One belongs to a school. Its primary audience, always, is the school's students. A civic museum serves a city or region. It's open to the general public. It's almost always privately run and freestanding, with its own trustees, and owns its collection and building independently. They take all comers. Often they play it safe. They are rarely free and have financial models requiring paid admissions. Popularity, sometimes sought at the expense of scholarship and even common sense, is a virtue.
In part, BAC straddles both worlds. It's a prestigious university museum serving Yale students. Its shows are scholarly and suffer neither dullards nor slackards. Yet it's open to the public with a superb program of free lectures and other events targeted as much at the city and surrounding towns as at Yale. Its shows travel nationally and internationally and are always beautifully installed with attractive, accessible catalogues. Its elegant, serene, airy building, Louis Kahn's last museum project, was designed to welcome the general public. The Yale University Art Gallery, across the street and Kahn's first museum, has had an uneven history of public engagement. Overall, and this has changed, the art gallery's modus operandi was to favor students, but if the public wanted to come, no one would point a water cannon their way. The BAC has always had a civic mission and has always taken it seriously. It's telling that the salt-and-silver show is mostly a summer show. Though there are always Yalies on campus, and the faculty, alumni, and staff base in New Haven is big, the show's primary audience will be local people. Honestly, I have to say most college and university art museums need to care a lot more about the general public.
Next time, I'll write about how fraught college and university museums can be, fraught with discord, lousy management, wacky programs, and, of course, ugly money troubles. Of these, the Yale Center for British Art is blissfully innocent. Paul Mellon was Yale's biggest donor. In the early 1970s, he established the center, gave the collection, the best collection of British art outside Britain, paid for the building, and endowed its operations, acquisitions, and future upkeep. It raises money to pay for special programs and acquires art, sometimes through gifts. No work of British art could find a happier home, or one with more congenial playmates. The museum is part of Yale and reports to Yale's board. Not all college and university museums are so contentedly settled.
IN THE NEWS: 'EU Predicts Delay in Brexit Deal, Missing the October Target Date'