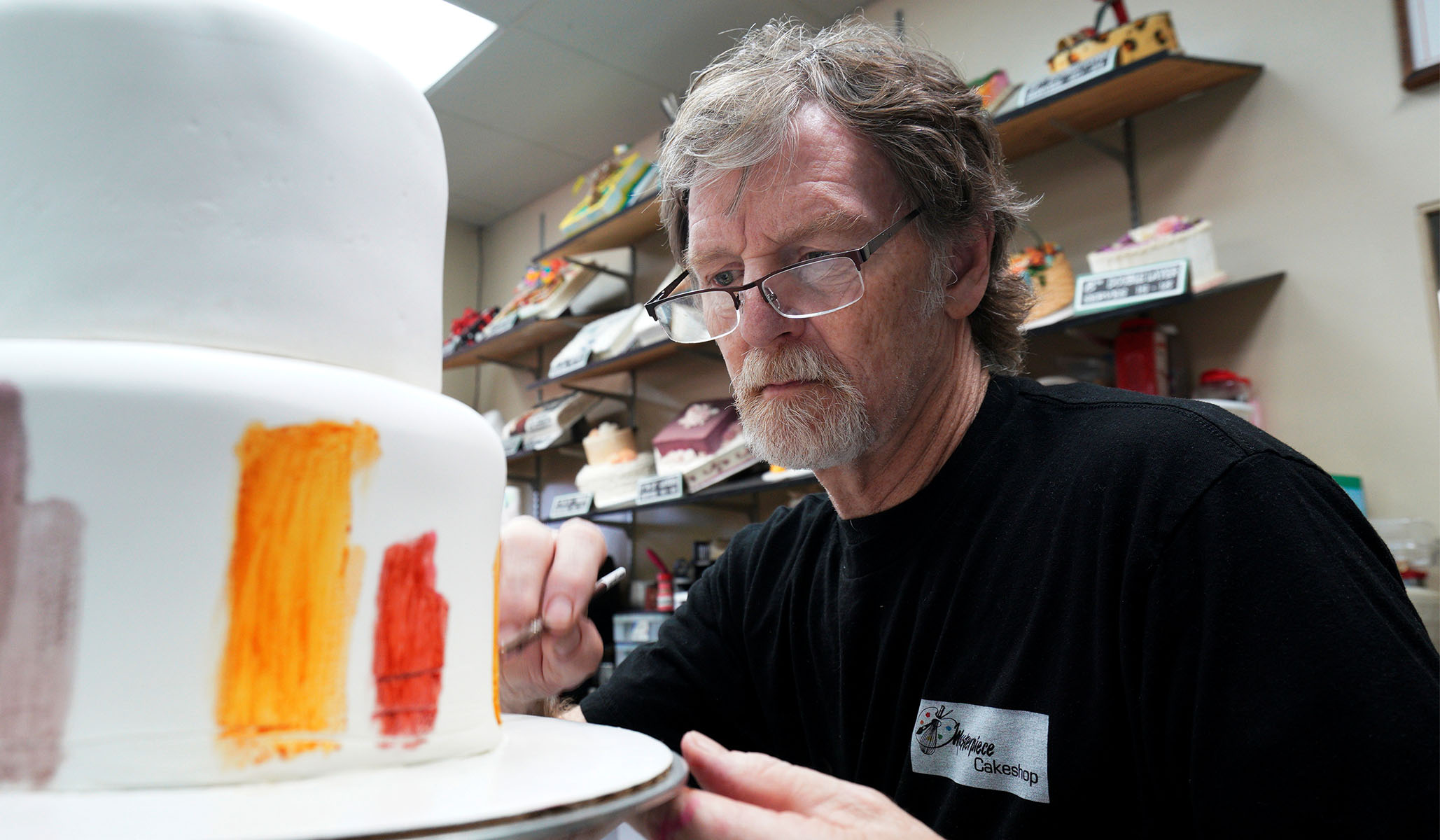 The state finds 'probable cause' that Jack Phillips violated the civil rights of someone who has been persistently trolling him with orders for provocative cakes.
Even after a 7–2 Supreme Court decision protecting Colorado custom baker Jack Phillips from overt religious discrimination, the state is doubling down. It's participating in and empowering a grotesque campaign of discrimination and harassment that should shock the conscience of sensible Americans.
Phillips, you'll recall, is the owner of Masterpiece Cakeshop, the bakery at the epicenter of one of the most contentious cases of the Supreme Court's last term. Phillips had refused to design a custom cake to celebrate a gay wedding, and a clear majority of SCOTUS ruled that the Colorado Civil Rights Commission violated his right to free exercise of religion by demonstrating overt religious animus against him. Commissioners not only denigrated the sincerity of his religious-liberty argument, they applied overt double standards (by allowing bakers to refuse to create anti-gay messages) that were clearly discriminatory.
So Jack won. Colorado lost. But Jack's ordeal, it turns out, was far from over. By standing up for his First Amendment freedoms, Phillips put a target on his back, and bad-faith, malicious actors aimed and fired.
Here's what happened. According to a verified complaint filed today by my old colleagues at the Alliance Defending Freedom, on June 26, 2017 — the very day the Supreme Court granted Jack's request to review his wedding-cake case — a lawyer named Autumn Scardina called Masterpiece Cakeshop and "asked Masterpiece Cakeshop to create a custom cake with 'a blue exterior and a pink interior' — a cake 'design' that, according to the lawyer," reflected "the fact that [the lawyer] transitioned from male-to-female and that [the lawyer] had come out as transgender."
RELATED: 'Baker in SCOTUS Case Sues Colorado over Persecution'
[jwplayer 4NlhWNUT-wKJ9CRQU]
Lest anyone wonder whether this request was made in good faith, consider that this same person apparently made a number of requests to Masterpiece Cakeshop. In September 2017, a caller asked Phillips to design a birthday cake for Satan that would feature an image of Satan smoking marijuana. The name "Scardina" appeared on the caller identification. A few days earlier, a person had emailed Jack asking for a cake with a similar theme — except featuring "an upside-down cross, under the head of Lucifer." This same emailer reminded Phillips that "religion is a protected class."
On the very day that Phillips won his case at the Supreme Court, a person emailed with yet another deliberately offensive design request:
I'm thinking a three-tiered white cake. Cheesecake frosting. And the topper should be a large figure of Satan, licking a 9″ black Dildo. I would like the dildo to be an actual working model, that can be turned on before we unveil the cake. I can provide it for you if you don't have the means to procure one yourself.
And finally, two days later, a person identifying as "Autumn Marie" visited Phillips's shop and requested a cake featuring a pentagram. According to ADF, "Phillips believes that person was Autumn Scardina."
Rather than recognizing Scardina's conduct as nothing more than a bad-faith campaign of harassment, Aubrey Elenis, the director of the Colorado Civil Rights Division, found on June 28 "probable cause" to believe that Phillips violated Scardina's civil rights when he refused Scardina's bad-faith request to design a cake celebrating Scardina's "transition."
This decision is as foolish as it is malicious. The one weakness of Jack's Supreme Court case was that he denied the gay couple's request to custom-design their cake before he knew the design they wanted. That left him open to the charge that he could have designed a cake that contained no obvious expressive message. Phillips countered that compelling him to use his artistic ability to help celebrate an immoral act was a violation of his First Amendment rights no matter the appearance of the cake.
Until the law changes, government officials can't engage in viewpoint discrimination, and if they act with actual animus, they can and should be held personally liable for violating a citizen's core constitutional rights.
Ultimately, the Supreme Court punted on that key question, but it was clear that even the two dissenting justices would view the case differently if it was about a specific message that Phillips would reject for any customer. And clearly, a cake with a pink middle and blue exterior communicates the message that Scardina is truly female on the inside. The requested message was as painfully obvious as Scardina's satanic requests.
With its probable-cause finding, the Colorado Civil Rights Division demonstrates it's as foolish as it is malicious. It has just launched yet another legal campaign against Phillips based on nothing more than a bad-faith complaint from an angry troll. It hasn't cured its devotion to double standards. And by seeking to punish Phillips when the expressive message of the proposed cake is crystal clear, the Division has only strengthened his First Amendment claim.
In recent months, we've seen that trolling and shaming work all too well when the relevant power is a private corporation. CEOs and editors aren't subject to the First Amendment, and they can censor at will — even if they're degrading the American culture of free speech with every website wrongly blocked and every dissenter shamefully fired. But until the law changes, government officials can't empower the outrage mob. They can't engage in viewpoint discrimination, and if they act with actual animus, they can and should be held personally liable for violating a citizen's core constitutional rights.
In other words, if plaintiffs have the will and the resources, they can defeat government censors. While I don't claim to know Jack Phillips well, I know that he won't back down. I also know that ADF has the resources to fight the long battles. Trolls can't harass Christians out of their fundamental freedoms. The battle is joined. It may rage for years, but expect Jack to prevail once again.
IN THE NEWS: 'Trump Frustrated That U.S. Pastor Still Imprisoned In Turkey'
[jwplayer FrEuXd4f-wKJ9CRQU]