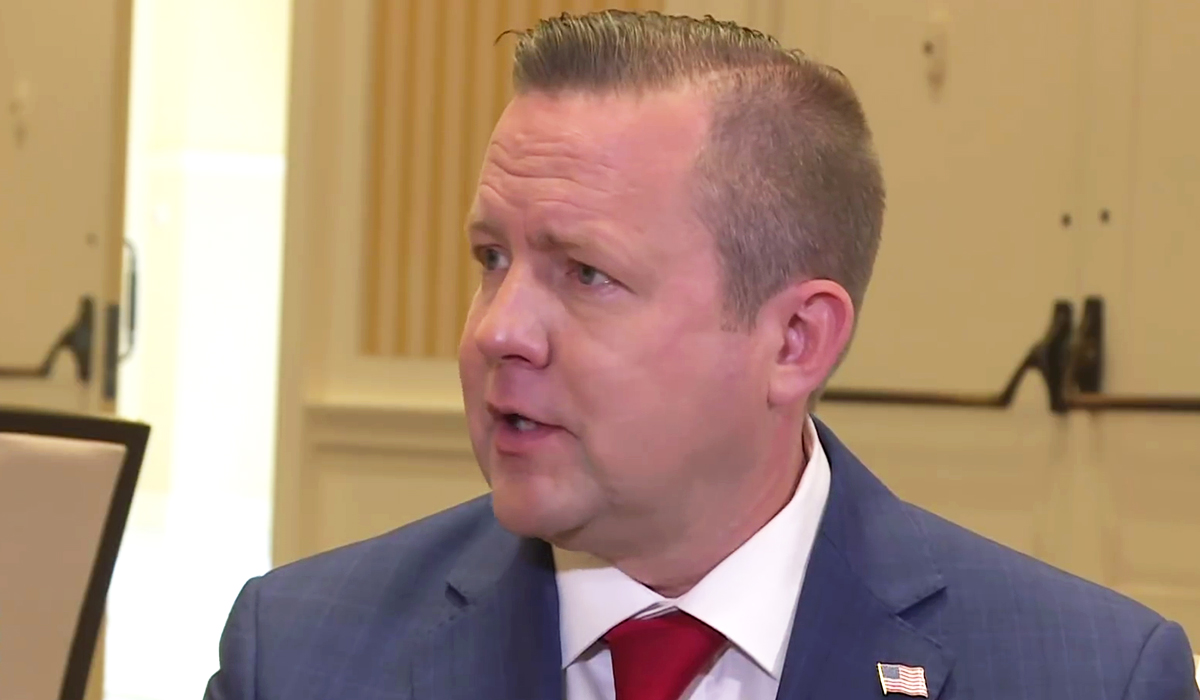 The Republican nominee can't focus on Tim Kaine because he's busy putting out fires from his own past comments.
Corey Stewart has had a rough few weeks.
Stewart, the Republican nominee challenging incumbent Democratic senator Tim Kaine in Virginia this fall, has come under sustained fire lately as news outlets have uncovered disturbing past comments from his campaign staff and from Stewart himself — shedding new light on the candidate's friendly relationships with white-nationalist figures.
The negative publicity seems already to be taking a toll. In a VCU poll of likely voters released late last week, Kaine led Stewart by a comfortable 23 points, 49 percent to Stewart's 26. That's an improvement for Kaine from the 18-point lead he enjoyed over Stewart in a Quinnipiac poll from late June, shortly after Stewart won the GOP nomination.
A bit of bad press alone rarely tanks a campaign, but for Stewart, the series of hard hits has established a troubling pattern.
Some of the relevant history was already known. In early 2017 — when he ran against Republican stalwart Ed Gillespie in the gubernatorial primary — Stewart said he was "inspired" by anti-Muslim conspiracy theorist Paul Nehlen's failed primary challenge of House speaker Paul Ryan. At the time, Stewart called Nehlen one of his "personal heroes," and Stewart's campaign was later found to have paid Nehlen a fundraising commission for the use of his email list.
Then, in November — after Nehlen had publicly promoted white nationalism and anti-Semitism, and after Stewart had lost to Gillespie and announced a Senate campaign against Kaine — Stewart accepted Nehlen's endorsement and offered his own endorsement in return.
Also last year, Stewart appeared at a February event protesting the removal of a Robert E. Lee statue in downtown Charlottesville. The event was hosted by Unity and Security for America, a right-wing group led by white supremacist Jason Kessler, who went on to organize the Unite the Right neo-Nazi march that caused violence in Charlottesville last August.
"All the weak Republicans, they couldn't apologize fast enough," Stewart told the Washington Post in an interview just after the Charlottesville rally. "They played right into the hands of the left wing. Those people have nothing to do with the Republican party. There was no reason to apologize."
When public scrutiny arose earlier this summer over those past entanglements, Stewart said he disavowed both Nehlen and Kessler, claiming he had been unaware of their extremism when he appeared with them (and endorsed Nehlen). But the latest reporting has found evidence that Stewart might be just as comfortable with their extremist views as these associations suggest.
In a speech last spring, for example, Stewart praised Virginia's decision to secede from the union. CNN's K-File uncovered a video of Stewart's April 2017 remarks given at an event in South Boston, Va. — an event that was, according to records from Virginia's Department of Elections, hosted by secessionist George Randall.
From Stewart's remarks at the event:
When you say you're from Virginia, when you travel outside of this state and somebody asks where you're from, you say with pride, "I am from Virginia. I'm very, very proud of it. " You're very, very proud of it. And why is it? It's because of our history, folks. It's because of our history. This is the state of George Washington, Thomas Jefferson, and James Madison and James Monroe. It's a state of the Founders. It's the state of the Declaration of Independence and the Constitution.

But it's also the state of Robert E. Lee, and Stonewall Jackson, and J. E. B. Stuart. Because, at the base of it, Virginians, we think for ourselves. And if the established order is wrong, we rebel. We did that in the Revolution, we did it in the Civil War, and we're doing it today. We're doing it today because they're trying to rob us of everything that we hold dear: our history, our heritage, our culture.
When asked for comment on this recent story, Stewart gave CNN the following statement: "Unlike Wimpy Tim Kaine, Virginians have a warrior spirit and a rebel heart."
Such rhetoric is not terribly shocking from a candidate who, in last year's gubernatorial primary, made it a cornerstone of his platform that municipalities should be required to maintain all Confederate memorials and statues. Compare this with the approach of Gillespie, who advocated allowing each locality to decide what to do with its own monuments.
It's difficult to imagine a three-month trajectory that results in Kaine losing his seat.
Combined with the rest of what we know about Stewart and some of the people with whom he surrounds himself, his glorification of secession becomes even more concerning. The Daily Beast reported last month, for example, that Brian Landrum — a staffer working for Stewart in his current role as chair of the Board of Supervisors of Prince William County, and who is also involved in Stewart's campaign — was part of a Facebook-message group (along with Jason Kessler) planning the United the Right 2 rally, which took place yesterday in Washington, D.C.
"The campaign has no connection with anything having to do with the first or second Unite the Right rally, and strongly discourages anyone from attending the rally," Stewart's campaign said in a statement, and Landrum told the Daily Beast via email that he hadn't "been involved in the planning or discussion of a 'Unite the Right' rally." A spokesman for the campaign said Landrum was added to the message group without his knowledge, but according to the Daily Beast's review of the leaked Facebook logs, Landrum sent at least one message to the group chat.
Meanwhile, recent reporting from CNN's K-File uncovered tweets in which Rick Shaftan, a top Stewart consultant and spokesman, used the derogatory term "House Negro" to criticize the Republican establishment. The story came on the heels of a Daily Beast report that Shaftan had written several tweets warning against opening businesses in black neighborhoods, and later called majority-black cities Memphis, New Orleans, and Baltimore "[sh**]holes."
In a story last Friday, IJR asked Stewart about these past tweets from Shaftan. "I don't throw people away just because they say something I disagree with," Stewart said in response. "I don't agree with those statements. But the thing is, for somebody who's been in politics for as long as he has, there's always going to be something. . . . If we start throwing people away because they said something stupid we're not going to be left with anybody."
While it's hard to say how much these past comments are affecting Stewart's ability to gain traction with voters, it's clear that one way or another, he is foundering. The VCU poll, which surveyed likely voters in late July, found that just two-thirds of self-described Republicans said they plan to back Stewart in November, compared to the nearly 90 percent of Democrats who say they'll vote for Kaine.
Republican leaders in Virginia, meanwhile, appear highly uncertain of how they should handle Stewart and his campaign, especially in the wake of these recent reports. The Virginia Republican party has been divided and dysfunctional for years, and that disunity extends to determining the best path forward in this Senate race.
It's difficult to imagine a three-month trajectory that results in Kaine losing his seat. Stewart's abysmal effort, meanwhile, is already affecting the way Virginians — and observers across the country — view the Republican party.
IN THE NEWS: 'Kavanaugh Confirmation Hearings To Begin in September'
[jwplayer zoaZ702r-wKJ9CRQU]