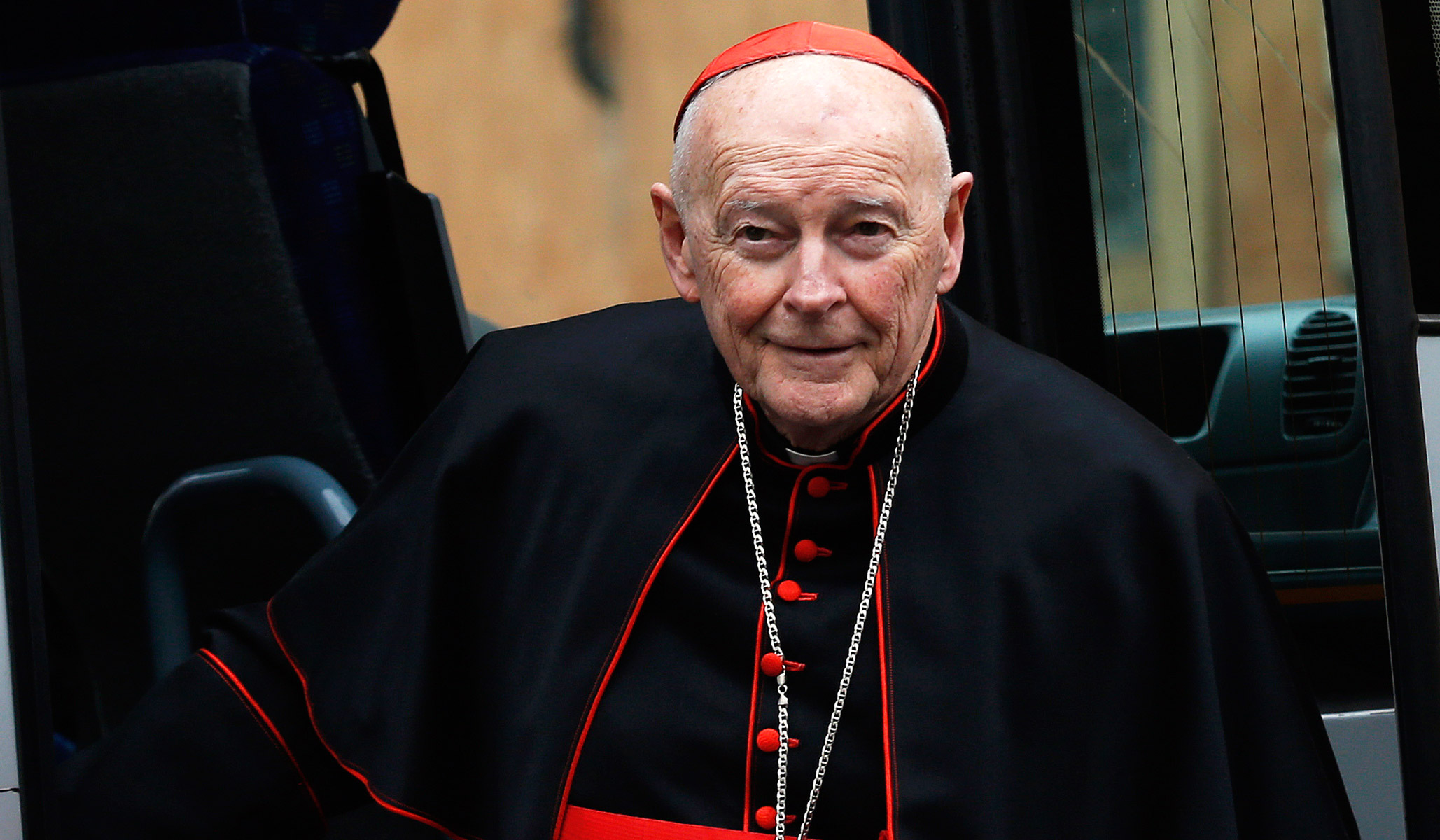 The former Oklahoma governor led the panel looking into sexual-abuse scandals in the Church in 2003. He has proved himself to be clear-eyed and tough-minded.
In anticipation of a Pennsylvania grand-jury report exposing hundreds of priests accused of sexual abuse since the 1940s, the bishop of Harrisburg last week ordered that the names of former bishops from those years be stripped from churches. This purge is a symbolic gesture — an expression of the reality that bishops who protect abusers should hold no place of honor in the Church.
Today, so many years after the sexual-abuse scandal in the U.S. Catholic Church erupted in Boston in 2002, more than symbols are needed.
This is on my mind, of course, because of the revelations of the appalling — and, indeed, evil — behavior of Theodore McCarrick, the former archbishop of Washington. Like nearly every Catholic with whom I've spoken since the whole world learned what had been quietly whispered in rectories, church halls, and cathedrals, I am a combination of heartbroken and outraged by the allegations that McCarrick sexually abused minors, seminarians, and young priests. It is infuriating and stupefying that the bishop who became the public face of the Church's response to the sex-abuse scandal was apparently guilty of abusing minors himself.
The McCarrick affair makes it impossible for Catholics to comfort themselves with the thought that the problems in the Church are limited to a small share of priests abusing children and to a small share of bishops protecting them. Instead, McCarrick's apparent crimes make clear that the moral rot within the Church's leadership runs wide and deep. We've learned from McCarrick's career, beyond specific instances of abuse, that the culture at the top of the Church is severely broken.
For decades, McCarrick seems to have been abusing the power of his office and greatly injuring the lives of people to whom he should have been a spiritual father. As a young priest, it is alleged, he sexually abused the first child he baptized, beginning when the boy was eleven years old and continuing for nearly 20 years. As a bishop, he allegedly abused seminarians — young men whose future in the Church he controlled. McCarrick was wielding significant influence over matters as important as the appointment of bishops right up until this summer, when news of his past finally broke.
How did a man who likely belongs in a jail cell rather than in the red cassock of a prince of the Church get away with so much for so long? McCarrick apparently preyed on those over whom he wielded power for decades, and he reached the highest levels of leadership in the Church. Some important people in the Vatican and the U.S. must have known at least something of his behavior. How many people — including bishops — turned a blind eye, or covered up his crimes? Why did they make that choice? Petitions were made to the Vatican to stop McCarrick's rise. They went nowhere. Why?
A good place to start looking for answers is with the 15 American cardinals. At least four of them, or 27 percent, likely heard at least something regarding McCarrick's behavior and did, it appears, nothing.
Cardinal Kevin Farrell, the highest-ranking American in the Vatican, worked for and lived with McCarrick for several years. A priest wrote a letter to Cardinal Sean O'Malley, the archbishop of Boston, discussing McCarrick's behavior. Cardinal O'Malley's staff responded to the priest. It's hard to believe that Cardinal Donald Wuerl, McCarrick's successor as archbishop of Washington, didn't hear rumors, at a minimum. Despite the close proximity that all three held to McCarrick, these cardinals deny any knowledge of McCarrick's behavior.
In addition, Cardinal Joseph Tobin, archbishop of Newark, a post previously held by McCarrick, leads one of two New Jersey dioceses that received allegations, by former seminarians, of sexual misconduct by McCarrick. The allegations resulted in two settlements, secretly paid in 2005 and 2007 (before Cardinal Tobin arrived in Newark in 2017). How was McCarrick allowed to keep his red hat and significant influence for so many years after those settlements were paid?
On resigning from the investigative panel in 2003, Keating wrote that 'to resist grand-jury subpoenas, to suppress the names of offending clerics, to deny, to obfuscate, to explain away; that is the model of a criminal organization, not my church.'
The bishop of Albany, like a slender ray of sunlight piercing dark clouds, seems to understand: "I think we have reached a point where bishops alone investigating bishops is not the answer." But an investigation is needed. Columnist Ross Douthat has called for a "special prosecutor" to discover "who knew what and when." Douthat's right, though it might take more than one.
Former Oklahoma governor Frank Keating should be on that board of prosecutors. Keating comes to mind because for a time he was chairman of the panel of lay Catholics that looked into the sex-abuse crisis 15 years ago. He clashed with some U.S. bishops, particularly after comparing the behavior of some of them to the mafia.
In his resignation letter from that panel, Keating wrote that the Church is a
home to Christ's people. It is not a criminal enterprise. It does not condone and cover up criminal activity. It does not follow a code of silence. My remarks, which some bishops found offensive, were deadly accurate. I make no apology. To resist grand-jury subpoenas, to suppress the names of offending clerics, to deny, to obfuscate, to explain away; that is the model of a criminal organization, not my church.
At the time, some thought this was overheated rhetoric. Today, it seems on the mark — and reflects the aggressive prosecutorial attitude that will be needed to cut through the culture of clericalism that acts as a cancer in the Church and to get to the bottom of the McCarrick affair and everything that it touches.
And ultimately, to restore the moral authority of the bishops.
IN THE NEWS: 'China To Conduct Assessment Of U.S. Defense Bill'
[jwplayer qBdwO9I4-wKJ9CRQU]