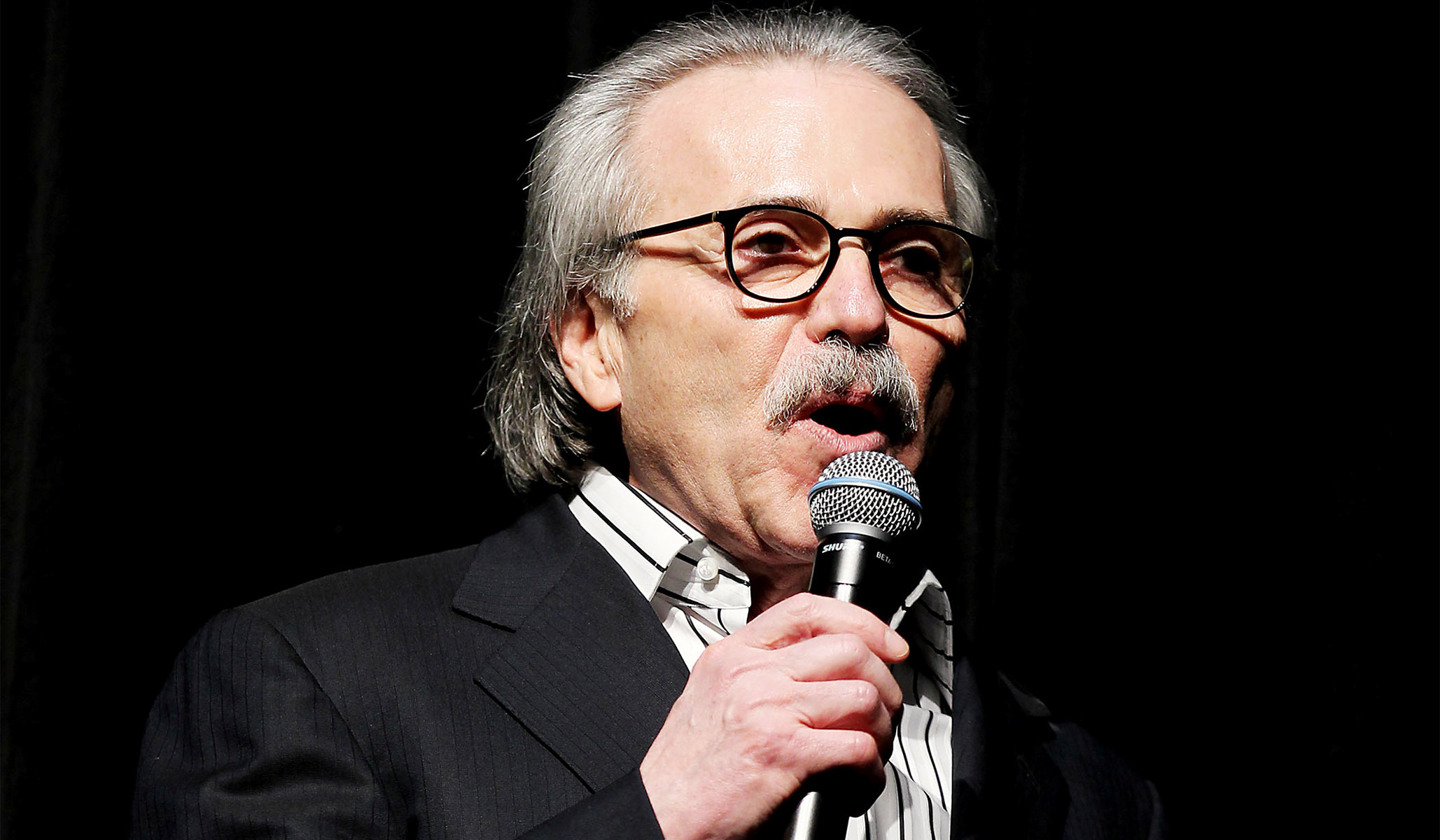 There is almost certainly much less here than meets the eye.
There is always a lag between when things happen and when we learn about them through media reports. That is important to bear in mind when there are breathless news accounts of the kind that broke on Thursday: the revelation that federal prosecutors in New York granted immunity from prosecution to David J. Pecker, the chairman and CEO of American Media Inc. (AMI) and longtime friend of Donald Trump.
American Media controls the National Enquirer, which was deeply involved in the hush-money payments to two women who allege that they had extramarital liaisons with Donald Trump a dozen years ago and whose silence was purchased when they sought to sell their stories prior to the 2016 election. Naturally, coming on the heels of Tuesday's guilty plea by Michael Cohen to campaign-finance offenses arising out of those two transactions, there was frenzied speculation that the investigation is heating up, with the noose tightening around the president.
In reality, there is almost certainly much less here than meets the eye. In short, while we are just now learning that Pecker and his subordinate, Dylan Howard, were granted immunity, this appears to have happened many weeks ago — to be precise, shortly after search warrants were executed in April on the office and residences of Cohen, President Trump's former lawyer. Back then, prosecutors did not know whether Cohen would fight them or plead guilty. They needed Pecker and Howard in order to tighten up the case against Cohen, not necessarily to make a case on the president.
Perusing the Wall Street Journal, New York Times, and Vanity Fair reports (here, here, and here), we find something important is missing: They don't tell us when Pecker and Howard got immunity. But we get a hint. The Times tells us: "In spring 2018, prosecutors subpoenaed communications between Mr. Pecker and Mr. Howard." We also know that information from Pecker and Howard is reflected in the eight-count criminal information filed against Cohen, which refers to them, respectively, as "Chairman-1" and "Executive-1." (AMI is "Corporation-1" and the Enquirer is "Magazine-1.")
We can therefore deduce that the immunity was granted sometime after the April Cohen searches and the "spring" subpoena for Pecker-Howard communications, but well before this week, when the charges were filed and Cohen pled guilty. I am betting it happened very soon after the subpoenas because, as the Journal explains, prosecutors had a heavy hammer: AMI is in deep financial trouble. Criminal charges would likely be fatal, and AMI had potential criminal exposure because it conducted itself more as an adjunct of the Trump campaign than as a media outlet.
We can grasp the role Pecker and Howard played in building the prosecutors' case against Cohen by scrutinizing the charges to which Cohen pled guilty.
First, a word about those charges. It has become common to refer collectively to Counts 7 and 8 as the "campaign finance offenses," as if they were indistinguishable from one another. We need to be more precise. This is not a situation in which the same statutory crime has simply been charged twice because there are deals with two different women. Counts 7 and 8 are saliently different, invoking distinct provisions of the campaign finance laws and proceeding on divergent theories of liability.
Specifically, Count 7 charges Cohen not with making an illegal donation, but with "Causing an Unlawful Corporate Contribution" (emphasis added). By contrast, Count 8 alleges that Cohen himself made an "Excessive Campaign Contribution" (emphasis added).
Let's focus first on Count 7. Federal campaign finance law makes it illegal for a corporation to make direct ("hard money") contributions to candidates. Count 7 alleges that Cohen induced AMI (through its executives, Pecker and Howard) to use the "catch and kill" strategy — i.e., to pay $150,000 for the exclusive rights to former Playboy model Karen McDougal's story about an affair with Donald Trump, but to bury it rather than publish it.
Much has been made about Cohen's admission in court that the payments to the two women involved — Ms. McDougal and Stephanie Clifford, the porn star known as "Stormy Daniels" — were made "in coordination with and at the direction of" candidate Trump. Yet Cohen (and, derivatively, Trump) made no payment at all to McDougal; AMI paid the $150,000.
That was not the way it was supposed to go. The plan was for Cohen (backed by Trump) to reimburse most of the costs by paying AMI $125,000 to transfer the rights to McDougal's story to a dummy corporation ("Resolution Consultants LLC") set up by Cohen. At the last minute, however, Pecker balked at this arrangement (which was memorialized in a signed agreement seized through the Cohen search warrants). Pecker was evidently following the advice of counsel: If AMI sold the rights to Trump, it would manifestly have bought the story to help his campaign, not for journalistic reasons.
These facts created a proof problem for prosecutors: How to charge Cohen with an illegal contribution when he didn't pay any money? They solved this problem by accusing him of causing the corporation to make the illegal contribution. But to pull that off, they needed Pecker and Howard as witnesses. That, I believe, is why they gave the AMI executives immunity.
Let's compare Count 8. It alleges that Cohen himself made an excessive contribution. This is the much more straightforward Stormy Daniels payoff: Through another dummy corporation ("Essential Consultants LLC"), Cohen paid her $130,000, far in excess of the $2,700 limit for individuals.
There is an ironic twist to this transaction. It was the AMI executives who alerted Cohen that Ms. Clifford was shopping her story. Cohen ended up cutting a deal with Clifford's lawyer to buy her silence just days after publication of the infamous "Access Hollywood" video (in which Trump is heard bragging about groping women). The temporal proximity of the video's surfacing and the hush-money agreement is a key fact relied on by prosecutors to allege that the payoff was election-related (i.e., an in-kind campaign contribution), not just hush money to avoid personal embarrassment.
Upon making the agreement, though, Cohen failed to pay the money. After three weeks of this foot-dragging, Clifford got impatient and threatened to go public. AMI's Howard got wind of this and warned Cohen in a text. Howard and Pecker followed up with an encrypted phone call, after which Cohen forked over the $130,000.
Consequently, the script flips: Just as it was said in Count 7 that Cohen caused AMI to make an unlawful corporate contribution, it could also be said in Count 8 that Pecker, Howard, and AMI caused Cohen to make an excessive campaign contribution. Of course, the immunity agreement protected the two executives on this score, and the corporation has not been charged.
Two significant points emerge here.
First, though the immunity agreements are just being reported on now, they appear to have been driven by the prosecutors' need, three months ago, to shore up their case against Cohen. It is not clear that they signal an ongoing effort to make a case against the president. To be sure, if there is such an effort, the AMI angle would be relevant. But the immunity agreements are not a new development.
Second, parsing Counts 7 and 8 carefully elucidates the speciousness of the claim by Lanny Davis — the longtime Clinton confidant who is shilling for Michael Cohen — that if Cohen is guilty of violating campaign finance laws, Trump, too, must be guilty. The president could not be guilty of the offense charged in Count 8 because he could not make an excessive contribution — the limits that apply to other donors do not apply to the candidate himself. As for Count 7, based on what is publicly known at this time, there is extensive evidence that Cohen caused AMI to make an illegal in-kind contribution, but scant evidence that Trump did. That could change. After all, Pecker has longstanding ties to Trump, and the payoff to McDougal was done for Trump's benefit. That, however, is smoke, not fire.
As I pointed out in Wednesday's column, the president is by no means out of the woods on this. There is potential aiding and abetting liability; even though candidates have no spending limits, there are reporting requirements; and just as it is illegal for donors to make unlawful contributions, it is illegal for candidates to accept illegal contributions. I will have more to say about this in the weekend column. For now, suffice it to say that I believe the president's best defense here is that prosecutors could not possibly prove beyond a reasonable doubt that he intended to violate campaign finance laws, rather than that there were no such violations (which is a colorable claim but a highly debatable one).
As I will also discuss separately, prosecutors have suggested that fraud attends the manner in which reimbursement payments to Cohen were totaled up, invoiced, and processed. (See the last four paragraphs of the press release section titled "Campaign Finance Violations.")
Nevertheless, the immunity agreements may be new news, but they relate to dated developments.
Editor's Note: This column has been corrected. It originally referred to Michael Avenatti as Stephanie Clifford's attorney at the time of a non-disclosure agreement entered into with Michael Cohen. Mr. Avenatti was not the attorney representing Ms. Clifford at that time. 
IN THE NEWS: '[WATCH] Trump Slams Justice Department'