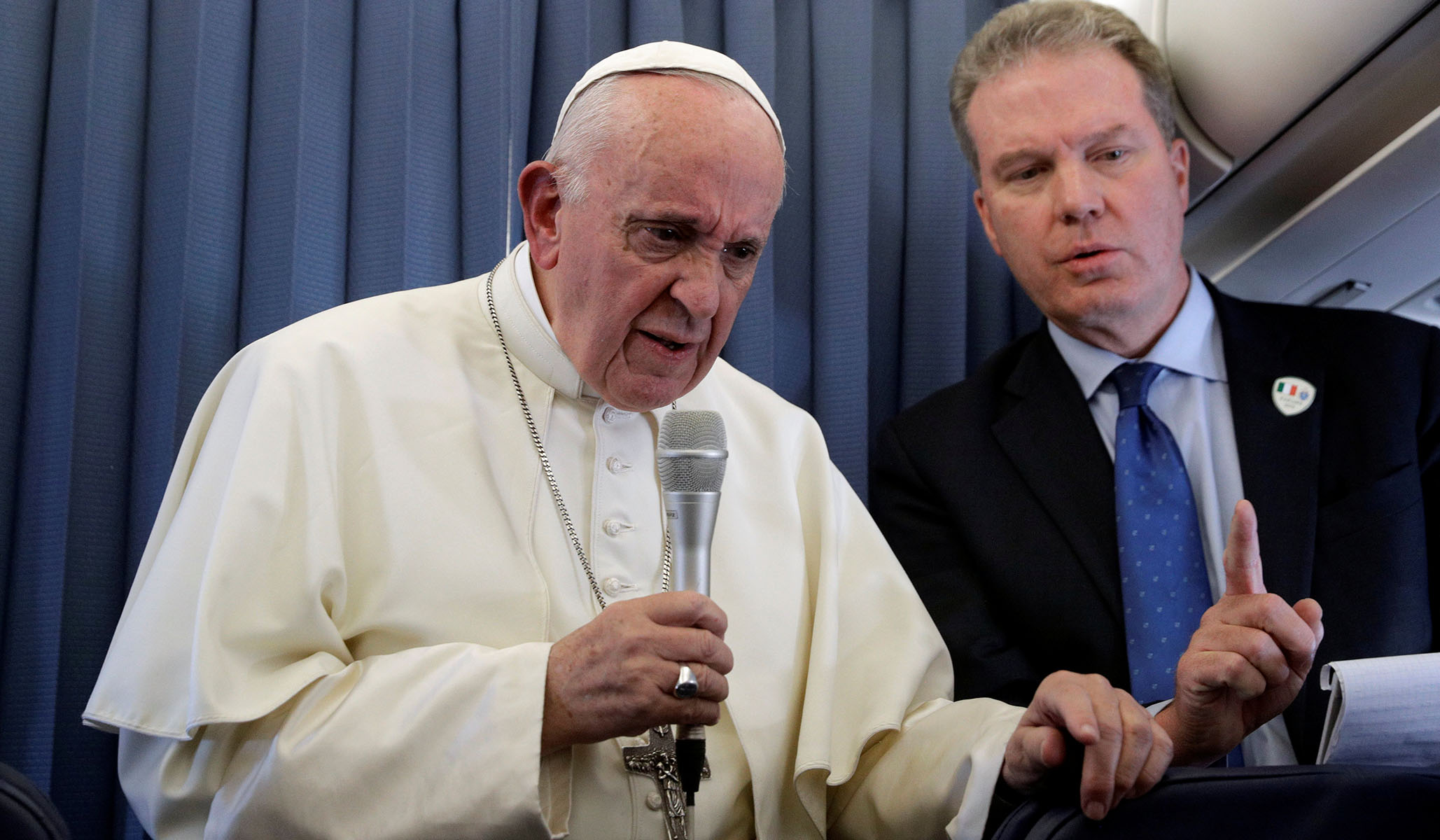 Francis refuses to dispute the most damning accusation made against a pontiff in living memory.
Well, it's a relief to discover that, despite all its troubles, the Roman Catholic Church is still capable of producing gripping melodrama. This weekend Pope Francis was in Ireland, capping off the Church's "World Meeting of Families," held in Dublin. He apologized over and over again for the sins of clergymen — a topic of perennial interest and agitation there. And then, before his large outdoor Mass, a Vatican diplomat released an eleven-page letter implicating Pope Francis directly in the sex-crime scandals roiling the Church. Archbishop Carlo Maria Viganò, the former apostolic nuncio to the United States, alleged in a long, incredibly frank letter that Pope Francis knew of Cardinal Theodore McCarrick's misdeeds with seminarians in 2013. Further, he alleges that Pope Francis lifted a number of sanctions placed on McCarrick by Pope Benedict, restoring him to a position of influence in the Church. Viganò named at least two places where documentary evidence backing up his alarming claims could be found, and finished his letter by calling on Pope Francis and the men he accuses of being his corrupted collaborators to resign their offices. Read the whole thing.
The timing of Viganò's letter was obviously calculated to do maximum damage to Francis. The pope would obviously be in the spotlight, talking about clerical sexual abuse. Coming just 24 hours before his scheduled flight back to Rome, in a situation he has made a habit of using to take freewheeling questions from the media, the letter was meant to embarrass.
Pope Francis was asked very directly about the main and most damning accusation in Viganò's letter. Did he know about McCarrick's abuse of seminarians in 2013, and did he rehabilitate him from sanctions placed on him by Pope Benedict? Francis refused to confirm or deny it. "I read the statement this morning, and I must tell you sincerely that, I must say this, to you and all those who are interested: Read the statement carefully and make your own judgment," he said, "I will not say a single word on this."
This can be read in a few ways. Either Pope Francis thinks that Viganò's accusations are obviously non-credible and that he cannot dignify them with a response, or Pope Francis is caught off guard by these accusations and does not know what he can safely confirm or deny to the media without risking immediate humiliation.
A few things can be said about Viganò's dramatic letter. The first of interest to me is that it provides an answer to a question I asked in a previous column on the McCarrick scandal. There I said that questions needed to be asked of Cardinal Donald Wuerl of Washington, D.C., who denies knowing anything of McCarrick's predatory behavior with seminarians. I said that Cardinal Wuerl should be asked why McCarrick was moved from his retirement residence at the seminary to St. Thomas in Woodley Park in 2009 or so. Viganò in his long letter says that it was at this time that Pope Benedict imposed a number of sanctions on McCarrick's life and ministry, sanctions that were apparently kept from the public but included his removal from seminary grounds.
However, if Benedict did impose sanctions on McCarrick, why should they have been secret and therefore easy to reverse? And what did they entail? If McCarrick was barred from public ministry from 2009 to 2013, he flouted the ban. He publicly celebrated Mass, raised money, and gave speeches and homilies.
The next thing that can be said of Viganò's letter is that it is rather obviously the work of a man with grievances against the current pope, and an open detestation of the set of people the pope has elevated in the Church, including Bishop Robert McElroy of San Diego, Cardinal Blase Cupich of Chicago, Cardinal Wuerl, and Cardinal Joseph Tobin of Newark. Viganò's letter is written in a way that inextricably links the sexual-abuse and blackmail crisis to beloved figures on the progressive side.
However, the Viganò letter is a sprawling, long, detailed set of accusations and claims. He names so many bishops and cardinals, and describes so many discrete events, that it will be relatively easy for reporters to begin digging through it and verifying or discrediting many of its claims. It is astonishing that so few of the bishops and cardinals who have responded to it — even those who deny individual facts — have contested its main damning accusation against Pope Francis.
There are comic touches to this damning letter as well. An excerpt:
I began the conversation, asking the Pope what he intended to say to me with the words he had addressed to me when I greeted him the previous Friday. And the Pope, in a very different, friendly, almost affectionate tone, said to me: "Yes, the Bishops in the United States must not be ideologized, they must not be right-wing like the Archbishop of Philadelphia, (the Pope did not give me the name of the Archbishop) they must be shepherds; and they must not be left-wing — and he added, raising both arms — and when I say left-wing I mean homosexual." Of course, the logic of the correlation between being left-wing and being homosexual escaped me, but I added nothing else.
One of the most alarming aspects of the Viganò letter is the picture it paints of a Catholic Church that is comically and deliberately misgoverned, even sabotaged by its high-ranking prelates. Successive Vatican secretaries of state, Cardinal Angelo Sodano and Cardinal Tarcisio Bertone, are portrayed as doing their duties and failing to do their duties to their subordinates and their superior (the popes), depending on whether it advances the interests of their clique within the Church. Urgently important letters and reports are simply lost and undelivered. This is consistent with previous reporting about the dysfunctional nature of the curia under John Paul II and Benedict XVI, but the Viganò letter makes this bit of common knowledge more sinister in the retelling. Pope Benedict himself, if these disclosures are true, looks weak and naïve in dealing with McCarrick. And of course Pope Francis looks positively diabolical in this portrayal.
Viganò's letter comes at a time after Pope Francis has mishandled several cases involving clerical abuse. There was the case of "Don Mercedes," an Italian priest who sexually assaulted minors in the confessional. Francis rehabilitated him under the advice of his cardinal advisers, until reporters exposed it and he was cast out. Then there was the saga in Chile, where Francis lashed out at victims' groups before finally authorizing a proper investigation of Bishop Juan Barros Madrid, whom he had appointed, over protests, in 2015. Francis's close adviser Cardinal Maradiaga is under pressure for tolerating a culture of sexual harassment at a seminary in Honduras. Francis also invited to the Synod on the Family the liberal lion and notorious figure Cardinal Godfried Danneels, who had tried to silence a person he knew with moral certainty was the victim of sexual abuse by his priest-uncle. Later found to be negligent generally on the matter of clerical abuse, Danneels was thought to favor the election of Bergoglio to the papacy.
That is to say, the record of Francis's pontificate is such that it is easier than it should be to credit the accusation that he would knowingly rehabilitate a progressive but morally dissolute cardinal and grant him greater influence in the Church. That he refused to deny it on the plane ride home, instead inviting the media to examine the statement for themselves, is disconcerting to say the least.
The key questions that reporters need to address: What records, if any, are there of sanctions placed on Cardinal McCarrick's life and ministry under Benedict? Can Cardinal Giovanni Battista Re recall them? Perhaps most important, will Cardinal Marc Ouellet confirm whether he communicated the details of these sanctions to Viganò in 2011? Certainly journalists sympathetic to McCarrick reported at the time that he had been "put out to pasture" under Benedict, and then under Francis was "back in the mix and busier than ever." If there were no sanctions placed on him other than removing him from the seminary in 2009 or 2010, then the rest of the claims in the Viganò letter may begin to fall apart quickly. Can Archbishop Viganò or the nunciature provide dated copies of the memos he sent? The documentary evidence for Viganò's report is crucial.
But one thing is most crucial of all: candor among the bishops and cardinals of the Catholic Church. Ever since Cardinal Timothy Dolan alerted the public about a credible accusation of pederasty against McCarrick, letting loose a flood of stories about the "open secret" of his sexual harassment of seminarians, lay faithful have been demanding that bishops tell the public "what you knew and when you knew it." The answers cannot wait until the meeting of the U.S. Conference of Catholic Bishops in November. They cannot wait until bishops war-game how their disclosures will play out within the Catholic Church's ongoing political and theological civil war. Just tell us what you knew, like Archbishop Viganò, and let reporters try to verify it.
NOW WATCH: 'Pope Francis Vows to End Cover-Ups'