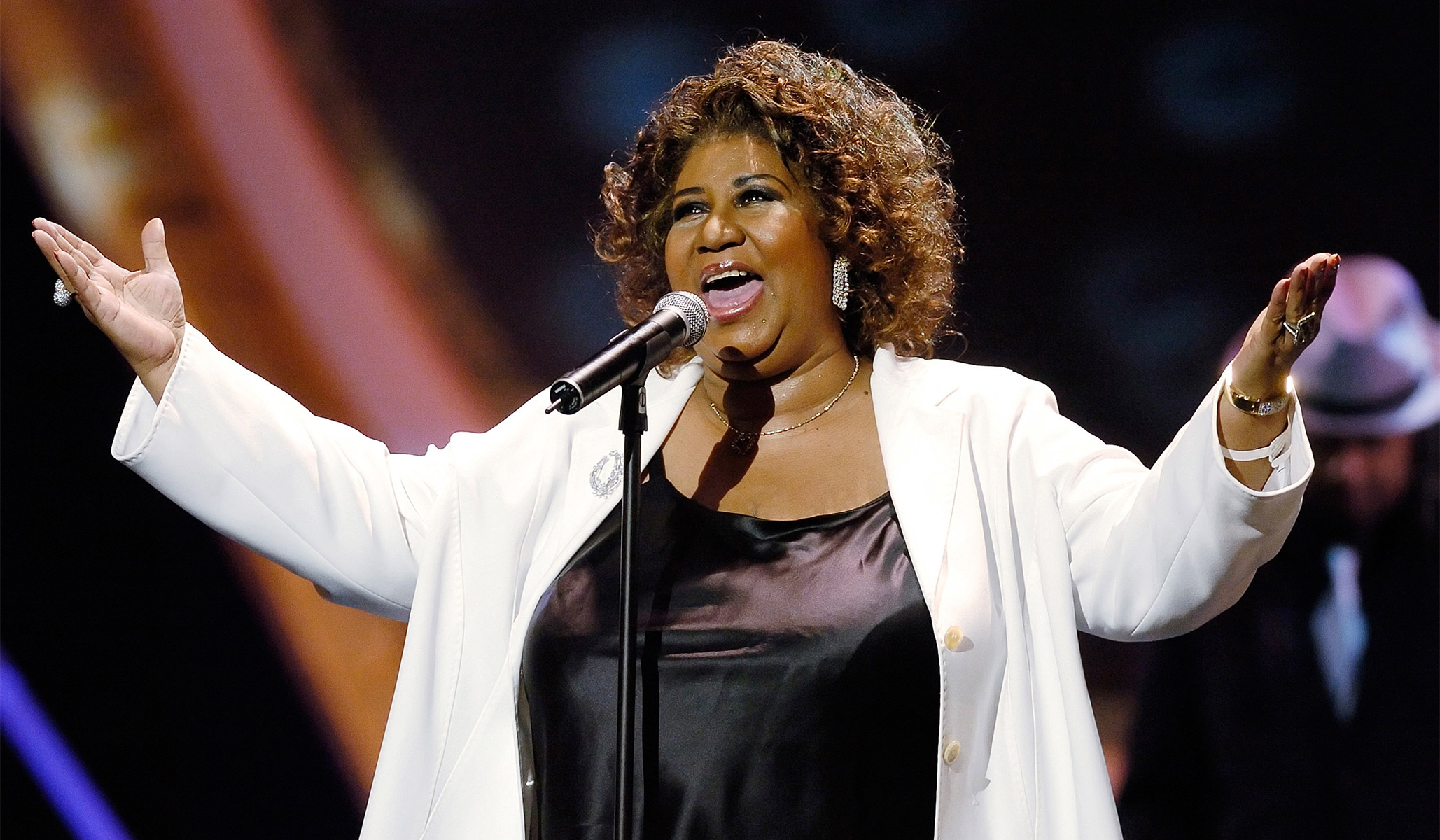 Aretha did everything her way, pushed boundaries, and didn't care what you thought, leaving a broad and deep mark on American music.
The music world lost one of its giants Thursday with the death of Aretha Franklin at 76 from pancreatic cancer. It's easy to forget now quite how pathbreaking Aretha — she was always just Aretha, no full name needed — really was. We take for granted a lot of things she changed in the rock-era landscape (post-1955) — not alone, perhaps, but changes in which she was the leading edge. In a symbolic twist, the death of the "Queen of Soul" comes on the anniversary of the deaths of two other defining American icons: the King of Rock 'n' Roll, Elvis Presley, and the Sultan of Swat, Babe Ruth. Like Elvis and the Babe, Aretha swung from the heels, lived larger than life, took chances, and was interesting even when she failed.
Aretha released her first gospel album at the age of 14 in 1956 and had her first hit on R&B radio in 1960. Radio in those days, like much of America, was still mostly segregated (Jerry Wexler had coined the term "rhythm and blues" in 1949 for a genre that was previously billed bluntly as "race records"). But after laboring in those vineyards for a decade, Aretha joined Wexler at Atlantic Records at age 25 in 1967 and immediately broke through in a big way on mainstream (i.e., white) radio. After the breakout hit "I Never Loved a Man (The Way I Love You)" she followed the same year with, among others, her signature hits "(You Make Me Feel Like) A Natural Woman," "Chain of Fools," and the No. 1 smash "Respect."
"Respect" is a monument all its own; it's hard to argue with the case that it stands as the greatest cover song of all time. Aretha took a song by one of the greatest singers of all time and made it so completely her own that she practically obliterated the cultural memory of the original, turning it into the signature song of her long and distinguished career. Otis Redding's lively original was very much a man's man song, the man of the house demanding his woman respect him when he brings home the bacon at the end of a working day. Aretha inverted the song's meaning to make the all-time strong-woman's anthem (and an African-American civil rights rallying cry, to boot), an unlikely turn of events for a church-raised black woman in 1967 America. Musically, her version changed the chorus (adding the famous "R-E-S-P-E-C-T"), to make the song more pop-radio friendly.
SLIDESHOW: Remembering Aretha Franklin
Before 1967, there were nearly no solo female rock stars on mainstream radio; there were pop singers such as Brenda Lee, Petula Clark, or Connie Francis, a few female singers fronting rock bands (Grace Slick, the best known of these, was just breaking out around the same time), and black women singing in girl groups (such as Diana Ross with The Supremes), but it was Aretha, along with Janis Joplin, who really blazed the path of a woman as a vibrant creative force — both hitmaking and respected — in her own right.
In the prime years of her career from 1967 to 1974, Aretha released 14 (!) studio albums, three live albums, and dozens of singles including 14 top-ten hits on the Billboard Hot 100 chart. She would continue making music into the last years of her life (her last single was a cover of Adele's "Rolling in the Deep"). My own contemporary memory is of 1980s Aretha, on her first round of comebacks: her sassy appearance in The Blues Brothers, her 1985 hit "Freeway of Love" with Clarence Clemons, her 1987 hit "I Knew You Were Waiting (For Me)," a duet with George Michael.
In a world that prefers its female singers to be sex symbols, Aretha made her own way as well; she was bright-eyed but plain in her youth and heavyset in her older years, yet the sheer force of her personality and how she carried herself on stage as the definitive "diva," booming and wailing and strutting, gave her a stage presence that needed no enhancement. Her emphasis on strength, power, swagger, and confidence left their mark, in particular, on just about every black female singer to follow her, but her influence went far beyond them.
Like her country contemporary Johnny Cash, she was never shy about mingling songs of Christian faith with songs about the blues of life in the here and now.
Aretha was, like Elvis, Sinatra, or Jimi Hendrix, more an interpreter and reinventer of other people's songs than a writer. 1971's Live at Fillmore West showcased her unique take on the songs of artists such as the Beatles, Simon & Garfunkel, and Stephen Stills. Few other careers have left as broad and deep a mark on how American music is made, heard, and experienced — in the rock era, you have Chuck Berry, the Beatles, Elvis, and Bob Dylan, and after that you run short on artists who can plausibly claim a bigger impact in more varied ways than the Queen of Soul. I might not rate her as the single greatest female vocalist of the rock era — Kelly Clarkson and Linda Ronstadt come to mind as more versatile across musical genres and more varied in their emotional resonances — but nobody, no matter their taste in singers, could reasonably come up with a top five that doesn't include both Aretha and one or more singers (such as Clarkson, or Whitney Houston, or Mariah Carey) who were profoundly influenced by Aretha.
Maybe the biggest thing Aretha changed was bringing the full, vigorous sound of the black church to mainstream popular music. She wasn't the first popular music star with a gospel background, but singers such as Ray Charles and Billie Holliday were much more steeped in the secular R&B and blues sound, while traditional pop singers such as Ella Fitzgerald performed in a more restrained genre. Aretha was always firmly rooted in gospel and took you to church whenever she took the microphone. Her 1972 Amazing Grace album, a double-LP live recording of gospel standards, is one of the definitive records of her career. Like her country contemporary Johnny Cash, she was never shy about mingling songs of Christian faith with songs about the blues of life in the here and now.
Aretha was feminist in a way that was very unlike the white "women's lib" of her time. She was a lover of men, not a hater: She followed in the footsteps of her famous preacher father, had a series of lovers including two husbands, and raised four sons. But men, and life, gave her plenty of blues to sing: Her mother (already separated from her father) died when she was 10, she got pregnant for the first time when she was only 12, and her first husband was physically abusive. She was, of course, not just a woman but a black woman in and of her time, with a childhood that took her from Memphis to Detroit, and a career that started in Jim Crow America and spanned performances at Martin Luther King Jr.'s funeral in 1968 and Barack Obama's inauguration in 2009. Her appearance at the latter was a kind of benediction, a powerful symbol of how far African-Americans had come in one lifetime.
Aretha Franklin was an original who did everything her way, pushed boundaries, didn't care what you thought, and made the music landscape Technicolor. She was one of the most distinctively American musicians, at once steeped in her heritage and eagerly questing for a different future. She will always be remembered with r-e-s-p-e-c-t.
IN THE NEWS: 'Trump Revokes Former CIA Director's Security Clearance'