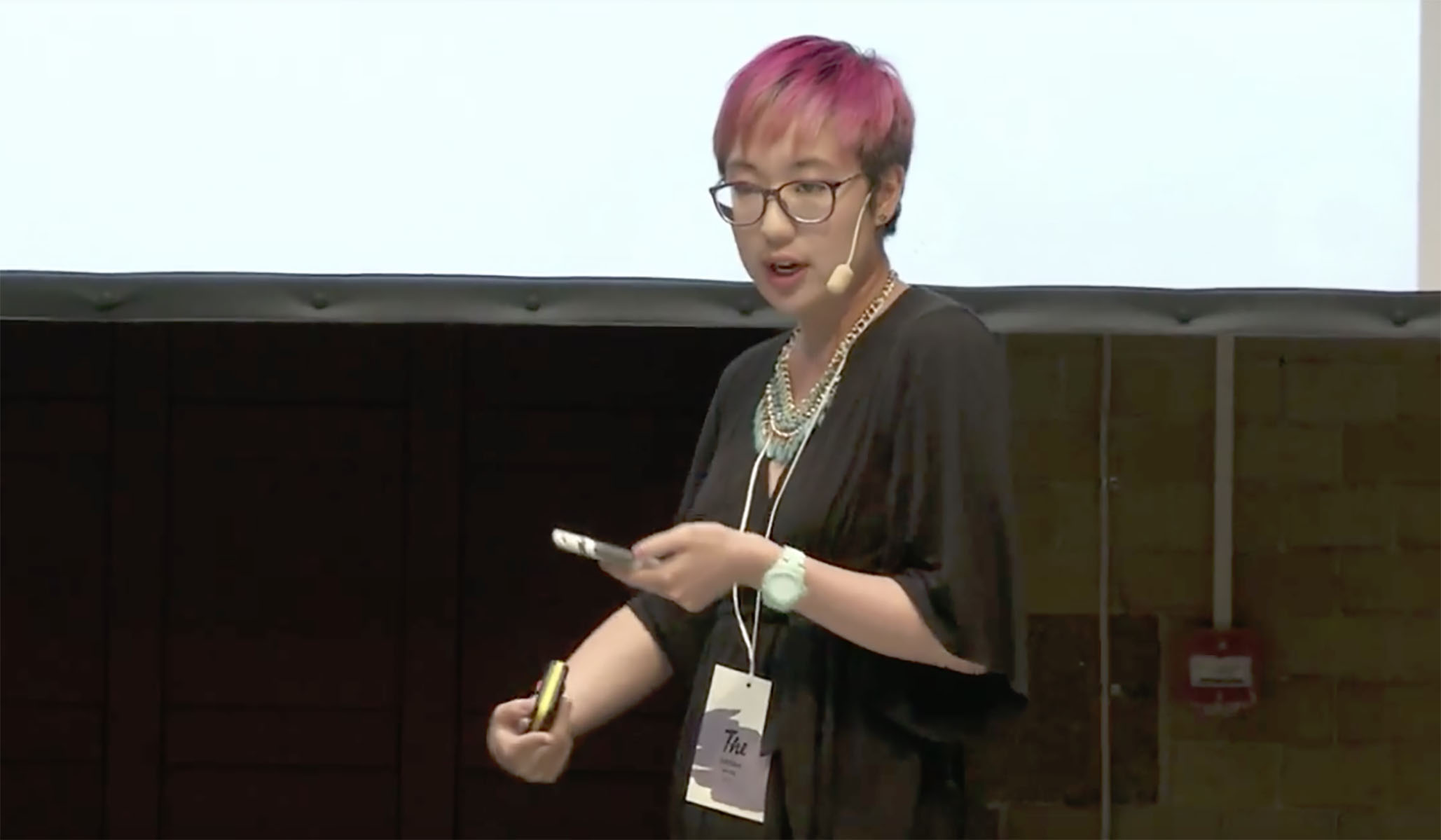 To decry her anti-white 'racism' gives her too much credit for originality.
The most significant feature of Sarah Jeong, the New York Times' embattled new editorial board member, is not that she is a "racist," as her critics put it. It is that she is an entirely typical product of the contemporary academy.
After the New York Times announced Jeong's hire in early August, web sleuths dug out a mother lode of tweets demonstrating an obsession with whites. Samples include "white men are [bullsh**]," "#cancelwhitepeople," "National/ Pretty goddam white/ Radio," "I'm tired of being mad about white dudes. I'm going to pretend they don't exist for a week," and "I figured it out. Powerful white women automatically receive officer status in Club Feminism. Unless they disavow." Both the Times and Jeong blamed her posts on . . . you guessed, it, whites. Her status as a "young Asian woman," in the Times' words, made her a subject of frequent online harassment, to which she responded "for a period of time" by "imitating the rhetoric of her harassers."
This argument was, to borrow a phrase, bullsh**. Jeong's five-year tweet trail is much longer than a mere "period of time" during which she allegedly experimented with counter-trolling. But most important, her tweets are not imitative of anything other than the ideology that now rules the higher-education establishment, including UC Berkeley and Harvard Law School, both of which Jeong attended. And that ideology is taking over non-academic institutions, whether in journalism, publishing, the tech sector, or the rest of corporate America. Sarah Jeong's tweets and blog posts are just a marker of the world we already live in.
The key features of Jeong's worldview are an obsession with whiteness and its alleged sins; a commitment to the claim that we live in a rape culture; and a sneering contempt for objectivity and truth-seeking. These are central tenets of academic victimology. From the moment freshmen arrive on a college campus, they are inundated by the message that they are either the bearers of white privilege or its victims. College presidents and the metastasizing diversity bureaucracy teach students to see racism where none exists, preposterously accusing their own institutions of systemic bias. "Bias response teams," confidential "discrimination hotlines," and implicit-bias training for faculty and staff roll forth from university coffers in wild abandon.
UC Berkeley's Division of Equity and Inclusion until recently hung banners throughout campus reminding students of their place in the ruthlessly competitive hierarchy of victimhood. One particularly lachrymose entry, featuring a female black and a Hispanic male student, urged the presumably "non-diverse" sector of Berkeley to "create an environment where people other than yourself can exist." This year's White Privilege Conference, a nationwide academic gathering, featured panels on "Breaking the Chains of Capitalism and White Supremacy," the "Whiteness of Law," and "How Whiteness Kills." The journal Cultural Studies of Science Education ran a perfectly standard article this year on how notions of merit and scientific truth are simply covers for white supremacy and racism, while the Feminist Journal of Geography argued that the convention of academic citations bolsters the status of those who are "white, male, able-bodied, economically privileged, heterosexual, and cisgendered."
Jeong's contempt for whites is the natural outcome of the victimology university, which teaches students to hate and rewards them for doing so. "Who the [f***] hired you?" a black Yale student screamed at a nationally renowned, progressive sociologist during a three-hour mob tirade in 2015. "You are disgusting!" At Evergreen State College in 2017, a student screamed "[f***] you, you piece of shit" at a progressive biology teacher who had questioned an official edict that whites stay off campus for a day. "Get the [f***] out of here!" screamed another. Yale responded to its mob tirade by conferring racial-justice awards on two of the participants. Evergreen's president apologized to the students who had verbally assaulted the biology professor and promised more diversity programming. Students regularly erupt in rage against the creative titans of Western civilization whom it is their privilege — in theory, at least — to read. In practice, of course, they do not read these luminaries of philosophy and literature before dismissing them as racist, patriarchal dead white males. When students complain that exposure to Plato, Shakespeare, or John Stuart Mill threatens their very survival, college administrators almost invariably beg forgiveness and create more alternative courses that honor "diversity."
Jeong deploys a coy, warmed-over postmodernism to buttress her refusal to accept facts.
Jeong's magnum opus of academic victimology is a long 2014 blog post on the Rolling Stone campus-rape hoax. Written after the Rolling Stone had retracted its sensational and wholly fictional story on a gruesome fraternity rape at the University of Virginia, Jeong's post tortuously and often incoherently explains why it is imperative to continue believing the pseudo-victim, Jackie. The effort to discredit the Rolling Stone story (a process otherwise known as belated fact-checking) represents the patriarchy's campaign to deny the existence of rape culture, she writes.
The credo of the campus rape movement is: "Believe unconditionally," as New York University's Wellness Exchange puts it. Jeong takes that credo to heart. "The more I see these 'inconsistencies' and 'discrepancies' [in the Rolling Stone story] touted as evidence of falsehood, the more convinced I am that Jackie is not lying," Jeong writes. She sneers at such "mundanities" as dates and times that refute Jackie's narrative, a remarkable stance, one might think, for a journalist. Jeong parrots feminist nostrums on the ubiquity of rape: "Rape is not some rarified, exotic crime. It's all around us. Our rapists are acquaintances, family members, boyfriends, girlfriends, partners, spouses, trusted friends." David Lisak, a ubiquitous campus-rape lecturer, makes a similar point in his standard presentation. "Rape happens with terrifying frequency. I'm not talking of someone who comes onto campus but students, Rutgers students, who prowl for victims in bars, parties, wherever alcohol is being consumed," I observed him telling a Rutgers undergraduate audience in 2008.
Jeong deploys a coy, warmed-over postmodernism to buttress her refusal to accept facts. "They own the words ['they' are presumably white males]. They own the law. They own reality or at least what everyone acknowledges as reality. They own the Truth™, the Truth that makes up how we understand our society." Another of those anti-feminist "Truths™" that Jeong, in her Foucauldian mode, dismisses is "what happened with the Duke Lacrosse players" (falsely accused of raping a black stripper). To Jeong, the fact that the prosecutor in the Duke case was disbarred for ignoring clearly exculpatory evidence is of no import. The post-modernist belief that truth is always an ideological construct allows her to ignore whatever facts contradict her favored story about the world.
Ever the good student, Jeong also absorbed a bastardized version of critical legal studies and critical race studies, both prevalent at Harvard Law. Those by now hoary theories portray the great traditions of Anglo-American jurisprudence as just a mystifying cover for illegitimate power. "In law school," Jeong writes in her Rolling Stone post, "we learned that due process is what we get in lieu of justice. And what's due process besides a series of rules that are meant to keep things as predictable as [f***ing] possible?" It would be salutary for Jeong to live for a while in a society without due process and where the workings of justice are not "as predictable as [f***ing] possible."
The only interesting thing about Jeong's otherwise banal regurgitations of academic theory is her status as an Asian social-justice warrior who identifies with POCs (persons of color) rather than with whites: For the enforcers of academic "diversity," however, Asians do not count as POCs; they are in the same sorry basket of deplorables as whites. Whether at selective colleges and universities such as Harvard or selective K–12 schools such as New York City's Stuyvesant High School, the diversocrats seek to artificially suppress the number of Asians in order to make space for officially designated "students of color." By this definition, to be a student of color is to not be academically competitive; since Asians are more than competitive, they cannot be students of color. And the way to keep their numbers down is to require them to meet much higher academic standards of admission than students of color, who are admitted with standardized test scores and GPAs that would be automatically disqualifying for an Asian. It is not hated conservative whites who are trying to exclude highly qualified Asians, it is Jeong's would-be allies in the social-justice movement. Likewise, in the tech sector, when companies subject their employees to implicit-bias training and harangues about diversity, they do not count their many Asian employees as proof that their managers are not discriminating against applicants "of color."
Human-resources departments in corporations across the country are pervaded by the view that the corporation's white-male employees are incapable of fairly judging females and underrepresented minorities without large dollops of diversity training.
Jeong is hardly the first Asian to embrace a left-wing ideology that goes against material interest. College campuses do their best to cultivate an oppositional ethnic identity in Asian students; the left-wing Asian complaint about being regarded as a "model minority" belongs to this effort to forge a bond with official "students of color" by denying Asians' admirable social capital and high-achieving academic culture. The NAACP Legal Defense and Education Fund has had Asian employees over the years who worked to defend anti-Asian racial preferences; legal academia, too, contains more than a few left-wing Asian professors. What these left-identifying Asians think of other Asians who seek color-blind admissions and hiring is unclear. It is a question of great political importance how the majority of Asian Americans will self-identify in the future — with diversity ideology or with a mainstream meritocratic one. Academia is doing everything it can to tip the scales.
There is no sign that the Times will rethink its decision to stand by Jeong, despite the continuing excavation of her contemptuous social-media trail. And indeed, it would be hypocritical to do so, since there is no distance between Jeong's worldview and the Times'. The Times sees every disparity in gender and racial representation, whether in education or the economy, as proof of white-male discrimination. Tallying those disparities is an evergreen front-page topic. "Hollywood Is as White, Straight and Male as Ever" was the headline of its most recent Gender Letter. "Sexism is a male invention. White supremacy is a white invention. Transphobia is a cisgender invention," concluded a column by one of its contributing editors in January. The Times treats every acquittal of a male student accused of campus rape as a miscarriage of justice.
Meanwhile, the racial gap in academic performance, which explains the lack of proportional representation in student bodies, faculties, and the elite professions, is as taboo a fact in the Times' coverage of "diversity" as what Jeong calls the "watery and weak 'counterevidence'" that refuted the Rolling Stone UVA rape story. The paper continues to include Michael Brown, killed by a police officer in Ferguson, Mo., in August 2014, in its roster of alleged victims of racist police violence, even though the Obama Justice Department conclusively showed that Brown's own behavior justified the shooting. The facts of crime are also rigorously excluded from the Times' coverage of the criminal-justice system, leaving only racism as the explanation for racial disparities in stops, arrests, and incarceration rates. Other mainstream media outlets follow the identical protocols.
As products of the victimology university enter the workplace, they are bringing their ideology with them. A lawsuit against Google by fired computer engineer James Damore reveals an employee culture that mimics academic social-justice principles. (Damore was fired for questioning Google's feminist orthodoxies.) The "rule of law has been killing blackfolks for generations . . . Trump was elected so that law would be harder on blackfolk," reads one post on an internal discussion website, echoing Jeong's critical-race-theory musings. "We have a bunch of white males crying bloody murder over the suggestion that we slightly lower the hiring bar for women and minorities," reads another.
Google is hardly unique. Human-resources departments in corporations across the country are pervaded by the view that the corporation's white-male employees are incapable of fairly judging females and underrepresented minorities without large dollops of diversity training. Race and gender quotas, whether in publishing, the media, or scientific research labs, are becoming more extreme and more ineluctable.
To focus on Sarah Jeong's "racism" is too comforting, since it personalizes the issue and suggests that she is an outlier. Instead, she is all too common.
NOW WATCH: NYT Stands By Writer After Racist Tweets Surface