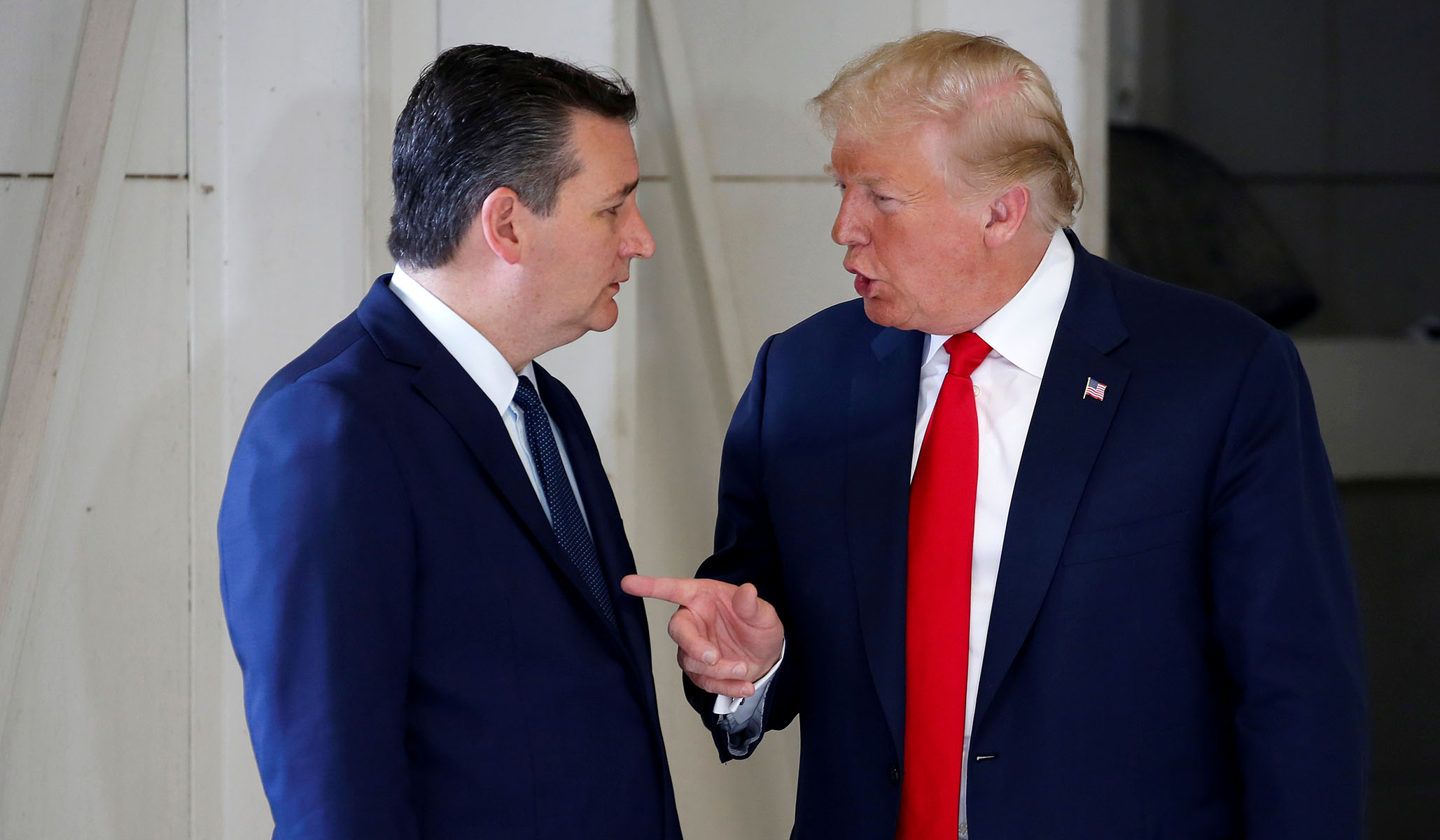 The Trump administration's plan for the ISS is short-sighted and impractical. Texas's junior senator has a better way forward.
NASA's plan to commercialize the International Space Station (ISS) while ending direct government funding for the program by 2025 would cost jobs, waste billions of dollars, and create gaps in U.S. capabilities for China and Russia to exploit. It is also, by many measures, simply infeasible.
In fact, NASA administrator Jim Bridenstine acknowledged in a June interview with the Washington Post that he does not have a specific plan for transitioning the ISS to private management. That may be because his agency's own inspector general has expressed skepticism toward the idea of privatizing the Space Station, which currently costs NASA anywhere from $3 billion to $4 billion annually, according to government figures.
Since NASA would continue to use the ISS to fulfill research objectives that extend beyond 2025, it's not clear how much taxpayers can expect to save. If anything, a decision to cancel NASA's direct involvement could end up costing taxpayers more over the long term: If the ISS turns out not to be profitable, as seems more than likely, the inevitable response of the company or companies that have assumed control of it will be to embrace corporate cronyism and petition future administrations for federal aid.
Moreover, the premature termination of NASA's involvement with the ISS would undercut vital research that could serve as a stepping stone for future missions to the Moon, Mars, and other parts of the solar system. The orbiting laboratory, which flies some 250 miles above the Earth's surface, has been continuously inhabited by astronauts since 2000.
Recently, the number of Americans on board increased from three to four so NASA could double down on critical research projects that test human durability in space. American astronauts are conducting experiments that focus attention on how bodies change in microgravity, how severe those changes are, and whether they can be reversed.
Senator Ted Cruz (R., Texas), who chairs the Senate Commerce Committee's Subcommittee on Space, Science, and Competitiveness, has held a series of hearings throughout the year on the future of the American space program. The latest involved the ongoing search for life beyond Earth and the possibility of new discoveries in the solar system. In July, the subcommittee examined the prospects for "Putting American Boots on the Surface of the Red Planet."
"The first foot that sets foot on Mars will be an American foot, and an American explorer," Cruz said during the July hearing. "That's leadership that I think this country needs and values. Restoring America's leadership in space I think is incredibly important."
But before anything as audacious as a manned mission to Mars can take root, NASA must work to avoid any disruption in U.S. access to space that strategic competitors could exploit. This is the point Cruz drove home to NASA officials back in May, during a subcommittee hearing that focused on future plans for the space station.
"Nowhere in federal statute is there a request from Congress seeking a hard deadline to end federal support for ISS," Cruz pointed out in his opening statement from that hearing. Yet the Trump administration is pressing ahead with a budgetary proposal for NASA that would result in the ISS's privatization by 2025. Cruz fixes the blame for the ill-conceived plan on "numbskulls" at the Office of Management and Budget. In response to questions from the Texas senator during the May hearing, William Gerstenmaier, NASA's associate administrator for human exploration and operations, said that an analysis of the ISS's "structural integrity" found it would remain "very viable" until at least 2028.
So why is there suddenly such a headlong rush to end the program prematurely?
With an eye toward recent history, Cruz pointed to the retirement of the Space Shuttle program in 2011 as an example of poor planning.
"While there were a host of valid reasons for needing to transition away from the Space Shuttle, the reality is the program was phased out before an alternative was established," Cruz told NASA officials. "This decision created a gap in capability for our national space program and has made NASA reliant upon Russia to transport astronauts to and from the ISS." Between 2006 and 2018, the price NASA paid the Russian government to transport American astronauts to and from the ISS increased from about $21 million to more than $80 million, according to figures Cruz presented during the hearing.
Then there's China.
Not only does the "creation of a leadership vacuum in low Earth orbit" put U.S. taxpayers in a position where they are paying the Russian government for transportation services, but it also "provides a window of opportunity for the Chinese to capitalize on," Cruz said.
He informed NASA witnesses that China plans to have its first manned space station ready for service in 2022. If U.S. funding for the ISS is tied to an arbitrary termination date rather than a carefully crafted plan that transitions into a U.S.-led space-exploration coalition, China could become the preeminent space-faring nation.
Fortunately, there is at least one voice at NASA willing to go on the record and explain why and where the Trump administration's plan falls short. NASA inspector general Paul Martin, who also appeared as a witness during the May hearing, told senators that his office is working on an audit of both ISS operations and the administration's transition plan.
"We question whether a sufficient business case exists under which private companies can create a self-sustaining and profit-making business using the ISS independent of significant government funding," he said. "The scant commercial interest shown in the station over its nearly 20 years of operation gives us pause about the agency's current plans."
Fortunately, there is a better way. During the August 1 hearing, Cruz outlined an audacious vision for America's future in space, one that sets human exploration of Mars as NASA's top 21st-century goal.
Mars is today the focal point of our national space program, and if American boots are to be the first to set foot on its surface, it will define a new generation — Generation Mars.

In preparation of a crewed mission to Mars, NASA has been sending scientific robotic missions to the fourth planet in our solar system for the past four decades. Yet, we still have more to discover.

Last month, NASA's Curiosity rover discovered organic compounds which may be a sign that there was once life on Mars. While the discovery of organic compounds leaves scientists with more and more questions, it also leads us to believe that we are on the right track.
If that belief is correct, we won't stay on the right track for long unless Cruz succeeds in scuttling the administration's foolish proposal in exchange for one that ensures uninterrupted U.S. access to low-Earth orbit and beyond.
IN THE NEWS: '[WATCH] Trade War Threatens U.S. Economy'