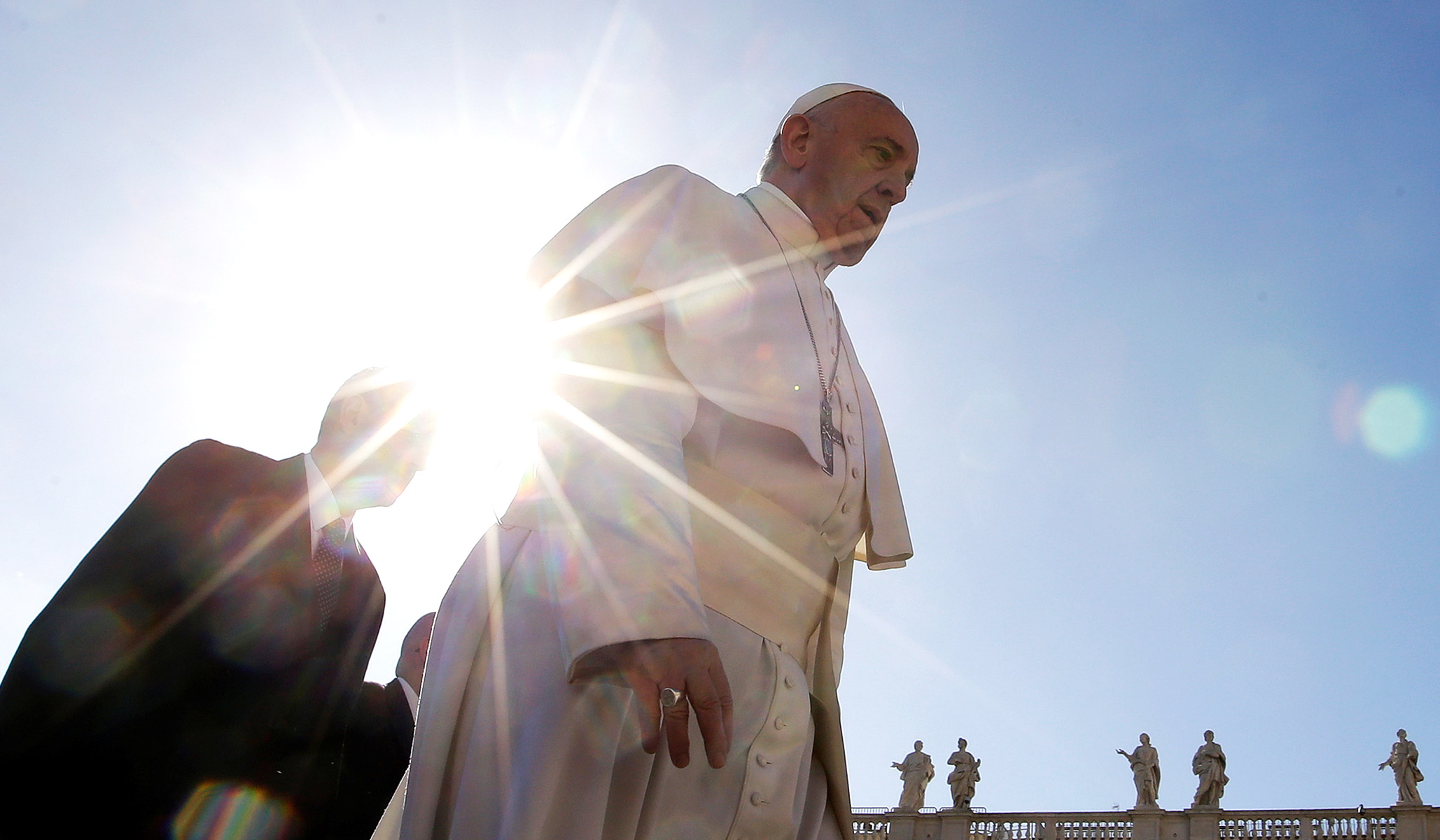 A time for accountability and cleansing.
With a new open letter to Pope Francis, approximately 10,000 men have joined the effort to encourage and insist that he respond to the accusations made by Archbishop Carlo Maria Viganò regarding the Vatican's knowledge of Theodore McCarrick's alleged abuse of seminarians. (Some 45,000 women have orchestrated a similar letter.) Mark DeYoung, a theology student at the Catholic University of America in Washington, D.C., is among the first signers and organizers of the letter and talks a little about its purpose, just ahead of representatives of the U.S. bishops preparing to meet with Pope Francis early Thursday.


Kathryn Jean Lopez: The men's letter cites a women's letter to the pope from a few weeks ago. Why was there a need for something similar from men?

Mark DeYoung: Since this is a crisis affecting the faithful worldwide, Catholic laymen also wanted to raise our voices and ask for a response from the Holy Father and the U.S. bishops. We thank our Catholic sisters for taking the lead and inspiring us to act. We also hope and pray that other groups and associations will be introduced to the Catholic men's and women's letters, and assume their own initiatives, asking for answers and action from our Church leaders.


Lopez: The letter notes that the pope is "at risk of losing credibility in the eyes of millions of Catholics." But has that ship already sailed?

DeYoung: The credibility of the Church has certainly already been damaged, especially with non-Catholics. However, all is not lost, and the Catholic faithful in the United States are anxiously waiting to hear from their shepherds. With a strong response to the current crises, with renewed commitment to spiritual leadership, and with an uncompromising commitment to address the root causes of the problem, our bishops can do much to help restore the integrity and credibility of the Church. For our part, we as Catholic laymen offer our lives, our resources, and our talents to support our bishops in such efforts.


Lopez: "All sin, including our own, weakens the Church. As men, we must all have the strength to seek the Lord's healing." Presumably you're not all child abusers or guilty of cover-up or of adultery (essentially what a sexually active priest would be engaged in) — why would you even consider yourself in the same category, in the same story? There are degrees of sin — and crimes. What point is there in lumping all sin and all sinners together?

DeYoung: We are not lumping all of these sins together. We agree with Jesus's sentiment that "it would be better for him if a millstone were hung around his neck and he were cast into the sea than that he should cause one of these little ones to sin." There is a unique and demonic horror attached to the reality of a child being sexually assaulted, especially through manipulation and grooming by a priest of Jesus Christ. And the men who quietly lead double lives, consecrating the Eucharist at one moment, and betraying their vows of chastity in the next (even if they are legal, adult relationships), will one day have to answer for all the souls that turned away from Christ as a result of their actions, which they may naïvely believe go unnoticed.
Yet, as the Church, which is primarily made up of lay people, we admit that we have also contributed to this crisis of infidelity. For example, many of us have rejected Pope Paul VI's enduring message of a married couple's right and obligation to be open to life; single Catholic men have fallen to the culture of pornography; and most of us have given ourselves over to the consumerist lifestyle, forgetting our responsibilities to the poor and marginalized, among many other sins. As members of the Body of Christ, lay people's sins affect the whole just as much as those of priests and bishops. We must all purify ourselves so that the winds of the Holy Spirit can blow easily through our churches and take root in our hearts.


Lopez: "We desire nothing more than to become saints amidst scandal." What does that mean? How does one do that?

DeYoung: The apostle Paul reminds the early Christians that "where sin increased, grace abounded all the more." It seems to me that if the crisis of infidelity is as big as many suspect, grace will be that much more readily available to any Christian who courageously answers the call to holiness. What does this mean specifically? Of course, it means a recommitment to prayer, fasting, and corporal works of mercy on the part of every Christian. But also, each Catholic should discern how to grow where he or she is planted. I think for many laymen this could simply mean recommitting to active involvement and leadership in their parishes, as well as participation in lay ministries, particularly those committed to defending the most vulnerable in our society. Even more so, for every Christian, this is a time to speak truthfully, calling out injustice and lies, especially if they are originating within the Church. And maybe most important, a life of holiness should be built on a strong sacramental life. Confessing our sins on a regular basis, receiving the Eucharist as often as possible, and seeking healing through the power of the Holy Spirit are all ways we can take advantage of the grace needed to hear and follow God's will.


Lopez: Your letter says: "Holy Father and Bishops of the United States, we plead for justice for the victims of abuse. We add our voices to those of the bishops who have called for an investigation of the Church hierarchy, both in our own country and in the Vatican. This investigation should be carried out by faithful lay men and women." What might that look like on local and national levels?

DeYoung: As a quick background, one should remember that in the U.S., despite many bishops and church leaders being aware of the serious allegations of molestation committed by McCarrick against his own seminarians, the USCCB made the Archbishop of Washington one of the primary spokesmen for presenting the Dallas Charter to the public in 2002. Many of these same bishops purposefully exempted themselves from any accountability in that charter. Additionally, it has been confirmed that high-ranking officials in the Vatican knew of the molestation allegations against McCarrick in 2000, and yet shortly thereafter he was named Archbishop of Washington.

In light of these facts (and many other considerations), Cardinal DiNardo, as well as many U.S. bishops (and the National Review Board created by the USCCB) have called for an independent, lay-led investigation. Recognizing that the Catholic Church in the United States has a wealth of talent and expertise among the lay faithful, we add our voices to the list of Church and lay leaders calling for such an investigation. Criminal-justice experts, lawyers, social scientists, business people, therapists, theologians, and philosophers, among others, could all play a meaningful role in a lay-led investigation, which could seek not only to bring any cover-ups into the light, but would also begin to further identify the root causes of this crisis of infidelity.


Lopez: Have you reconsidered your theology studies in the middle of this? What good can they do?
DeYoung: Absolutely not. The theological truths of the Church and her moral teachings are precisely what is needed during a time like this. General unfaithfulness and a turning away from the Church's theological truths, along with a rejection of Christian anthropology, have been contributory factors to the current crisis. Catholic theologians and philosophers have an important role to play now more than ever in sharing the gifts and fundamental truths that have been part of the Church's tradition. A good theologian can bring these truths to the faithful in new and meaningful ways, while reintroducing some of the crucial teachings that have been lost or downplayed.