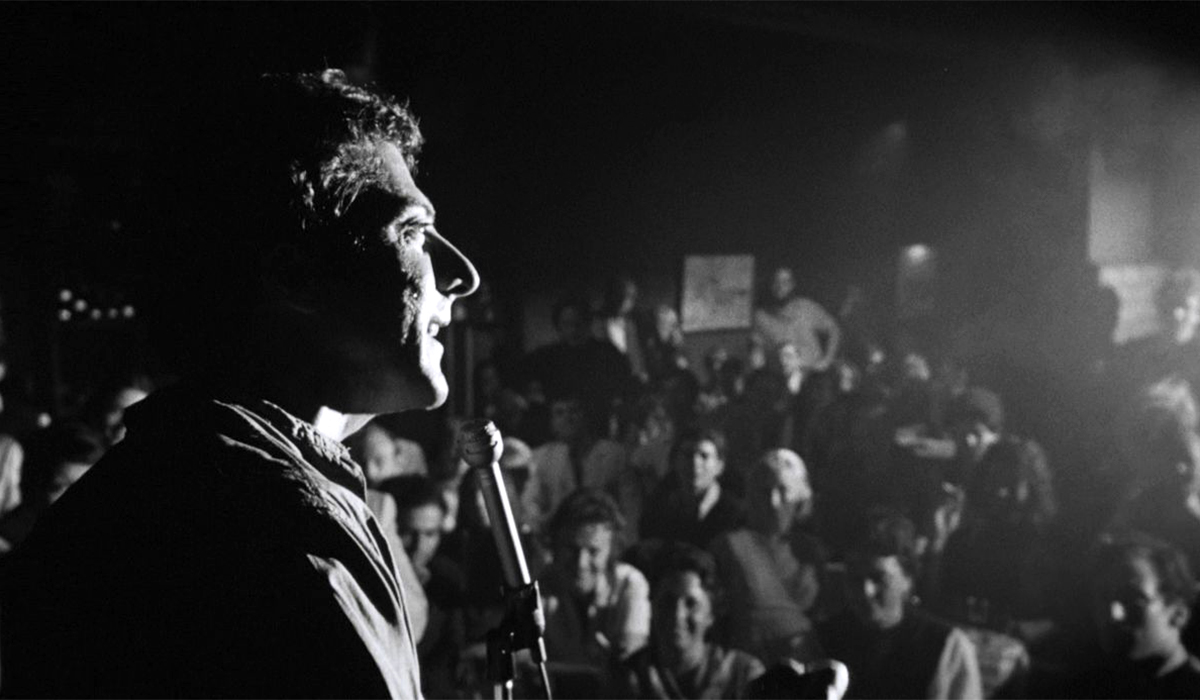 In Bob Fosse's biopic, the iconic standup comic is no martyr, despite his tragic fate.
'The trouble, we all live in a 'happy ending' culture. A 'what should be' culture instead of a 'what is' culture," the standup comic Lenny Bruce, played by Dustin Hoffman, says in a nightclub routine re-created in Lenny. "We're taught that fantasy, but if we were taught, 'This is what is,' I think we'd be less screwed up." Lenny retells the story of a counterculture idol, but instead of celebrating the shattering of norms, it offers sobering instruction about the perils of living without them.
As directed by Bob Fosse, Lenny is one of the most powerful films of the 1970s, yet it seems on the verge of being forgotten. Photographed in grainy, evocative black and white that gives the film a documentary gravity and a spellbinding texture, the movie received Oscar nominations for best picture, director, actor, actress (an astonishing Valerie Perrine as Bruce's wife, Honey), adapted screenplay, and cinematography. These days, though, it rarely appears on television and just last week popped up unannounced on Amazon Prime. Amazon evidently considers the film so obscure that Lenny didn't show up either via extensive browsing or even on the long monthly press release of new titles the service sends me. I stumbled on it via the JustWatch app, a superb way to track new offerings on the various streaming services.
Bruce was one of the first and most vigorously persecuted standard-bearers of 1960s counterculture, and also one of the first of them to die from excess. Initially a nightclub tummler who served up weak one-liners at sleepy resorts in the Catskills, he reconceived standup comedy as a vehicle for a mix of social commentary and personal reflection, creating a template for Richard Pryor, Dave Chappelle, Louis C. K., and many others. Adding profanity to his act, he became a favorite of Greenwich Village hipsters but was repeatedly arrested for obscenity, one of the last public figures in U.S. history to be tried for using vulgar words. He was arrested twice in California in the early 1960s, once for using the word "schmuck." Later he was arrested in Chicago and barred from Britain. After being arrested twice for obscenity in a New York City club, he represented himself at a six-month circus trial that ended in a conviction for obscenity and a four-month prison sentence. While free pending appeal, he died in 1966 of a heroin overdose, at age 40. In 2003 he received a posthumous pardon from New York governor George Pataki.
Bruce's story is usually cited as another chapter in a favorite, well-worn cultural narrative about how brave truth-tellers get destroyed by the scolds and hypocrites of the Establishment. But that isn't what Fosse's film is about. The battles with censorship are only a small part of Lenny, and even then, they're used to illuminate a flaw in Bruce, not as a pretext for Fosse to shake his fist at the prudes and puritans.
Fosse evidently saw a kindred spirit in Bruce and turned Lenny into a disguised autobiography. Born two years apart, both grew up in showbiz, did wholesome vaudeville-style routines (Fosse as a tap dancer), graduated to being filler acts at strip clubs and, as they became renowned, indulged heavily in sex and drugs while each remained tethered to reality primarily via love for his daughter. A harsh reckoning awaited both men: At 47, Fosse suffered two heart attacks. Though written by Julian Barry based on his play, Lenny even layers atop Bruce's character its director's own fondness for sexual threesomes (not known to be a habit for Bruce).
In Fosse's unsentimental vision, Bruce is not a victim. He is relentlessly the agent of his own destruction, one of the many entertainers who behaved as though the rules didn't apply to them. The rules had other ideas. Fosse (a Methodist) saw indulgence and doom as sensuously intertwined, aware that his uncontrollable hedonism amounted to digging his own grave and yet fascinated to watch as if from a seat in the audience. That is the subject of both Lenny and the undisguised autobiographical film that followed, All That Jazz (1979). (Fosse, who died in 1987, remains such a figure of fascination that FX is filming a limited series about him starring the Oscar winner Sam Rockwell.)
As he had done in Cabaret, which won him the Oscar for best director over The Godfather's Francis Ford Coppola two years earlier, Fosse in Lenny used brilliant editing to juxtapose nightclub sequences with less amusing, even traumatic, events outside the clubs. These scenes sometimes provide oblique inspiration for the stage acts, other times mordantly reflect them. With its sudden leaps in time and space, its investigation via fragmentation, the film slips the restraints of the theater, where Fosse spent most of his career, and yet we always know exactly where we are on the timeline. In the entire history of Hollywood, few films before Lenny are so ingeniously edited, and yet because the jumpy style has become so familiar in film and television, we no longer appreciate how innovative the approach of Fosse and his film editor, Alan Heim, was.
That many of the characters speak to an unseen and unidentified questioner (Fosse himself, whose voice is occasionally heard) lends the film a slightly disorienting, eerie quality; the interviews gradually take on the quality of pleading with some disinterested but possibly judgmental higher power. Fosse would take this further in All That Jazz, in which it emerges over time that the Fosse character's inquisitor/seducer is the angel of death.
The interplay of showbiz glitz and reality's grim dictates was Fosse's great theme, developed in a life lived virtually entirely onstage. He first began performing at age 11, and more or less never took a break from the show, not even when he was in the Navy, in which he was also an entertainer. The "what should be" culture occupied all his energies, but he was wise enough to understand at the same time that one can only temporarily evade what is. Surrounded by famous friends and in the Broadway sphere a superstar himself, he rejected the performer-as-martyr model in which the public comes to blame itself for the fate of celebrities. He recognized the consequences of his actions — and accepted them as a sinner's wages.