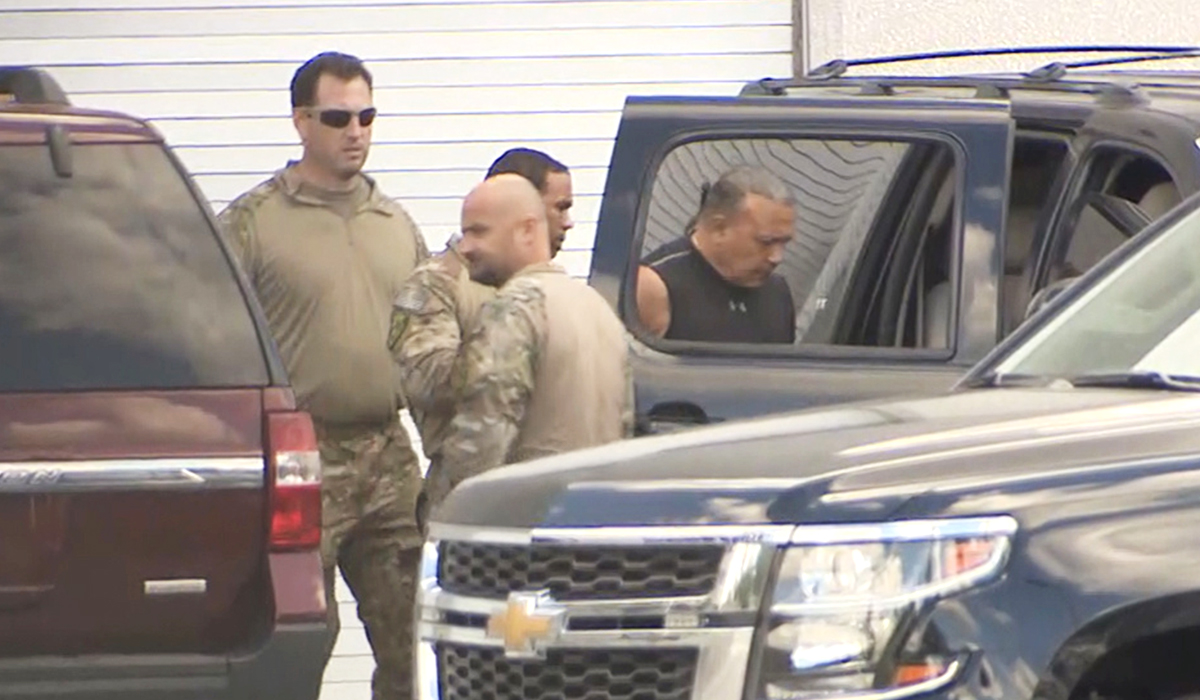 Cesar Sayoc was arrested by federal authorities in Florida on Friday morning and charged with crimes related to sending 13 apparently homemade pipe bombs to high-profile Democrats. None of them detonated, but the FBI says the bombs indeed contained explosive material. Sayoc may well have meant to kill George Soros, Hillary Clinton, Barack Obama, Cory Booker, and others.
Sayoc does not appear to be severely mentally ill, like other perpetrators of high-profile crimes in our country in recent years, but he is a kooky and fringe character. He sports a long and bizarre arrest record, one of the reasons authorities were able to identify him so quickly as the alleged perpetrator. He had previously been arrested on a separate charge of threatening to bomb a utility company and appears to have been a petty dealer of illegal supplements. A 2012 bankruptcy report showed him living with his mother.
Sayoc was a registered Republican and, the evidence suggests, an obsessive Trump supporter. A van believed to be his is emblazoned with Trump stickers, his social-media feeds contain attacks on the Democratic party often shared from fringe websites, and he apparently attended a Trump rally in Florida months ago.
Of course, even before Sayoc was identified, the media and the Left were blaming President Trump for the bombs. We've said it many times before, but it has to be said again: Harsh, overheated rhetoric is endemic to our political system, and it should not be confused with incitement to violence. When James Hodgkinson, a registered Democrat who campaigned for Bernie Sanders in the 2016 election, attempted to assassinate a group of Republican congressmen at a baseball practice last June, we did not blame Sanders or Hodgkinson's party. Instead, we wrote, "The person singly responsible for Wednesday's horrors is the man who pulled the trigger." Here, too, the responsibility for Sayoc's bombing campaign rests with him alone.
The double standard in these cases is flagrant. Even though Republican majority whip Steve Scalise was nearly killed in the Hodgkinson attack and more than a dozen of his colleagues could have been killed but for security neutralizing Hodgkinson, the event was quickly memory-holed and the media didn't resound with calls for Bernie Sanders, or, say, Rachel Maddow, to tone it down.
Not that these incidents bring out the best in either side. Some of our friends on the right rushed to deem the sending of the pipe bombs a hoax, with no evidence but an abundance of paranoia.
What can we ask of our politicians? First and foremost, that they condemn all forms of violence and intimidation, running from the dastardly crime of the last few days, to the street-fighting of antifa and the Proud Boys, to the hounding of high-profile political figures in public spaces. With some prominent exceptions, almost no elected officials openly endorse this behavior. No matter how intense our political debates, Republicans and Democrats are still far from sanctioning violence against one another.
As for rhetoric, we make wide latitude for stinging insults and hyperbolic rhetoric, which go back at least to the 1790s in this country. But it'd be better if everyone felt some responsibility to edify rather than degrade our discourse. This, of course, applies to Donald Trump. Contrary to his critics, chants of "Lock her up" and "CNN sucks" aren't calls to violence. No rational person would hear even his most incendiary line — the media are "enemies of the people" — as permission to mail a dozen pipe bombs all over the country. But Trump is president, which should imply an obligation to honor guardrails about what he says about his fellow citizens. He should never, to take an example from a recent rally, talk lightly of a Republican congressman's body-slamming a reporter.
We are very glad that no one was hurt by the pipe bombs, and that Sayoc was apprehended quickly. These are things everyone is grateful for, because, even if we seem to forget it at times, we are all still Americans.
Editor's Note: This editorial has been emended since its original publication.