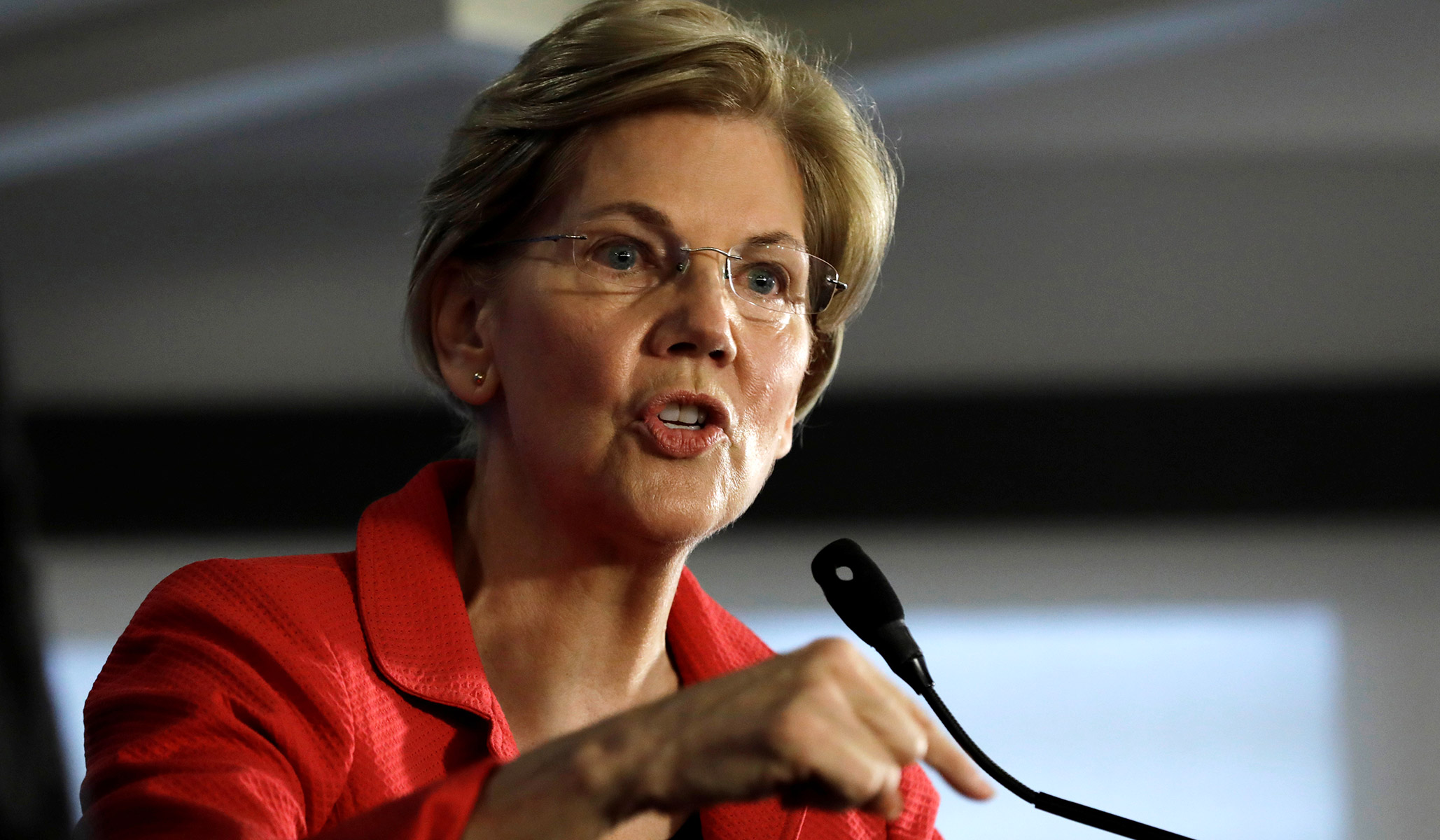 Without that 'one drop,' she was just another privileged white woman.     
Senator Elizabeth Warren (D., Mass.) has been telling a story for years. It's a deeply romantic story about her parents and their young love, fraught with the familial bigotry of an earlier time. Here's how she told it this week in a video she released in preparation for her 2020 run:
My daddy always said he fell head over heels in love with my mother the first time he saw her. But my daddy's parents, the Herrings, were bitterly opposed to their marrying because my mother's family, the Reeds, was part Native American. This sort of discrimination was common at the time. So when my momma was 19 and my daddy was 20, they eloped. And together they built a family, my three older brothers and me.
They were a regular Romeo and Juliet of the American plains.
There's only one problem with Warren's story: There wasn't a shred of evidence that Warren had Native American ancestry, outside of her claims that she did. For years, she portrayed herself as Native American in legal directories. And she has maintained her Native American ancestry in politics as well.
Whatever credibility Warren had on the issue was shattered this week — by Warren herself. Irked at President Trump's irreverence regarding her purported bloodline, Warren released the results of a DNA study done by Professor Carlos Bustamante of Stanford University. Those results showed that a Native American ancestor may have existed in Warren's family tree "in the range of 6–10 generations ago." This would make Warren somewhere between 1/64th Native American and 1/1024th Native American.
It's quite hilarious — and remarkably tone deaf — that Warren thought the study would make her problems go away rather than exacerbate them. But she was counting on a little help from her friends in the media. They did their best. The Daily Beast headlined, "Elizabeth Warren Fights Trump's 'Pocahontas' Taunt with DNA Test Proving Native-American Roots." NBC went with "Elizabeth Warren Releases DNA Results Indicating She Has Native American Heritage." MSNBC cheered, "DNA Test Results Allow Elizabeth Warren to Turn the Tables on Trump."
But by the end of the day on Monday, her narrative had absolutely collapsed: Even the Cherokee Nation released a statement blasting Warren for her pretentions to Native American group membership.
So, here's the question: Why was this so important to Warren?
After all, she could rest on the fact that the Boston Globe reported just six weeks ago that Warren's Native American status wasn't a factor in her hiring at Harvard Law School. Why couldn't Warren just say — as, in fact, she claims in the pages of the Globe — that she claimed Native American ancestry because she believed the stories she was told by her female relatives, and that those claims may have turned out to be false but had no impact in any case on her career development?
Because claiming minority status did and does have value to Warren. Her Native American ancestry claims may not have been a factor in her hiring at Harvard Law, but the University of Pennsylvania listed Warren's 1994 teaching award in its Minority Equity Report. Harvard Law listed her as Native American in the university's annual affirmative-action report; administrators listed her as such from 1995 to 2004. It took real action from Warren herself to be listed as Native American at the institutions at which she worked. Minority status adds luster to a résumé in academia.
And in politics. Warren knows that without her claims of Native American ancestry, she's merely another successful white woman in an era in which the base of her party has dismissed white women as part of the privileged class. Claiming connection with a historically disadvantaged minority is politically useful to Warren — even if that connection is gossamer-thin. By the intersectional logic of the Left, ancestry is destiny, and those of minority ancestry are bound together by a common fate.
Warren wants to be seen as part of that coalition. She can't be unless she can claim victimization on grounds of something beyond sex — female status isn't enough these days. Thus, Warren, using a perversely race-centric view of the world that suggests one drop of Native American blood renders you Native American, has classified herself with emerging future of the Democratic party rather than with its demographic past.
Perhaps the Left will let her get away with it. Perhaps they won't. But the saga of Elizabeth Warren demonstrates once again that the ugly new identity politics dominating the Left drives its own acolytes to radical dishonesty to avoid being cast out of the club.