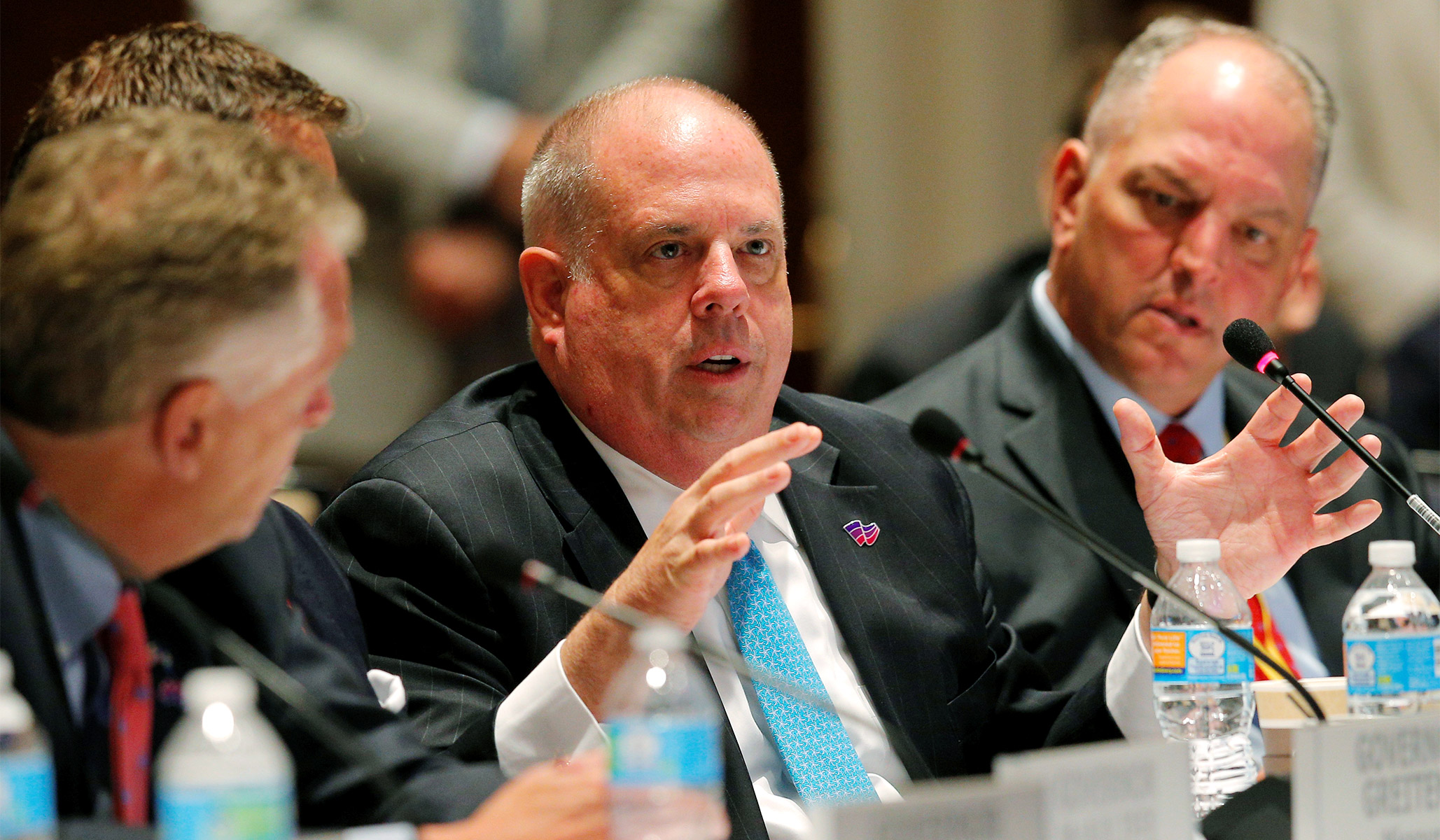 Competence, tax reduction, and regulation reform are a winning agenda for him.
Not since Dwight Eisenhower roamed the White House had a Republican been reelected governor in Maryland — until this past Tuesday, when Governor Larry Hogan won decisively in one of America's bluest states. In a state where Democrats outnumber Republicans 2 to 1, Hogan dispensed with the Democratic nominee, former NAACP president Benjamin Jealous. The unofficial tally so far is 56 to 43 percent.
Hogan, a former-real estate CEO, overcame much in his first four years in Annapolis: an aggressively liberal legislature, anti-Trump fervor among base Democrats, and historic riots in Baltimore — not to mention his own successful battle with late-stage cancer six months into the start of his first term.
How did he do it?
First, he spent his political capital on fights he could win. Democrats enjoyed veto-proof majorities in the state legislature, and myriad traps awaited him in the legislative process. He bypassed prolonged legislative battles and instead attacked the administrative state where it most grated on taxpayers. He lowered tolls at Maryland's Chesapeake Bay Bridge and cut fees on commuters' E-Z Pass devices, saving long-suffering commuters more than $1 billion.
He challenged Democrats in the General Assembly when he knew he could win. His first and arguably most popular legislative victory was repeal of the so-called rain tax, the inexplicable measure championed by former governor Martin O'Malley. The state taxed real-estate owners for pollution in stormwater drainage, to meet EPA standards.
Hogan's most searing test occurred during the Baltimore riots that followed the 2015 death of city resident Freddie Gray. As protesters coalesced downtown, then-mayor Stephanie Rawlings-Blake announced that law enforcement under her authority would "give those who wished to destroy space to do that."
Over the next 48 hours, stores were set ablaze, cars overturned, and more than 113 police officers injured. Hogan reportedly sought to offer state support to the mayor but couldn't get her to return his calls. Only after Hogan moved his office to Baltimore, declared a state of emergency, and deployed thousands of National Guard and state-police personnel did the riots subside. Five months later, Rawlings-Blake announced she would not seek reelection.
Back in Annapolis, Hogan attacked Maryland's regulatory state with fervor. He flagged 657 state regulations for outright repeal or modification. He cut the number of jobs that require a state license, streamlined the state's procurement rules, and freed Maryland's long-neglected farmers from onerous land-management rules championed by the state's powerful environmental lobby.
The founder of a real-estate company, Hogan took a page from his business experience by tearing the bureaucracy's customer service down to the studs and rebuilding it. He forced state agencies to move permitting and licensing services online to spare taxpayers and small businesses the indignity of standing in line for a bureaucrat's stamp of approval. Remarkably, eight out of ten Marylanders reported being satisfied with their interaction with state agencies in 2017, shattering the notion that bureaucracies are incapable of satisfying taxpayers.
So, what does Governor Hogan do for an encore?
He would be wise to focus on Maryland's business-tax climate, which ranks 40th in the nation in CNBC's annual ranking of the states. The federal tax-reform package of 2017 increased tax liabilities for many Marylanders in the politically influential Washington suburbs. Lowering personal income taxes on pass-through corporate entities in addition to broad-based corporate income-tax relief would be a good start to Hogan's second term.
Corruption and complacency plague some of Maryland's largest school districts. A grade-inflation scandal has rocked Prince George's County in the Washington suburbs, while Baltimore County's once-heralded superintendent went to prison for perjury. All the while, Maryland's teachers' union unabashedly demands lower accountability standards for its members' performance in the classroom. The toughest test of Hogan's legislative acumen will come from the teachers' lobby and its supporters in the legislature. Can he clean up county school systems not accustomed to tough governors?
Hogan joins a long list of governors bedeviled by post-industrial Baltimore. Charm City has lost nearly 200,000 residents to the suburbs since 1980. Once-mighty steel plants are shuttered. Median income has plunged well below the national average. More than 40,000 homes and buildings stand vacant across the city while a succession of liberal politicians have raised city taxes and then blamed others when their plans didn't work.
Hogan must incentivize investment in Baltimore. Just like urban turnarounds in Boston and San Francisco, it starts with a drastic reduction in Baltimore's property-tax rate, which currently stands at twice that of surrounding jurisdictions. A state incentive package that enables a reduction in the city property tax to 1 percent could help reverse Baltimore's population and investment exodus.
But the most consequential issue Hogan must address is the decennial redistricting process, which begins again in 2020. Not since Theodore Roosevelt McKeldin in 1951 has a Republican governor overseen the reapportionment of congressional and legislative seats while working with a Democratic-controlled legislature.
Over the past half century, Democratic governors and legislatures in Annapolis brazenly carved congressional and legislative districts into partisan enclaves, turning what was once an evenly divided eight-member congressional delegation into today's seven-to-one advantage for Democrats. State legislative districts were manipulated, too, giving Democrats veto-proof supermajorities in both houses of the legislature.
Consider the 2010 redistricting process, managed by former governor O'Malley. Former Supreme Court justice John Paul Stevens called the resulting congressional-district map "outrageously unconstitutional." Christopher Ingraham of the Washington Post ranked Maryland's third congressional district "the second-most gerrymandered" district in America. A federal judge described the its jagged contours as "a broken-winged pterodactyl, lying prostrate across the center of the state." Only when compelled under oath in federal court did O'Malley admit to using the redistricting process for partisan gain at the expense of equal representation.
With a newly reelected Republican governor, conservatives will be tempted to exact revenge and redistrict with an eye to increasing the number of GOP seats in Congress and the legislature. Wisely, Governor Hogan has said he will do no such thing. (Disclosure: I am an unpaid member of Governor Hogan's Redistricting Reform Commission.) Instead, he has proposed surrendering redistricting power to an independent commission of nine members rigorously vetted to dilute the power of partisan loyalties. The goal is simple: Finally let voters pick their representatives, rather than have representatives pick their voters.
Hogan's campaign opponent is vanquished. The GOP's gubernatorial reelection drought is broken. Humbled progressives now turn their attention to 2020 and their favorite bogeyman: President Donald J. Trump. The question is not whether Marylanders back Hogan and his agenda but whether the popular Republican can navigate a Democratic legislature whose base, with its eye on 2020, will be in no mood for bipartisan compromise.