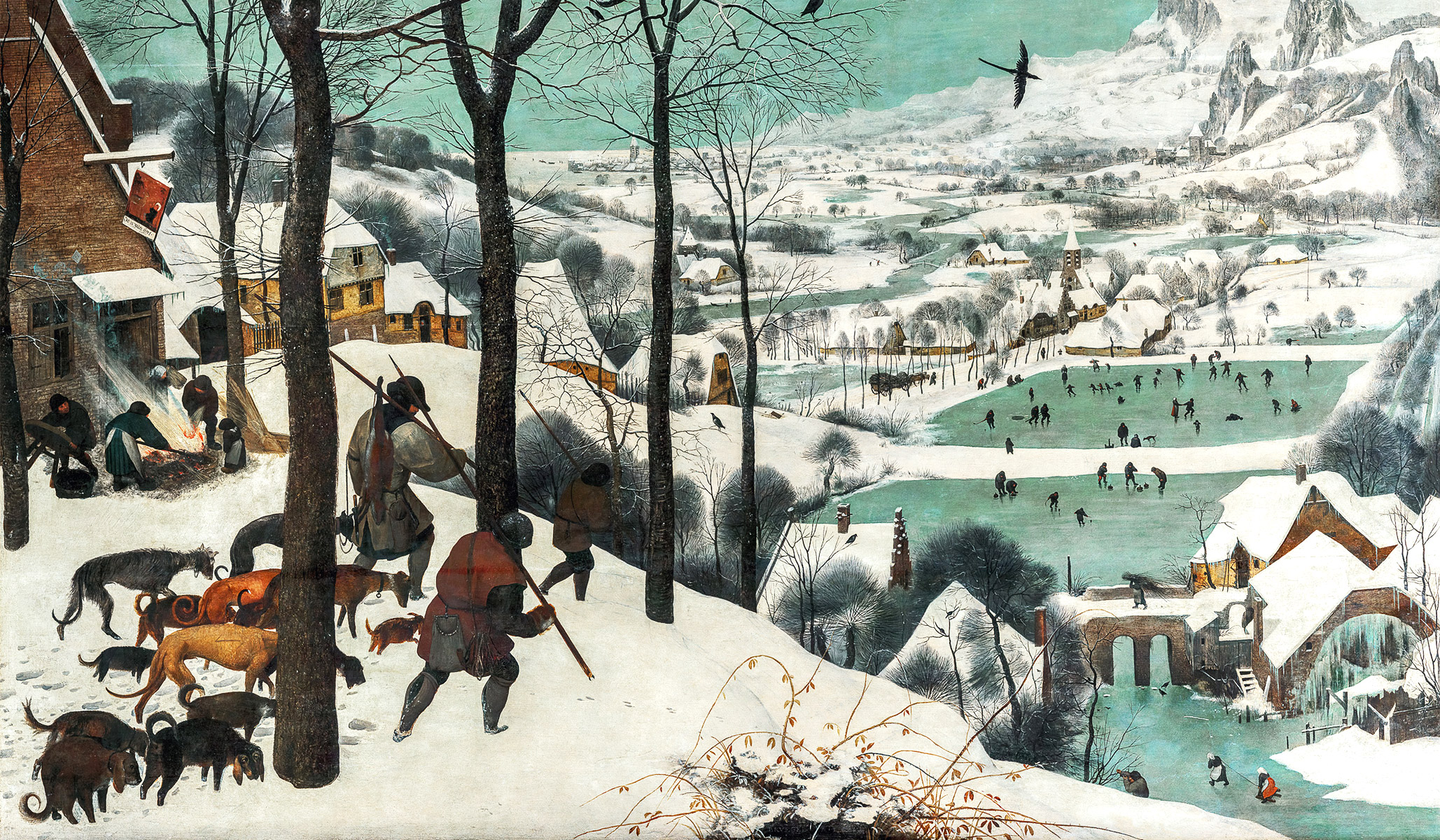 Bruegel's art speaks to different generations in different ways, making it always relevant.
Who was Pieter Bruegel? We know he was among the premiere image makers of Western art. Two of his paintings, Hunters in the Snow and Tower of Babel, both from 1565, have been famous since he created them. His packed village scenes are the sociological beehives of his time.
We also know he was from Antwerp, born between 1525 and 1530. He died in 1569. We don't know his background, though for someone who made his name in cosmopolitan Antwerp and then later Brussels, he knew agriculture, the countryside, and the looks of peasants exactly. He spawned a century's worth of Bruegel family artists, so he's called "Pieter Bruegel the Elder."
Much of his best work landed in Vienna through Habsburg collectors, so only the Kunsthistorisches Museum there could conceivably organize his first retrospective. With about three-quarters of his paintings and about half his drawings, from the museum's own holdings and collections throughout the world, "Bruegel: The Hand of the Master" comes to us, finally. We've waited 450 years.
I went to Vienna to see the show and spent the day in the museum, one of the splendid piles of variegated marble and fairy-tale temples on the Ringstrasse. The show is dense, the art no less so. The show was packed. Central Europe seemed to have funneled its entire population into the Bruegel galleries.
Of course, no one could spend the entire day in one show. You'd go senseless. I looked at a few things closely and then retreated to a place of calm and order, which means the Italian galleries. I went to the Rubens and Van Dyke galleries, too. Both were also from Antwerp, but how different they were! They're not removed from Bruegel by much, beginning their careers a bit after 1600. Though Bruegel traveled from Antwerp through the Alps to Italy, as did Rubens and Van Dyke, and each absorbed Venetian color, the aesthetics of aristocracy drew the younger pair.
Since all three came from the same place, they must have something in common, regardless of all the art revolutions happening in Europe around 1600. I decided they were what I'd call zaftig, Yiddish for "juicy." Italian art has a default look, one that is cool, idealized, and balanced. There's always a touch of distance, usually more than a touch. Yes, one might want to squeeze a Titian nude, but she'll manage to keep her distance, buffered by heavy intellectual allegory or Titian's gauzy, opaque atmosphere. German, Dutch, and Flemish art have a default look too, and that's carnal, as obsessed with delicious vices as proper virtues, desiring the Lord to make them good, as the prayer goes, but not yet. Rubens's ladies are so ample, so gaudy, you can't help bumping into them.
Back to the Bruegel show, literally and figuratively. Bruegel, above all else, embraces life. His drawings are good places to start — they fill the first gallery — if for no other reason than learning about what was, for me, a new artistic phobia: what the catalogue calls horror vacui, a fear of empty spaces. It might not have been a mental illness for Bruegel, but the drawings are microscopically concerned with the details of everyday life. Botanically, topographically, meteorologically, and architecturally, they're dense but rhythmic, and elegantly so. They have pace and a confident line, sometimes soft, thick, and sinuous but often dashes.
Landscape with a Fortified City from 1553 conveys a small universe, urban and rural, stone and earth, people and animals. God's world is vast but miniaturist, as predictable as the seasons and the hungers of man and beast, mercantile and bustling, but moody, with the shake, rattle, and roll of an approaching storm. People and land quiver with life's pulse. My favorite drawing is Bears in a Forest, also from 1554. Centuries before cinema, six bears in different poses seem to merge serially into one dynamic animal.
Religion is never far from Bruegel's conception of life. His series of the Seven Vices and the Seven Virtues, first drawings and later prints, were inspired by Hieronymus Bosch, a fellow Fleming. The Virtue drawings prize regularity and obedience, but there are infinite shades of sin, numbered at merely seven but fostered by a legion of monsters and mutants, as well as every crook, guzzler, flirt, fat boy, stuffed shirt, and big head in town.
There's lots of comedy in Bruegel. Even the virtuous are sometimes funny, not slapstick crazy, but wry and ever-so-slightly hypocritical. Among rich and poor, healthy and sick, money is a motivator and even a dominant life force. Bruegel often depicts death scenes — they're gruesome — and death comes without mercy.
In The Triumph of Death from about 1562, there's every form of leave taking, and no one is happy about it. A young dandy, snappy in red, is in the picture's foreground, against a round dining table and a bright white tablecloth setting him off. Death has interrupted a sumptuous feast. The dandy stands, legs apart, drawing his sword, mouth agape, clueless on what to strike. His look is a bit of "what, me?" It's also a bit of "you and whose army?" We know he has no choice in the matter. On the other side of the painting, a king lies flat, one skeleton by his side holding an hourglass, another helping himself to the king's gold coins.
We actually don't know if he was a cynic or an agnostic or a humanist. His Tower of Babel from 1565 is, of all the stories in the Bible, among those most pointedly treating hubris, inanity, destruction, and confusion. There's no logic to the tower in either the Kunsthistorisches version or the one owned by the Museum Boijmans Van Beuningen, also in the show. The two have never been side by side, as far as we know, and they differ in many details. It was a thrill to see the contrast.
The Vienna picture belonged in the 1560s to a Habsburg official in Antwerp, and Antwerp was in the middle of a huge building boom. Bruegel is meticulous in depicting correct construction techniques, so while it might be allegorical, it's particular, too. The show fairly examines at least a dozen interpretations of the picture over the centuries. What we learn is that Bruegel's work is elastic. One of the many features that make him a great artist is that it speaks to different generations in different ways. It's always relevant.
Kids might not say the darnedest things in Children's Games from 1560, but they do them, not ridiculously, but with a gamut of dispositions, showing individuality and difference but also an egalitarian unity. Even lighting and density and a pattern of blue, grey, and red help to create a balance between diversity and creativity on the one hand and common purpose on the other. There are about 230 children and 100 games. Every children's game, even the rough ones, has rules, and learning to observe rules prepares a child for adult living.
This takes us to another Bruegel universe, The Seasons from 1565. They are milestones in landscape painting and visual communication. There were six of them, with spring having what I'd call "mud season," or The Gloomy Day, and then one of spring in full force. Summer had an early and late phase, too. Spring was already missing by 1700. Haymaking is in Prague but was loaned to the show. Harvesters belongs to the Met in New York. It's not in the show, probably because the Met thought it was too delicate to move. Vienna owns Gloomy Day, Return of the Herd, and Return of the Hunter. So, four of the five remaining pictures were side by side.
They were commissioned for the dining hall of Nicolaes Jongekinck, a rich businessman in Antwerp. They were unprecedented: a world landscape, or what was imagined as the world, both massive and minute. The hundreds of figures, the landscapes, and the architecture are linked by rhythmic movement and color. It's the ups and downs of life on view, with birth, death, work, rest, joy, and sorrow each playing a part. The rich diners looked at this world and the peasants looked back, with curiosity, confidence, and pride. Imagine today's parallel. What would potentates in Manhattan, Georgetown, or Menlo Park see, or should they see, or expect to see?
Hunters in the Snow is the best known, and a perfect picture for Christmas. There's plenty of work happening. There's hunting and wood gathering, and that nice, roaring fire, tub, and table. They're getting ready to slaughter a pig. Otherwise, there's lots of pleasure. It's winter and down time. Skaters play a version of ice hockey. We are given an elevated point of view, so our eye covers a deep, sweeping expanse. Bruegel gives us snow and ice in many permutations, from slush, different depths of snow, dripping icicles, snow-capped peaks, and ice for skating.
There hasn't been a comprehensive overview of Bruegel's work in going on five centuries, so I was glad to see the enormous amount of thought given to the installation. The show is more or less chronological, with big galleries dedicated to key works. The first gallery covers Bruegel's drawings. The anchor space is The Seasons, followed by his religious pictures, a gallery of his small paintings, and his late work of large-figure peasants. There are galleries for the work of his family and his imitators.
The show generated a small industry of scholars and technicians. Though renowned in his lifetime and famous afterwards without ever going out of style, Bruegel still offers mysteries and discoveries. Some were archival as the curators did their research. New technology helped too, in understanding Bruegel as a superb craftsman. All of this work led to new attributions. Bruegel worked in tempera on panel. X-rays and other tests reveal a mastery of underpaint drawing I would call miraculous. He planned carefully, knew his materials, and planned how to get the effects he wanted with precision. There was also an immense amount of conservation work done.
Bruegel suits every age. There's plenty of sweeping landscape. He's a charmer. His peasants have the stamp of truth. Every man has a consistent place of pride. There were moments when I giggled. He's exceedingly macabre too, and very modern. His figures are smooth and mobile enough, but in pictures like The Adoration of the Magi from 1563, his figures and buildings are blocky and nearly abstract.
It's the first scene we know in Western art set in falling snow. The village setting, big white dots, and limited palette of greys, whites, browns, and small passages of rose and rust suggest so much about French art in the 19th century from Millet to Sisley. He's that forward looking. Schiele surely studied Bruegel, whose brown geometries and weird, tipped points of view must have inspired him. As you can see, and the show proves, Bruegel is an artist not only for all seasons but all tastes. Few ever matched his command of human experience in all its joys and messiness.
The big museum news of the week is the appointment of Kaywin Feldman as the new director of the National Gallery in Washington. She will be the first woman to hold the most prestigious job in the American museum world. She comes from the Minneapolis Institute of Arts, where she's served as the director for ten years. She's very nice, certainly a good manager, and will become a positive, welcoming public face for the gallery. The exhibitions at Minneapolis during her rule were singularly unimpressive, both intellectually light and boring. I'm wondering how the curators at the National Gallery will handle the change if that's the kind of programming she'll encourage.