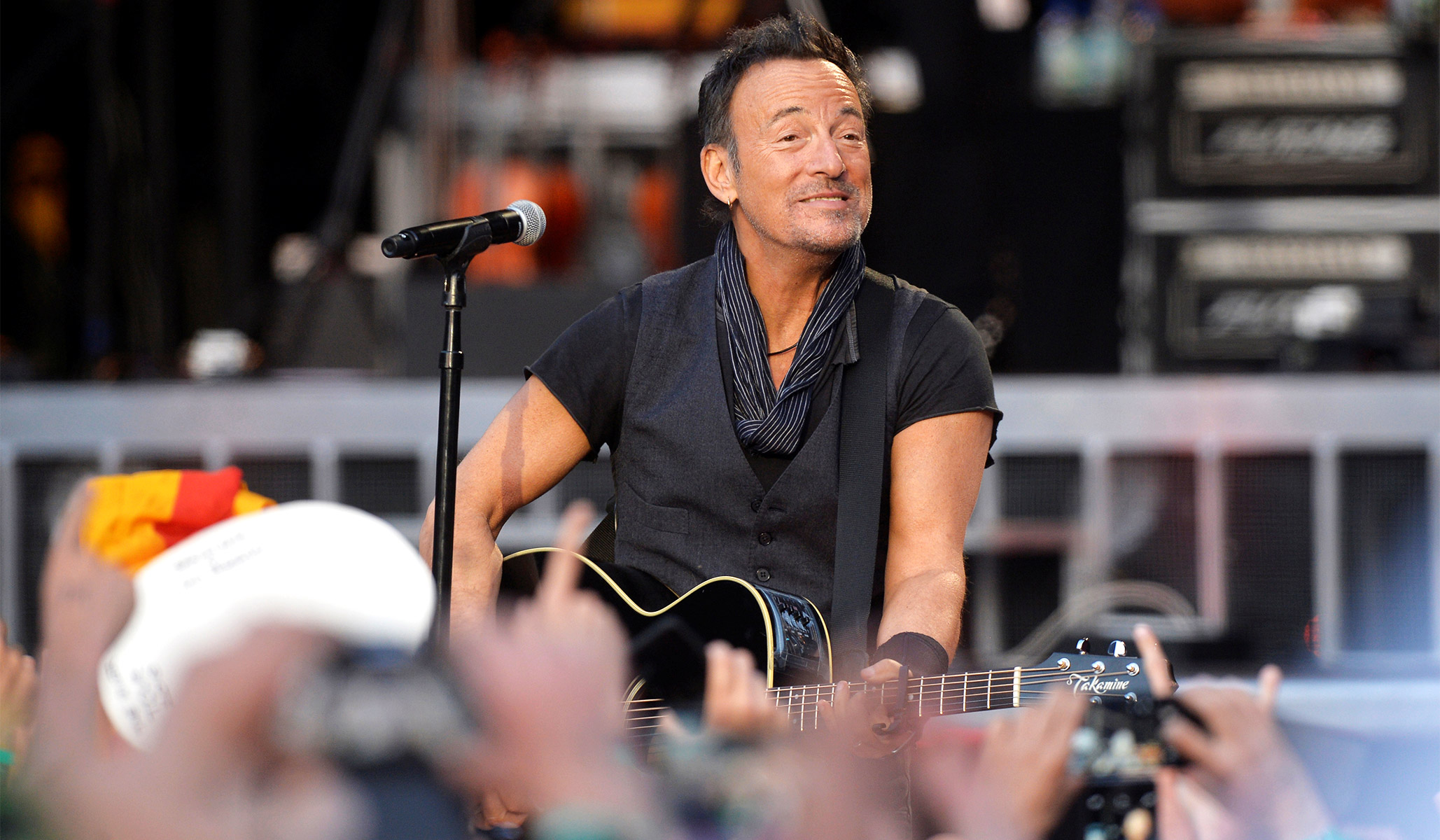 His persona may be fake, but his artistry is sublime.
Bruce Springsteen has a confession to make. "I made it all up," he tells the audience in his new Netflix special Springsteen on Broadway. "Bruce Springsteen" the persona — all gritty working-class authenticity — is a creation. "I've never held an honest job in my entire life!" he says. "I've never done any hard labor. I've never worked 9 to 5. I've never worked five days a week. Until right now."
That last line is a wry reference to Springsteen's first regular gig: as a Broadway performer. Springsteen's schedule at the Walter Kerr Theatre was considerably lighter than the standard eight-shows-a-week schedule (he usually did five) while this performance ran from last fall until it closed in triumph on December 15. Those who have an allergy to paying scalpers $4,000 for an evening's entertainment have been rewarded by the Netflix film of this breathtaking, heartrending, revelatory show, a monologue broken by stripped-down versions of his songs upon which he accompanies himself with either guitar or piano and sometimes a harmonica.
"I come from a boardwalk town that is tinged with just a little bit of fraud. So am I," Springsteen tells us. He never raced cars. He was never a street punk. He never saw the inside of a factory. "Standing before you is a man who has become wildly and absurdly successful writing about something about which he has had absolutely no personal experience. I made it all up! That's how good I am." "Bruce Springsteen" is a brilliant disguise.
That isn't quite true either, but I'll come back to that. Suppose that Springsteen was indisputably a fraud. Suppose we learned last year that his real name was Bryce Springfield IV, Duke of Bedford, that he'd grown up riding to hounds, attending Oxford, and receiving a double first in Russian and chemistry. Suppose the closest he had ever come to New Jersey was . . . Jersey. Suppose he'd grown up a right proper English twit.
How would "Born to Run" and "Darkness on the Edge of Town" sound then? Would we dismiss him as a charlatan and stop showing up for his concerts? Would this be a career-upending scandal?
I'd say it shouldn't be. While all of this would be a very interesting development for a biographer, it shouldn't matter to a critic or a fan. The songs would still be the songs. They'd still be as wistful, poetic, and propulsive as they are.
Yet that isn't the reaction the critics would take. The critics would pound him. They'd feel betrayed and humiliated. The tone of media coverage would turn from adulation to disgust. Rock is the purest essence of romanticism, and romanticism prizes authenticity and genuine feeling above almost all else. Jonah Goldberg makes the case brilliantly in his astute book Suicide of the West. "Rock and roll is romanticism," he says. Most of the common attributes he cites — defiance of authority, young love, alienation, yearning for escape, the supremacy of feelings, authenticity, nostalgia for a better, imagined past  — are like a list of Springsteen themes. Betrayal, lying, selling out — these are unforgivable to the romantic mindset that rules rock.
So why aren't the critics denouncing Springsteen as the fraud he says he is? Because Springsteen really did grow up working-class in a no-account New Jersey town. True, he himself never had a job except musician. But he was very close to someone who did. The "Bruce Springsteen" character is really the rocker's father, Douglas. Douglas, his son explains in the concert, worked at the rug mill, the Ford factory, the coffee factory. He worked as a bus driver, truck driver, taxi driver. His second home was a tavern where Bruce's mom would often take the scared, intrigued kid to scrape the old man off a barstool. When Springsteen took to the stage, he adopted the workingman's uniform of his father. The stories he told were an inquiry into his father's life. "Those whose love we wanted, but didn't get, we emulate them," Springsteen explains. "So when I was a young man and looking for a voice to meld with mine to sing my songs and to tell my stories, I chose my father's voice." There was "something sacred" in it.
So Springsteen's songs aren't the product of autobiography but of close observation of his family, his town, his class, his people. He isn't Bryce Springfield IV, but it wouldn't matter if he were. It's his sympathetic eye and his lean, unadorned description that makes his words so consonant with the rock idiom. His memories are practically lyrics. Attend to the way he describes his hometown of Freehold, N.J., triggered by the smell of instant coffee that wafted over the town from the Nescafé plant:
There was a place here. You could hear it.
You could smell it. A place where people
made lives and where they worked and
where they danced. And where they enjoyed
small pleasures and played baseball and suffered
pain. Where they had their hearts broken.
and where they made love, had kids.
Where they died, and where they drank
themselves drunk on spring nights.
And where they did their very best,
the best that they could, to hold off
the demons, outside and inside, that sought to
destroy them.
Springsteen's personal story of growing up doesn't add up to much — school, homework, green beans, bed. But "I had a magic trick," he says. Indeed he did, and does. Springsteen on Broadway is a luminous performance, an unexpected new late-career peak. His persona may be fake but his artistry is sublime.