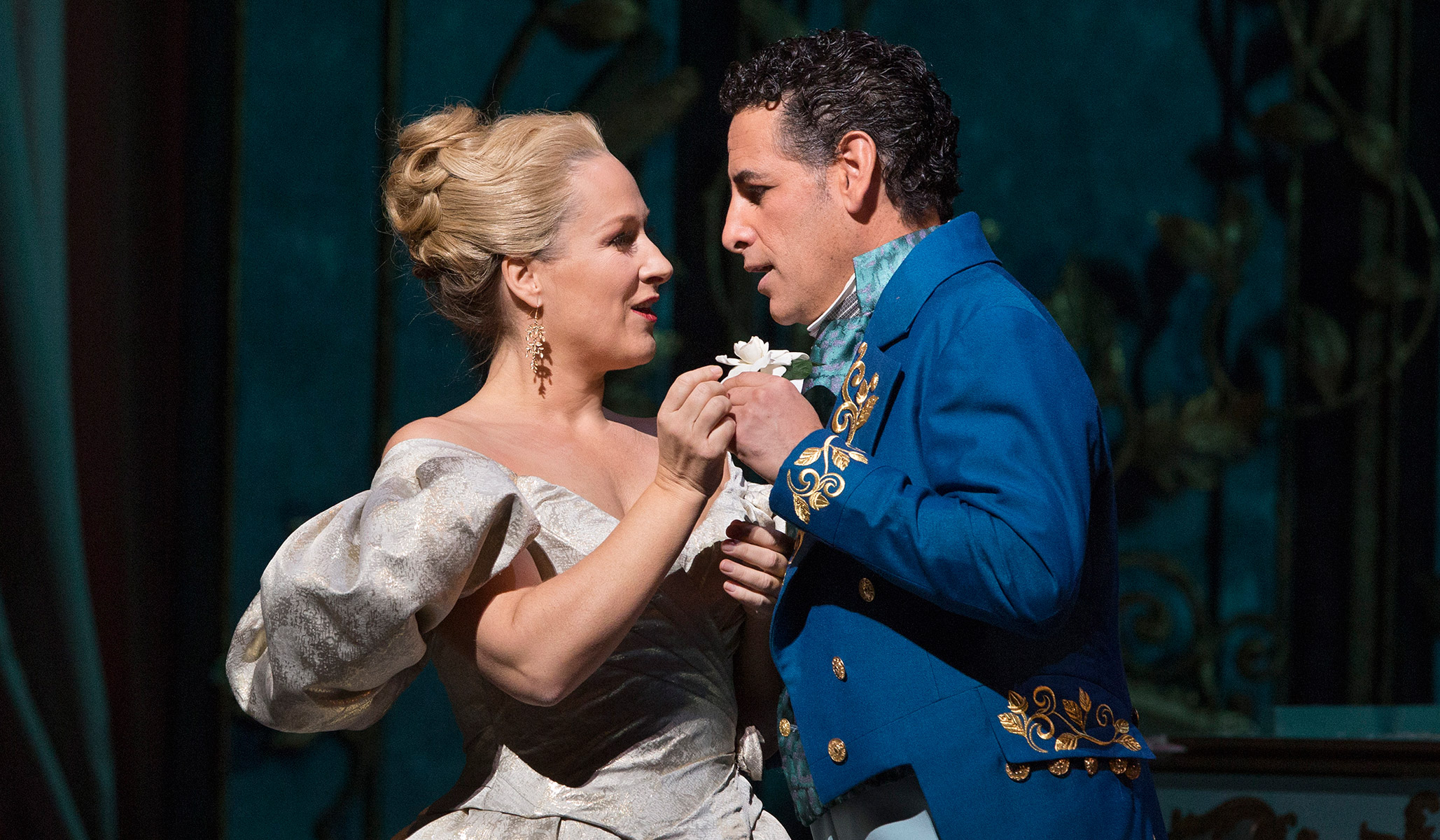 Under his baton, the glorious music made up for so-so staging and ugly costumes.
This year has seen a major changing of the guard in New York, with new music directors arriving both at the New York Philharmonic and the Metropolitan Opera. The Philharmonic made a questionable choice with Jaap van Zweden, though it could be argued that after Alan Gilbert's seven-year tenure, there was nowhere to go but up. The Met faced the more difficult problem of replacing James Levine, whose epic 40-year run was largely successful until it came crashing down in 2018 after allegations of sexual misconduct.
The Met's choice of Yannick Nézet-Séguin, who will also continue as music director of the Philadelphia Orchestra, is singularly fortunate. Nézet-Séguin, who is just 43, has done exceptional work in Philadelphia and is deservedly considered one of the greatest conductors today. He is no stranger to the Met and has guest-conducted there since 2009. He reflects his style in his movement on the rostrum: Graceful and lyrical, he is utterly bound up in the music. If it seems obvious common sense that any conductor must have a deep and consuming love for his music, such conductors are not so easy to find as one would think.
For his debut as music director, Nézet-Séguin chose Verdi's La Traviata (The Fallen Woman). It's an eminently defensible and safe choice, a staple of the repertoire and a consistently popular member of the Italian school. As an artwork, it is less valuable than the Alexandre Dumas novel on which it is based: Camille is a first-rate romance. La Traviata is more histrionic than subtle, but it manages a number of superb moments, especially in the second and third acts. Besides which, Verdi had a gift for writing catchy tunes — almost everyone recognizes the Act I song "Libiamo ne'lieti calici" ("Let's drink from the joyful cups"), if only from some ad for pizza or tomato sauce.
The new music director was also premiering a new production, so it was a real gala night at the Met. So gala, in fact, that every single member of the audience received a small bottle of prosecco on his way out the door: a handsome green split with an orange label. There is no question these days of the Met doing less than a first-rate job with anything on the logistical end. They have one of the most sophisticated and powerful stages in the world and can make any designer's dream of scenery and any director's dream of movement a reality.
Some aspects of this brand-new La Traviata were nonetheless disappointing. The direction by Michael Mayer was so-so. It included several silly flourishes, such as the perpetual on-stageness of the eventual deathbed, or the addition of a superfluous, silent, and non-existent character for dramatic effect. The set by Christine Jones was adequate, though there was only one set for the three acts. But a fine lighting job by Kevin Adams made the most of it. The gaudy costumes by Susan Hilferty appeared to have been designed after binge-watching all the cocktail-party scenes from The Hunger Games. No one could possibly have looked good or natural in those outfits, with the possible exception of Willy Wonka. And the choreography by Lorin Latarro was worse. Her ballet sequence in the second act was gratuitously ugly. To take such evidently talented dancers and have their every movement appear so graceless and awkward and lumpen demands a genuine anti-talent.
But all this was redeemed by the music. More than this could have been redeemed by the music. Nézet-Séguin's tempi might have been a touch slow at times, but the quality of the performance was amazing. The main triad of singers was brilliant — Diana Damrau as the fallen Violetta, Juan Diego Flórez as the lover Alfredo, and Quinn Kelsey as the father Gremont. Damrau's soprano has exceptional purity and clarity — a flawless diamond of a voice. And she made the best of the generally ham-handed stage direction. Kelsey's baritone is beautiful. In a sea of baritones, his voice is uniquely rich and penetrating and is absolutely distinct: So round, so firm, so fully packed (exactly the opposite of the Lucky Strike cigarette whose slogan that used to be). The Damrau-Kelsey duets in the second act brought down the house.
After the opera, as is traditional at a premiere, first the singers and then the director and designers and finally the conductor appeared onstage. Nézet-Séguin's arrival was trumpeted by the explosion of golden streamers of confetti, which may have been a bit much, but which he stood with good grace. And then he did something unusual (I have never seen it at any opera before): He invited the orchestra, all 60-odd pieces, including a "cimbasso," to come onstage out of the pit and take a bow. It was a gentlemanly gesture that served to remind the operagoers where their invisible soundtrack had come from.
In a recent interview, Nézet-Séguin spoke of his having reached a degree of competence where he felt he could be of service to "our house" — which was a nice way to describe the Met and his role there. The genial maestro is sensitive to his duty as a custodian of great things. The Met can look forward to wonderful years under his baton.