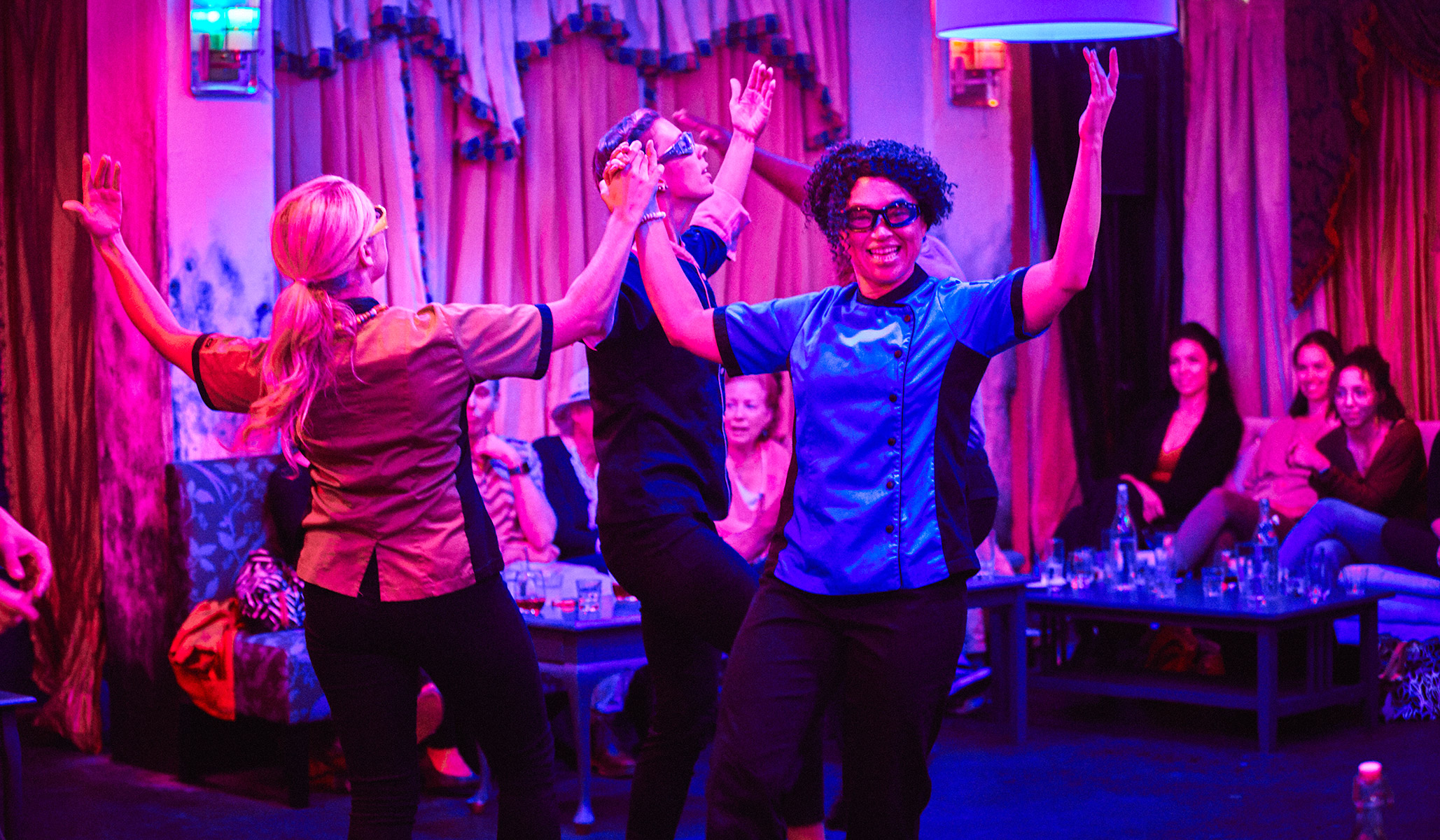 A Shakespeare play is work. But what if a Shakespeare play could be play?
The Shakespeare trend these days is bite-sized Bard. An entire Shakespeare play is too much for even most college-educated folk to deal with. They're not necessarily wrong: A Shakespeare play is work. But what if a Shakespeare play could be play? Chop up a three-hour text, remove most of it, and present the audience only with little dollops broken up by goofing and dancing and 21st-century pop songs and 21st-century references. An entertainment called Drunk Shakespeare has proven durable off-Broadway. Last summer's Shakespeare in the Park production of Twelfth Night featured original songs and a gaggle of nonprofessional performers from community groups larking it up amid small, digestible portions of the text. This kind of thing is bound to grow in popularity: Drive-by Shakespeare. Fun-size Shakespeare. Microdose Shakespeare. Millennial Shakespeare. A kind label would be "the People's Shakespeare." An unkind label would be "Shakespeare for People Who Don't Really Like Shakespeare but Want to Say They Attended a Shakespeare Play."
In downtown New York City, the Meatpacking District is now fully gentrified. Indeed, it has passed beyond gentrified to whatever the next stage is. Ossified? A formerly raffish corner of shadows and intrigue is now a redoubt for high-net-worth individuals and gilded institutions such as the new Whitney Museum of American Art. Across the street from that, on Gansevoort Street, the Shake & Bake theater company is staging in a hipster rec room a trimmed-down take on Love's Labour's Lost while simultaneously presenting 40 or so audience members seated on couches with tasty treats and suitably themed libations. Calling the comestibles an "eight-course tasting menu," as the publicity materials call it, is something of a stretch; it's more like eight types of canapes and appetizers. I'm not complaining. Most of it was grand. The show is fun, too. It's an expérience vécue, with musical interludes (flamenco guitar, accordion, a melody played on wine glasses with a stirring rod) and spirited audience interaction. I'm glad I wasn't the lady who found an actor at her feet, running his lips over her boots.
The ticket price is 75 bucks, which is probably more than a twentysomething is willing to spend for something that doesn't provide an Instagramming opportunity (photography is forbidden). But I suspect the show will do gangbusters over the holidays, when parents of today's young professionals are in town and offering to pony up for a one-of-a-kind cultural excursion. (The production runs through January 6.)
The comedy (you will have no difficulty recalling) begins with the King of Navarre (Darren Ritchie) and his three buddies (well, two in this production) swearing off women for a year so they can pursue their studies without distraction. Yet the king, Lord Berowne (Matthew Goodrich) and Lord Longaville (Oge Agulué) find their resolve tested by the bewitching arrival of the Princess of France (Victoria Rae Sook) and her posse, Rosaline (Mary Glen Frederick) and Maria (Rami Magron), plus their manic friend Boyet (Charles Osborne), whose machinations help move things along as the ladies disguise themselves as one another to fool the king and his boys.
I'm not really a Shakespeare purist, so the irreverence of Dan Swern's direction didn't much bother me — one actor brandishes a bag of Cheetos, one wears a Batman t-shirt. But Shakespeare's hard enough to concentrate on without all of the distractions. The story, for me, held less suspense than the question of whether the Cheeto-dusted mac 'n' cheese would be good. (It was! The beef brisket had gone a bit cold by the time it got to me, though.) I lost count of the number of glasses of wine that came my way, and the shot of Jagermeister really didn't help clear my mind. As the clownish court figure Costard puts it, "I do confess much of the hearing of it, but little of the marking of it."
It's not a production for the fanatically devoted, then. Any Shakespeare Shiites out there should probably avoid it. But who knows? This production could be a gateway drug for theatergoers who'd like to know more about Love's Labour's Lost, maybe even work their way up to sitting through a proper staging of it.