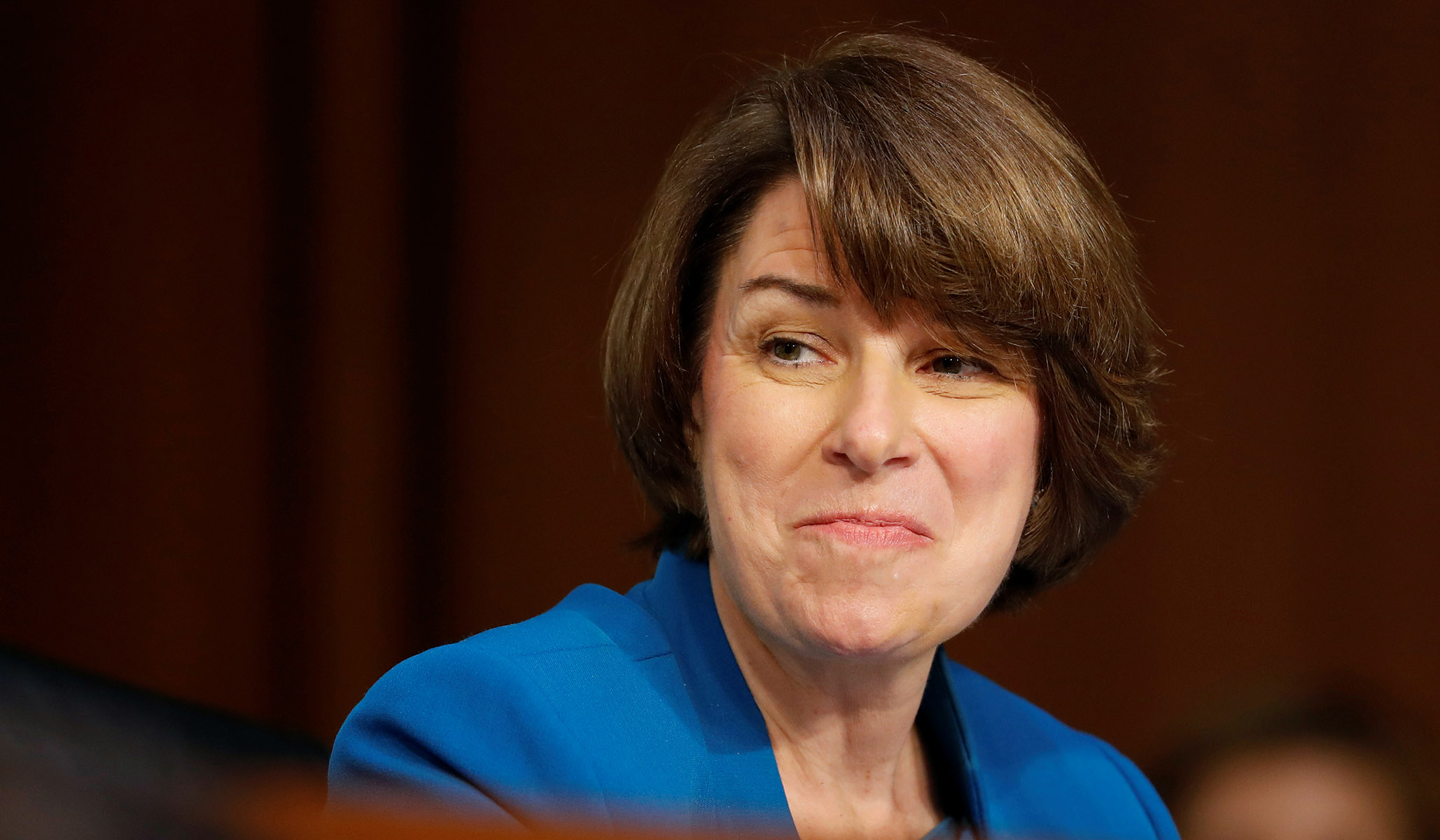 Prosecuting Kirby Puckett, defending tomato paste, and risking the wrath of Justin Bieber
One: In 2002, Amy Klobuchar was Hennepin County attorney and pressed charges against legendary Minnesota Twins player Kirby Puckett. The prosecution charged Puckett with grabbing a woman and bringing her into a men's room and groping her; Puckett said he had merely escorted her into the men's room when the women's room had a long line. Klobuchar pursued charges of false imprisonment, fifth-degree criminal sexual conduct, and fifth-degree assault. After eight hours of deliberation, the jury acquitted Puckett on all charges.
After the verdict, Puckett's defense attorney, B. Todd Jones, contended that prosecutors had let his client's fame drive their decision to pursue charges. "When it comes down to it, they just did not have the courage to not charge Kirby Puckett. . . . This stuff happens every weekend at some eating and drinking establishment in Hennepin County, and it is rarely charged. . . . They have better things to do with their resources than to go around prosecuting false imprisonment cases from a woman being taken into the men's room or a man being taken into the women's room at a bar at closing time."
Klobuchar and Jones buried the hatchet; in 2009, she supported his nomination to be U.S. attorney for Minnesota.
Two: As a prosecutor, Klobuchar promoted a practice that is now common, electronically recording the interrogations of suspects, but argued that police must be able to record interactions with suspects without telling them they were being recorded. "You want to do it so that you're not interfering with the normal interrogation," she told the New York Times.
Three: One of her most influential mentors is former vice president Walter Mondale. She worked as an intern in his office in 1980 and canvassed for the Carter-Mondale campaign later that year; Mondale joined her law firm in 1989, and she spent parts of the next two years working part-time with him on "business development, speeches, and other civic activities." Mondale attended her swearing-in ceremonies as county attorney and senator, and the former vice president gave a toast at her wedding. She mentions him 34 times in her 2015 autobiography, The Senator Next Door.
Four: In April 2005, Klobuchar announced that she was officially running for U.S. Senate. In September 2005, the National Republican Senatorial Committee made several requests to the Hennepin County Attorney's Office for public records from Klobuchar's time in office. The office provided her travel records by May 2006 and, by July, some basic statistics about her office's caseload. In August 2006, the office responded that her daily schedules and matters referred to the county Domestic Fatality Review Board were not considered public information. (By February, almost all of Klobuchar's serious rivals in the Democratic Senate primary had withdrawn, and she won the party's endorsement in June.)
In October 2006, Minnesota's commissioner of the Department of Administration, Dana Badgerow, concluded that the Hennepin County Attorney's Office did not respond to the NRSC requests in a timely manner as required by law.
Five: Klobcuhar wrote in The Senator Next Door that the first lawmaker to endorse her for Senate was then–state representative Keith Ellison, who went on to be a congressman and DNC official and is currently the state attorney general. "He wrote me a $50 check on the spot, pledging to help me any way he could." In 2018, when a woman accused Ellison of assault, Klobuchar said on Meet the Press, "He is still addressing this to the people of Minnesota, and I think it's being reviewed, and I know that he is moving forward." When asked if she would campaign with him, Klobuchar responded, "I will campaign with our ticket when the time comes."
Six: She's cultivated a modest, middle-class image in her time in office. In September 2007, in her first year as a U.S. senator, she lamented the wealth of her colleagues: "A lot of the senators are multimillionaires. And I think I heard that but until you really experience it, you drive up in your Saturn . . . to the national Capitol and you have someone in a Cadillac next door, it is sort of a funny image." OpenSecrets analyzed her financial disclosure forms and estimated her net worth to be $923,022 in 2007. But that was relatively "poor" by Senate standards; at that time the median net worth in the chamber was $2.2 million.
Seven: In 2009, Klobuchar voted for the Affordable Care Act, which included a new, 2.3 percent excise tax on medical devices such as pacemakers, ultrasound machines, ventilators, and artificial hips. Almost immediately after its passage, Klobuchar and her fellow Minnesota senator Al Franken set about attempting to get it repealed. In 2015, a two-year suspension of the tax went into affect, and Klobuchar said, "I opposed the medical device tax from the start and have led Senate efforts with Sen. Hatch to repeal it because of its impact on manufacturing and innovation in Minnesota and across our country." Many medical- device manufacturers are based in her home state; from 2013 to 2018, her third-largest contributor was Cargill, Inc., which donated $53,785 between individual employee contributions and the company's political-action committee.
Eight: In school lunches, the tomato paste in pizza sauce makes the pizza qualify as a serving of vegetables. In 2011, the U.S. Department of Agriculture contemplated changes to school-lunch programs that downgrade the assessment of the nutritional value of tomato paste. Klobuchar wrote to Agriculture Secretary Tom Vilsack that "tomato paste contributes dietary fiber, potassium — a nutrient of concern for children — as well as Vitamins A & C. It is delivered to kids in popular school items they enjoy eating and drives [school-lunch and breakfast-program] participation." Congress passed legislation ensuring that the existing nutrition rules wouldn't change.
Schwan Food Company, based in Marshall, Minn., is one of the country's biggest producers of frozen pizza, with more than $3 billion a year in annual sales, and it boasts that it produces 70 percent of the pizzas served in school lunches.
Nine: In her 2006 campaign for Senate, she ripped her opponent, Representative Mark Kennedy, for voting for earmarks, listing "the bridges to nowhere, the rain forest in Iowa, the waterless urinals in Michigan" and pledging to cut them. In an analysis of congressional earmarks, OpenSecrets.org found that Klobuchar sponsored or co-sponsored 103 earmarks totaling $200 million in fiscal year 2008, 88 earmarks totaling $133 million in fiscal year 2009, and 88 earmarks totaling $117 million in fiscal year 2010. This put her in the top third in the U.S. Senate in the first year and in middle of the pack the following years.
The earmarks included $89 million for light-rail projects over the three-year period, $1.6 million in defense appropriations bill for a "Tire to Track Transformer System for Light Vehicles" from Mattracks Inc. of Karlstad, Minn., and several multimillion-dollar earmarks for plasma sterilizer from Minneapolis-based Phygen Inc.
Ten: In 2010, Klobuchar took to the floor of the Senate to criticize a column by Robin Givhan, in the Washington Post style section, about the allegedly "drab" clothing of Supreme Court nominee Elena Kagan. "There was a lengthy, long article this weekend in one of our major newspapers about Elena Kagan's clothing describing it in, I would say, rather critical terms, talking about at length her leg-crossing style. . . . I never thought I'd be discussing this in this chamber but in fact this was a major article and stirred much commentary all over the blogs. I don't think that such an article was ever written about Chief Justice Roberts . . . or was such an article written about Justice Alito or was such an article written about Justice Rehnquist when he was being considered by this great body?" Whatever one thinks of the fashion beat, Givhan had in fact written critiques of the "old fashioned" attire of John Roberts and his family, noted that Samuel Alito and his wife "selected their wardrobe from the same middle ground," and remarked that Justice Renquist wore his "personalized robe, with its gleaming frill, in a rather slovenly manner."
Eleven: In 2011, Justin Bieber declared in an interview with a music station in Washington, D.C., that Klobuchar should be "locked up" for sponsoring a bill that would make profiting from illegal streaming of copyrighted content a felony. "Whomever she is she needs to know that I'm saying she needs to be locked up," he said. "People need to have the freedom. . . . People need to be able to sing songs. I just think that's ridiculous."
Twelve: In 2013, Klobuchar voted for the proposal by Senate majority leader Harry Reid to eliminate the filibuster for administration nominations and judicial nominees, except for those to the Supreme Court. "I think we go into this knowing this would apply whether a Republican is president or a Democrat," she said. "The key is just to move some of these things."
But by September 2018, she said that changing the rules on the filibuster had been a mistake. "I don't think we should've made that change, when we look back at it," she said. "But it happened because we were so frustrated, because President Obama wasn't able to get his nominees."
Thirteen: In 2015, a bipartisan bill to fight human trafficking hit a snag when Democrats realized that the bill's provision to create a Domestic Trafficking Victims' Fund barred any use of the funds for abortions. After a few days of Senate Democrats' wondering who on their side had allowed the language to be included without objection, Klobuchar announced that "a staff member who reviewed the reintroduced bill had seen the [anti-abortion] provision in the bill but did not inform" her. Some Democratic senators anonymously griped that a lawmaker blaming her staff looked unprofessional. According to Politico, "At one point, Klobuchar — along with Sens. Patrick Leahy of Vermont and Maria Cantwell of Washington — got in a heated discussion during a closed-door lunch over how the anti-abortion provision had been overlooked."
Fourteen: Klobuchar's relationship with Sheryl Sandberg, former vice president at Google and currently the chief operating officer of Facebook, is complicated. Sandberg blurbed Klobuchar's memoir, declaring that "her story radiates with warmth, humor, and candor. I hope it will inspire women everywhere to take part not only in public life, but in all endeavors in their lives, with the same passion."
But the New York Times reported last year that in October 2017, after Klobuchar and Virginia senator Mark Warner introduced legislation to compel Facebook and other Internet firms to disclose who bought political ads on their sites, Sandberg reached out to express her strong disagreement:
Ms. Sandberg also reached out to Ms. Klobuchar. She had been friendly with the senator, who is featured on the website for Lean In, Ms. Sandberg's empowerment initiative. Ms. Sandberg had contributed a blurb to Ms. Klobuchar's 2015 memoir, and the senator's chief of staff had previously worked at Ms. Sandberg's charitable foundation.

But in a tense conversation shortly after the ad legislation was introduced, Ms. Sandberg complained about Ms. Klobuchar's attacks on the company, said a person who was briefed on the call. Ms. Klobuchar did not back down on her legislation. But she dialed down her criticism in at least one venue important to the company: After blasting Facebook repeatedly that fall on her own Facebook page, Ms. Klobuchar hardly mentioned the company in posts between November and February.
Fifteen: By February 2018, Klobuchar said it would be a "great idea" for the federal government to impose fines on social-media companies if they don't remove "bots." "Someone once said that these systems were set up without alarms, without locks, and big surprise, bad guys are coming in and manipulating people," she said. "And that is what's happening, and worse, literally committing crimes, when they tell people they can text in and vote." (By May, she was cautioning Democrats to make sure they didn't sound relentlessly focused on the Russia probe. She said that when she met with constituents, "They're not asking me about Russian bots, okay? They're asking me about soybean exports.")
Sixteen: In 2015, Klobuchar cosponsored legislation to require the U.S. Consumer Product Safety Commission to set mandatory safety standards for detergent pods. The CPSC was direted to issue rules requiring safer, child-resistant packaging for liquid detergent packets. "To a little kid, they literally look like candy," the senator warned.
Seventeen: In 2015, Klobuchar and her fellow senator Al Franken received some flak for calling for a higher minimum wage while not paying interns in their offices. Klobuchar began paying her interns this month.
Eighteen:  In April 2018, she said she expected that her former colleague Franken would come back to public life in some manner. "He's had two acts and he's still going to have a third," she said. "As we're dealing with a change in the workplace. . . . We have to make sure there's due process and graduated sanctions."
Nineteen: A review of Senate employment records from 2001 to 2016 found that Klobuchar had the highest level of staff turnover of any senator.
Twenty:  Apparently, she's remained on good terms with her exes. In several public appearances, she boasted she "raised $17,000 from ex-boyfriends."