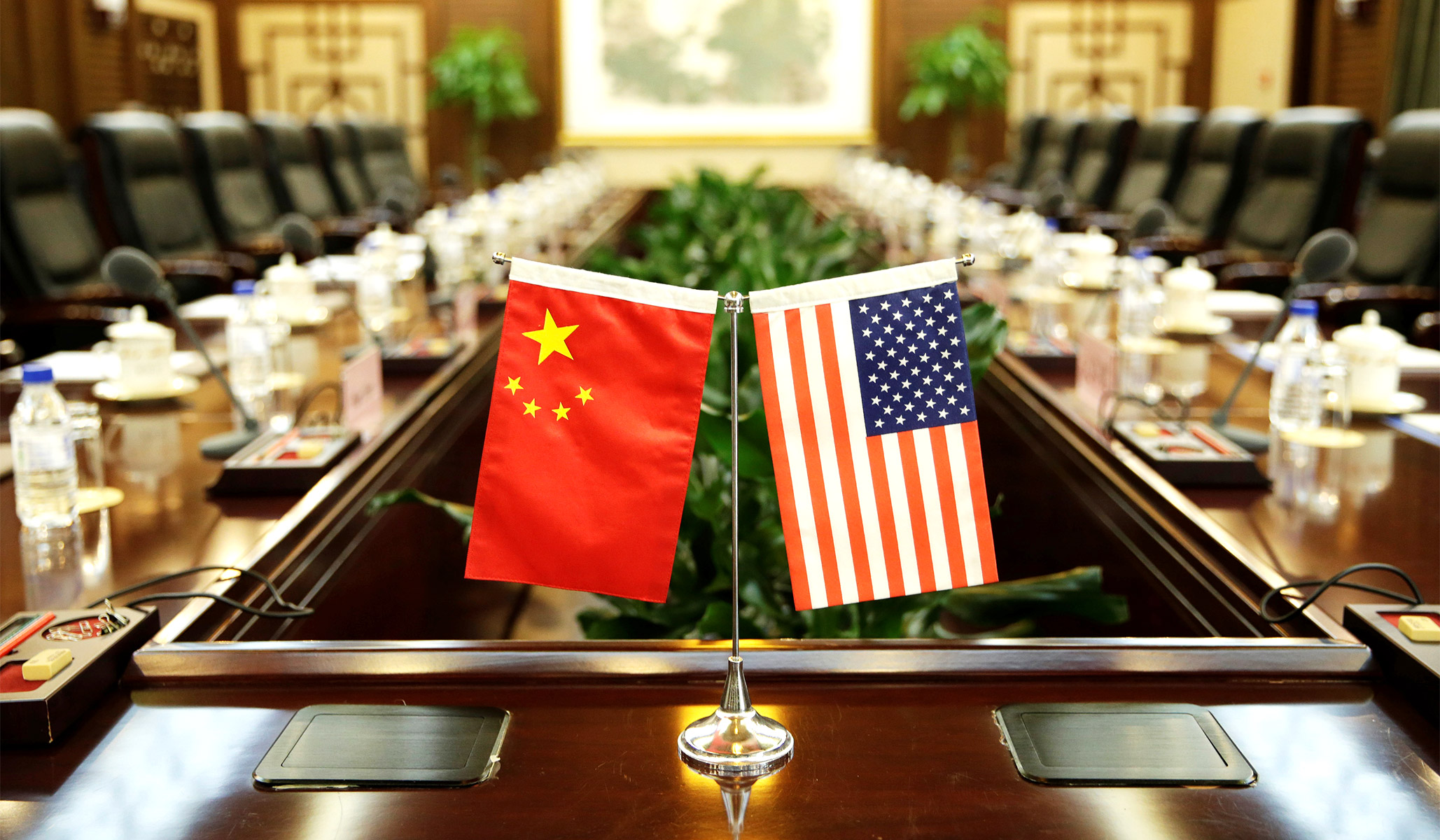 Four decades on, Beijing and Washington are more rivals than partners.
Amid the tumult of America's domestic politics, the 40th anniversary of the normalization of Sino–U.S. relations passed almost unnoticed on January 1, commemorated only in subdued comments from Washington and Beijing. The relationship, once heralded by leaders in both countries as the world's most important, is currently in flux. The atmosphere of disappointment and distrust that pervades amid a trade war between the world's two most powerful countries shows few signs of dissipating, and portends an extended period of instability that will require a fundamental rethinking of how to maintain stability in Asia and beyond.
The ties between China and the U.S. have developed dramatically since they were formed in 1979. The two countries, which once conducted almost no bilateral trade, now compose the world's biggest trading partnership, doing business worth an estimated $710 billion in 2017. Where once there were almost no people-to-people contacts between Americans and Chinese, now over 340,000 Chinese students study at American colleges and universities, and millions of Americans visit China each year. Regular high-level diplomatic meetings take place throughout the year between civilian and military officials on both sides, and hundreds of different agreements between the two countries cover everything from sister-city relations to environmental issues.
Yet as far as the relationship has come in the last 40 years, the anniversary of its birth also marks the end of its first era.
China has become not just an economic giant, but a military power and an increasingly influential diplomatic leader. President Xi Jinping has abandoned former paramount leader Deng Xiaoping's so-called hide-and-bide strategy, demanding that Beijing's views carry weight, its interests are respected, and its policies are accommodated on the world stage. In matters ranging from the South China Sea to cyberespionage, Beijing is increasingly comfortable playing by its own rules, regardless of regional or global opinion.
On the American side, years of mounting frustration with everything from China's trade practices to its propaganda operations have boiled over. Predating the Trump administration, this discontent stems from a sense that China has taken advantage of decades of U.S. policies designed to help it integrate with the rest of the world. The current trade dispute between the two nations, which is sending shock waves through global markets, has been a long time coming. For years, experts and politicians on both sides of the aisle have warned about China's unfair trading practices, its rampant theft of intellectual property, and the hollowing out of U.S. manufacturing accelerated by Chinese competition. Trump's levying of tariffs on $250 billion worth of Chinese goods seems to many to be long overdue. At the same time, from China's militarization of new man-made islands in the South China Sea to its bellicose rhetoric and influence operations inside the United States, Washington increasingly sees a major antagonist in Beijing.
The effect on Sino–U.S. relations of these conflicts is already evident. Decades of rhetoric predicting ever-deeper cooperation have quietly ended. Dreams of Beijing and Washington forming a G-2 that adjudicated major global issues have dissipated. On both sides, disenchantment and suspicion have come to characterize policymaking and diplomacy. The two countries may not yet view each other as imminent military threats, but few foresee another period of goodwill and cooperation anytime soon.
On December 31, one day before the 40th anniversary of bilateral normalization, President Trump signed into law the Asia Reassurance Initiative Act of 2018, an effort to enhance the U.S. position in the Indo-Pacific and counter China's provocations. Two days later, Trump's acting secretary of defense, Thomas Shanahan, took office with a publicly stated intention to focus on "China, China, China." All this indicates that volatility in U.S.–China relations will continue into the near future and likely beyond. Even if the current trade war cools, the structural imbalance in trade will continue, and there is justified skepticism, given Beijing's track record, that it will ever live up to promises of greater market access and cracking down on cyberespionage.
In short, the two sides view national interests now as conflicting, rather than as complementary. The result is unlikely to be an armed confrontation, but rather heightened tension and increasingly hard-nosed great-power politics. Managing Sino–U.S. relations over the next decade will require steadiness on both sides. But Washington in particular must avoid looking for quick and superficial wins that will do little to rectify China's policies, because caving in at the first promise of better behavior will only result in greater disappointment down the road.