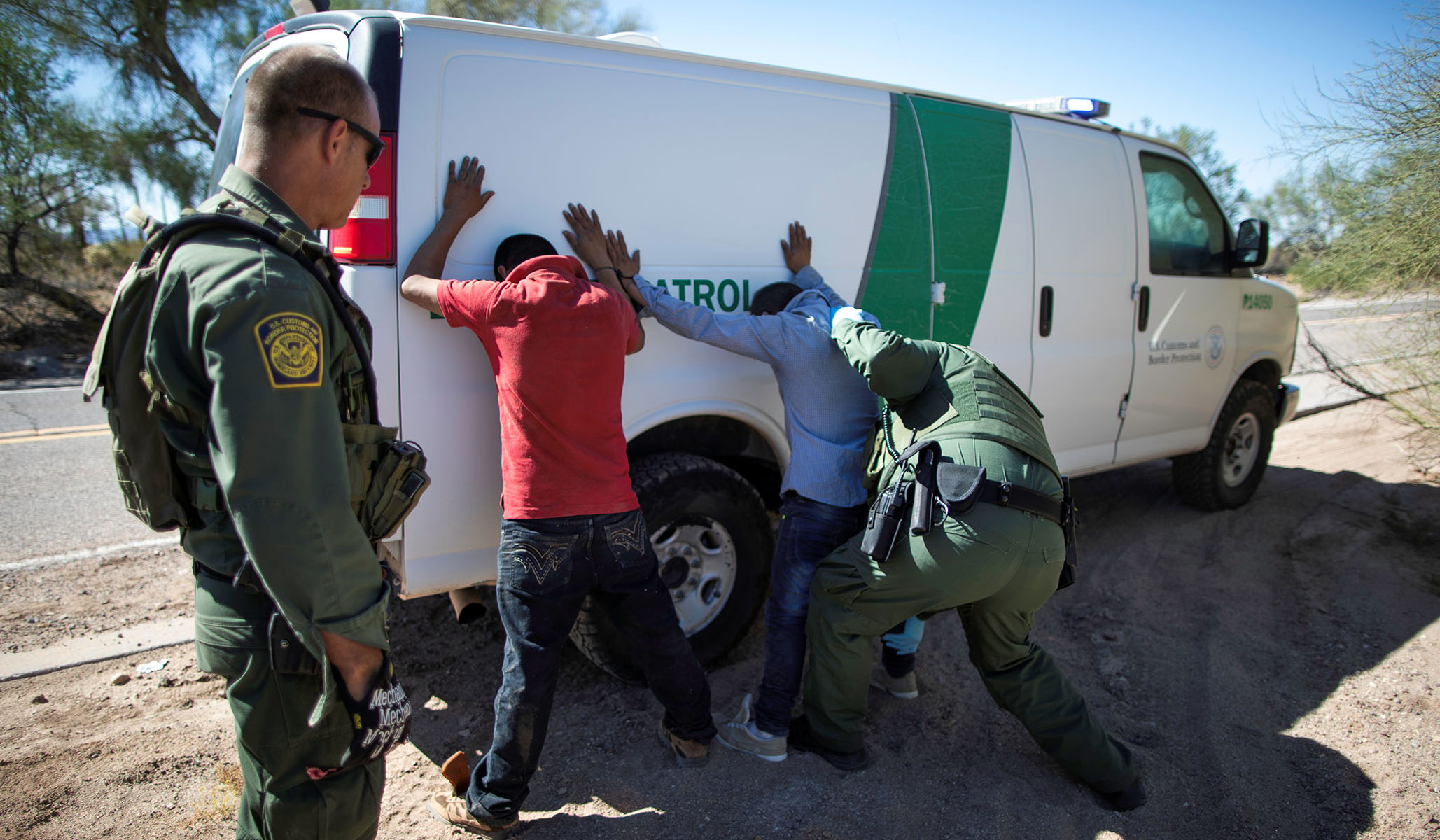 Here are some examples.
The Trump-hating media have pounded White House press secretary Sarah Huckabee Sanders for her "unfortunate misstatement" (as presidential adviser Kellyanne Conway put it) on Fox News Sunday that some 3,700 "known or suspected terrorists" were caught at the U.S.–Mexico border. In fact, these "special-interest aliens" include terrorists, people who have lived or traveled through terrorist hotbeds, and others whose whereabouts trigger closer scrutiny when entering the U.S. This number includes people apprehended on the border, but mainly at airports and other locations.
Trump's detractors have used this dustup to imply that if there are not 3,700 ISIS killers in Tijuana pole-vaulting into San Ysidro, then terrorists must be as rare there as polar bears. This echoes the words of former U.S. representative Robert Francis O'Rourke (D., Texas). He claimed last year that "precisely zero terrorists, terrorist groups, or terror plots have ever been connected with the U.S.–Mexico border to do harm to people within the United States."
PolitiFact — not exactly a far-right news organization — rejected O'Rourke's statement: "We rate this claim False."
In fact, terrorists have been caught on the southern frontier, including some who were conspiring to rustle their comrades across the border and others intent on committing mayhem against Americans. As PolitiFact explained: "It also looks to us like authorities have foiled every known plan."
Janet Napolitano, Obama's homeland-security secretary, testified on Capitol Hill in July 2012 that terrorists enter America via the southern frontier "from time to time." So, we have that going for us.
Obama himself identified this problem while he was a Democratic senator from Illinois. As he said on the Senate floor on April 3, 2006, "because we live in an age where terrorists are challenging our borders, we simply cannot allow people to pour into the United States undetected, undocumented, and unchecked."
Based on journalistic sources and unclassified government records, here are a dozen militant-Islamic terrorists snared or detected at the U.S.–Mexico border or caught trying to breach it — alone or in cahoots with others.
• Mahmoud Youssef Kourani scored a visa by bribing a Mexican diplomat in Beirut. Kourani and another Middle Easterner then secured a Mexican guide who escorted them north. Kourani entered America in a car trunk in February 2001. He eventually settled among Lebanese immigrants in Dearborn, Mich., where he raised money for Hezbollah. Kourani pleaded guilty in March 2005 to giving material support to terrorists.
• Adnan El Shukrijumah was "a green-card holder from Saudi Arabia who had lived for many years in Brooklyn and south Florida," Warren Richey explained in his exceptional article on this topic in January 15, 2017's Christian Science Monitor. Just before the September 11 attacks, Shukrijumah vanished.
The 2003 waterboarding of al-Qaeda's 9/11 mastermind, Khalid Sheik Mohammed, yielded Shukrijumah's name. American diplomats in Ciudad Juarez, Mexico, were tipped off in 2004 to "suspect Arab extremists who have been smuggled through Mexico to the United States/Mexico border," according to a declassified State Department document released to Judicial Watch. "The confidential source stated his family member, who is a human trafficker, knows the exact whereabouts of three Arabs who are currently being hidden in Agua Prieta, Sonora, Mexico," just across the border from Douglas, Ariz. One of these three, this record states, is "likely Adnan G. El Shukrijumah, alleged to be a Saudi Arabian terrorist cell leader thought to be in Mexico."
Shukrijumah evaded American authorities for eight years, although he was named in an eleven-count indictment in 2012 for plotting what would have been an attack by three suicide bombers on New York City's subways. Officials grabbed the three would-be killers before they blasted rush-hour commuters.
Shukrijumah reached the Afghan–Pakistani border, where the Pakistani military fatally shot him in a 2014 raid.
• Ahmad Muhammed Dhakane was a "guerrilla fighter and human smuggler who knowingly helped move into the U.S. several potentially dangerous Somali terrorists who he believed would commit violent acts if ordered to do so," the Texas Department of Public Safety concluded. Citing federal court documents, the Christian Science Monitor reported, "At least five of his clients were supporters or members of Al Shabab or associated Somali terror groups — and at least three of them made it into the US." (Emphasis added.)
Federal prosecutors stated in Dhakane's sentencing memorandum: "He admits that he knowingly believed he was smuggling violent jihadists into the United States." Dhakane told federal agents: "All of these individuals are ready to die for the cause."
Dhakane, a member of the Somali terrorist group Al-Ittihad Al-Islami, furnished bogus passports to his clients, bribed Brazilian immigration authorities to cooperate as his customers traversed that nation en route to the U.S., and trained them to falsify asylum claims once they reached America.
Dhakane was arrested on the border, in Brownsville, Texas, in March 2008, just across from Matamoros, Mexico. He forced one of his juvenile Somali clients to portray his wife. She "told agents that [Dhakane] kept her locked away and repeatedly raped and impregnated her prior to coming to the United States," court documents reveal. "[Dhakane] stated that it would better his asylum chances if he had a pregnant wife."
Dhakane pleaded guilty to lying on his U.S. asylum application, for which he was sentenced to ten years in prison in April 2011.
• Abdullah Omar Fidse walked across a bridge over the Rio Grande, from Reynosa, Mexico, to Hidalgo, Texas, in June 2008. He requested asylum, claiming to be a Somali refugee. While in custody for years as federal officials weighed his case, Fidse told another detainee that he supported al-Qaeda and al-Shabab. His cell-phone memory card included the telephone number of Mohamed Suleiman, subsequently arrested for aiding a 2010 al-Shabab suicide-bomb attack in Kampala, Uganda, which killed 70 soccer fans.
Fidse eventually admitted to an undercover informant: "We are terrorists." As Todd Bensman of the Center for Immigration Studies reports, Fidse "believed all good Muslims must commit two acts of jihad a year."
U.S. officials scotched Fidse's asylum claim, prosecuted him for lying to federal agents, and sent him to prison for eight years.
• Anthony Joseph Tracy (a.k.a. Yusuf Noor) was convicted on June 4, 2010, of conspiring to smuggle aliens into the U.S. Tracy told federal investigators that Cuban diplomats used his travel agency in Nairobi, Kenya — Noor Services Ltd. — to transfer 272 Somalis from Kenya to Dubai to Moscow and then to Havana. From there, they traveled to Belize, transited Mexico, and then trespassed into America. One U.S. prosecutor complained that officials had "no idea who these individuals are that he assisted." Tracy pleaded guilty to one count of conspiracy to smuggle non-citizens into the U.S.
Tracy, an American citizen who became a Muslim in prison in the 1990s, denied that he helped al-Shabab. But officials discovered an e-mail in which he casually wrote: "i helped a lot of Somalis and most are good but there are some who are bad and i leave them to ALLAH . . ."
• Said Jaziri was in a car trunk trying to enter the U.S. near San Diego when federal officers discovered him on January 11, 2011. Said said that he had traveled from his native Tunisia to Tijuana. He then paid coyotes $5,000 to whisk him north across the southern frontier. France previously had convicted and deported Jaziri for assaulting a Muslim whom Said found insufficiently devout. In 2006, Jaziri had advocated killing Danish cartoonist Kurt Westergaard for creating what Jaziri considered blasphemous drawings of the Prophet Mohammed.
• Four unidentified male members of the Kurdish Workers' Party were arrested by Border Patrol agents in 2014. Washington has designated KWP as a terrorist group. Each of these men reportedly paid $8,000 to be trafficked from Istanbul to Paris to Mexico City and then on to America's southern perimeter.
• Mukhtar Ahmad and Muhammad Azeem of Gujarat, Pakistan, were caught by Border Patrol agents just north of Tijuana in September 2015. The Washington Times reported that databases tied Ahmad to a suspected or confirmed terrorist. An unnamed foreign intelligence agency warned U.S. officials about Azeem as he headed towards this country. According to the Center for Immigration Studies, "both migrants were on U.S. terrorism watch lists."
• Sharafat Ali Khan, a Brazil-based Pakistani human smuggler, was convicted in the U.S. in 2017 of sneaking between 25 and 99 illegals from Bangladesh, Pakistan, and Afghanistan into the U.S. They traveled on foot from Brazil through Peru, Ecuador, Colombia, Panama, Costa Rica, Nicaragua, El Salvador, Guatemala, and Mexico before breaking into America via Texas and California. Khan's clients included, the Washington Times reported, an Afghan "who authorities said was involved in a plot to conduct an attack in the U.S. or Canada and had family ties to members of the Taliban."
Remember: Everyone in this article got caught. How many others successfully penetrated America and have eluded U.S. officials? Where are they? What's up their sleeves? Nobody knows.
Trump's foes laugh this off. Since no terrorist attack has been tied to anyone who successfully breached the border, then obviously this concern is just populist paranoia. However, terrorists who stealthily crossed the border could be raising money for homicidal groups, radicalizing mellow Muslims at mosques, or simply lying low until someone rings and cryptically whispers: "Give our friends their surprise birthday cake."
The borderphobic Left also shrugs this off as "only" a dozen terrorists. What is the correct number of terrorists who should be free to waltz in without permission? Recall the carnage that 19 terrorists wrought not long ago. But it took only one Muslim terrorist to shoot 14 innocents to death and wound 22 others in San Bernardino, Calif., in December 2015. Only one such lone rat murdered 49 and maimed 53 at Pulse, an Orlando, Fla., nightclub, in June 2016. Only one Islamic extremist used a rented truck to mow down eight and injure twelve more on Manhattan's West Side Highway in October 2017. Why let even one terrorist skip across the southern frontier, perhaps to follow in these blood-soaked footsteps?
Also, if, God forbid, a deadly attack ever were tied to one or more terrorists who entered America via the U.S.–Mexico border, President Trump's tormentors would flip 180 degrees more deftly than Olympic gymnasts. "Impeach Trump!" they would holler, spittle flying from their lips. "He never built the wall he promised, and now, scores of Americans are dead. Impeach him!"