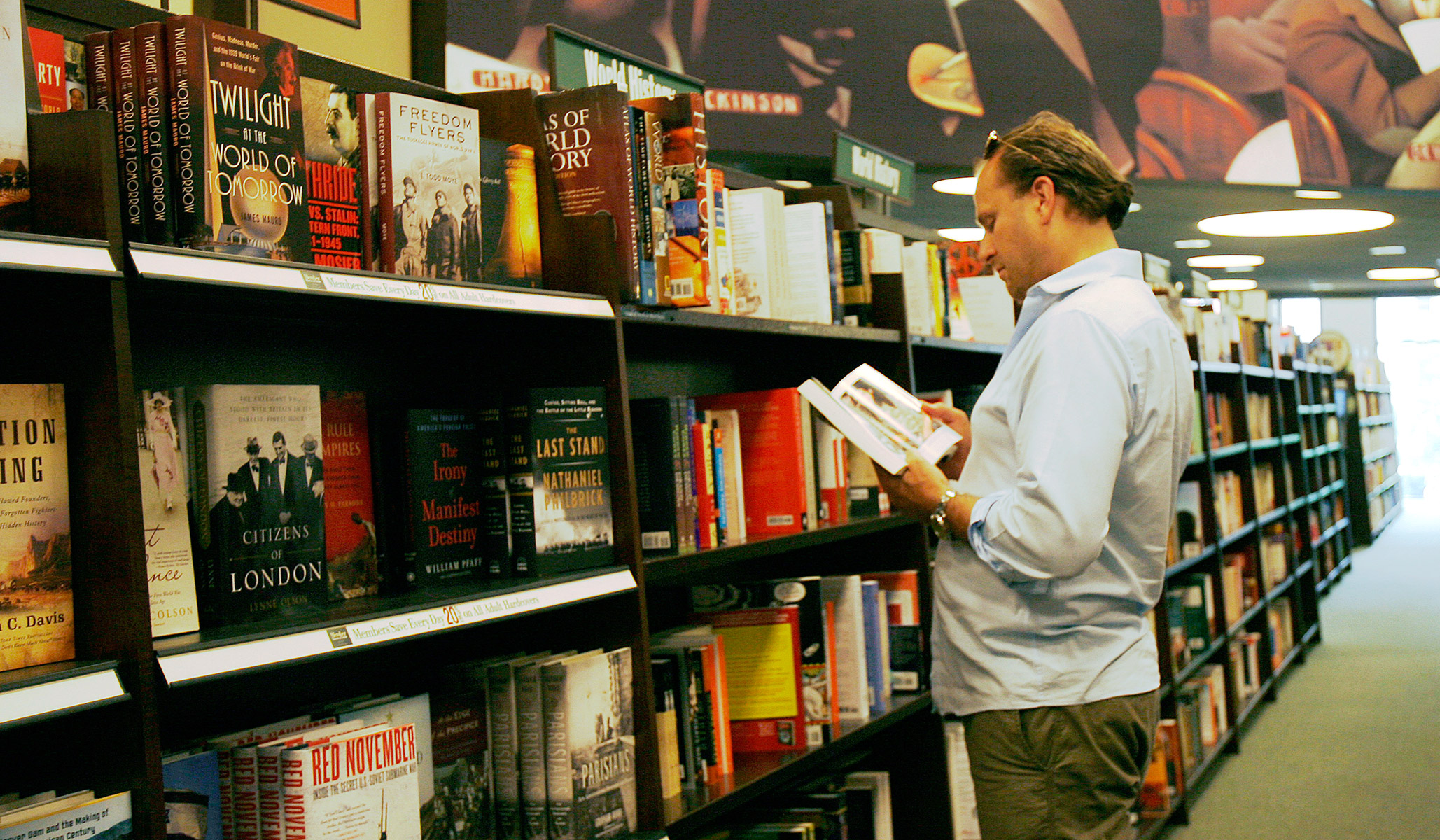 Book covers aren't what they used to be
Every weekday morning, I commute from Brooklyn to midtown Manhattan in subway cars so packed that any movement could mean accidentally getting to second base with a stranger. Standing so uncomfortably close to other New Yorkers gives your eyes few places to look beyond your phone screen. Sitting commuters, the enviable few, have options: They can join the standing multitude and bury their faces in the blue glow of their phones, which most do. Or they can read.
I try to avoid burying my face in my phone at 8 a.m. So I've instead developed a very bad staring habit, one that would be more acceptable outside of slightly misanthropic New York City. It's the reading passengers that fascinate me the most. Discerning their book choices can be a real challenge; the covers always face the floor, forcing me to adjust my line of vision with every subtle movement to catch a glimpse of what they're holding. The task isn't too difficult, though, outside of my initial fear that I'll be caught staring.
My habit is possible because of effective marketing. Today's book covers are like billboard ads — the title is usually in large, noticeable letters, and most of today's books will also prominently feature their most notable achievements, such as "New York Times Bestseller." Sometimes, books will have the author's face on the cover, sparing me the eye strain of searching for a name.
Big block letters and eye-catching cover illustrations have familiarized me with the literary zeitgeist of New York's subways — mostly defined by business books and contemporary fiction. But those ostentatious covers exist above ground too, in New York's bookstores and libraries.
The normally subdued mystique of bookstores and libraries tends not to extend to their new-release sections, each one vying for attention with wild promises emblazoned across covers like a presidential sex scandal on a tabloid. At one Barnes & Noble in Manhattan, an entire section of the first floor is reserved for autographed copies of recent releases, without the physical presence of the author which could justify the sentimental significance of a signed copy. Here, too, books display their accolades, especially the holy grail of "New York Times Bestseller," in whatever margin is left unoccupied by the title and author's name, and if there's any room remaining, a pithy quote (not necessarily a proper sentence) from a book reviewer at a corporate media outlet.
Despite all the garish covers, bookstores attempt to retain their quaint character and domestic coziness by installing walnut- and mahogany-colored bookshelves and decor, while many libraries have to make do with sterile metal scaffolding for shelves. The hyperactive assembly of disparate covers that line library walls does not lend itself to the subtle majesty so many readers want to associate with book repositories. When Mika Brzezenski's headshot is staring you down from behind the title KNOW YOUR VALUE, a "SIGNED COPY" sticker, the tagline "A rallying cry for women to get the money they deserve,"  "The ATLANTIC.COM" and "New York Times Bestseller" headlining it all, it's hard to focus on much else.
It's become difficult to not judge a book by its cover — after all, many of these covers feature judgements. If a book cover is a first date, then today's style of covers is one of those garrulous types that overload you with an excess of details about their existence, preening with self-regard, and then invites themselves over after dinner. They're just trying too hard to impress.
Barnes & Noble, to its credit, takes a subtler approach to book marketing. During my last visit, I spotted a secluded table by the elevator, stacked with books illustrated in gold, and instead of being paperback or hardback with a paper dust cover, they were a gem-colored leather. "Barnes & Noble's Exclusive" was the only marketing detail. On one of the books, in the middle of a geometric floral Islamic-art-inspired circle, was the title The Arabian Nights, and below read "Translated by Sir Richard F. Burton." That was all it needed.
Libraries and bookstores allow us a degree of continuity with yesterday's literati, especially if they supply enough volumes that forgo the marketing clutter so common today. Strand Book Store in Manhattan has a section of the now-rare specimens that "Barnes & Noble Exclusive" editions try to evoke, with gold-designed spines, ribbon bookmarks slightly draped over the ledge, and jewel-colored leather covers. Although each differs from its neighbor, there's a visual coherence to these old books that new releases can achieve only by accident. Many libraries have these relics on reserve, restricted to on-site access only.
The distinguished-yet-subtle covers are the stuff of cinematic library scenes — from Breakfast at Tiffany's to Se7en. Deference to materials that haven't been mass-produced, and that often require a steady hand and an attentive eye, make libraries and bookstores museums full of art we can touch and, better yet, read. Are those gilded leather spines that line our most marvelous library and bookstore shelves just a souvenir of the past? Are we doomed to see nothing but celebrity faces, "SIGNED COPY" stickers, and book-review pull quotes on modern book covers?
A few companies specialize in recreating the aesthetic of old books, and Gryphon Editions is one of them. CEO Dasha Stein and her husband Jeff tell me that most leather-bound-book companies are gone. Gryphon Editions has been trying to keep in circulation not only the classic texts that they print, but the beauty of the book covers that used to line bookshelves and that are slowly becoming extinct.
Based in Omaha, Neb., today, Gryphon Editions has been in operation since 1975. It was founded to produce leather-bound editions for lawyers and doctors, collected into a "Classics of Medicine" and a "Legal Classics Library" series. After the success of these collections, they branched out to create "libraries" for other subjects, including psychiatry and dentistry, and in 1980, Alan Dershowitz was appointed chairman of the editorial advisory board, where he wrote special introductions for the legal-profession collection. In 1990, Gryphon began developing their "Classics of Liberty Library" which included texts such as Common Sense and The Rights of Man, by Thomas Paine. Their newer collections include the "Conservative Tradition Library," which is prominently featured in the pages of National Review, and include everything from Socialism,by Ludwig Von Mises, to the more recent Scalia's Court: A Legacy of Landmark Opinions and Dissents.
Each book is made in the United States, with all the features of a book from the past: the deep color, the ribbon bookmark, and a design specific to each book. They even include the hubs on the spine — the raised portions covering the threads that keep the book bound, commonly used until the 1850s. Today, Gryphon includes the hubs for aesthetic purposes rather than function.
"We want to replicate how the books looked hundreds of years ago, which included that detail," Dasha tells me.
While Gryphon has a "Conservative Tradition Library," it's nonpartisan and has produced books ranging from late Justice Antonin Scalia's opinions to Justice Ruth Bader Ginsberg's book My Own Words. What's most important to Gryphon, Jeff says, is keeping the classics and thoughts of the past with us.
"We try to bring the thoughts of the past back, and keep it alive and in circulation," he says. "The books make you feel connected to the past, and keeping these books alive can allow us to have greater discourse."
Gryphon takes pride in the quality of its products, and it's critical that its books mimic the books of the past as closely as possible — this means cutting no corners, and using quality material throughout the lengthy process of creating the books, which often takes a minimum of two to three months. Jeff's responsibility is choosing the titles that'll be published. After selecting the title, the book is scanned and sent to a bindery in Tennessee, where decorative end papers are applied to replicate feel of an old-world edition. The pages are sewn together using the Smyth sewing method, the highest-quality book binding available today. Designers then analyze the personality of the text in order to decide the color of leather and the design that will be stamped in copper and bronze. The page edges are even gilded to help seal out humidity, and to signal the luxury of an important edition.
From choosing the title to shrink-wrapping the book and preparing it for delivery, masters of the art of bookmaking design their products to ensure that each one will survive long enough to be inherited, or will be sentimental enough to be gifted.
"These books are meant to be special," Jeff says.
There's so many books and options today, but books used to have to be special to be published, and at this point, we're trying to harken back to an earlier time, to how books looked when they were special. We hope that when people see beautiful books like these, they'll want to pick them up and read them.
The thousands of books in the world today are circulating in a competitive market, where "special" items don't always stand out. Many readers have surrendered physical books for digital Kindle pages. In some cases, as with many of today's books, it's not what's on the outside that matters to consumers.
When it comes to the bookshelves of the future, maybe we should be a little more vain.
There's nothing wrong with shrewd marketing. It's why we're drawn to KNOW YOUR VALUE and other books with celebrity faces plastered on their covers. But "special" is a loaded word — not everything can be special. Few publishers are selling leather-bound books, because "special" is expensive. But "special" is also worth preserving and maintaining.
Jeff noted to me that he doesn't know where the culture is going, or whether books like the kind Gryphon creates will become more appealing one day. Dasha remarked on Costco's inventory of leather books, which appear old-worldly but are made with imitation leather, similar to those sold at Barnes & Noble. The options for beautiful books are few and far between, and we're often restricted to classic titles since recent books rarely come available in old-fashioned binding. But we should consider the libraries of our future, both personal and public. Will they be overtaken by highway-billboard-style advertisements on covers? Will traditional libraries be mere tourist attractions and screen sets?
I don't believe that's a future we should accept, after the impressively long run that books have had as gifts, records, and objects that hold our emotional attachment in no small part because of their aesthetic qualities. The book is more than just its contents — it's an artistic tradition, and it's one worth keeping alive.
Something to Consider
If you enjoyed this article, we have a proposition for you: Join NRPLUS. Members get all of our content on the site including the digital magazine and archives, no paywalls or content meters, an advertising-minimal experience, and unique access to our writers and editors (through conference calls, social media groups, and more). And importantly, NRPLUS members help keep NR going.
If you enjoyed this article and want to see more premium content like this, we have a proposition for you:
Join 

NRPLUS

.