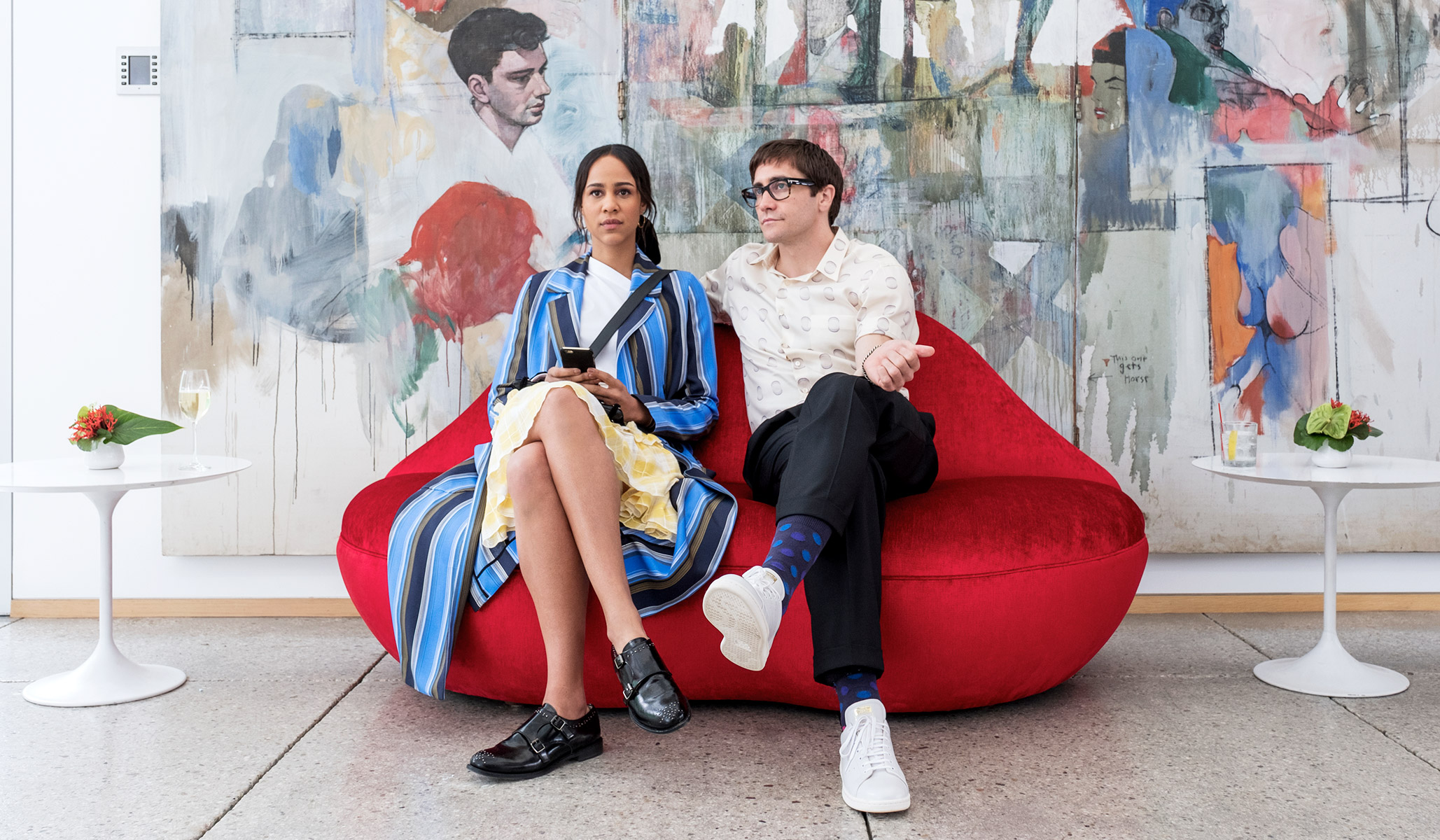 A parody of the contemporary art world is less absurd than the real thing.
As it is no longer 1987, you tend not to come across many goofy Stephen King movies about people being terrorized by inanimate objects anymore. If such a script made its way to the Hollywood studios, it'd be unlikely to attract Oscar-level talent such as Jake Gyllenhaal, John Malkovich, and cinematographer Robert Elswit. So why are all three of these people participants in the new Netflix movie Velvet Buzzsaw, a cheesy thriller about vengeful paintings coming alive and murdering people who exploit the dead artist who painted them? I have a theory.
Velvet Buzzsaw is on the surface a satire about the silliness of the contemporary art world, but that realm is pretty much beyond the reach of parody. Only news writers can adequately capture the comedic content of today's art. What 21st-century Swift or Voltaire could compete with the following 2001 news item from the New York Times: "An installation that the popular and pricey British artist Damien Hirst assembled in the window of a Mayfair gallery on Tuesday was dismantled and discarded the same night by a cleaning man who said he thought it was garbage."
In Velvet Buzzsaw, which is about a scramble to capitalize on a cache of brilliant paintings that comes up for grabs when the artist who made them commits suicide, we know the art world is ridiculous because characters have names like Rhodora Haze and John Dondon and Vetril Dease. Under a dubious haircut, Gyllenhaal plays Morf Vandwelt, a supercilious, mean-spirited, and pretentious critic. (Is there any other kind?) Morf is a fey tyrant whose judgments can break a man or enthrone him. Rene Russo plays Rhodora, the dealer who once had integrity when she was a member of a punk band named Velvet Buzzsaw but today cynically sells image and perception to plutocrats who are too shallow to have any taste, so they hire ex-curators like Gretchen (Toni Collette) as "advisers" to tell them what to spend their millions on.
This sketch of the art world feels true enough, but so what? Contemporary art long ago shrank itself down to the size of a softball, and a softball is pretty easy to hit. A softball that insists it is edgy is just pathetic.
Dan Gilroy, the writer-director of this movie, previously worked with Gyllenhaal on the devilish and piercing satire of TV-news video-gathering techniques in 2014's Nightcrawler, which ventured far deeper into its subject than his new effort. (Russo is his wife and Tony Gilroy, who wrote or co-wrote four Bourne movies, is his brother.)
Given that the horror-thriller stuff is cheesy — "Something goddamn strange is going on!" Morf exclaims — and the jibes at the art world are a yawn, the essence of the movie is its broadside on critics. Hollywood people are at pains to inform us that they don't read and don't care about reviews, and yet they seem, today as always, to have an awful lot of critiques to make about our critiques, which they totally don't read. We're mean! We're unfair!
It's true, critics can be insufferable. But with few exceptions we tend to be enthusiasts and nerds, not swaggering assassins in expensive suits. (Morf wears his over an immaculate white shirt buttoned all the way to the top.) Far from enjoying earth-shaking power — "In our world you are God!" Rhodora tells him — we don't matter very much. Yet some Hollywood types keep blaming the weatherman for the rain. Just last fall, zillionaire TV writer Dan Fogelman of This Is Us blamed critics when his movie Life Itself flopped, despite enjoying the promotional resources of its distributor, Amazon.com, saying, "There's a disconnect between something that is happening between our primarily white male critics who don't like anything that has any emotion. . . . Something's happened with these 10 people who kind of speak in this 'group speak' and say [my work is] 'emotionally manipulative' every time." Could be. Or maybe it was just a bad movie.
Gilroy imagines that a critic would be beset by guilt and panic if you locked him in a room and forced him to listen to himself repeating all of the nastiest comments he's ever written. Me, I'd just laugh. Why people who live in Malibu and have personal assistants to fetch their flat whites give a toss about my opinions is beyond me. And I'd do better listening to my own words than Gilroy would if you locked him in a room and forced him to endure the worst lines of dialogue from this movie: "Something goddamn strange is going on!"
Something to Consider
If you enjoyed this article, we have a proposition for you: Join NRPLUS. Members get all of our content (including the magazine), no paywalls or content meters, an advertising-minimal experience, and unique access to our writers and editors (through conference calls, social media groups, and more). And importantly, NRPLUS members help keep NR going.
If you enjoyed this article and want to see more content like this, we have a proposition for you: 
Join NRPLUS.