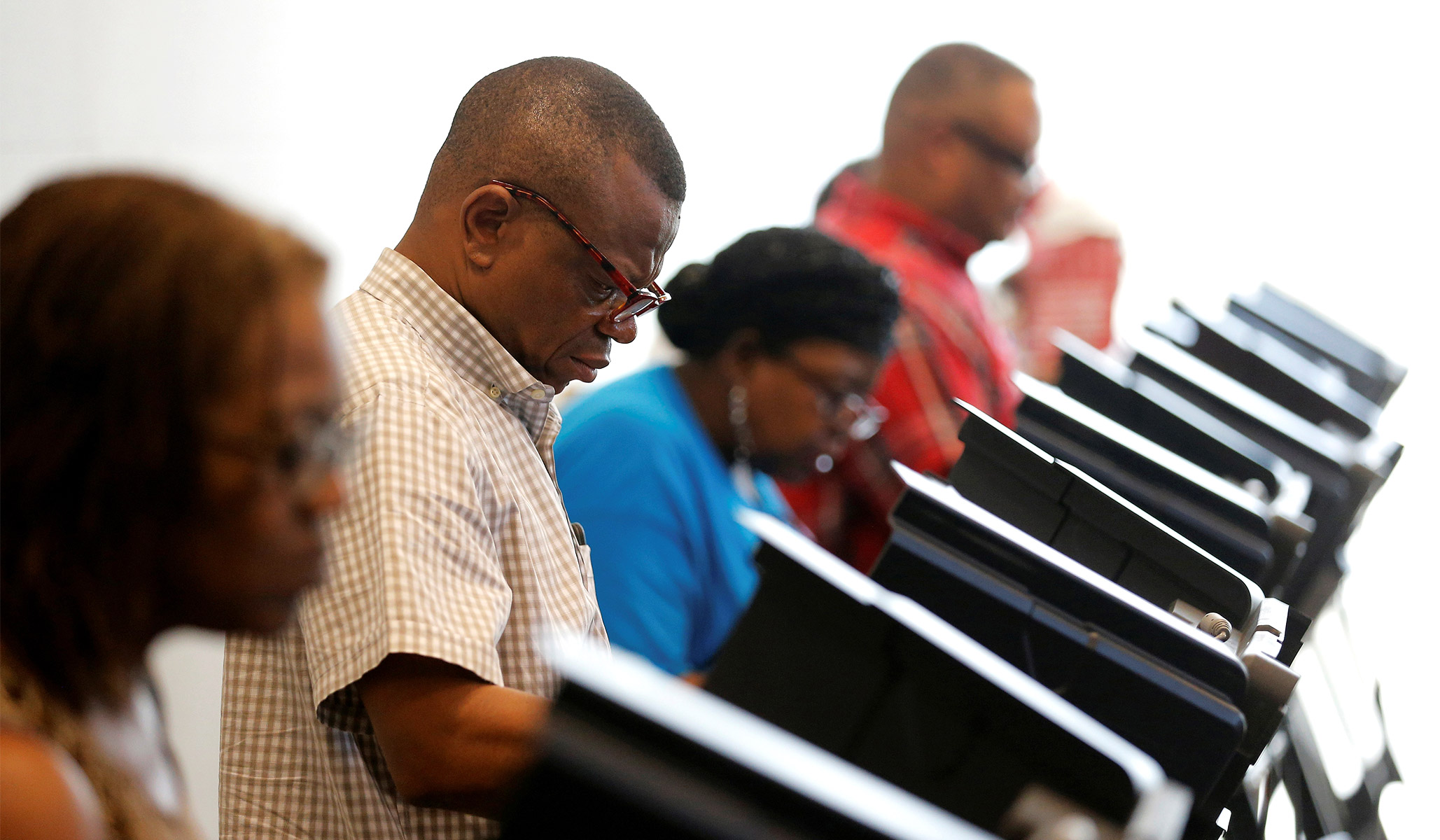 The road to 2020 should run through diverse communities.
For many in the Republican party, the political imperative in 2020 is to claw back support among the moderate white women who have fled the party in droves, especially in America's suburbs, apparently because of the president's caustic style and divisive tone. But the GOP path to victory in 2020 may run through minority communities that have been neglected for too long.
While 2016 was by no means a sea change as far as our ability to connect with non-white voters, there were shoots of progress that have since been buried by the media narrative of "Trump and hate." Despite endless accusations of racism and countless other sins, Trump actually improved on vote counts in Latino, black, and Asian-American communities in comparison with Romney's 2012 numbers. Trump's improvement in the black community is not surprising, considering that Romney was attempting to unseat our first black president; what is worth remembering is that despite endless accusations of racism, Trump did better among Latino and Asian-American voters as well.
Further, black men represent the only major demographic of voters who have become more favorable to Trump since his inauguration. That is a remarkable statistic and one that his reelection team should take to the bank.
This is because black voters represent over 20 percent of the electorate in Virginia, North Carolina, and Georgia, and 10 to 15 percent of voters in Pennsylvania, Florida, Ohio, and Michigan. Raise support among black voters from the paltry results the GOP has accepted as normal (around 10 percent) to just 20 percent, and a Republican candidate adds one to two percentage points to his vote totals in these crucial swing states.
How to earn these votes? Start with the roaring Trump economy, but don't end there.
While the Democratic cognoscenti rolls their eyes, the manufacturing rebound, historically low unemployment, and rise in pay for blue-collar workers should not be so easily dismissed by those who claim to represent the interests of racial minorities. This is no meandering Obama recovery. Trump promised results, and he has delivered for many working families, disproportionately made up of black and Hispanic Americans.
The president understands the appeal of the economic recovery for working people, though he would do well to come back to places like Philadelphia and deliver the message directly to voters.
What seems to be lost on Republicans, though, is just how much daylight the Democrats — steered by a cadre of privileged, rudderless, and underemployed Twitter activists — have put between themselves and working people of color on issues beyond economics.
From their bending over backwards to protect illegal immigrants convicted of crimes, to their support for teachers unions at the expense of urban schoolchildren, to their scorn directed at religious Americans, to a law-enforcement policy of "disarm the police" that doesn't quite work if you happen to live in a high-crime area, the progressive base has veered far off the reservation from many socially moderate people of color.
Think Trump's rhetoric is alienating? Spare a thought for the scores of Venezuelan and Nicaraguan refugees who have escaped socialist kleptocracies just as the American Left races to embrace socialism. Latino voters may also be interested to hear about the smears against Catholic judicial nominees that have become a common feature among Senate Democrats. Is the GOP amplifying this message to these voters, in two languages?
Even the Kavanaugh hearings, so electrifying for many well-to-do feminists, had unexpected consequences that GOP strategists would do well to note; the Senate Democrats' insistence that we "believe all women" alienated many black voters angered by the idea of judging someone guilty until proven innocent, as progressive journalist Jemele Hill was shocked to learn in Baltimore: "I expected to hear frustration that the sexual-assault allegations against him had failed to derail [him]. . . . Instead, I encountered sympathy."
Asian Americans, our nation's fastest-growing demographic, represent an incredible swathe of cultures, religions, and ethnicities, but almost uniformly face systemic bias in elite college admissions — the ticket to success in American life. The Trump administration has challenged a system that penalizes the child of poor Vietnamese immigrants relative to the child of rich Nigerian ones, but are administration officials working in Asian communities to take credit where it's due?
Luckily, there is one remarkable case for successful minority engagement from this past election. In 2018, the GOP managed to expand its Senate majority by convincing voters to throw out incumbent Democrats in mostly white, rural "flyover" states — North Dakota, Missouri, and Indiana — with one outlier.
Diverse, coastal, and economically vibrant, Florida also had a Republican candidate who was hyperactive in courting Hispanic voters. While serving as governor, Rick Scott went so far as to teach himself Spanish, as well as to visit hurricane-struck Puerto Rico scores of times, in his efforts to earn the votes of his Latino constituents. He ran circles around his Democratic opponent, earning a narrow win for his efforts.
The GOP will need much more of this type of engagement where the party has historically neglected to go. Discussions outside of "friendly territory," like those between Rand Paul and Howard University students, are tough. But politics requires toughness. The lines of communication must be open well before we ask for anyone's vote.
The Republicans facing tough 2020 campaigns in states and districts with a significant share of minority voters — newly appointed Arizona senator Martha McSally comes to mind — should be building deep lines of communication in minority communities.
Republicans must also establish that we are eager to build a movement that is as diverse as our nation, by running candidates who look and sound a bit different from our standard fare — in solidly conservative seats, and not just marginal ones.
And those formerly Republican white women and the Millennial voters whose support for the GOP is cratering? Many will come back to the fold if we can take the wind out of the sails of the most potent smear leveled against us: that we are a party of bigots. With a sustained effort to engage with more minorities and elevate great candidates, we will be welcoming these voters back, too.
In 2020 and beyond, the easiest path to victory will be a totally uncharted one. There is too much at stake not to take it.
Something to Consider
If you enjoyed this article, we have a proposition for you: Join NRPLUS. Members get all of our content on the site including the digital magazine and archives, no paywalls or content meters, an advertising-minimal experience, and unique access to our writers and editors (through conference calls, social media groups, and more). And importantly, NRPLUS members help keep NR going.
If you enjoyed this article and want to see more premium content like this, we have a proposition for you:
Join 

NRPLUS

.