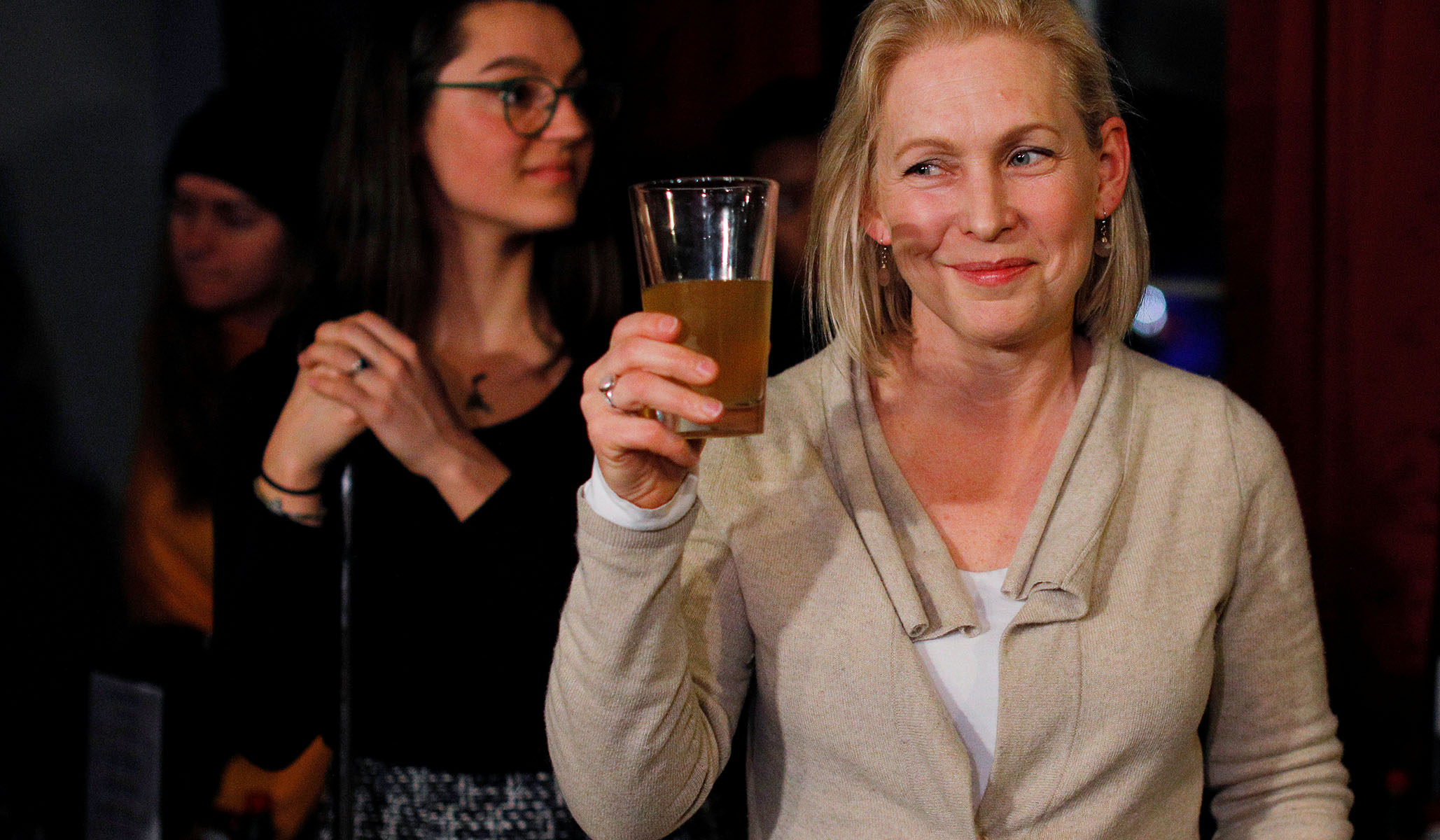 Defending Big Tobacco, keeping rifles under her bed, studying with Jeanine Pirro, and having Edie Falco play her grandmother.
1. Kirsten Gillibrand's maternal grandmother was Polly Noonan, who became the longtime trusted aide of Erastus Corning II, Albany's "mayor for life" from 1942 to 1983. Former New York governor Mario Cuomo once characterized their relationship this way: "Corning was the de facto leader. Polly was the leader." Cuomo had Noonan organize events for his 1982 gubernatorial campaign and served as vice chairwoman of the Democratic State Committee during Cuomo's three terms as governor. "Mayor Corning's most influential confidante, Noonan handled patronage and political campaigns, handing out jobs that were the lifeblood of the old Democratic machine," the Albany Times Union wrote in 2001. The Sopranos star Edie Falco played Noonan in last year's off-Broadway play The True.
As Gillibrand put it in her 2014 autobiography, Off the Sidelines: Raise Your Voice, Change the World, "the mayor was simply part of our family."
Polly Noonan's daughter Penny, Kirsten's mother, married Doug Rutnick, a longtime Albany lobbyist who worked for cigarette maker Altria and Knicks owner Cablevision, and who was close to former governor George Pataki. The pair founded a law firm together and divorced when the senator was 22. Rutnick also briefly did legal and lobbying work for the organization "Nxivm," although there is no indication he or his daughter had any idea they were a notorious sex cult.
2. In a 2013 interview, when asked what she wanted her political legacy to be, Gillibrand answered, "That I was a champion for those who don't have fancy lobbyists in Washington, for the people who feel they're voiceless in government."
3. Gillibrand went to high school at the prestigious Emma Willard School in Troy, arguably the most prestigious private high school in New York. In 1984 she enrolled at Dartmouth; she spent the summer of 1986 at Beijing Normal University in China and the fall semester at Tunghai University in Taiwan.
After Dartmouth she attended UCLA Law School and spent a summer interning in the Albany office of then-senator Al D'Amato. She was also selected for internships at the U.S. Attorney's Office for the Southern District of New York and at the offices of United Nations Crime Prevention in Vienna, Austria.
In her book, Gillibrand describes her childhood as "the stereotypical 1970s middle-class experience — cul de sac, family dinners." The Washington Post described Gillibrand's upbringing as that of a "middle-class Roman Catholic Albany schoolgirl."
4. Immediately after law school, Gillibrand moved to Manhattan to take a job as an associate at the law firm of Davis Polk & Wardwell, a firm whose past associates include former senator John Danforth, Federal Reserve chairman Jerome Powell, and former president Grover Cleveland.
She worked at the firm for nine years, and the New York Times reported that she "was involved in some of the most sensitive matters related to the defense of the tobacco giant Philip Morris as it confronted pivotal legal battles beginning in the mid-1990s." Documents uncovered by the newspaper indicated Gillibrand helped the company with public-relations questions as well as legal matters: "In 1998, for example, Roger G. Whidden, Philip Morris's vice president for worldwide regulatory affairs, wrote Ms. Gillibrand a letter along with a draft document containing proposed responses to possible questions from reporters about nitrosamines, a cancer-causing agent in cigarettes."
Gillibrand declined to answer questions about her work at the firm, citing attorney–client privilege. In 1995, her hourly rate for legal work was $305 per hour.
5. In 1992, during her time with Davis Polk, Gillibrand was selected for a prestigious clerkship with appeals-court judge Roger Miner. "Because the position was so coveted, and Gillibrand had not finished in the top 10 percent of her law class, it was assumed that she received the position based on her father's D'Amato connections," New York magazine wrote.
6. In 2000 she ran into Andrew Cuomo — Bill Clinton's HUD secretary and the son of the former governor — at a Democratic fundraiser and said she wanted to get into public service. She writes in her autobiography that she told Cuomo, "Mr. Secretary, I loved your speech. I agreed with everything you said. But I have to tell you, it's not so easy. I've been trying to break into a career in public service for a couple of years now, and I cannot get my foot in the door. Not at the U.S. attorney's office, not on Hillary's campaign. I'm hardworking, well educated . . . and I can't break in. It really seems to me that it's an insider's game."
(It is worth recalling that Gillibrand's grandmother and Cuomo's father had been close political allies.)
Gillibrand writes that after one interview in Cuomo's office, he said, "I'll make you special counsel. I'll pay you the highest salary that I can under the federal rules." Her work with HUD lasted about seven months, as the Bush administration took over in 2001.
According to New York magazine, "Gillibrand returned to corporate law, becoming a $500,000-a-year partner at Boies, Schiller & Flexner, working with star Democratic litigator David Boies. She also began raising money for New York Democratic heavyweights like Hillary Clinton and Eliot Spitzer."
7. In 2003, a brief item in The New York Times painted Gillibrand as a bit less than fully honest while interacting with Ambassador Carol Moseley Braun, whose Senate career had ended the previous decade with controversy over her public defense of dictator Sani Abacha, but who was launching a longshot bid for president:
"I'm so glad you're running — I think it's a statement in itself," Kirsten Gillibrand, 35, a partner at a law firm, told Ambassador Moseley Braun at a Women's Campaign Fund dinner this week in New York. "I don't think she has a chance to win," she whispered later, admitting that she would probably pick another name in the primary. "I'll probably fund-raise for someone else, but I'll still give her a check."
8. She contemplated running for Congress in 2004, but Hillary Clinton talked her out of it. Gillibrand describes a phone call with Hillary in the winter of that year: "When I hung up, I knew that she thought I should wait. A race in 2004 was premature and most likely unwinnable. Eventually, [Gillibrand's husband] Jonathan and I agreed that Hillary's instincts were right."
9. Speaking of Jonathan, he founded a venture-capital firm, Venture Capital Partners. Despite the glamorous and lucrative image of venture-capital firms, the income and capital gains from the firm were fairly modest as Kirsten Gillibrand's career in the House of Representatives began. Jonathan Gillibrand's net business income was $20,390 in 2005, his business income and a reported capital gain totaled $48,535 in 2006, and his business income was $13,755 and capital gains were $40,255 in 2007.
10. In 2004 Gillibrand attended a candidate-training event run by the Women's Campaign Fund, where one of her classmates was former Westchester County district attorney Jeanine Pirro, who would later run for U.S. Senate and state attorney general and is now a Fox News Channel host and ardent defender of Donald Trump. Gillibrand wrote, "She famously lost page ten of her announcement speech and took a full thirty seconds to regain her composure, and although I didn't support her candidacy, my heart was right there with her. [She] lost but [wasn't] broken by it, and that also felt instructive. I still feared how painful and embarrassing it would be to campaign and lose."
11. In 2006, Gillibrand ran for the House of Representatives against Republican John Sweeney. That year, Democrats picked up 32 seats and the majority, driven in large part by opposition to the Iraq War, the aftermath of Hurricane Katrina, and various scandals. On November 1, the Sweeney campaign was rocked when the Albany Times Union and New York Daily News reported that Sweeney had allegedly grabbed his wife by the neck during a dispute the previous December. Sweeney denied it, and his wife issued a statement declaring that "at no time has John hurt me or done anything other than try to protect me. There were never any injuries to me." (One year later, after the couple divorced, Gayle Sweeney said her pre-election statement had been "coerced.") Gillibrand said, "It is Mr. Sweeney's word versus that of numerous sources and trusted local news organizations across our region."
New York magazine noted, "Gillibrand has never denied that her campaign was the source of the leak despite being asked about it several times. She defeated Sweeney by six points."
In her autobiography, Gillbrand described the race hinging on a completely different factor: "All by myself, standing on a street corner talking about Iraq policy, I wasn't that captivating to voters. But once Sweeney started hurling insults at me, people felt offended and paid attention to the race. Nobody likes a man who maligns a new mother. If Sweeney had had the restraint to ignore me, he probably would have won."
12. Once she was in the House, Gillibrand voted for a bill that would withdraw most U.S. troops from Iraq by April 1, 2008. In 2007, she said the Bush administration's "surge" strategy "is not a change in direction. It is, rather, more of the same. . . . The president is pursuing a strategy that history shows does not work." While the deployment of additional troops was not the only factor that changed in Iraq in 2007 and 2008 — the Anbar Awakening, a temporary ceasefire by radical Shiite cleric Moktada al-Sadr, and the Pentagon's different approach to counterinsurgency were significant factors as well — U.S. casualties and declined dramatically by mid 2008.
13. The senator's 2015 federal tax return showed that Gillibrand and her husband had received a $457,200 cash gift from her British in-laws, Sydney and Angela Gillibrand. From 1950 to 1995 Sydney worked at British Aerospace, rising to the level of vice president. He then moved on to become chairman of the British engineering firm AMEC, a lead contractor in Ground Zero cleanup after the 9/11 terror attacks. Outside wealth-management analysts suggested the large gift was part of the elder Gillibrands' estate planning.
14. Many profiles note that Gillibrand's positions "evolved" when she moved from the U.S. House of Representatives to the Senate. Evolution rarely moved so quickly. In 2008, the NRA rated her 93 out of 100. In 2009, shortly after being appointed to the U.S. Senate to replace Hillary Clinton, she told Newsday that she slept with two rifles under her bed, adding that "if I want to protect my family, if I want to have a weapon in the home, that should be my right." But by 2010, the NRA Political Victory Fund rated her an "F." In 2018, she told Newsday, "I just didn't take the time that I should have to understand the issue from someone else's perspective, not just from my own family or from my own community."
15. As a member of the House, Gillibrand took stances on immigration that line up well with those of President Trump. As The New York Times has noted, she "opposed any sort of amnesty for illegal immigrants, supported deputizing local law enforcement officers to enforce federal immigration laws, spoke out against Gov. Eliot Spitzer's proposal to allow illegal immigrants to have driver's licenses, and sought to make English the official language of the United States."
By 2018, she told 60 Minutes her old positions reflected the lack of diversity in her district:
"I came from a district that was 98 percent white. We have immigrants, but not a lot of immigrants. And I hadn't really spent the time to hear those kind of stories about what's it like to worry that your dad could be taken away at any moment."
16. New York magazine described how she changed her position on gay marriage in 2009 because David Paterson, the governor appointing her to the Senate seat, effectively demanded it:
Paterson also asked her to make one phone call. One of the few constituencies the increasingly embattled governor could rely on was the gay community, and Gillibrand had expressed support in interviews for civil unions instead of legalizing gay marriage. Paterson instructed Gillibrand to call Alan Van Capelle, executive director of the Empire State Pride Agenda, and promise she would reverse her position. Gillibrand made the call, and then headed to Albany.
Gillibrand's old stances were quickly forgotten. By October 2010, Jonathan Van Meter wrote a glowing profile in Vogue, touting "her very correct gay politics. She is unequivocally supportive of same-sex marriage and has been one of the loudest voices on the effort to repeal Don't Ask Don't Tell."
17. Shortly after Paterson selected Gillibrand, New York Times columnist Maureen Dowd wrote a column that trashed the new senator, contending that she was secretly disliked by the rest of the state's congressional delegation:
[Gillibrand] is known as opportunistic and sharp-elbowed. Tracy Flick is her nickname among colleagues in the New York delegation, many of whom were M.I.A. at her Albany announcement.

Fellow Democrats were warning Harry Reid on Friday that he was going to have his hands full with the new senator because she's "a pain."
18. Despite the perception that she was from "upstate," it did not take long for most of Manhattan's movers and shakers to warm up to her. That 2010 Vogue profile featured gushing quotes from Tina Brown, then the editor in chief of the Daily Beast; Andrea Mitchell of NBC News; Senator Chuck Schumer; and then-congressman Anthony Weiner.
The article detailed Gillibrand's participation in Fashion's Night Out, an annual event launched by Vogue editor-in-chief Anna Wintour to get shoppers into stores in the height of the recession. Gillibrand made appearances at the Elie Tahari boutique at Saks, the BCBGMaxAzria store in midtown, and Nanette Lepore on Madison Avenue. A sample:
Here is something you don't see every day: a United States senator, looking like a million bucks in a little black dress and high heels, jitterbugging in a Manhattan department store. It could mean only one thing: Fashion's Night Out. It is a Friday night in early September, and Gillibrand is at the Elie Tahari boutique at Saks, the first of her three stops through the mad crush that has taken over the city, when the music gets cranked and a group of professional dancers take the floor. One of the guys grabs Gillibrand's hand, and she gamely heads to the dance floor and begins to cut it up like a seasoned pro (all those gay friends!). Her gracefulness is striking.
19. In 2010, the Gillibrands sold their Hudson, N.Y., home for $1.3 million. They moved to a five-bedroom home in Brunswick, N.Y., paying $335,000. By 2017, Vogue came back for a second profile, and the senator lamented the condition of the house's backyard tennis court: "I desperately want to redo it, but it's $50,000, so we can't touch it."
Also in that Vogue interview, Gillibrand lamented that members of Congress are "in a bubble. . . . A lot of members of Congress are isolated. They tend to be affluent. They tend to have a lot of people doing things for them."
20. On October 25, 2018, Gillibrand participated in the final debate of her Senate reelection campaign and was asked about running for president in 2020.
Moderator: Can you tell New Yorkers, who plan to vote for you on November sixth, that you will, if re-elected, serve out your six-year Senate term?

Gillibrand: I will. [She went on to discuss how her campaign is reaching out to the grassroots.]

Moderator: Just want to make this clear, you're saying that you will not get out of the race and you will not run for president? You will serve your six years?

Gillibrand: I will serve my six-year term.
Something to Consider
If you enjoyed this article, we have a proposition for you: Join NRPLUS. Members get all of our content on the site including the digital magazine and archives, no paywalls or content meters, an advertising-minimal experience, and unique access to our writers and editors (through conference calls, social media groups, and more). And importantly, NRPLUS members help keep NR going.
If you enjoyed this article and want to see more premium content like this, we have a proposition for you:
Join 

NRPLUS

.