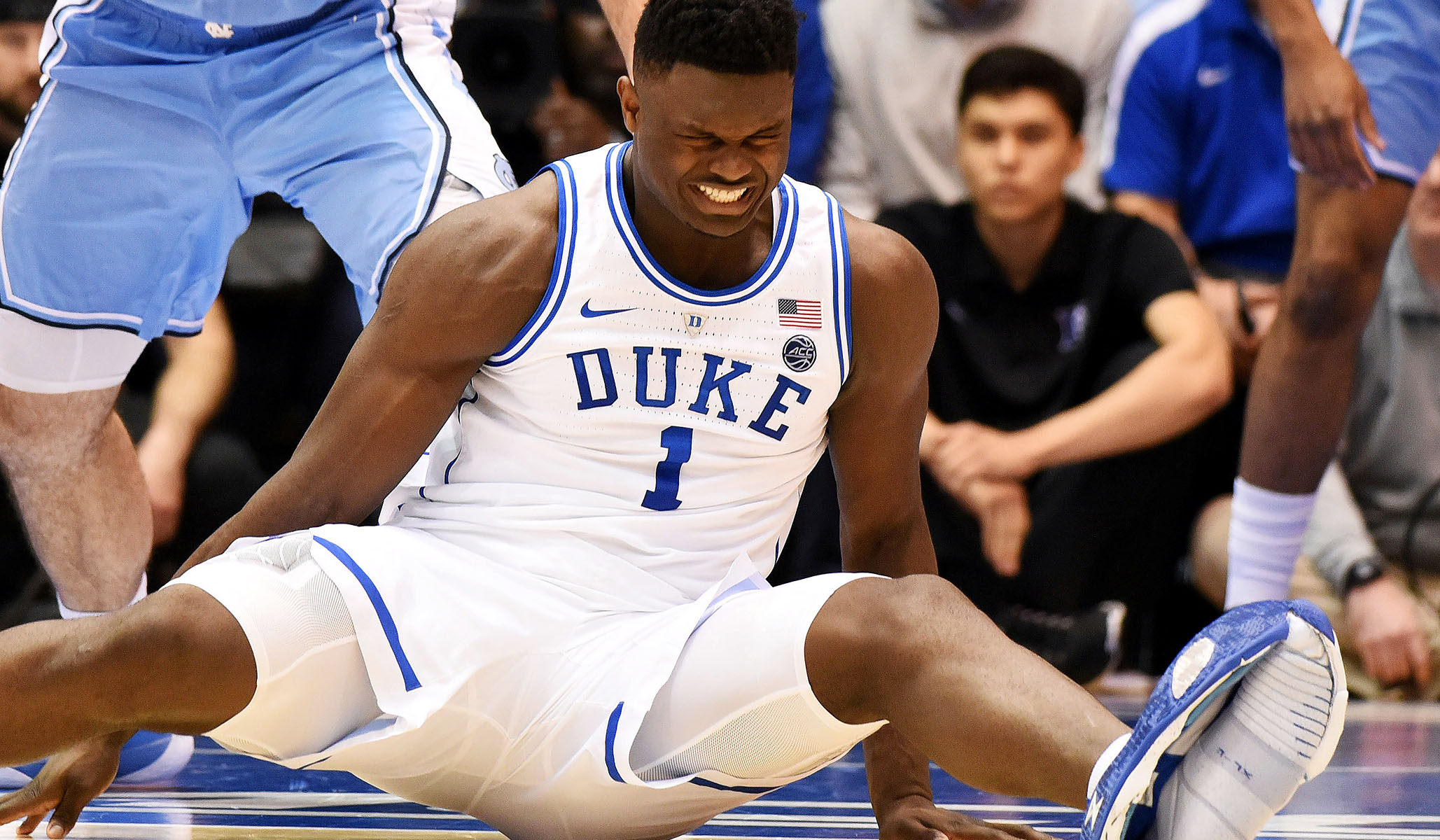 The Duke star's scary knee sprain highlights the fundamental wrong done to young athletes by the NCAA.
If you don't know anything about Duke freshman Zion Williamson, just a few facts will get you up to speed. First, he's a 6 foot 7, 285-pound basketball player, a forward in a linebacker's body. Second, he's known for his intensity and effort on each and every play. Third, he's got the athleticism to do this:
Combine these factors, and you've got the most talked-about college-basketball player and pro prospect in years, perhaps in a generation. Smart observers call him the best college player in a decade. More-enthusiastic fans compare him to LeBron James. He's a lock to be the first player drafted this summer, and if he has the kind of career that people expect, he'll soon be one of the most famous people in the world.
That's why he made national news this week when he hurt his knee in a freak play in which he tried to plant his foot only to have it literally break through his shoe. That's why Nike's stock price dropped when fans found out the shoe in question was one of the company's signature sneakers. And that's why NBA stars immediately took to Twitter to wish him well. One star, however, went farther, raising the stakes. Utah Jazz guard Donovan Mitchell, one of the league's bright young stars, tweeted this:
Again let's remember all the money that went into this game…. and these players get none of it…. and now Zion gets hurt… something has to change @NCAA

— Donovan Mitchell (@spidadmitchell) February 21, 2019
He's right. The NCAA's structure is fundamentally unjust and needs to change, and Zion's injury proves as much. Thankfully, it doesn't seem to be serious, but given the system's fundamental injustice it does leave open the question of whether he should sit out the rest of the season to avoid further injury.
Many millions of Americans love college basketball and college football, but I don't think they fully appreciate the extent of the exploitation of the athletes themselves. The NCAA is a multi-billion-dollar enterprise that does not meaningfully compensate its workers. (Yes, the athletes get "free college," but many of them would enjoy access to considerable financial aid even if they weren't athletically gifted.) If anything, in some important ways it treats its workers substantially worse than their student peers.
Talented students in other university activities have no comparable limits on their earnings. The school can hire them at market rates. They can work off campus at market rates. They completely own their images and likenesses. The collegiate football or basketball star lives in a completely different world. He enjoys none of the above-mentioned advantages, despite being a key cog in a machine that doesn't just return millions upon millions of dollars in gate receipts and media deals but helps maintain and build the school's brand and — critically — its multi-generational bond between students and alumni. Ask a University of Alabama development or admissions officer if the impact of the school's football team is adequately measured by its annual revenue stream. They know its worth when out-of-state applications soar and alumni feel intimately connected to a school they left a generation ago.
But the athletes who make this possible don't get meaningful pay from the school (aside from a small stipend), and are affirmatively blocked from profiting from their breathtaking skill even off campus. They cannot earn market-rate wages from endorsements, shoe deals, or even autographs. They're essentially denied all the money they could otherwise earn from their talents, for as long as they remain in school. This is doubly galling because many of them come from desperately poor backgrounds and have no financial cushion to fall back on.
Fans who are content with the status quo look at the statements above and reply with some form of "Boo hoo, some future millionaires have to wait a year or two for their riches, while they use the school's brand and fan base to start building their personal brands." It is true that the few "future millionaires" among college athletes do, in this way, get some (vastly below-market) compensation for their efforts. But the argument is precisely irrelevant to the substantial majority of the affected population — the college players who will never make it to the pros. Many of those kids are being denied the one chance they'll ever have to capitalize on their own athletic gifts.
Quick, can you name the leading scorer of the Kansas State basketball team? Can you name the University of South Carolina's quarterback? No? Well, hundreds of thousands of students and fans can, and there is substantial economic value in that fact — enough value to help (often) poor students and (often) poor families. But the NCAA cartel refuses to allow that money to flow to those who deserve it. It hides behind the farce of "amateurism" to hoard the profits of the amateurs' work.
I know that in a nation riven by cultural and political division the plight of student-athletes ranks high on no one's list of vital issues, but principles matter. And here's a principle a free society should support: Justice demands the removal of artificial barriers to fair compensation. Here's another one: Just organizations do not reap billions of dollars from mainly poor kids and then grant them fewer rights and more obligations than their peers. A platform as immense and beloved as college sports could do a great public good if it were used to teach these principles to the public. Instead, it's used to send a different message: Sometimes exploitation is just fine, so long as enough people like the product.
American colleges claim these days to crave social justice. Where's the justice in the NCAA?
Something to Consider
If you enjoyed this article, we have a proposition for you: Join NRPLUS. Members get all of our content on the site including the digital magazine and archives, no paywalls or content meters, an advertising-minimal experience, and unique access to our writers and editors (through conference calls, social media groups, and more). And importantly, NRPLUS members help keep NR going.
If you enjoyed this article and want to see more premium content like this, we have a proposition for you:
Join 

NRPLUS

.