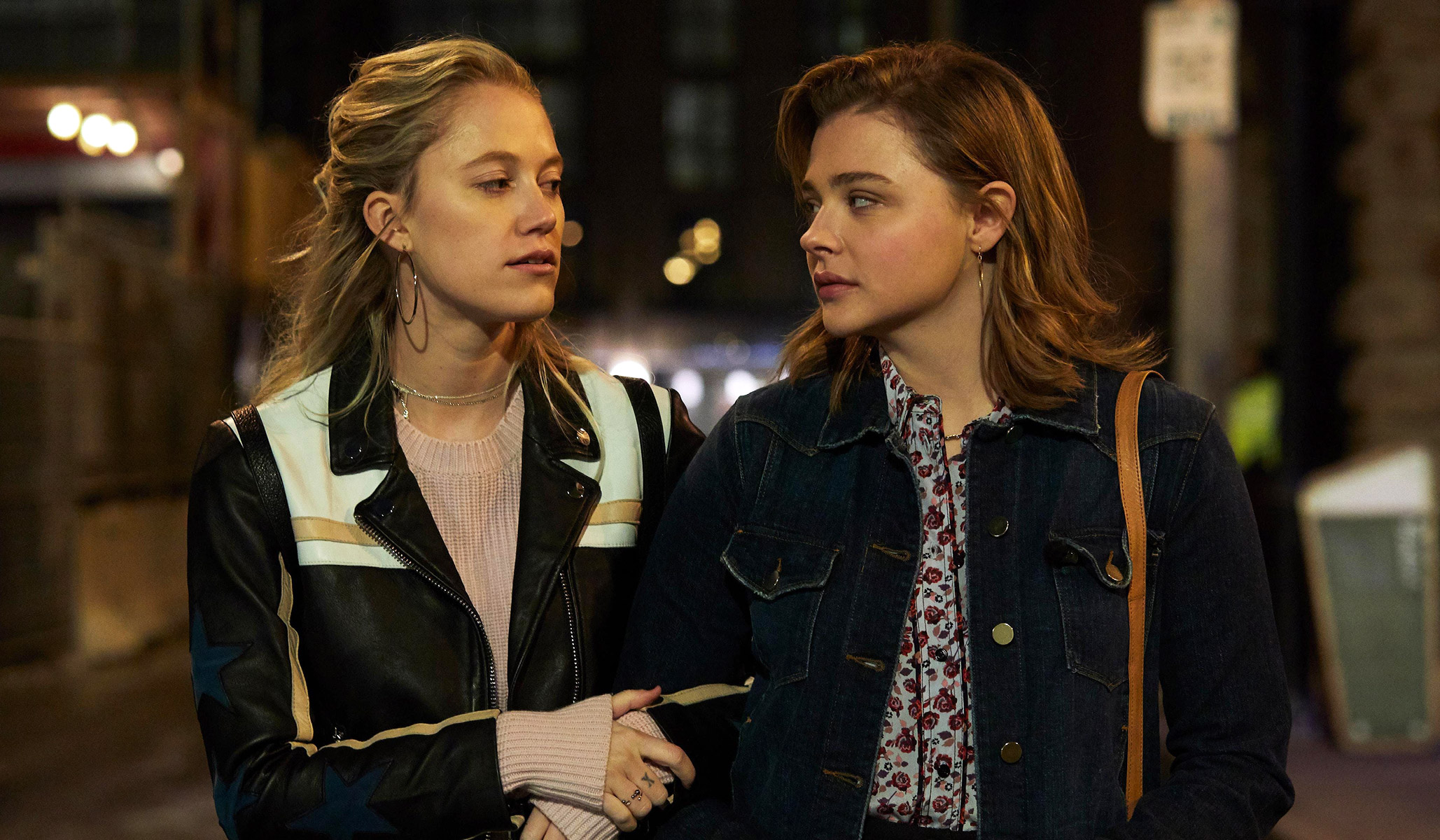 Neil Jordan's new film is a cautionary thriller.
Neil Jordan's Greta is a cautionary film by a director usually known for astute, myth-based storytelling in movies such as The Crying Game and even Interview with the Vampire. At first Greta's stalker plot looks mechanical and superficial, as post-college waitress Frances (Chloe Grace Moretz) falls into an emotional web woven by middle-aged European widow Greta (Isabelle Huppert). It slightly resembles junk such as Gone Girl and The Girl on the Train. Frances is introduced on the subway reading David Foster Wallace's The Girl with Curious Hair — an informed literary clue that Jordan means to upgrade the genre and match tonier European antecedents Repulsion and Die! Die! My Darling!
But since none of those movies mean anything to the millennial market, Jordan has to retroject its thriller mythology for contemporary relevance: Frances, a rich but unskilled Smith graduate, is part of the generation aspiring toward socialism (despite the irony that her roommate's Tribeca loft was purchased by her own dad). Meanwhile, Chanel-suited Greta, who lives in a two-story domicile that resembles Greenwich Village's Patchin Place, incarnates Old World fascination and degradation. Frances seeks out the matron after discovering the chic green pocketbook Greta lost on the subway. Their contrasting manner and style ignites the ideological seduction at the film's core.
The privileged, good-mannered naïf feels orphaned; she slums luxuriously, casually serving customers at a high-end Manhattan boite, and mysterious dowager Greta preys on the recently motherless girl the same way she plays "Liebestraum" on a weathered upright piano. "It's a song of love, and love is a memory," Greta entices Frances. Jordan and co-screenwriter Ray Wright use Greta's decadent lure to evoke an adult fairy tale.
In a key Jordanesque scene, conveying personal mythic projection, Frances tearfully recalls moviegoing with her late mother. It's an IMAX movie screening that Frances attends with her hard-nosed roommate Erica (Maika Monroe, a perfect Chloe Sevigny lookalike). The IMAX transference of sensation to emotion is a sophisticated Jordan trope. That passion is also provoked by Greta's advances: hand-holding, heart- and breast-clutching gestures of empathy which continue when she lights a candle in a church. "Even though I don't practice," she charms Frances. It's a French Catholic twist on Jordan's habitual Irish Catholic guilt.
Girl-child Moretz, who has been an ideal, baby-face millennial for directors from Scorsese to Assayas to Guadagnino, looks very tough in Frances's butch waitress uniform. She could be an AOC blank slate, yet Moretz's surprisingly bright eyes convey soft feeling — a sad sexual ambiguity that compares to Huppert's always enigmatic façade. Jordan shows sensitivity to the big American and tiny European and their uncertain rapport. When Frances meets Alexa (Zawe Ashton), the "partner" of Greta's late daughter, the sudden depth of Alexa's confession recalls the feminine sympathy of Jordan's powerful vampire masterpiece Byzantium as well as his film noir Mona Lisa.
Greta's disclosure "I've been in a well of loneliness" triggers Jordan's literary sensibility, which extends to Radclyffe Hall's renowned lesbian novel The Well of Loneliness and Alice Munro's Runaway. Those who saw Pedro Almodovar's Munro adaptation Julieta may catch further resemblances in this mother-daughter narrative and its sexually open sensibility. It's Jordan's compassionate storytelling that saves Greta from shrill feminist manipulation such as Orange Is the New Black and The Handmaid's Tale.
Is Greta scary? Does it work? Those questions can also be asked of socialism advocates Alexandria Ocasio-Cortez, Bernie Sanders, and Elizabeth Warren, who practice political versions of the same deception that Greta deploys on Frances.
This isn't the top of Jordan's oeuvre, but sometimes movies gain fascination for the way they absorb and reflect the day's social currents, including our media-inspired anxiety. That's what's so striking about the IMAX scene where Frances instinctively reacts to the artificial replacement for real-life experience. Jordan is aware of how movies and myths operate as a substitute for memory. His horror film offers a metaphor for the Old World failures that naïve millennials dangerously mistake for progressive political alternatives.
As Greta nears its finale, the rushed editing hints at truncation, sometimes begging laughter like Die! Die! My Darling! and Berserk! (except that Huppert doesn't have Tallulah Bankhead's or Joan Crawford's campy force). But when Frances awakens to find herself locked in childhood's naïve box, Jordan's political cautionary tale feels real.
Something to Consider
If you enjoyed this article, we have a proposition for you: Join NRPLUS. Members get all of our content on the site including the digital magazine and archives, no paywalls or content meters, an advertising-minimal experience, and unique access to our writers and editors (through conference calls, social media groups, and more). And importantly, NRPLUS members help keep NR going.
If you enjoyed this article and want to see more premium content like this, we have a proposition for you:
Join 

NRPLUS

.