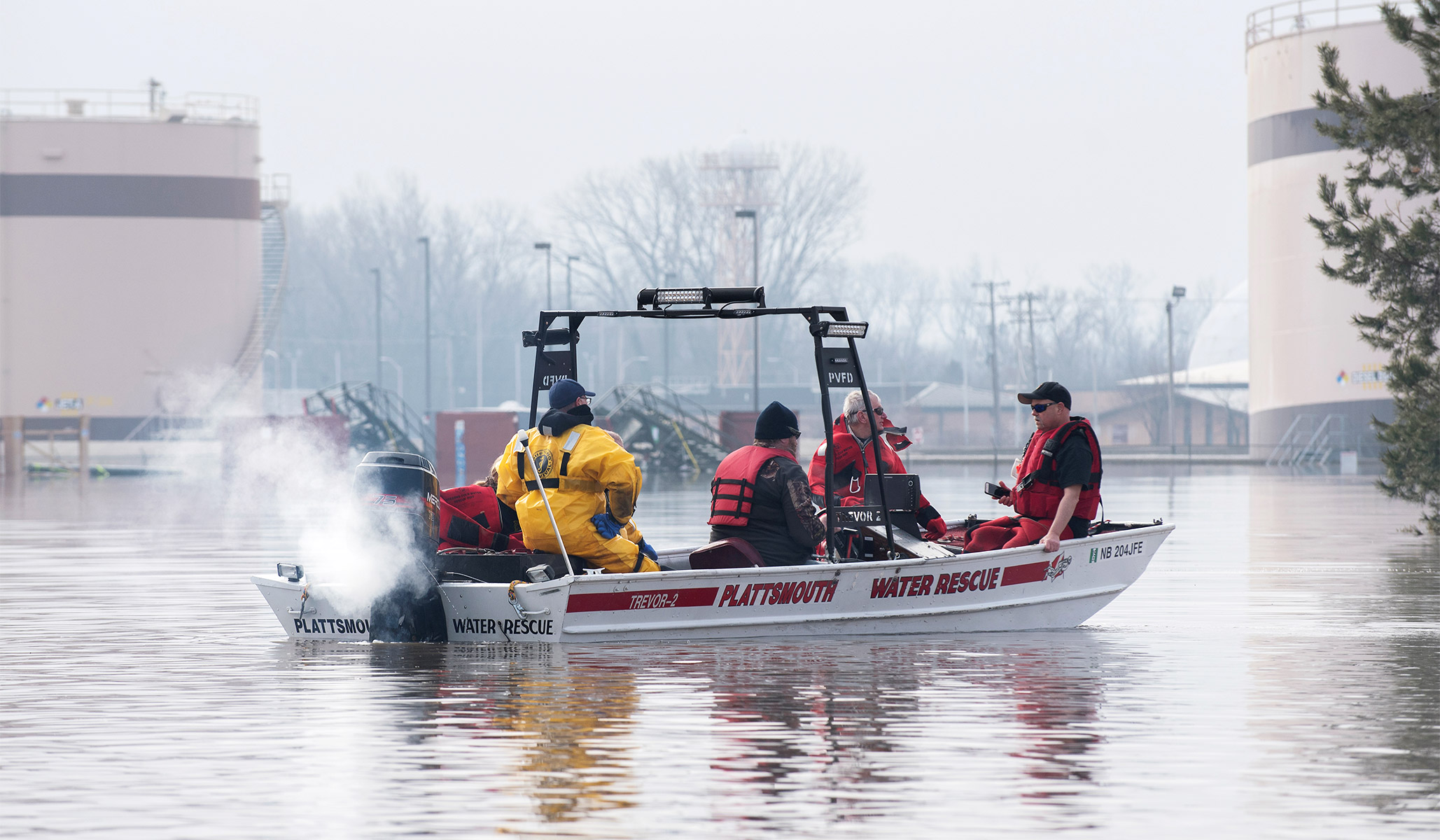 We're stronger than ever.
Nebraskans are just starting to recover from the worst natural disaster in our state's history. Since Nebraska is the nation's second-largest cattle state and the third-largest corn producer, the consequences of this flood are going to be felt at dinner tables around the country and in export markets around the world in the months ahead. Nebraskans want to make sure that Americans across the country know what we're facing.
The magnitude of the flood is incredible. Eighty-one of our 93 countries are under emergency declarations. Thousands of people were displaced from their homes. Farmers and ranchers saw their livestock and grain bins washed away. Bridges are gone. Levees along five river systems are destroyed. Roads are washed out.
In the first few days, it was evident that this was a multi-billion-dollar disaster. A snap assessment showed more than $1.3 billion in immediate damage in a small portion of the counties hit, to say nothing about the larger long-term numbers. Families are returning home to the prospect of months or years of cleanup and recovery. Some don't have homes to return to. Small-business owners are returning to waterlogged shops and warehouses of ruined merchandise.
Many farmers, who have already suffered enormous losses, will not be able to ready their fields in time to plant this season. Without roads and bridges, farmers and ranchers are trying to figure out how they'll get grain and livestock to markets. One Nebraskan, whose normal homestead-to-market commute was 17 minutes, told me the new route was more than three hours.
As bad as things are, though, there's good news: This is Nebraska.
Tears welled up in my eyes at a local Lutheran church when Brenda Garcia told me her story. She lost her home and came to the shelter with her kids. They didn't waste any time and got right into the volunteer line. "That's just stuff," she told me, when I asked about her house. "God will provide. We want to serve." She speaks for a whole lot of Nebraskans.
You won't see it on cable TV, but over the last few weeks, we've witnessed the spirit of this state. As the floodwaters swirled, neighbors came to the aid of neighbors. Farmers and ranchers hauled struggling livestock out of high waters. Teachers and pastors turned their workplaces into temporary shelters. Kids walked dogs at shelters and filled sandbags alongside their parents. Short-order cooks coordinated with the Red Cross to whip up meals for the stranded. Volunteer fire departments and rescue teams worked around the clock.
I want the rest of the country to know this: The emergency and the devastation have been extraordinary. But what you've seen from Nebraskans isn't. This is who we are.
Every day, across our state, we see grit and resilience. It doesn't matter whether the challenge we face is large or small, whether it's a statewide disaster or a crisis just on our own block — Nebraskans face it with courage, goodwill, and the unwavering conviction that we are part of one community of neighbors and friends.
Those strengths will be indispensable over the months ahead. As we move beyond the period of immediate crisis, we will face hard decisions and a lot of hard work.
This storm damaged or destroyed crucial dams and levees across the state. In the short term, we will have to erect temporary protections against the flash-flooding that often comes with the Midwest's summer thunderstorms.
After that, we will have to move to the hard work of long-term rebuilding. Where we should prioritize limited resources and investments is a decision that will involve our whole state. We will need to think carefully about how to rebuild so that our state's infrastructure, especially our agricultural infrastructure, is able to weather future episodes like this.
In the midst of it all, families will be making their own difficult decisions, including about whether to rebuild or to relocate. Some of those will the hardest decisions of all.
VIEW GALLERY: Midwest Flooding
I'll keep working with federal and state officials to make sure that every available resource is at the disposal of Nebraskans as we begin the cleanup process. Congress is going to need a hard conversation about disaster aid and budget priorities. The most important help will not come from Washington, D.C. It will come from each and every Nebraskan, in the form of generosity and an extended hand. It will be each and every Nebraska community banding together, committed to building up not just our neighborhoods and towns, but each other.
I know that will happen — because it's what I see every day. But I'm not the only one who has confidence in Nebraska's future. Before the storm hit, New York Times columnist David Brooks was traveling across our state. "Everybody says rural America is collapsing," he wrote about his travels. "But I keep going to places with more moral coherence and social commitment than we have in booming urban areas. These visits prompt the same question: How can we spread the civic mind-set they have in abundance?" What we have, says Brooks, others should want. I couldn't agree more.
A lot of Americans haven't heard yet Nebraska's story. When they do, it's not just going to be about devastation and heartache. This is a comeback story written by neighbors with love and grit. Nebraska got hit hard. But the most important things can't be lost in floodwaters. As the whole country will see soon: We're stronger than ever.