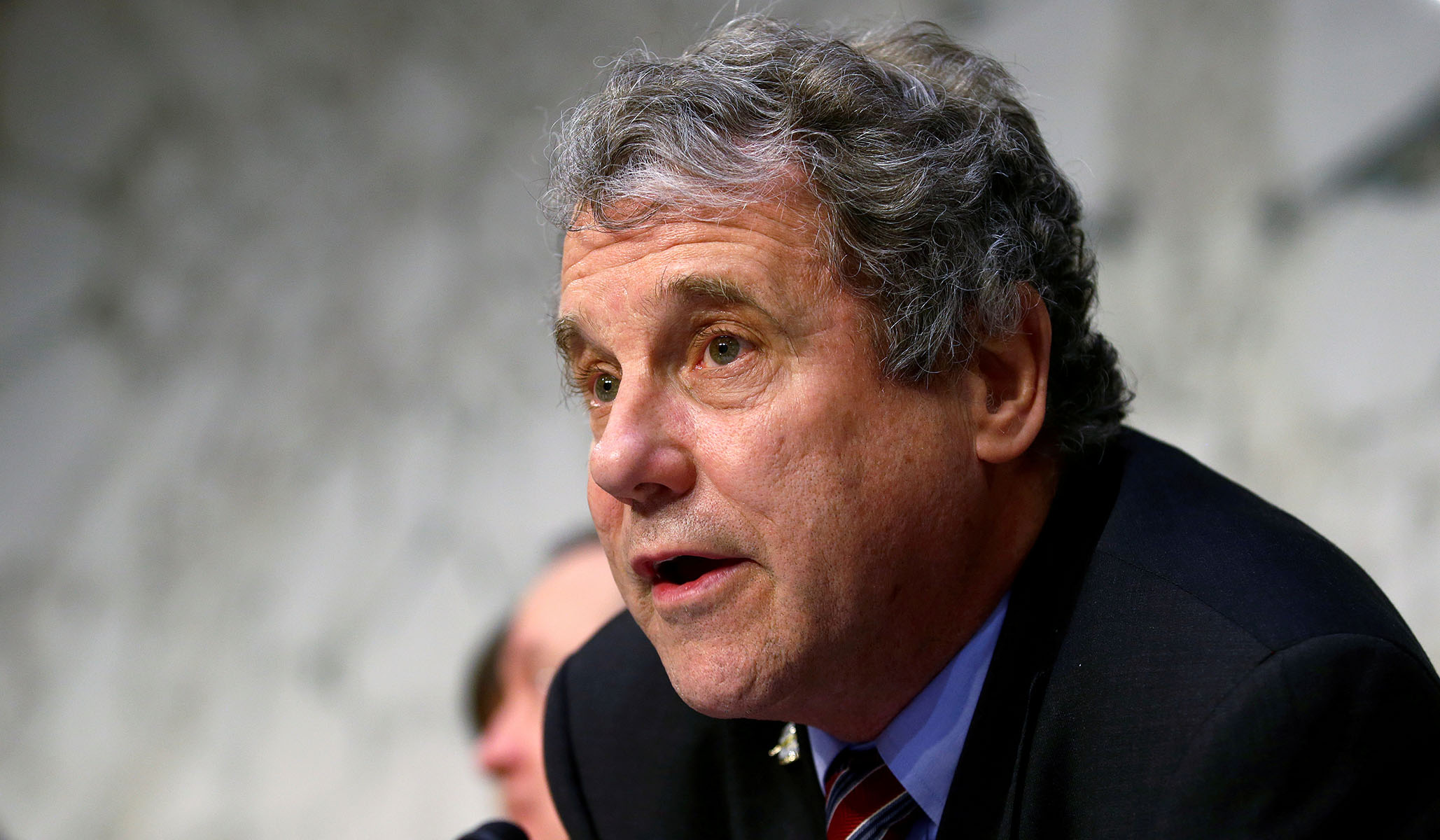 Hippie accusations, Hillary's 'ambassador,' Nazi analogies, rumples, and the Pizza Hut blimp.
One: Ohio senator Sherrod Brown has been in elected office longer than many 2020 voters have been alive: He was elected to the Ohio House of Representatives in 1974 at age 22. He had graduated from Yale several months earlier.
The local county party chairman, Don Kindt, had been impressed with Brown when he was volunteering on the George McGovern campaign in 1972, and helped clear the field in the state-representative primary. As a candidate, Brown met Democratic state representative Vern Riffe, who had been in office since 1959 and who would soon become the longest-serving speaker of the state House in Ohio history. Riffe was underwhelmed, calling Brown a "God***n hippie sonuvabitch."
Two: In the late 1970s, state representative Brown voted in favor of two laws that modified the rules for maintaining voter registrations. One declared that a voter's registration would be canceled if the person hadn't voted at least once in four years, and the bill directed officials to send notices to voters stating that their registration had been canceled, along with a form to reregister. In 1979, Brown voted for a bill that required elections officials to send out a notice 30 days prior to cancellation.
In June 2018, Brown denounced a U.S. Supreme Court ruling that upheld Ohio's procedures to purge infrequent voters from the registration rolls; the Ohio GOP called Brown hypocritical considering his past votes. In 1982, Brown was elected Ohio secretary of state, in which office he enforced the state's standards for purging the registration of those who hadn't voted in several years — but he also took several steps to promote voter registration.
Three: In 1985, Brown's secretary-of-state office was the target of a nine-month state-police probe into illegal drug dealing. Brown reportedly found a bag of marijuana under his state car and asked the state highway patrol to investigate. At least one state-police officer complained that politics influenced the decision of whether to pursue prosecutions. Brown insisted he and his staff cooperated with police and did not attempt to interfere with the investigation.
Four: All of Brown's Senate races have seen at least some discussion of allegations of physical abuse by his first wife, Larke Recchie; there is little indication that the accusations significantly impacted Brown's support among the electorate.
In 1986, the senator's ex-wife sought and was granted a restraining order "to keep Brown from harassing or annoying her and from 'doing bodily harm.' In a supporting affidavit, she said she was 'in fear for the safety and well-being of myself and our children due to (Brown's) physical violence and abusive nature.'" She said in a supporting affidavit that Brown "intimidated, pushed, shoved and bullied" her on several occasions and declared, "I am definitely afraid of my husband, that he has struck and bullied me on several different occasions." In January 1987, the couple's divorce was finalized. Four months later, Larke Recchie's boyfriend at the time, Joseph Recchie, filed a complaint against Brown, claiming Brown grabbed him around the neck, attempted to strangle him, and made threats. Recchie did not file formal charges against Brown. In 1989, Recchie filed a separate police report, claiming Brown broke her door from pounding on it.
(The 2018 Senate campaign of Republican Jim Renacci gathered and posted all of the relevant court documents here.)
In the 1989 interview with the Columbus Dispatch, Brown denied all the allegations, declaring, "I've never hurt her. I've never touched her." What's clear is that the relationship between both Recchies and Browns is friendly today. Larke Recchie taped a commercial endorsing her husband for his 2006 Senate bid, but the ad was never aired.
Five: In 1985, Sherrod Brown's brother Charles — often called Charlie, like the comic strip character — was sworn in as West Virginia's attorney general. Charles joked that having his brother as secretary of state in adjacent Ohio "might help in interstate cooperation."
But shortly after taking office, Charlie Brown was indicted on charges of illegally soliciting money from his staff to help pay a 1984 campaign debt; he was acquitted of all charges. And it wasn't long before Charlie Brown faced more serious accusations: that he had impregnated his former secretary, and that she had had an abortion and had demanded $50,000 to keep quiet. In 1989, Sherrod's brother resigned abruptly in exchange for an end to a grand-jury investigation into allegations that he lied under oath during a child-custody hearing.
Six: Brown's lone defeat at the ballot box came in 1990, when he lost his reelection bid to Republican Bob Taft, the great-grandson of President William Howard Taft. Brown's in-your-face tactics, coming on the heels of reports of the messy divorce and violent temper, were . . . probably unwise: "The spat escalated into an impromptu face-to-face confrontation after Brown invaded Taft's office with a squad of reporters to challenge Taft's performance as county commissioner. Taft came out to defend his record and the scene devolved into a 'shouting match complete with waving arms and pointing fingers.'"
Taft's media consultant in that campaign was . . . Roger Ailes, who would go on found Fox News Channel six years later.
Seven: Out of public office for the first time in his adult life in 1991, Brown took a job with Ohio State University and traveled to Poland to help educators develop a post-Communist education curriculum.
Speaking about his visit decades later on the Senate floor, Brown lamented the sudden marketing and influence of some American companies he disdained: "The first billboards all over Warsaw, Krakow, Lublin, and eastern Poland were tobacco — mostly American tobacco companies but also British tobacco companies. Those were the first billboards up. So as the tobacco companies try to seduce young people in our country to smoke, they have, in some sense, attacked the developing Third World to get people to smoke there."
Eight: Eager to return to elected office, Brown moved to a congressional district near his old state legislative district and aimed for the U.S. House of Representatives election in 1992. The general-election fight was ugly. Brown joked that the 1992 Republican Convention had been held in Berlin. The previous year, he had referred to "the Hitler youth in the Ohio Republican Party."
Brown's Republican opponent, Margaret Mueller, brought up the allegations of abuse from Brown's divorce, a move that many believe backfired. Meanwhile, Brown said that "a company owned by Mueller's family" had been fined hundreds of thousands of dollars for toxic pollution. Mueller owned one-third of 1 percent of the company.
Nine: Brown believes the 2000 election was "stolen" by George W. Bush and Republicans.
"You've got to be kidding," Brown nearly bellows, his body arched against the back of his seat, his arms folded across his chest. "You really believe they didn't — you honestly believe they didn't steal it?"

The reporter asks Brown if he's still mad.

"Maybe I am angry," he admits. "Maybe you're right, I do get angry. You honestly as a journalist believe those bastards didn't steal the election?"
Ten: In both the House and the Senate, Brown was best known for his impassioned opposition to free-trade deals. In 1993, he organized freshmen House Democrats in opposition to the North American Free Trade Agreement.
Representative Sherrod Brown, a freshman Democrat from Ohio who is leading opposition among House freshmen to the pact, said he recently visited a concrete factory in his district and found workers there "scared to death" of the agreement. Mr. Brown and several other members of Congress expressed surprise at the poll's results, saying that it contrasted with their mail, which was lopsidedly against the agreement.

"Mail that I'm getting, and everyone else is getting, shows Nafta is going down like the Pizza Hut blimp," Mr. Brown said.
(On July 4, 1993, the Pizza Hut blimp had crashed into an apartment building in Manhattan.) In November, NAFTA passed the House, 234 to 200, in a vote that scrambled the usual partisan lines.
He told The New Yorker in 2018, "I think the President's sentiments are generally right on trade."
Eleven: In 2004, Brown was named a presidential elector for John Kerry, but he stepped down when lawyers concluded that members of Congress were constitutionally ineligible.
Twelve: On August 17, 2005, Congressman Brown posted a letter on his website GrowOhio.org, announcing he wouldn't run for Senate. This announcement spurred Paul Hackett, who had narrowly lost a hard-fought special House election two weeks earlier, to announce he would run for Senate against Republican incumbent Mike DeWine. Hackett announced his bid in October; three weeks after Hackett's announcement, Brown changed his mind and announced a bid. In February Hackett withdrew and declared that state and national Democrats had effectively pushed him out of the primary: "This is an extremely disappointing decision that I feel has been forced on me. . . . For me, this is a second betrayal. First, my government misused and mismanaged the military in Iraq, and now my own party is afraid to support candidates like me."
Brown went on to defeat DeWine, but in 2010, DeWine was elected the state's attorney general. He was reelected in 2014 and is now the governor of Ohio.
Thirteen: As a senator, Brown has cultivated a baseball-loving "nice guy" image that is the focus of many profiles, but he's exhibited a familiar hyperbole when defending himself and the Obama administration's policies. PolitiFact rapped him on the knuckles for declaring that Republicans planned to give "$700 billion to millionaires and billionaires" and planned to end Medicare, and for claiming his opponent said he wouldn't have rescued the auto industry. He insisted the Dodd-Frank financial-services legislation ended "too big to fail" (it did not), and in 2018, he accused his GOP opponent, Jim Renacci, of being a lobbyist while serving in Congress; the justification was a registration that had never been used, but hadn't been officially canceled until after Renacci was elected to the U.S. House.
Fourteen: In 2009, Brown told reporters he was working on a book, a history of his desk in the Senate, which had been previously used by Robert F. Kennedy, Al Gore Sr., Hugo Black, and George McGovern. As of December 2018, he was still working on the book.
Fifteen: In 2011, in a speech on the Senate floor, Brown declared, "I look back in history, in some of the worst governments we had, you know the first thing they did? Go after the unions. Hitler didn't want unions. Mubarak didn't want unions. These autocrats don't want independent unions." This comment came as Republican governors in Ohio and Wisconsin were attempting to enact new limits on public-sector unions. Brown apologized the next day.
Sixteen: In July 2016, Politico declared, "Ohio's senior senator is, suddenly, Hillary Clinton's ambassador to the Rust Belt, her new confidant on trade, her defender when Trump blasts her as a shill for globalism." Brown told the magazine Clinton and her staff taught him and his staff about statewide reach: "She was very helpful in teaching us how to engage with more rural small towns." Trump won Ohio, 51.6 percent to Clinton's 43.6 percent, in the worst performance by a Democratic candidate since her husband's 40.1 percent (which was still enough to win in a three-way race against George H. W. Bush and H. Ross Perot).
Seventeen: Brown attributes Hillary Clinton's defeat in part to the Democrats' not having enough media allies.
I also think it's a narrative in part created by Fox News. This sounds a bit whiny, but there is clearly a partisan media on the right. There's Fox and there's the Wall Street Journal editorial page, which hates deficits when it's a Democratic president and says we'll grow out of them now. They are party cheerleaders and enforcers of discipline. Talk radio too. We don't really have any of that.
Eighteen: More than once, Brown has expressed irritation with the use of the term "Rust Belt" to describe Ohio and the surrounding states. "When you call us the Rust Belt, you demean our work and diminish who we are," he declared in a post-2016 New York Times op-ed. A profile piece about him in the same newspaper said Brown will "send gently worded, handwritten letters to reporters if they use it."
Nineteen: Brown's hair was considered shaggy by senatorial standards for a long time; a shorter haircut in December prompted speculation that it was an indicator he was considering a presidential bid more seriously. The Cleveland Plain Dealer dispatched a reporter to profile his barber, with the headline, "Meet the man who tries to tame Sherrod Brown's hair."
Twenty: The term "rumpled" has been (over)used to describe Brown in profiles in the New York Times, The New Yorker, New York magazine, BuzzFeed, Reuters, Vanity Fair, and Slate. During the 2018 reelection campaign, his wife, Connie, declared via Twitter, "I just want to make clear that I send [Sherrod Brown] out of this house in dress shirts ironed with so much spray starch they stand on their own like tombstones on the carpet. Two hours later, reporters are calling him 'rumpled.'"