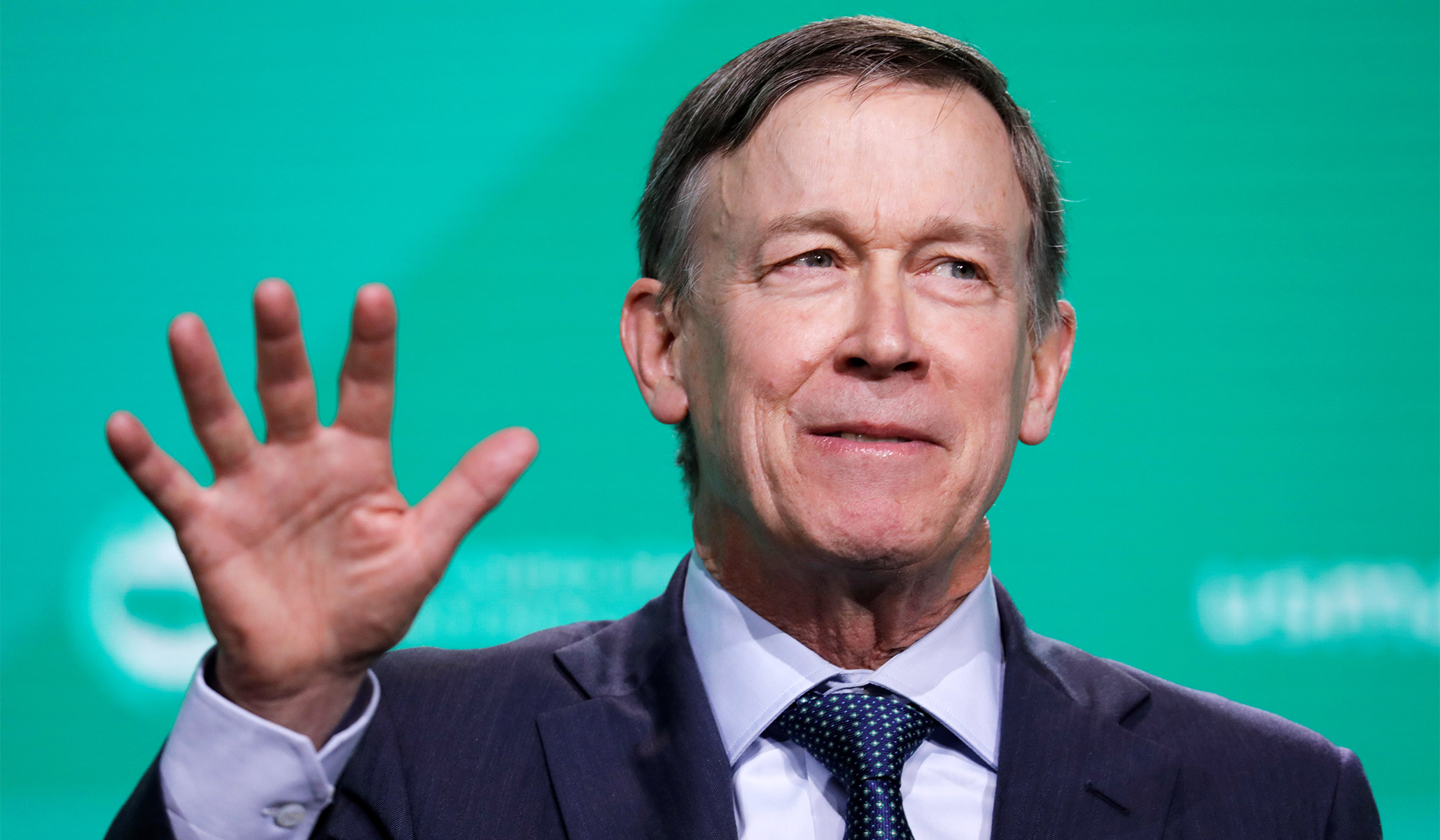 'Pleasuring the pigs,' hiking taxes, Moonlighting script, and the long-lost son of Kurt Vonnegut.
One: Andrew Hickenlooper, the great-grandfather of former Colorado governor John Hickenlooper, was a general in the Union Army during the Civil War. He fought at the Battle of Shiloh, in the Vicksburg campaign, in the Atlanta campaign, and as part of General Sherman's March to the Sea. In 1879, he was elected lieutenant governor of Ohio. Andrew Hickenlooper's son, Smith Hickenlooper, fought in World War I and was a federal judge for ten years.
Two: Hickenlooper's father, also named John but usually called by his nickname "Hick," worked for more than a thousand consecutive days on an assembly line at the Wright aeronautical plant in Lockland, Ohio, during World War II. He went to Cornell and befriended author Kurt Vonnegut. Vonnegut became friends with the younger John Hickenlooper, and for a 2004 roast of the then-mayor of Denver, the famous author declared in a joke video that he was Hickenlooper's real father.
Three: Hickenlooper's father passed away at age 40, from intestinal cancer. The younger John Hickenlooper grew up and was accepted to Wesleyan University. At the end of his junior year, he went home and made plans with a friend to see a particular much-discussed movie. He arrived back at his house to find that his mother, Anne, had prepared a big dinner. Feeling guilty after failing to appreciate her efforts, Hickenlooper invited his mother to join him and his friend at the movies that night.
The movie they attended . . . was the X-rated Deep Throat.
Hickenlooper described the night in a 2016 interview: "I mean, the first scene was kinda raunchy. I looked at my mother, and I said, 'I think we should leave.' My mom says — you know, my mom grew up in the Depression. Once she paid for a ticket, she was gonna use it — 'No, no. It's okay. It's okay.'" He said that on the ride home she declared, "It certainly was sharply in focus."
Four: Hickenlooper finished his master's degree in geology in 1980 — a period of life he calls "that decade I spent in college" in his autobiography, The Opposite of Woe: My Life in Beer and Politics. While dating an anthropology grad student who was studying South American witchcraft and "traveled just about everywhere with a small green and red parrot on her shoulder," he attended a party thrown by her parents and hung out with Yoko Ono, John Lennon's wife.
Five: Hickenlooper is a quirky man of odd habits. He moved to Colorado to take a job with Buckhorn Petroleum, where he was disappointed to find he spent 90 percent of his time "at a desk, poring over maps prepared by other geologists." He wrote that during this time he "got into the habit of photocopying my correspondence before mailing it off. I figured if I kept an archive of the letters I sent, I would have them for reference when I received letters in response. This was long before email; now, we take records of 'sends' and 'receives' for granted. If you ask me, I was ahead of my time. I wrote letters and photocopied them this way for my first decade in Denver."
Six: Upon being laid off in 1986, Hickenlooper had a year's severance and bought a 1967 red Chevy Malibu convertible for $4,200. He drove out to visit his brother Sydney in Berkeley, Calif. His brother took him to the Triple Rock Brewery and Alehouse, and the future governor instantly fell in love with brewing. "I thought to myself, I would have driven twenty minutes out of my way without thinking twice about it to have a beer or two like this," he wrote in his autobiography. He and his partners were turned down by banks and other lenders 32 times, but the city of Denver gave him a $125,000 economic-development loan at 9 percent interest.
Seven: Around this time, after encouragement from a friend in Hollywood, Hickenlooper wrote a "spec script" — an unsolicited submitted screenplay — for ABC's series Moonlighting. He was told the producers liked it, but it was never used. Years later, Hickenlooper did end up in Hollywood, in a different form. His cousin George Hickenlooper became a fairly successful director, creating Dogtown, The Man From Elysian Fields, Casino Jack (starring Kevin Spacey as the disgraced lobbyist Jack Abramoff), and an Emmy-winning documentary about the making of Apocalypse Now. The governor had several small cameos in Hickenlooper's films, making him a member of the Screen Actors Guild; George Hickenlooper passed away in 2010.
Eight: In 1989, Hickenlooper was arrested for driving while impaired. He was sentenced to community service, and at his brewpub restaurant, they instituted a designated-driver program. As governor, he signed a law toughening the penalties for driving while intoxicated, signing the bill at a ceremony held at the headquarters of a breathalyzer manufacturer.
Nine: One night at his brewery, Hickenlooper, then 42, was being teased by friends for being too busy to find a wife. He said — he insists, jokingly — he would pay $5,000 to the friend who introduced him to the woman he would marry, a "bride bounty." The Denver media picked it up and Hickenlooper ended up on The Phil Donahue Show. The host introduced him as a representative of a group of people who "believe it's very difficult to find the man or women of your dreams, especially in this day and age, so they're willing to offer big bucks to the person who introduces them to the person they subsequently marry." Hickenlooper married twice after that appearance; he married Helen Thorpe in 2002 and divorced in 2015, and married Robin Pringle in 2016. After his first engagement, he donated $5,000 to charity, to honor the "bounty."
Ten: To celebrate the second anniversary of his brewpub and restaurant, Hickenlooper hosted a pig roast. The following year, he borrowed another half-dozen pigs and staged a "Running of the Pigs" in an alley behind the restaurant, a sillier, less dangerous version of Pamplona's running of the bulls. He did this as an annual event for three years. When animal-rights activists complained, he put bonnets on the pigs to keep the sun out of their eyes. When they complained further, he renamed it the "Pleasuring of the Pigs" and promised that all of the animals would be treated with tender loving care. When the activists still complained, Hickenlooper switched to prairie dogs and called it "Prairie Preservation Day."
Eleven: Hickenlooper's first steps into public life came in 2000, when the owners of the NFL's Denver Broncos were building a new stadium next to Mile High Stadium, their home since 1962. Voters had approved a small sales tax two years earlier to finance the new stadium, and then the question arose of what the new stadium should be called. Hickenlooper led the public fight against a name change, adamant that the new stadium should keep the "Mile High" moniker associated with the city and objected to selling the naming rights to a big company.
The team arranged for an unwieldly compromise, "Invesco Field at Mile High," and then "Sports Authority Field at Mile High." It is today called "Broncos Stadium at Mile High."
Twelve: About two years after the stadium naming-rights fight, Hickenlooper decided to run for mayor. He hired the firm behind Jesse Ventura's unorthodox gubernatorial campaign and ads, beginning a political career driven in large part by funny commercials. His introductory ad, "Suit," made fun of himself for not having a mayor-worthy wardrobe. He concluded with the conservative declaration, "We have to find ways to get the job done for less money." Another ad showed him making change for Denver citizens who needed to feed parking meters — meters he called "the fundamental nonsense of government." Hickenlooper moved quicker than an obese, villainous parking-enforcement attendant and promised . . . "the kind of change people can get excited about." Hickenlooper's other campaign themes — openness to school vouchers, opposition to new taxes, and opposition to a smoking ban in restaurants — struck conservative notes.
The field had seven candidates, all officially "nonpartisan," in a race that received national coverage as "a model of civility." Some coverage joked that the city's reporters already knew him well from enjoying beers at his brewpub.
Thirteen: As mayor, Hickenlooper seemed to crack the code on how to raise taxes, revealing that sufficiently entertaining ads with goofy humor could move a small majority of voters to vote yes on tax-levy referendums. In 2005, Hickenlooper jumped out of a plane to promote a state referendum that would reduce state-tax refunds and suspend the Taxpayer's Bill of Rights, which had passed in 1992. The referendum passed, 52 to 48 percent. In another commercial that same year, he put on a blue bear suit and danced around to successfully promote a referendum to increase taxes on hotel rooms.
Jon Caldara, the president of the Independence Institute, a free-market advocacy group in Colorado, told the New York Times that "he has tax-increase pixie dust. No politician that I've ever worked against has been so successful in selling tax and debt increases as John Hickenlooper."
Fourteen: One of the highlights of Hickenlooper's mayoral years was Denver's hosting of the 2008 Democratic National Convention, an opportunity to spotlight the city's thriving arts scene, increasing diversity, and revitalized neighborhoods with tens of thousands of visitors and media in town. But there was one preparation for visitors that fell flat. On the preceding Earth Day, Hickenlooper had "unveiled a newly cultivated daisy variety called the Denver daisy. He promised to distribute free seeds throughout the city and vowed that Denver would be 'awash in color.'" (A corporate sponsor, KeyBank, covered the costs of the seeds.) Unfortunately, many citizens said they couldn't get the flowers to grow; in a bit of irony, the blooming ambitions may have been stymied by the city's water-conservation restrictions.
Fifteen: While introducing the hip-hop/rock band Flobots at a 2010 Denver music festival, then-mayor Hickenlooper waxed poetic about the joy of music with a message: "There's rock and roll, and then there's rock and roll. There is rock and roll that's great music and there's rock and roll that tries to change the world. It tries to address who you are as people, at the core of yourself, and what you do after you leave a concert. It tries to make the world a better place. That kind of rock and roll is my kind of rock and roll, and I think that kind of rock and roll is your kind of rock and roll!"
Sixteen: In 2010, Hickenlooper ran for governor, and while Republicans were enjoying big wins in most parts of the country, the Colorado GOP was a disaster that year. Longtime Republican congressman Scott McInnis, the expected favorite for the gubernatorial nomination, faced accusations of plagiarism. Political neophyte Dan Maes won the nomination, and he was accused of exaggerating his "undercover" work with the Kansas Bureau of Investigation. He also contended that the Denver program promoting bicycle-riding was "part of a greater strategy to rein in American cities under a United Nations treaty." Another longtime GOP congressman, Tom Tancredo, chose to run as the Constitution Party's nominee, splitting the right-of-center vote. Kenneth Bickers, chairman of the political-science department at the University of Colorado Boulder, characterized Hickenlooper's first statewide bid as "winning without running." "He didn't travel the state heavily. He ran feel-good, clever commercials largely devoid of content."
Continuing his tradition of goofy ads, Hickenlooper depicted himself as taking showers fully clothed, declaring, "I can't stand negative ads. Every time I see one, I feel the need to take a shower."
Seventeen: Hickenlooper was widely seen as a fan and close ally of President Obama's, but he did offer one mild criticism of the 44th president. In a 2011 interview with the New York Times, Hickenlooper said the early push for Obamacare had been a mistake: "Rather than going to health care first, I would have gone, I think, to transportation infrastructure. Here's something everybody cares about. Maybe we focus on that to build bridges."
Eighteen: For a long time, Hickenlooper's blunt talk, humorous humility, and amiable attitude worked wonders in Colorado politics. But he ran into trouble as his gubernatorial reelection bid approached. In 2013, in the aftermath of the Sandy Hook shooting, Hickenlooper signed a package of gun-control measures, including private-sale background checks and a ban on large-capacity magazines and. The following year, while meeting with the county sheriffs of Colorado at their biannual meeting, Hickenlooper said he had signed a law barring high-capacity magazines only because one of his staffers had promised legislators he would. "If we'd known it was going to divide the state so intensely, I think we probably would've thought about it twice."
Hickenlooper, expressing regret he hadn't discussed the measures with the sheriffs before signing them, declared, "I think we screwed that up completely, and I think we did a disservice to you and a disservice to ourselves."
Neither side was pleased; gun-control advocates saw the governor running away from a bill he signed into law, and Second Amendment advocates saw a man signing bills into law without careful consideration. Hickenlooper won his 2014 bid, but by a much smaller margin — 49.3 percent to Bob Beauprez's 46 percent, compared to the margin of 51.1 percent to 36.4 percent over Tom Tancredo four years earlier.
Nineteen: Hickenlooper's years as governor were an economic boom time for his state, but the rapid growth brought some new problems. The Denver Post summarized them: "As Hickenlooper prepares to leave office January 8, there are many Coloradans who can't keep up with the cost of living. The state has no long-term transportation or infrastructure strategy. Funding for the state's public schools is still among the lowest in the nation." More than 93 percent of Coloradans have health insurance, but the costs are soaring. Colorado saw its economy thrive for the past eight years, like most other states; most would agree that the governor's influence over that booming economy was limited.
For a governor who enjoys a reputation for being a centrist, he signed a lot of liberal priorities into law: the gun-control proposals mentioned above, renewable-energy requirements, new requirements that energy companies regularly inspect oil-field equipment for leaks, in-state tuition rates for illegal immigrants, and allowing illegal immigrants to get Colorado driver's licenses.
Twenty: He opposed legalizing marijuana but accepted the voters' decision, and his administration implemented the taxes, regulations, and rules. In 2018, Hickenlooper noticed that crime rates were increasing and the black market for marijuana still existed. He said a return to the old ban on marijuana could be an option in the future. "Trust me, if the data was coming back and we saw spikes in violent crime, we saw spikes in overall crime, there would be a lot of people looking for that bottle and figuring out how we get the genie back in," he said. "It doesn't seem likely to me, but I'm not ruling it out."
Twenty-one: Hickenlooper is dyslexic and suffers from prosopagnosia, or face blindness, a medical condition "that makes it difficult — and often impossible — to recognize or remember people's faces, even if someone with the ailment has met them a handful of times." He says he coped in the restaurant business and politics by acting happy to see everyone all the time.
Twenty-two: A state ethics commission is reviewing complaints from Frank McNulty, former Republican speaker of the Colorado House, alleging that while Hickenlooper was governor he accepted gifts in violation of a 2006 state constitutional amendment. The complaint listed private jet flights, hotel stays, luxury hotel accommodations, meals and gifts, and ride in a Maserati limousine. Hickenlooper says that all of his travel expenditures were properly reported and met state legal requirements and that the criticism is a political stunt. The state ethics commission dismissed three complaints raised by McNulty but is reviewing five others.