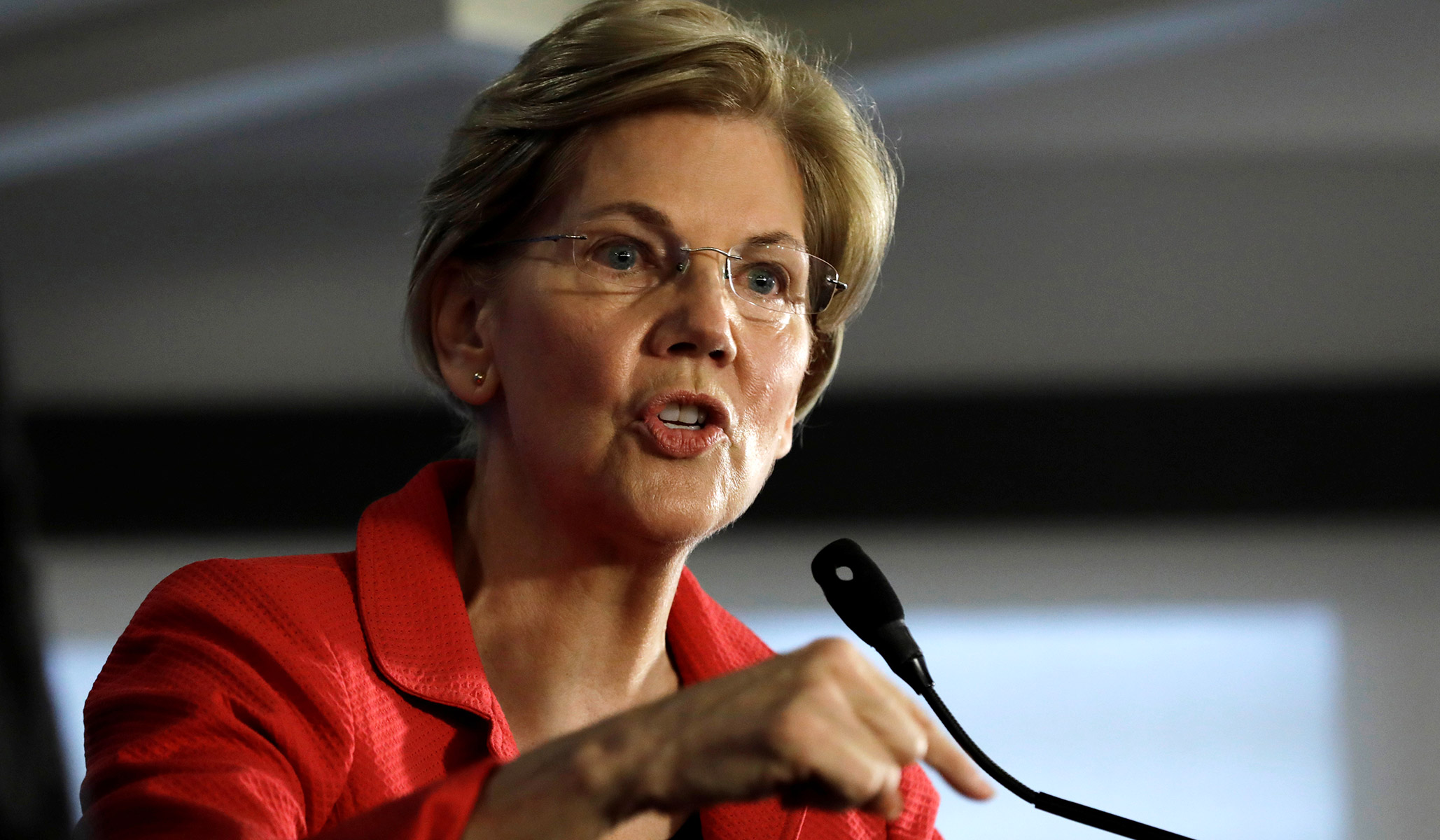 Elizabeth Warren may be the least jolly member of the Senate, but she is nonetheless offering up her best Santa Claus impersonation as she seeks the Democratic presidential nomination, complete with a trillion-dollar-a-decade student-loan giveaway — to be paid for by those on her naughty list.
Senator Warren proposes to pay off Americans' student loans in a tiered fashion: Up to $50,000 in bailouts for those earning up to $100,000 a year, gradually phased out to $0.00 for those earning $250,000 a year or more. That would eliminate all student debt for about 75 percent of borrowers and provide some reduction for all but 5 percent of borrowers.
Lest this be taken as a warrant to go out and borrow big on the chance that there will be another round of debt forgiveness in the future, Senator Warren also proposes to make college free for all students, not only eliminating tuition costs but also radically expanding federal higher-education spending to cover books, student housing and living expenses, and child care — a parallel welfare state for undergraduates.
So: Free if you've already gone and borrowed money for it, and free if you haven't. As the Democrats' 2020 presidential-giveaway bidding war gets under way for real, that makes Senator Kamala Harris's measly hundreds of billions of dollars to pay public-school teachers more look like an amuse-bouche.
Even though the facts of the so-called crisis are grossly exaggerated — as our Robert VerBruggen points out, most student-loan borrowers pay less than 5 percent of their income in student-loan debt service — the inflation of college costs is a genuine concern, and one that is of especially intense interest to the federal government ,which, thanks to the Obama administration, made itself into a monopolist in the student-loan business. But Senator Warren here proposes to put out a fire with gasoline, i.e. to mitigate the effects of inflation by dumping money on the problem.
In inflation-adjusted terms, government spending on higher education has never been higher. In has climbed by nearly $2,000 per student (in inflation-adjusted dollars) since 2001. As the Foundation for Economic Education points out, Pell Grant spending alone rose 72 percent in the few short years from 2008 to 2013. Tuition and other expenses have risen right along with that spending, driven mainly by an explosion in administrative costs. In the 1980s, there were about twice as many professors as administrators on our college payrolls; today, that number has been reversed, and there are about twice as many administrators and staff as instructors. Administrative spending has increased substantially relative to spending on instruction — and both are much higher in real per-student terms.
Most of this goes to personnel costs, with generous salaries for faculty and staff and benefits that a University of California audit called, gently, "atypical." Senator Warren is well-positioned to know this: She was paid more than $350,000 a year to teach a single class. Harvard and other colleges are full of clever people such as Senator Warren: Offer them $1 trillion, and they will find a way to spend it. Cheap financing enables higher college prices in the same way that cheap financing enables higher housing prices — the higher-education bubble is the subprime bubble with even worse underwriting standards and, in many cases, even less valuable underlying assets.
If you want to get control over tuition inflation, try turning off the spigot. Senator Warren suggests opening it up all the way and adding some new ones.
Senator Warren proposes to pay for all this with an annual tax on the savings of certain Americans — only the wealthy ones, we are assured — a new tax that it is not even clear Congress has the constitutional power to enact and whose effects will be unpredictable and likely destructive. Such wealth taxes used to be common in Europe, but all except three have been abandoned for the most obvious reasons: They do not produce the kind of revenue they promise, they are difficult to administer (what's Jeff Bezos's net worth right now? What will it be in 15 minutes?), and they encourage capital flight, as France's many millionaire expatriates can attest.
That's a high price to pay for . . . what, exactly? We are familiar with all the fine rhetoric about higher education being the key to preparing the 21st-century work force and maximizing its productivity, but we cannot help but notice that this is being championed by the same people who have helped to make our K–12 education system the grotesque laughing stock that it is. The public schools are in effect a dysfunctional and wildly corrupt full-employment program for Democratic constituencies, and that same dynamic has driven much of the growth in college administration, too: There are a lot of deputy deans of social justice out there. We don't need one more, much less 10,000 more.
It is ridiculous that it costs as much as it does to get a decent undergraduate education — and it is even more ridiculous that so many American families are paying the price for a decent undergraduate education without getting one. Reform is in order, but the scheme envisioned by Senator Warren is the wrong idea, to the extent that it is an idea at all and not a promissory note to Democratic primary voters as the lady from Massachusetts looks to Milwaukee and hopes for Christmas in July.