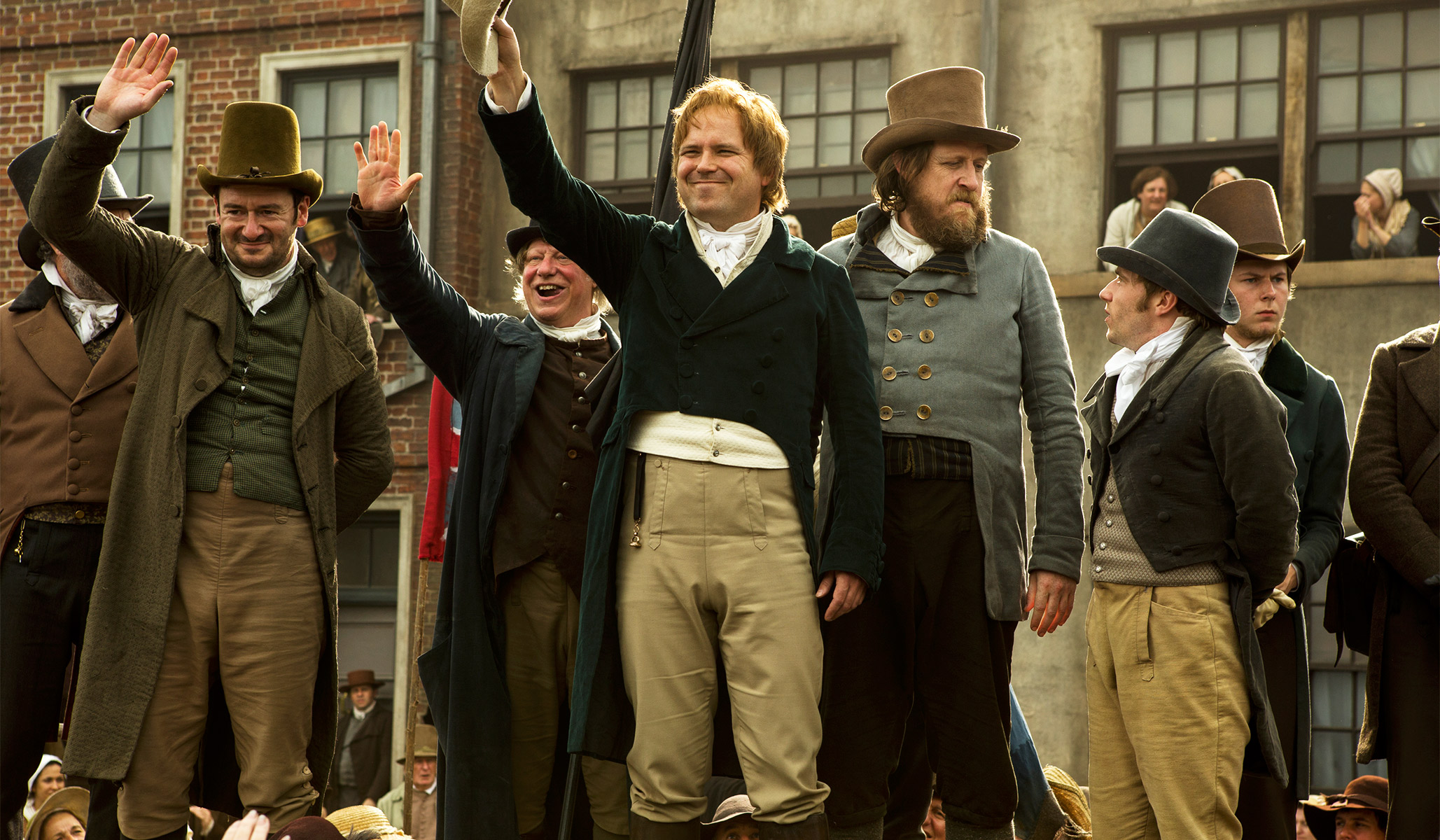 History lives in the film's words and images but succumbs in the end to leftist rhetoric.
'We can all deliver a speech" brags a 19th-century argumentifier, one of many crowding Mike Leigh's impressive but imperfect political history Peterloo.
As in his other period films, Topsy-Turvy, Vera Drake, and Mr. Turner, Leigh draws a bead on English history in order to vivify modern concerns — in this case, the 1819 massacre by British troops storming a political rally in Manchester's St. Peter's Field. It's Leigh's response to the millennium's revolution rhetoric, that leftist call for change and transformation, plus its fatalistic move toward disaster.
Percy Bysshe Shelley's sonnet "England in 1819" immortalized the homegrown tragedy known as "Peterloo," balancing nationalist pity and monarchist rage — a testament to the British gift for rhetoric, and Leigh is after a similar poetic effect. Instead of documenting history, Peterloo details personal characteristics of that moment through Leigh's special, behavior-based, actorly focus on British social psychology. The film's panorama suggests social-media cacophony in 19th-century dress — even briefly touching on the snarky competition among egotistical journalists.
The massacre and the tension leading up to it are conveyed through the speech and manners of Manchester's impoverished workers, its selfish politicians, single-minded militants, and reformers. They mirror the Brexit present, making visible the class differences of a country that, even in its regional dialects, still is united by language, still struggling through its own sense of history. Leigh showcases the impassioned speeches, domestic debates, interjections, and protestations by Shelley's countrymen.
The rhetoric is splendid: "seditious activity," "apish Jupiters in Parliament," "when pimps deny a man's suffering, they rob him of security," "we understand a child who is afraid of the dark, but these men are afraid of the light." And, a choice indictment: "That spirit born of the odious French Revolution," which recalls the roots of reckless activism. (Note: The film's ads popularize the most socialist-sounding quips.)
Politicized language gives Peterloo epic stature — it's a brilliant filmmaker's version of the Tower of Babel noise in Armando Iannucci's aggravating, TV-style The Death of Stalin. These characters convey the intellectual and emotional engine behind political movements. The past, seen close up, is heard and felt through the ferment of articulated ideas — sort of like how British punk music felt when emboldened musical youth displayed the first blush of political consciousness.
Leigh demonstrates similar sentimental fervor. His images contrasting poverty and greed (with cinematographer Dick Pope) are exceedingly artful: genre paintings to depict the mean lives of workers; sharply etched caricatures for fat cats.
The actors, whether in scullery postures or parliamentary wigs, seem to move into their national cultural heritage selflessly, unlike Hollywood actors who, playing historical figures, put quotation marks around every gesture. Outstanding among Peterloo's portraits is conscripted soldier Joseph (David Moorst), a regiment's bugler, wandering shell-shocked on the same field where the Duke of Wellington's Waterloo triumphed. Joseph personifies the cast-off veteran's dilemma, his tragedy deepened by dry, voiceless agony until he returns home to ordinary penury — his mother offers a cup of water, and he sobs in her arms. By contrast, there's vainglorious Labour orator Henry Hunt (Rory Kinnear). His verbal polish and stylish mien appeal to the disorganized grassroots rebels who seek a formal representative. "How did you find him?" one asks. "Blond," is the response, describing the smooth, empty-suit candidate who passes as an ideal.
More of such Altman-level skepticism might have kept Leigh's bracing historical re-creation from becoming partisan propaganda. Peterloo's Industrial Revolution saga hails Karl Marx's eventual migration to Britain. Marx's ideology informs Leigh's most class-conscious scenes: a lurking, black-hatted constable who tortures a trio of wild-eyed radicals; a proto-feminist recruitment spiel that goes over the heads of the pragmatic women workers; a thunderous view of a textile mill; and best of all, Minister Charles Wickford Evanston rehearsing his own speech and declaring it art. These scenes continue Peterloo's analogy to Brexit-era discourse.
As the most empathetic of modern political filmmakers, Leigh's concentration on the interplay of feelings creates mounting suspense far beyond the rickety sarcasm of BlacKkKlansman and Us. The disparate factions that converge upon St. Peter's field in colorful patterns — red, blue, and black uniforms, motley citizens, and white-robed women — embody the idea of a pulled-apart flag. Yet a shift to simplistic, pop-media modes of villainy and victimization undermines Leigh's seeming compassion. His history broadens, but it doesn't deepen. The ground-level up-tilt pan during the massacre could have been dynamic if Leigh weren't afraid of violating naturalism. He simply doesn't have the gift for mass movement seen in Mario Monicelli's textile labor epic The Organizer or Sergei Eisenstein's memorializing of Russia's failed 1905 revolution in The Battleship Potemkin — a work of art that transcends politics.
By the time Leigh stages his memorial funeral sequence — the inevitable outcome of what revolutionaries routinely romanticize — facile political outrage takes over. Leigh needs the bitter awe expressed in Morrissey's recent war song "I Bury the Living" in order to complete an ideological loop connecting to poor Joseph's powerless-to-powerful opening scene. Repeated jabs at King George's decadence and indifference refer to Shelley's sonnet but are no better than the perversions in The Favourite. This overkill insults the civility already trampled in the Manchester town square. Leigh's nearly great Peterloo succumbs to the derangement syndrome now common in British and American political rhetoric.