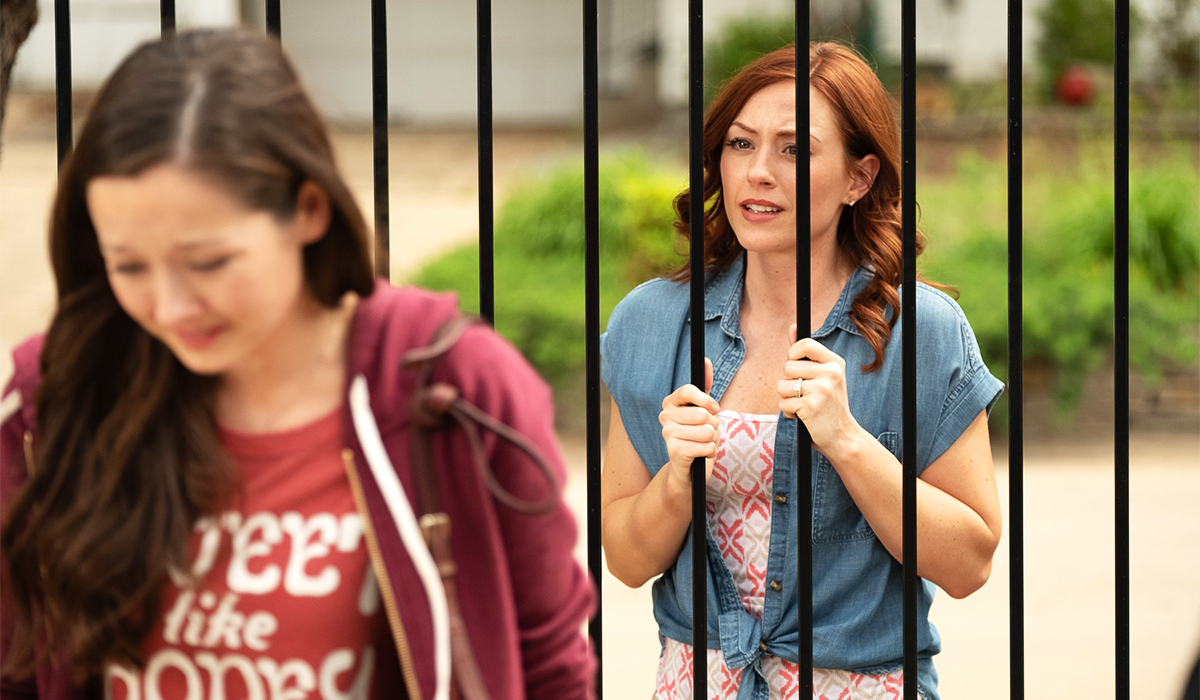 Despite a media blackout, the pro-life film is a surprise hit.
It's been two generations since the Supreme Court's Roe v. Wade decision legalizing many abortions was supposed to put the issue of abortion to rest. Instead, the debate rages on.
In January, New York expanded abortion rights, allowing non-doctors to perform abortions until the mother's due date if the woman's health is endangered or if the fetus is not viable. In contrast, Georgia governor Brian Kemp is poised to sign a bill blocking abortions after a heartbeat is detected.
The battle lines are drawn. Actress Alyssa Milano and over 100 other Hollywood celebrities have called for a boycott of Georgia over its bill. But Ashley Bratcher, a Georgia native, disagrees. The star of Unplanned, a new hit film that addresses abortion from a pro-life perspective, Bratcher has a message for Milano and her pals. "Abortion is so 1973," she says. "Welcome to 2019, a time in which medical advances preserve the life of babies born as early as 21 weeks."
It's also a time when a pro-life movie can become a surprise hit despite a media blackout and hostility from much of the filmmaking community. Box Office Mojo reports that the movie, which was released on March 29, has pulled in more than $8.6 million in North American theater revenue. That puts the film in fourth place for the week, trailing only mega-budget pictures Dumbo, Us, and Captain Marvel.
Unplanned is different from any other film that has been made on the abortion issue. It tells the true story of Abby Johnson, a Texas woman who became one the youngest clinic directors in Planned Parenthood history and was named the organization's employee of the year in 2008. But even though she had undergone two abortions herself, she didn't know much about the actual procedure. Then came the day when, in an emergency, she was asked to assist in an ultrasound-guided abortion.
"Some images stick with you forever, images that you can't unsee," she wrote in her 2010 memoir. "The fetus was thirteen weeks old and I could easily see its head, arms, and legs. The abortion instrument — a suction tube — was on the screen as well. The baby jumped away from it but it was all for naught. The abortionist turned on the suction and I saw that baby get sucked apart right in front of me on the screen. . . . In mere seconds, that fetus' life ended and the screen only showed a black, empty uterus. The life that was there just a couple minutes ago was gone. In that moment, I saw for myself what I was supporting for the last eight years and it broke me."
Unplanned vividly depicts the procedure that prompted Johnson to quit Planned Parenthood and found And Then There Were None, a group that has assisted workers at abortion clinics to leave the industry. By her count, the number of "departees" is over 475 since 2012.
The movie tells a compelling story and yet is surprisingly nuanced. It shows pro-choice activists explaining the wrenching reasons that compel women to seek abortions and the ugliness of some pro-life activists who harass women.
But the film has met fierce resistance. Twitter suspended the film's account briefly, in an incident the company said was "an accident." TV networks ranging from Lifetime to the Hallmark Channel have almost universally refused to air an ad for the movie. They cite its "sensitive nature."
One of the reasons given by some of the networks for rejecting the ad is that the Motion Picture Association of America has slapped an "R" rating on the movie.
The MPAA cited the presence of "some disturbing/bloody images" in the film as the reason for its rating. But that doesn't wash with Cary Soloman and Chuck Konzelman, the co-directors of the film. "We consider the MPAA's current standards to be deeply flawed, insofar as they allow scenes of remarkably graphic sex, violence, degradation, murder and mayhem to have a PG-13 rating," they said in a statement. Ironically, a 16-year-old girl who can legally have an abortion in many states without informing her parents would need to be accompanied by one of them if she wanted to see Unplanned.
One reason why people don't want Unplanned to reach an audience may be its unvarnished take on the economics behind the procedure. "It breaks through the poll-tested gobbledygook and shows exactly what motivates the abortion industry — profit above all else," says Terry Schilling, executive director of the conservative American Principles Project.
Abby Johnson recalled in her memoir what happened when, in a series of revealing exchanges with her bosses, she questioned a directive to double her clinic's annual abortion output:
"If our stated goal is to decrease the number of abortions by reducing the number of unwanted pregnancies, then why are we being asked to double our abortion count?" the film has Johnson asking her superior. The response is chilling: "Let me explain something to you. Fast-food outlets look to break even on the hamburgers they sell. That's all they do is break even. Do you know how they make their money? On the french fries and the soda, the low-cost, high-margin items. Abortion is our fries and soda. But somehow you've just decided that it's no longer your priority. Abortion is what pays your salary. . . . Corporate policy is simple: We are an abortion provider."
Not surprisingly, Planned Parenthood rejects such a "clinical" depiction of its activities and claims that the film perpetuates "many falsehoods." But a growing body of evidence indicates that Planned Parenthood is morally compromised. In 2015, filmmaker Daniel Daleiden released hidden-camera videos of Planned Parenthood officials discussing fees for human fetal tissue and organs. Planned Parenthood hired the opposition-research firm Fusion GPS to debunk the videos, with only limited success. After all, Fusion GPS is the infamous firm that was paid by the Democratic National Committee to create the discredited Steele dossier used against Donald Trump in the 2016 election.
But perhaps the biggest contribution that Unplanned can make to the abortion debate is to showcase the fact that a growing number of pro-life groups want to do more for women with unplanned pregnancies than just get them to carry the babies to term. At the Los Angeles premiere of Unplanned, I met Dede Chism, a nurse practitioner who runs Bella Natural Women's Care and Family Wellness in Denver. She says she now has over 7,000 patients who benefit from a broad range of obstetric and gynecological health-care services. "We are not just about affirming life," she told me. "We want to provide women with support in a holistic and caring way and point them to others who can help them cope with a pregnancy," a director of a crisis-pregnancy center who also attended the premiere told me. "We can care for a woman in some key emotional ways and are often able to refer them to more-affordable clinics for services such as mammograms."
Unplanned isn't going to resolve the pro-life-versus-pro-choice controversy, but for people who haven't given much thought to abortion, its costs, or its consequences, it is the perfect starting point for a genuine debate. Roe v. Wade may have arbitrarily settled the political argument about abortion for many, but the box-office success of Unplanned demonstrates just how much demand there is for continuing the conversation on a more personal and human level.